Scientists discover new balloon-like species using HD video only – The Weather Network US
Researchers from the National Oceanic and Atmospheric Administration (NOAA) recently identified a new species of gelatinous sea creature with the use of only one tool: high definition video footage captured at the bottom of the ocean.
It's a first for the administration and could serve as a blueprint for how to identify new species in the absence of physical specimens — an often "contentious" practice that could become more widely accepted as video technology improves.
The creature – called Duobrachium sparksae – is species of ctenophore, discovered by the remotely-operated vehicle Deep Discoverer during a 2015 dive off the coast of Puerto Rico, nearly 4,000 metres below the surface.
The reason the discovery is only coming to light now is because scientists had to take extra precautions to make sure the species was, in fact, unique, ScienceAlert reports.
Traditionally, new species are discovered with physical evidence, but that wasn't the case here — prompting an extra-long period of research and due diligence.

The comb jelly, or ctenophore, was first seen during a 2015 dive with the NOAA Office of Ocean Exploration and Research team. Caption and photo courtesy: NOAA.
The use of photographic evidence to establish new species has been "highly contentious in recent decades," the paper says, but the footage was widely accepted. That's due, in part, to a high-powered camera that was sensitive enough to detect subtle details on D. sparksae's body.
"Video identification can be controversial," NOAA marine biologist Allen Collins says in a statement.
"For example, some insect species descriptions have been done with low-quality imagery, and some scientists have said they don't think that's a good way of doing things. But for this discovery, we didn't get any pushback. It was a really good example of how to do it the right way with video."
---
Visit our Complete Guide to Winter 2021 for an in depth look at the Winter Forecast, Canada's ski season, and tips to plan for everything ahead!
---
The findings are detailed in a recently-published paper in Plankton and Benthos Research.
"It's unique because we were able to describe a new species based entirely on high-definition video," NOAA marine biologist Allen Collins says in a YouTube video.
"We don't have the same microscopes as we would in a lab, but the video can give us enough information to understand the morphology in detail, such as the location of their reproductive parts and other aspects."
The camera is a marvel in itself. Referred to as 'D2' by NOAA, it can tolerate depths up to 6,000 metres and can zoom in on a three-inch organism from 10 feet away. It's equipped with 20 LED lights to illuminate the ocean floor and has manipulator arms that can collect biological and geological samples.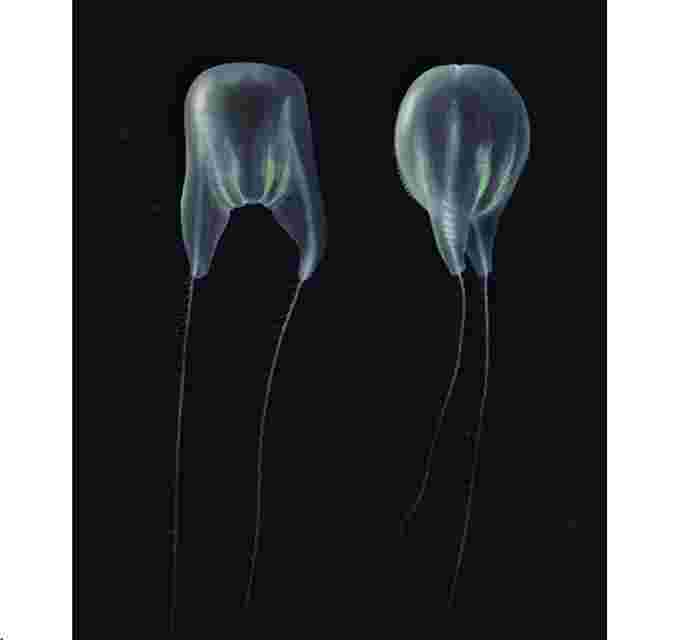 Scientists describing the comb jelly species say it resembles a hot air balloon. Illustrations by Nicholas Bezio. Caption and photo courtesy: NOAA.
In a statement, NOAA Fisheries scientists Mike Ford called the new organism "beautiful."
In total, three organisms were observed, with one of them "moving like a hot air balloon attached to the seafloor" — suggesting they may be able to anchor themselves to the seabed.
"We did not observe direct attachment during the dive, but it seems like the organism touches the seafloor," he added.
Around 200 species of ctenophores have been discovered to date, with new species confirmed once a year or so.
Why picking the right location for Artemis base camp on Moon is a challenge for NASA – EdexLive
As NASA plans to land the first woman and next man on the Moon by 2024 with the Artemis programme, scientists and engineers are helping NASA determine the precise location of the Artemis Base Camp concept as several factors are needed to be considered to pick the right site.
Among the many things, NASA must take into account in choosing a specific location are two key features — the site must bask in near-continuous sunlight to power the base and moderate extreme temperature swings, and it must offer easy access to areas of complete darkness that hold water ice, NASA said on Wednesday.
American astronauts in 2024 will take their first steps near the Moon's South Pole: the land of extreme light, extreme darkness, and frozen water that could fuel NASA's Artemis lunar base and the agency's leap into deep space.
While the South Pole region has many well-illuminated areas, some parts see more or less light than others.
Scientists have found that at some higher elevations, such as on crater rims, astronauts would see longer periods of light.
But the bottoms of some deep craters are shrouded in near-constant darkness since sunlight at the South Pole strikes at such a low angle it only brushes their rims.
These unique lighting conditions have to do with the Moon's tilt and with the topography of the South Pole region.
Unlike Earth's 23.5-degree tilt, the Moon is tilted only 1.5 degrees on its axis.
As a result, neither of the Moon's hemispheres tips noticeably toward or away from the Sun throughout the year as it does on Earth — a phenomenon that gives us sunnier and darker seasons here.
This also means that the height of the Sun in the sky at the lunar poles doesn't change much during the day.
If a person were standing on a hilltop near the lunar South Pole during daylight hours, at any time of year, they would see the Sun moving across the horizon, skimming the surface like a flashlight lying on a table.
"It's such a dramatic terrain down there," W. Brent Garry, a geologist at NASA's Goddard Space Flight Center in Greenbelt, Maryland, said in a statement.
Garry is working with engineers on a virtual reality tour of the Moon's South Pole to help immerse astronauts, scientists, and mission planners in the exotic environment of that region as they prepare for a human return to the Moon.
While a base camp site will require lots of light, it is also important for astronauts to be able to take short trips into permanently dark craters.
Scientists expect that these shadowed craters are home to reservoirs of frozen water that explorers could use for life support.
"One idea is to set up camp in an illuminated zone and traverse into these craters, which are exceptionally cold," said NASA Goddard planetary scientist Daniel P. Moriarty, who's involved with NASA's South Pole site analysis and planning team.
Temperatures in some of the coldest craters can dip to about minus 235 degrees Celsius.
Initial plans include landing a spacecraft on a relatively flat part of a well-lit crater rim or a ridge.
"You want to land in the flattest area possible, since you don't want the landing vehicle to tip over," Moriarty said.
The landing area, ideally, should be separated from other base camp features — such as the habitat or solar panels — by at least half a mile, or one kilometre.
It also ought to be situated at a different elevation to prevent descending spacecraft from spraying high-speed debris at equipment or areas of scientific interest.
First private space crew paying $55 million each to fly to station – Gulf News
Cape Canaveral, Florida: The first private space station crew was introduced Tuesday: Three men who are each paying $55 million to fly on a SpaceX rocket.
They'll be led by a former NASA astronaut now working for Axiom Space, the Houston company that arranged the trip for next January.
"This is the first private flight to the International Space Station. It's never been done before," said Axiom's chief executive and president Mike Suffredini, a former space station program manager for NASA.
While mission commander Michael Lopez-Alegria is well known in space circles, "the other three guys are just people who want to be able to go to space, and we're providing that opportunity," Suffredini told The Associated Press.
The first crew will spend eight days at the space station, and will take one or two days to get there aboard a SpaceX Dragon capsule following liftoff from Cape Canaveral.
Russia has been in the off-the-planet tourism business for years, selling rides to the International Space Station since 2001. Other space companies like Richard Branson's Virgin Galactic and Jeff Bezos' Blue Origin plan to take paying customers on up-and-down flights lasting just minutes. These trips _ much more affordable with seats going for hundreds of thousands versus millions _ could kick off this year.
Axiom's first customers include Larry Connor, a real estate and tech entrepreneur from Dayton, Ohio, Canadian financier Mark Pathy and Israeli businessman Eytan Stibbe, a close friend of Israel's first astronaut Ilan Ramon, who was killed in the space shuttle Columbia accident in 2003.
"These guys are all very involved and doing it for kind of for the betterment of their communities and countries, and so we couldn't be happier with this makeup of the first crew because of their drive and their interest," Suffredini said.
Each of these first paying customers intends to perform science research in orbit, he said, along with educational outreach.
Lopez-Alegria, a former space station resident and spacewalking leader, called the group a "collection of pioneers."
Tom Cruise was mentioned last year as a potential crew member" NASA top officials confirmed he was interested in filming a movie at the space station. There was no word Tuesday on whether Cruise will catch the next Axiom flight. Suffredini declined to comment.
Each of the private astronauts had to pass medical tests and will get 15 weeks of training, according to Suffredini. The 70-year-old Connor will become the second-oldest person to fly in space, after John Glenn's shuttle flight in 1998 at age 77. He'll also serve under Lopez-Alegria as the capsule pilot.
Axiom plans about two private missions a year to the space station. It also is working to launch its own live-in compartments to the station beginning in 2024. This section would be detached from the station once it's retired by NASA and the international partners, and become its own private outpost.
Eytan Stibbe among Axiom's first private crew to visit space station – Space in Africa
The founding director of Vital Capital Fund, Eytan Stibbe, is one of the four people that will be going on the first-ever entirely private mission to the International Space Station (ISS). Stibbe has been investing in Africa for the past 26 years.
Axiom Space, an American aerospace manufacturer and orbital spaceflight service provider, announced the private crew on Tuesday. Joining Stibbe on the proposed Axiom Mission 1 (Ax-1) are former astronaut of the National Aeronautics and Space Administration (NASA) and Axiom's vice president Michael López-Alegría; American entrepreneur and non-profit activist investor Larry Connor; and Canadian investor and philanthropist Mark Pathy.
Both Pathy and Stibbe will fly as the mission specialists, while López-Alegría will fly as commander and Connor will fly as the pilot. Former NASA astronaut Peggy Whitson will serve as Ax-1's backup commander and John Shoffner of Knoxville is the backup pilot.
The Ax-1 is expected to launch as soon as January 2022, using a SpaceX Crew Dragon. Axiom said Ax-1 is its first "precursor" private astronaut missions to the ISS—subject to approval from NASA and its international partners. It is also working NASA are working on the final approval for a formal Basic Ordering Agreement (BOA) to enable private astronaut missions, with further discussions underway to agree on and authorise the Ax-1 mission profile.
The Ax-1 mission, which is to a Low Earth Orbit destination (LEO), would allow the four-man crew to carry out research and philanthropic projects for eight days. According to NASA's 2019 pricing policy on private astronaut flights to the ISS, each night costs $35,000 per person. This cost includes $11,250 to use life support system and toilet, $22,500 for other necessary supplies like food, air, and medical supplies.
Each member of the first private crew, however, is paying $55 million. This ticket price includes "any and all necessary costs", an Axiom spokesperson told The Verge.
"We sought to put together a crew for this historic mission that had demonstrated a lifelong commitment to improving the lives of the people on Earth, and I'm glad to say we've done that with this group", Axiom Space President and CEO Michael Suffredini said. "This is just the first of several Axiom Space crews whose private missions to the International Space Station will truly inaugurate expansive future for humans in space—and make a meaningful difference in the world".
Stibbe will be the second Israeli to launch into space, following his friend Ilan Ramon who died on the space shuttle Columbia in 2003. At age 63, Stibbe will be the third oldest person to enter orbit.
According to the statement by Axiom, Stibbe plans to conduct scientific experiments of Israeli researchers and entrepreneurs coordinated by the Ramon Foundation and the Israel Space Agency at the Ministry of Science and Technology. He will also undertake educational activities from orbit to inspire Israeli children, youth, and educators.
While Stibbe has over 26 years of investing in Africa, Vital Capital was launched in 2011 as a $350 million impact investment, private equity fund focused on sub-Saharan Africa. The portfolio companies of Vital Capital include Aldeia Nova, an agro-industrial company, Kora Housing, Luanda Medical Centre, Vital Tomosi's Dairy, WaterHealth International, Capital Water, Focal Energy, Prabon Greenfields, Water for All, Sumbe-Gabela-Waku-Kungo (SWGK), 8 Miles, and Vital Capital Environment. Through investment in these companies, Vital Capital has delivered essential development impact to millions of individuals in low- and middle-income communities.
Stibbe is a board member of the Centre for African Studies at Ben-Gurion University and other non-governmental organisations dedicated to education, art and culture.
Pathy will be the 11th Canadian astronaut going into the orbit. He is collaborating with the Canadian Space Agency as well as the Montreal Children's Hospital, who are helping to identify health-related research projects that could be undertaken during the mission.
Connor will collaborate with Mayo Clinic and Cleaveland Clinic on research projects. He also intends to provide instructional lessons to students at Dayton Early College Academic in his hometown of Dayton, Ohio.
"This collection of pioneers—the first space crew of its kind—represents a defining moment in humanity's eternal pursuit of exploration and progress", López-Alegría said. "I know from firsthand experience that what humans encounter in space is profound and propels them to make more meaningful contributions on returning to Earth. And as much as any astronauts who have come before them, the members of this crew have accomplished the sorts of things in life that equip them to accept that responsibility, act on that revelation, and make a truly global impact".