Seeking travel freedom, Russians flock to Serbia for Western-made COVID-19 vaccines – CBC.ca
When Russian regulators approved the country's own coronavirus vaccine, it was a moment of national pride, and the Pavlov family was among those who rushed to take the injection. But international health authorities have not yet given their blessing to the Sputnik V shot.
So when the family from Rostov-on-Don in southern Russia wanted to visit the West, they looked for a vaccine that would allow them to travel freely — a quest that brought them to Serbia, where hundreds of Russian citizens have flocked in recent weeks to receive Western-approved COVID-19 shots.
Serbia, which is not a member of the European Union, is a convenient choice for vaccine-seeking Russians because they can enter the allied Balkan nation without visas and because it offers a wide choice of Western-made shots. Organized tours for Russians have soared, and they can be spotted in the capital, Belgrade, at hotels, restaurants, bars and vaccination clinics.
"We took the Pfizer vaccine because we want to travel around the world," Nadezhda Pavlova, 54, said after receiving the vaccine last weekend at a sprawling Belgrade vaccination centre.
Her husband, Vitaly Pavlov, 55, said he wanted "the whole world to be open to us rather than just a few countries."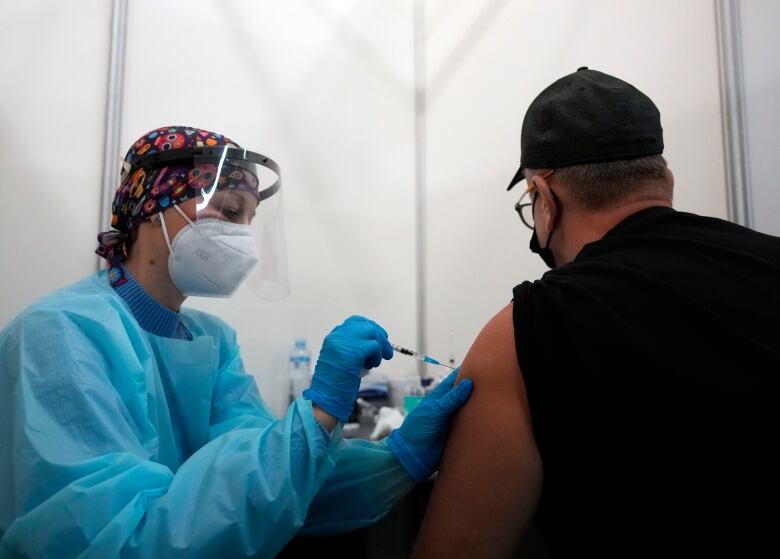 Vaccination tour packages for Russians seeking shots endorsed by the World Health Organization appeared on the market in mid-September, according to Russia's Association of Tour Operators.
Maya Lomidze, the group's executive director, said prices start at $300 to $700, depending on what's included.
'People don't want to wait'
Lauded by Russian President Vladimir Putin as world's first registered COVID-19 vaccine, Sputnik V emerged in August 2020 and has been approved in some 70 countries, including Serbia. But the WHO has said global approval is still under review after citing issues at a production plant a few months ago.
On Friday, a top World Health Organization official said legal issues holding up the review of Sputnik V were "about to be sorted out," a step that could relaunch the process toward emergency use authorization.
Other hurdles remain for the Russian application, including a lack of full scientific information and inspections of manufacturing sites, said Dr. Mariangela Simao, a WHO assistant director-general.
Russian Health Minister Mikhail Murashko recently said administrative issues were among the main holdups in the WHO's review process.
Judy Twigg, a political science professor specializing in global health at Virginia Commonwealth University, expects Sputnik V to be approved eventually, but "maybe not by the end of this year."
"The WHO has said that it needs more data, and it needs to go back and inspect some production lines where it saw issues early on. Those re-inspections are a multiweek process, with good reason. It's not something that they just gloss over lightly."
Apart from the WHO, Sputnik V is also still awaiting approval from the European Medicines Agency before all travel limitations can be lifted for people vaccinated with the Russian formula.
The long wait has frustrated many Russians, so when the WHO announced yet another delay in September, they started looking for solutions elsewhere.
"People don't want to wait; people need to be able to get into Europe for various personal reasons," explained Anna Filatovskaya, Russky Express tour agency spokesperson in Moscow. "Some have relatives. Some have business, some study, some work. Some simply want to go to Europe because they miss it."
Vaccine tourism
Serbia, a fellow-Orthodox Christian and Slavic nation, offers the Pfizer, AstraZeneca-Oxford and Chinese Sinopharm shots. By popular demand, Russian tourist agencies are now also offering tours to Croatia, where tourists can receive the one-shot Johnson & Johnson vaccine without the need to return.
"For Serbia, the demand has been growing like an avalanche," Filatovskaya said. "It's as if all our company is doing these days is selling tours for Serbia."
The Balkan nation introduced vaccination for foreigners in August, when the vaccination drive inside the country slowed after reaching around 50 per cent of the adult population. Official Serbian government data shows that nearly 160,000 foreign citizens so far have been vaccinated in the country, but it is unclear how many are Russians.
Since the vaccine tours exploded in popularity about a month ago, they have provided welcome business for Serbian tour operators devastated by the pandemic in an already weak economy. Predrag Tesic, owner of BTS Kompas travel agency in Belgrade, said they are booked well in advance.
"It started modestly at first, but day by day numbers have grown nicely," Tesic said.
He explained that his agency organizes everything, from airport transport to accommodations and translation and other help at vaccination points. When they return for another dose in three weeks, the Russian guests also are offered brief tours to some of popular sites in Serbia.
Back in Russia, some Moscow residents said they understood why many of their fellow Russians travel abroad for vaccines. But Tatiana Novikova said homegrown vaccines remain her choice.
"I trust ours more, to be honest," she said.
Cases surge in Russia, Serbia
Amid low vaccination rates and reluctance by the authorities to reimpose restrictive measures, both Russia and Serbia have seen COVID-19 infections and hospitalizations reach record levels in the past few weeks.
The daily coronavirus death toll in Russia topped 900 for a second straight day on Thursday — a day after reaching a record 929. In Serbia, the daily death toll of 50 people is the highest in months in the country of seven million that so far has confirmed nearly one million cases of infection.
In Russia, the country's vaccination rate has been low. By this week, almost 33 per cent of Russia's 146 million people have received at least one shot of a coronavirus vaccine, and 29 per cent were fully vaccinated.
Apart from Sputnik V and a one-dose version known as Sputnik Light, Russia has also used two other domestically designed vaccines that have not been internationally approved.
Goldman Sachs moves to full ownership of China securities JV
Goldman Sachs said on Sunday it received approval from China's securities regulator to take full control of its mainland securities business.
The U.S. bank said it would buy the remainder of Goldman Sachs Gao Hua Securities Company Ltd (GSGH), and rename it as Goldman Sachs (China) Securities Company Ltd.
The migration of its onshore business units to GSGH from Beijing Gao Hua Securities was underway, it added.
"This marks the start of a new chapter for our China business following a successful 17-year joint venture," Goldman Sachs said in a statement.
It becomes the second Wall Street firm to be granted approval to shift to full ownership of its securities business after JPMorgan Chase & Co moved to 100% in August https://www.reuters.com/business/finance/jpmorgan-gets-beijings-approval-first-fully-foreign-owned-brokerage-2021-08-06.
Securities businesses in China typically house investment banking, research, equities and fixed income businesses.
Unlike most of the other China JVs, Goldman had day-to-day operational control of its business even with its minority ownership.
Lucrative underwriting fees on equity and bond transactions – especially initial public offerings (IPOs) – in China's expanding capital markets has been the driving force for Western banks to increase stakes in their mainland business.
Full ownership could allow foreign banks to expand their operations in the multi-trillion-dollar Chinese financial sector, and better integrate them with their global businesses.
Morgan Stanley currently owns 90% of its securities joint venture with partner Shanghai Chinafortune Co Ltd after increasing its stake https://www.reuters.com/business/finance/morgan-stanley-nears-full-ownership-china-ventures-with-stake-buys-2021-05-28 in May.
China's regulators had examined Goldman Sach's application to move to full ownership https://www.reuters.com/business/finance/goldman-sachs-signs-pact-wholly-own-china-joint-venture-2020-12-11 since the bank flagged its intention to buy out its partner in December.
(Reporting by Scott Murdoch in Hong Kong and Nikhil Kurian Nainan in Bengaluru; editing by Uttaresh.V and Stephen Coates)
From Canada? Want to go to the U.S.A.? Better have the right vaccine – Boing Boing
The last couple of years have been hard on Canadian Snowbirds. Many of us, myself included, are used to heading south in the fall, to escape the icy bullshit of a Canadian winter. Unfortunately, thanks to COVID-19, a lot of us have been trapped, north of the wall, since March 2020.
I've been fine with this.
When the land border was closed down to everyone but essential travellers, my mindset was that if I was going to get sick, I'd just as soon do it in my own nation where healthcare is free (yeah, we pay our taxes, but still.) Then, last winter, the vaccines started to roll out. By early spring, both my wife and I had been injected with two doses of Pfizer's version of the brew. We breathed a sigh of relief and began to hope that we might, one day soon, be able to start our travels again. I'm sure that lots of other folks did too. Unfortunately, depending on where in Canada they live, it wasn't a sure bet that they'd wind up with two doses of the same vaccine. In the rush to get as many Canadians vaccinated against the plague as possible, many provinces started mixing and matching whichever vaccines that they had on hand.
So, you could wind up with Pfizer for your first jab and Moderna for your second. It's cool, they told us. Mixing vaccines affords tons of protection, we were assured. Why, we'd all be able to get back to our lives in no time… provided said life doesn't include travelling to one of many countries where vaccine mixing is considered to be a dangerous load of bullshit. You may have guessed by now, that America is one of those countries.
From The CBC:
…at the same time the U.S. reopens the land border, it will start requiring that foreign land and air travellers entering the country be fully vaccinated.
The U.S. Centers for Disease Control (CDC) currently doesn't recognize mixed COVID-19 vaccines — such as one dose of AstraZeneca, and one dose of Pfizer or Moderna — and hasn't yet said if travellers with two different doses will be blocked from entry when the vaccine requirement kicks in.
So that sucks.
According to the CBC, the Centers for Disease Control and Prevention might soon consider changing their stance on mixed vaccines. I'd like to think that a crap load of data on the effectiveness of mixed vaccine dosing will play into such a decision. No matter how badly folks might want to head south for the winter, Americans deserve to be as safe as they can be.
In the meantime, I suspect that, just like last fall, many snowbirds will wind up on Vancouver Island, where I hang my hat, these days. It's warm enough here that living in an RV is both possible and comfortable.
But I'll tell ya, it's a far cry from kicking back in the trade winds on the cusp of Texas' southern border.
Travel industry, health experts applaud U.S. decision to allow travellers with mixed doses – CTV News
TORONTO —
The organization representing Canada's tourism industry is applauding the U.S. government's decision to allow Canadian travellers with mixed vaccine doses once the border opens in November.
On Friday, the U.S. Centers for Disease Control and Prevention confirmed that travellers with "any combination" of two doses of vaccines approved by the World Health Organization or the U.S. Food and Drug Administration "are considered fully vaccinated."
Beth Potter, who is president and CEO of the Tourism Industry Association of Canada, says the announcement is "really good news."
"What it does is it provides a little bit more clarity, and this is something that we've talked about a lot. We know now that if you've got that mixed dose, as of November you're going to be able to enter into the United States," she told CTV News Channel on Saturday.
Infectious disease expert Isaac Bogoch of the University Health Network in Toronto says allowing mixed dosed travellers is "a smart and data driven approach."
"This will be a huge relief to many Canadians who did the right thing and got vaccinated and even took those mixed and matched vaccine approaches. It's safe, it's effective, and now there's a recognition of this," Bogoch said in an interview with CTV News Channel on Saturday.
"I'm really happy to hear this. It's about time."
This announcement came after the White House confirmed that the U.S. land borders with Canada and Mexico would be open to fully vaccinated tourists by Nov. 8.
On the American side, the U.S. Travel Association also applauded the Biden Administration's plans to reopen the border.
"Reopening to international visitors will provide a jolt to the economy and accelerate the return of travel-related jobs that were lost due to travel restrictions," said association president and CEO Roger Dow in a statement on Friday.
"We applaud the administration for recognizing the value of international travel to our economy and our country, and for working to safely reopen our borders and reconnect America to the world."
But while the U.S. won't require Canadians to show proof of vaccination to cross, returning to Canada requires a negative PCR test conducted at most 72 hours before crossing the border.
PCR tests can cost upwards of $200. The Canadian government does not accept rapid antigen tests, which can be had for only $40.
Brian Higgins, a New York congressman whose district includes the border cities of Buffalo and Niagara Falls, wants to see Canada drop the COVID-19 PCR test requirement.
"I think that the U.S. decision to allow Canadians coming into the United States without a test again underscores the potency of the vaccine," Higgins told The Canadian Press on Friday. "I would like to see that reciprocated by our Canadian neighbours."
However, Public Safety Minister Bill Blair said that Canada will continue to require PCR tests so long as the Public Health Agency of Canada advocates for it.
"We've seen throughout the pandemic that advice has evolved as new evidence and new data is available. We'll continue to follow the advice in the Public Health Agency Canada​," he said in an ​interview with CTV's Question Period on Sunday.