SEX FILES: Naughty but nice gifts if you want more sex in 2020 – Toronto Sun
Good sex is the gift that keeps on giving. Whether you're a couple hoping to get naughty in 2020 or you're flying solo and want to treat yourself to something nice, the holidays are the perfect time to slip something sexy under the tree.
(FYI: some of the least sexiest gifts I've received include a bottle of men's cologne, a battery recharger and a broom. These were all given to me by the same man. Don't be this man.)
If you need some inspiration for the perfect gift to kick your sex life up notch, here's a few gift suggestions inspired by my favourite products and experiences.
Sutil Love Potions ($29.95)
My mind has always been a busy place. There's rarely a moment when I'm not thinking about new story ideas or my to-do list. Sometimes it can be hard for me to unwind and get in the mood for sex. These "Love Potion" sensual massage oils have been a godsend. Made with a blend of essential oils, the scents work by travelling through your olfactory system to the portion of your brain that controls your heart rate, blood pressure, breathing, and sexual impulses.
Not only do these potions smell fantastic, but I do feel a little more relaxed and sensual when I use them. Apply the oils while giving or receiving a massage as part of foreplay, or rub them on your skin after the shower to add a little pep in your step.
Pillo by Dame ($95)
Whether you struggle to find the right position during sex or simply want to get creative, this minimalist sex "pillo" from Dame can help you find exactly the right spot while supporting your body. Even better, it looks like a regular pillow so your nosy relatives won't be scandalized if they spot it in your bedroom or under the tree. They'll probably even believe you when you tell them it's for using your laptop in bed. (And yes, it works great for that too.)
The Sona 2 Cruise by Lelo ($144)
At Cedar Point amusement park in Ohio there's this ride called the Top Thrill Dragster, where you go from zero to 200 km/h in 3.8 seconds. I like to think of The Sona 2 Cruise as the sex toy equivalent. As I've mentioned before, a large number of women need clitoral stimulation to orgasm. Instead of vibrations, the Sona uses SenSonic technology to stimulate the clitoris. The result is a unique sucking sensation that results in quick, powerful, knee-shaking orgasms.
A "Nakation" ($$$)
After spending the past two years visiting as many clothing optional resorts as possible, there's something incredibly liberating about being in a sex-positive environment abroad. If you haven't worked up the nerve to go somewhere like Temptation in Cancun (where bikini tops are optional and tan-lines are close to non-existent), consider a getaway or even a staycation. When it comes to having great sex (either with yourself or a partner), there's something to be said about being in a new environment, away from the responsibilities of home.
Lastly, while this isn't the sexiest suggestion, consider doing that annoying task that you or your partner have been putting off. You know exactly what I'm talking about.
I don't know about you guys, but it's way easier for me to get in the mood for sex when I don't have a million different things on my mind or cluttering up my space (dirty dishes! A couch covered in cat hair and unfolded laundry! A tower of empty Amazon boxes in the garage!) Note: I once told a partner that my biggest turn on was when he took the initiative to clean the bathroom without me asking first. I wasn't lying.
Luxury sex toys and frolicking naked in paradise is great, but so is looking after yourself. Adulting is a form of self-care (that benefits everyone!), so do that thing that needs doing. Bonus points if it's a chore that your partner hates to do. Cleaning up the garage and folding laundry isn't naughty, but it's a nice way to clear the deck for sexier things to come.
Resident Evil Village releasing on PS5/PS4, Xbox Series X/S, Xbox One and PC on May 7 – MobileSyrup
Capcom has announced that its highly anticipated Resident Evil Village game will release on current- and last-gen hardware on May 7th, 2021.
During the Resident Evil Showcase, producer Pete Fabiano noted that the survival horror game will be available day and date on PlayStation 5, PlayStation 4, Xbox Series X/S, Xbox One and PC.
The game was previously only confirmed for PlayStation 5, Xbox Series X and PC. Capcom will offer free current-gen upgrades to those who purchase the game on PS4 or Xbox One.
Alongside the release date announcement, Capcom also unveiled the first-ever gameplay footage of Village.
[embedded content]
Village picks up after the events of 2017's Resident Evil 7 and once again follows Ethan Winters as he fights to survive in a mysterious European village. Longtime Resident Evil protagonist Chris Redfield also has a supporting role.
Anyone who purchases Village will also get free access to a standalone multiplayer experience called Re: Verse. In it, players can face off against one another in four- to six-person deathmatches using such fan-favourite characters as Jill Valentine and Leon S. Kennedy across iconic maps like the Raccoon City Police Department.
An exclusive playable demo featuring a different character named "Maiden" will release on PlayStation 5 today. A separate demo will come to other platforms sometime "this spring."
Image credit: Capcom
How to calculate your risk of catching COVID-19 indoors – CGTN
COVID-19 can travel 2 meters in a matter of seconds, meaning social distancing measures alone are not enough to stop the spread of the virus. /CFP/
COVID-19 can travel 2 meters in a matter of seconds, meaning social distancing measures alone are not enough to stop the spread of the virus. /CFP/
Have you ever walked into a supermarket and thought "how many people can safely pack into this building?"
The answer to that question depends on some key factors, such as the number of people in the room and the ventilation, according to researchers from the University of Cambridge and Imperial College London.
They used mathematical models and the characteristics of COVID-19 to create a calculator to estimate the risk an individual has of contracting the virus after being in a room for certain periods of time with another infected person.

By looking at the decay rate of the virus and viral load of a person with COVID-19, they also found that talking is more likely to spread COVID-19 than a short cough in an enclosed space.
This is because people exhale small droplets, or aerosols, when they speak, which are larger than droplets formed when people cough.
The larger droplets will likely fall on a surface and the aerosols will remain in the air. The ventilation of the room will then determine how long the aerosols will remain circulating – potentially infecting other people.
However, wearing a mask filters out some of the droplets and slows down the speed of a person's breath, mitigating some of this risk.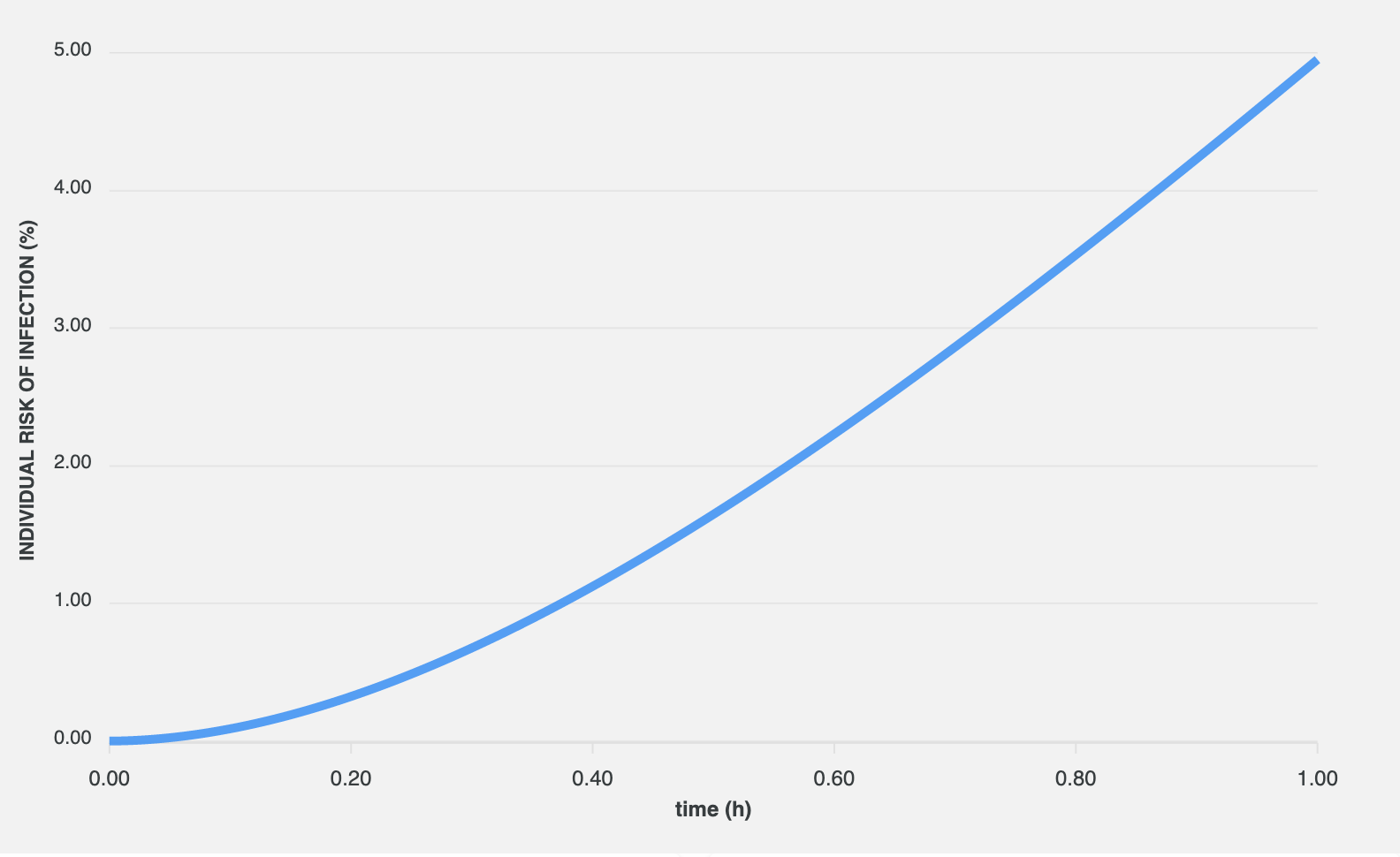 The app shows risk against exposure time, depending on factors such as the size of room, ventilation and type of mask being worn. The designers say estimated risk percentage should be treated with great caution. /airborne.cam
The app shows risk against exposure time, depending on factors such as the size of room, ventilation and type of mask being worn. The designers say estimated risk percentage should be treated with great caution. /airborne.cam
The researcher's calculator is now available online and is used by the University of Cambridge for risk assessments.
According to the online tool, a person in a room that's 100 square meters with 50 other people not wearing masks has a 10 percent chance of being exposed to COVID-19 after an hour and 40 minutes.
That number increases to 50 percent after around seven hours, or slightly less than one working day.
If the people in the room are wearing surgical masks, a person's risk only reaches 10 percent after around three hours. And they only have a 25 percent chance of contracting it after seven hours.
Taking breaks and airing the room can decrease the percentage for short periods of time. But there are limitations to this model.
"The estimated risk percentage should be treated with great caution! Many of the model inputs are very uncertain," the researchers stated on their website.
"Thus, the user should see how risk of infection decreases or increases by using face masks, by improving ventilation, etc…
"It is assumed that hands are washed and that individuals are far apart from each other – that is, the risk of short-range transmission by droplets/aerosol is not included and might be significant."
Snapdragon 870 versus Dimensity 1200, flagship killer chipset battle – gizmochina
Just this week and we already have three new powerful processors that will appear inside some of the smartphones launching this year. They are the Snapdragon 870 5G processor from Qualcomm and the Dimensity 1200 and Dimensity 1100 from MediaTek.
For this edition of Chip Battle, we are pitting the Snapdragon 870 5G against MediaTek's Dimensity 1200 processor. Both chipsets are expected to be the SoC for phones that fall under the flagship killer category, so it makes sense to see how they compare against each other. The table below shows a spec-by-spec comparison:
Processor
Snapdragon 870 5G
Dimensity 1200
Node size
7nm
6nm
CPU
1 x ARM Cortex-A77 at 3.2GHz
3 x ARM Cortex-A77 at 2.42GHz
4 x ARM Cortex-A55 at 1.8GHz
1 x ARM Cortex-A78 at 3.0 GHz
3 x ARM Cortex-A78 at 2.6GHz
4 x ARM Cortex-A55 at 2.0GHz
GPU
Adreno 650
ARM Mali-G77 MC9 (9 cores, Boosted)
ISP
Spectra 480

Supports up to 200MP
Supports 4K video capture
Supports 8K video capture

MediaTek Imagiq Camera
(five-core) HDR-ISP

Supports up to 200MP
Supports 4K HDR video capture

AI Engine
Hexagon 698

(15 TOPS)

MediaTek APU 3.0 (six cores)
Max On-Device Display and Refresh Rate
QHD+ at 144Hz
4K at 60Hz
QHD+ at 90Hz
FHD+ (2520 x 1080) at 168Hz
Modem
Snapdragon X55

Supports mmWave and sub-6GHz spectrums

Multi-SIM features: Global 5G multi-SIM

5G Uplink Speed: Up to 3 Gbps
5G Downlink Speed: Up to 7.5 Gbps

Supports all spectrums

Multi-SIM features: True Dual 5G SIM (5G SA + 5G SA)

5G Uplink Speed: Up to 2.5 Gbps
5G Downlink Speed: Up to 4.7 Gbps

Connectivity
Wi-Fi 6
Bluetooth 5.2
GPS, GLONASS, NavIC, Galileo, Beidou, QZSS
Wi-Fi 6
Bluetooth 5.2 with LC3 encoding
Dual Frequency GPS, GLONASS, NavIC, Galileo, Beidou, QZSS
Gaming
Snapdragon Elite Gaming

Qualcomm Game Color Plus v2.0
Qualcomm Game Smoother 

True HDR game rendering
10-bit color depth
2020 color gamut
Updateable GPU drivers

HyperEngine 3.0

Networking Engine 3.0
Rapid Response Engine 3.0
PQ Engine 3.0 (Ray Tracing in Mobile Games and AR)
Resource Management Engine 3.0
Node Size
The Snapdragon 870 5G is a 7nm chipset just like its siblings – the Snapdragon 865 and Snapdragon 865 Plus. MediaTek, on the other hand, has switched to the smaller 6nm process.
A smaller node is known to bring an increase in performance and power efficiency, and as you can see the Dimensity 1200 is the chipset with the smaller node size, so it wins this round.
CPU
The two chipsets have eight cores each and they use the same 1+3+4 arrangement but where they differ is in the cores themselves.
The Snapdragon 870 is practically an overclocked Snapdragon 865 and Snapdragon 865 Plus chipset, so you get the same cores but at a higher clock speed. It has a prime Cortex-A77 core that has the highest clock speed of a mobile CPU core at 3.2GHz. Its performance cores are also the same Cortex-A77 clocked at 2.42GHz while the efficiency cores are Cortex-A55 cores clocked at 1.8GHz.
The Dimensity 1200 has the more powerful Cortex-A78 cores as its prime core and performance cores. ARM says that the Cortex-A78 boasts a 20% increase in performance over the Cortex-A77. There are four Cortex-A78 cores inside the Dimensity 1200 which gives it a significant advantage over the Snapdragon 870 which has the older Cortex-A77 cores.
On top of that is the fact thatsave for the prime core, all of the cores of the Dimensity 1200 chipset including the A55 efficiency cores are clocked higher than those of the Snapdragon 870 5G.
At the moment, there are no benchmark results to back up the claim but the Dimensity 1200 should have the upper hand as it has the more powerful CPU cores and also has a smaller node size.
GPU
The Adreno 650 is the GPU inside the Snapdragon 870 5G, the same one inside the Snapdragon 865 duo. Qualcomm didn't say that it has increased the clock speed for the Snapdragon 870 5G, so we will assume the GPU performance is unchanged from that of the Snapdragon 865 Plus.
The Dimensity 1200 has a Mali-G77 MC9 (9 cores) GPU. This is not ARM's most powerful GPU, the Mali-G78, which is found inside the Kirin 9000, Exynos 2100, and Exynos 1080 chipsets. MediaTek says that the GPU has gotten a performance increase of 13% compared to that of the Dimensty 1000+.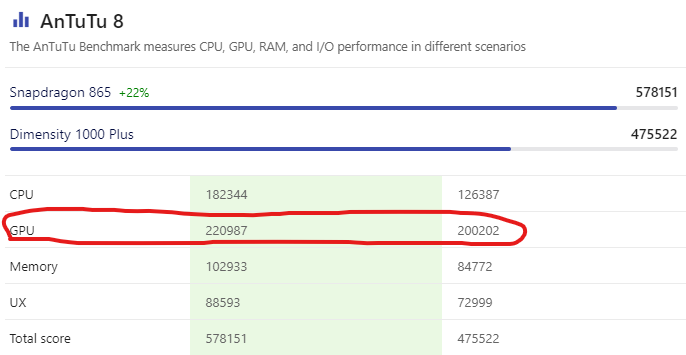 The Adreno 650 is a powerful GPU and benchmark results have shown that the Snapdragon 865 has a better GPU score than the Dimensity 1000+ which has a Mali-G77 MC9 GPU too. However, since MediaTek claims that the GPU in the Dimensity 1200 boasts a 13% increase in performance over that of the Dimensity 1000+, then the GPU performance gap between the Snapdragon 870 5G and Dimensity 1200 should be smaller or even erased. We will have to wait for benchmark results and real device reviews to know which processor is better.
To know how the standard Mali-G77 MC9 performs, you should check out our review of the iQOO Z1 which has a Dimensity 1000+ processor.
One area where the Adreno 650 has the upper hand is in having support for updateable GPU drivers. MediaTek is yet to offer that feature for its own chipsets.
The Snapdragon 875 also supports QHD+ displays at a refresh rate of 144Hz and 4K displays at a 60Hz refresh rate. The Dimensity 1200 supports QHD+ displays at a maximum refresh rate of 90Hz which goes all the way up to 168Hz for 1080p screens.
EDITOR'S PICK: Qualcomm's CPUs are about to get even more powerful as it plans to acquire NUVIA

ISP
The Spectra 480 ISP inside the Snapdragon 870 5G is known to be pretty impressive based on reviews and comparisons of phones powered by the Snapdragon 865/865 Plus. It has support for 200MP cameras, 8K video recording, and HEIF video capture.
MediaTek's Imaqiq Camera HDR-ISP also has few tricks up its sleeve. The five-core ISP brings support for 200MP photos, staggered 4K HDR video recording that boasts a 40% greater dynamic range and real-time 3-exposure fusion. MediaTek also says that it has support for bokeh video, multi-person AI-segmentation, and AI-Panorama Night Shot. Night Shots are also now 20% faster. Unfortunately, there is still no support for 8K video recording
AI
The Hexagon 698 boasts 15 TOPS but MediaTek doesn't say the value of its own APU 3.0 AI engine. However, AI Benchmark ranks the APU 3.0 AI engine inside the Dimensity 1000+ over the Hexagon 698 inside the Snapdragon 865 Plus processor. Since these are the same AI Engines inside the Dimensity 1200 and Snapdragon 870 respectively, we will give this round to MediaTek.
Connectivity
The Snapdragon X55 has support for mmWave and sub 6GHz spectrums as well as SA and NSA networks. The modem also brings 5G multi-SIM support but according to Qualcomm's explanation, it doesn't seem to mean you can use 5G on both SIM slots at the same time.
Qualcomm's modem also boasts faster downlink and uplink speeds. There is also Wi-Fi 6, Bluetooth 5.2, and support for various positioning systems including GPS, NavIC, Beidou, and GLONASS.
MediaTek says that the modem inside the Dimensity 1200 supports all spectrums with 5G-CA (carrier aggregation) across TDD/FDD. It also supports true dual 5G SIM (5G SA + 5G SA), has a special Elevator Mode and 5G HSR mode that ensures a reliable 5G experience across networks. As shown in the table, the downlink and uplink speeds are slower than that of the Snapdragon 870.
The Dimensity 1200 also has support for Dual-band for GNSS, GPS, Beidou, Galileo, and QZSS. It also has support for NavIC. There is Wi-Fi 6 but no Wi-Fi 6E and its Bluetooth 5.2 has support for LC3 encoding.
Gaming
Gaming is another important area where these two chipsets show their strengths.
Qualcomm's chipset has Snapdragon Elite Gaming which brings features such as Game Color Plus v2.0 and Game Smoother. It also has True HDR game rendering, 10-bit color depth, and desktop forward rendering.
MediaTek's HyperEngine 3.0 Gaming Technology enhances connectivity, responsiveness, image quality, and power efficiency with features like 5G call and data concurrency, multi-touch boost, ultra-low latency true wireless stereo audio, high FPS power saving, and super hotspot power saving. However, the game-changing feature it has is support for Ray Tracing in mobile games and AR.
Conclusion
The Snapdragon 870 5G builds upon the success of the Snapdragon 865 Plus with an even more powerful CPU. Its GPU, though unchanged, will handle any game you throw at it. The Snapdragon X55 modem also offers blazing uplink and downlink speeds and its ISP is one of the best in its class.
The Dimensity 1200 is also a beast with its four Cortex-A78 cores, one of which has the highest clock speed in a processor. MediaTek says it has upped the GPU performance, and it has also added some very useful features to the ISP such as a faster night shot mode. Its modem brings true dual 5G SIM support and its game engine brings ray tracing to mobile games.
We expect any phone powered by either of these two chipsets to offer incredible performance at a much affordable price tag than more premium smartphones. If you want a flagship killer phone that doesn't put a hole in your pocket, you should look for phones powered by these chipsets.
ALWAYS BE THE FIRST TO KNOW – FOLLOW US!