Shock-Weary Global Economy Girds for Supply Jolt From Suez Mess – Yahoo Canada Finance
(Bloomberg) — Supply Lines is a daily newsletter that tracks trade and supply chains disrupted by the pandemic. Sign up here.
Six thousand miles from the Suez Canal in the U.S. Midwest, the chief executive of a multinational maker of industrial adhesives has one eye on the clogged trade artery and another on the ways to minimize the fallout on his $2.8 billion company.
"It just adds to the ongoing stress in the supply chain" for chemicals, Jim Owens, president and CEO of St. Paul, Minnesota-based H.B. Fuller Co., told Wall Street analysts as salvage crews failed to clear the Egyptian waterway late last week. "Is it going to transform everything in a negative way? No, but it's an issue that we're watching very carefully."
So is the rest of the trade world. Efforts to free the beached Ever Given are nearing a pivotal stage, relying on machines and human engineering but also hoping for a celestial pull. High tide through Monday offers perhaps the best chance yet to float a steel behemoth that's four times heavier than the iconic Sydney Harbour Bridge.
For the global economy, hanging in the balance daily is about $10 billion in commodities, industrial inputs and consumer products on ships that ply the canal, with supply-chain fears directed mostly at Asian exporters and European importers. The broader economic costs — small thus far in relation to $18 trillion in global goods trade annually — are compounding with each day the canal remains closed.
"It is a severe blow to the already constrained supply chains that were just recovering from the Covid pandemic," Rahul Kapoor, vice president of maritime and trade at IHS Global Insight in Singapore, told Bloomberg Television on Friday. "If it goes into weeks, it could turn into what we could call catastrophic."
Vincent Stamer, an international trade expert at Germany's Kiel Institute for the World Economy, said the delays thus far will cause economic damages, "but it's too early to quantify them."
It's not too soon for companies to be making other plans. A few container ships and oil tankers are already avoiding the clogged shortcut between the Red Sea and the Mediterranean, and instead detouring around the Cape of Good Hope at the southern tip of Africa. That adds more than a week to the Asia-to-Europe journey and hundreds of thousands of dollars in fuel costs, but it's a hedge against a potentially even longer delay in transiting through the Suez.
About 320 vessels were still waiting on Saturday for the passageway to reopen.
Companies from the Swedish furniture giant Ikea to Illinois-based Caterpillar Inc., the global maker of construction equipment, are among the customers of ocean freight weighing alternative sourcing plans.
In the short term, the added stress on trade will translate into higher transportation costs, tighter supplies, and more delivery delays for producers and purveyors of goods.
Even before the incident that closed the Suez, input costs in the euro area rose at the fastest pace in a decade, while measures of prices paid and charged by U.S. businesses advanced in March to fresh records as shortages of materials and disrupted supply chains sparked inflation concerns.
Over the longer run, it may force a rethinking about the dangers of too much globalization and of supply chains exposed to too much unforeseeable risk.
Overestimating those dangers might be a mistake, though, said Robert Koopman, chief economist of the World Trade Organization in Geneva. He sees the Suez situation as another test that the global economy will battle through in the weeks ahead, but will ultimately pass.
The giant, fully loaded ship is "a great photo op," he said. "But I wouldn't get too excited about the daily trade impact."
Koopman said the canal blockage doesn't mean global supply chains are at risk of disintegrating — it's all part of doing business in today's interconnected global economy. Whether it's a winter cold snap in Texas that snarls production of petrochemicals, container shortages on Transpacific trade routes, or a fire at a chip-making plant in Japan — disruptions happen all the time, and companies adapt.
'Real Risks'
"There are real risks out there," Koopman said in an interview on Friday. "They have to be heard about and paid attention to. I wouldn't take it as instructive about the risk of over-globalization."
International trade in goods has been a rare bright spot over the past year, and returned recently to pre-pandemic levels. That's the danger with the latest supply shock — it could further fatigue already strained networks of ships, ports, trains, trucks and warehouses.
According to a report from Allianz Research, each week of no traffic through the Suez Canal could dent global trade growth by 0.2 to 0.4 percentage point. Even before the Suez incident, supply-chain disruptions since the start of the year might trim 1.4 percentage points from trade growth — about $230 billion of direct impact, Allianz said.
"The problem is that the Suez Canal blockage is the straw that breaks global trade's back," Allianz said in the note.
Caught in the turmoil are about 6,200 container ships that carry more than 80% of merchandise trade. Dominated by about a dozen companies based in Europe and Asia, they're already operating at full capacity and charging record-high rates for the 20- and 40-foot-long boxes they're struggling to align with global demand.
Diverting shipments around Africa for an extended period would cut about 6% of global container capacity from the market — roughly the equivalent of removing from service 74 ultra-large vessels like the one that burrowed into the banks of the Suez, according to a note late Friday from Copenhagen-based Sea-Intelligence.
"Such an amount of capacity absorption will have a global impact and lead to severe capacity shortages," Sea-Intelligence CEO Alan Murphy said. "It will impact all trade lanes."
Just how badly is difficult to say, as the Port of Rotterdam can attest. As last count on Friday, 59 ships caught in the Suez snarl were bound for Europe's biggest seaport. The vessels might take a week or two to get there, or longer.
And they may come in manageable waves or in bunches that exceed the port's capacity. The ships' captains might radio an arrival well in advance, or maybe not.
Ready in Rotterdam
All that fresh uncertainty means "we have a challenge ahead," said Rotterdam spokesman Leon Willems. "The number of containers they carry will be put on trains, barges and trucks and stored in depots — but these depots are quite full at the moment."
At Minnesota's H.B. Fuller, which gets about half its revenue outside the U.S., Feburary's winter storms in Texas meant the temporary closing of some facilities, though Owens said on a conference call Thursday the company should make up for the lost business "and then some." Now, staring down the troubles in the Suez, it has a team monitoring "exactly what materials that our suppliers have that might be on those ships," he said.
"They're well in the mode of managing those issues and a ship stuck in the Suez is exactly what they are set up to do," Owens said. "They'll manage it just fine."
For more articles like this, please visit us at bloomberg.com
Subscribe now to stay ahead with the most trusted business news source.
©2021 Bloomberg L.P.
Two years of Kashmir unrest, political void and a sinking economy – Al Jazeera English
Srinagar, Indian-administered Kashmir – Two years after the Modi administration stripped Indian-administered Kashmir of its limited autonomy, political activity in the disputed region is in a deep freeze, businesses are struggling, while people's rights are being suppressed through stringent laws.
On this day two years ago, India's Hindu-nationalist government led by Prime Minister Narendra Modi scrapped the region's special status guaranteed by India's constitution decades ago and turned the country's only Muslim-majority state into a federally controlled territory.
The move included the removal of a ban on permanent settlement of non-Kashmiris in the region, a step that locals fear is aimed at bringing demographic changes in the region.
The right-wing Bharatiya Janata Party (BJP) government claimed the changes would result in a better development of the region and boost its economy.
But experts and political analysts say the situation has only deteriorated in the last two years.
Political void
The last state elections in Indian-administered Kashmir were held in 2015, when a regional pro-India party, the People's Democratic Party (PDP), allied with the BJP to form the government.
The region has a group of political parties considered loyal to New Delhi. They contest regional and national elections, which are boycotted by the region's separatist groups, who demand either a merger with neighbouring Pakistan or an independent nation.
In 2018, the BJP withdrew its support to the PDP, toppling the government and putting the state under the direct rule of New Delhi.
The next year, as the Modi government scrapped Articles 370 and 35A which granted Indian-administered Kashmir its autonomy, dozens of politicians from the region, including three former chief ministers belonging to pro-India parties, were arrested. Some of them continue to be in jails.
Meanwhile, the region was split into two federally controlled territories – Jammu and Kashmir, and Ladakh – and no legislative elections have been announced so far.
Between November to December last year, multi-phase local elections were held in the region to elect 280 district development councillors. Analysts said the polls were an attempt by New Delhi to show "normalcy" in the disputed Himalayan region, also claimed by Pakistan.
While the elected members of the district development councils have no powers to legislate or amend laws, many of them have been since confined to hotel rooms in different places and barred from visiting their constituencies due to "security threats".
Many elected councillors, angry over the government's treatment, have threatened to resign.
The region's pro-India politicians say the government's controversial decisions "have damaged the very bond of our relationship with the union of India".
"There is no political space left for anyone," Mohammed Yousuf Tarigami, a former minister and four-time legislator from the Communist Party of India-Marxist (CPM), told Al Jazeera.
Tarigami is convener and spokesman of the People's Alliance of Gupkar Declaration (PAGD), a coalition of six parties demanding the restoration of the region's autonomy and statehood.
He said a fallout of the BJP government's 2019 decision has been "a process of throttling of democracy and democratic rights, which have resulted in a forced silence" in the region.
"Unconscionable suppression of civil and democratic rights continues unabated. Indiscriminate arrests and harassment of all sections of our people, including government employees, on different pretexts continues."
There are reports that the federal government has made future elections subservient to what is called delimitation, which means redrawing the region's assembly constituencies. Residents fear the BJP aims to increase seats in the southern Jammu area of the region in order to reduce the representation of the Kashmir valley in the state assembly.
Suppression of civil rights
A 78-page report, titled Two Years of Lockdown: Human rights in Jammu and Kashmir, released by an Indian civil society group, Human Rights Forum Jammu and Kashmir, on Wednesday concluded that the security situation in the Himalayan region has worsened.
The report referred to rising cases of human rights violations including the crackdown on dissent, arrest of activists and use of draconian laws against journalists for doing their jobs.
"Indeed, new methods that endanger civilian security, political freedoms, government service, and media independence have been added. There appears to be little accountability for violations by the union government and security forces," it said.
The report said close to 1,000 people are still in prison, including minors and elected legislators, some under stringent laws such as the Unlawful Activities (Prevention) Act or UAPA.
Data from India's National Crime Records Bureau shows 921 cases were registered in the region between 2014-2019, 500 of which were recorded in 2018 and 2019.
Lawyer and activist Habeel Iqbal told Al Jazeera that in the last two years, UAPA has been used in Indian-administered Kashmir as a "tool for tightening control over its population".
"Apparently, it is done in the name of security concerns but the real motive seems to be political. People are detained for months without trial and the courts are being used to legitimise the police excesses and arbitrariness," he said.
Soon after its 2019 decision, the BJP government closed down six semi-autonomous commissions in the region, including the State Human Rights Commission, Commission for Protection and Women and Child Rights, and Commission for Persons with Disabilities.
At the time of its closure, the region's rights panel had at least 8,000 pending cases of torture , enforced disappearances, extrajudicial killings and rapes. Thousands of families have been left without any hope for justice due to the closures.
Nearly a year after these commissions were shut, India's National Investigation Agency (NIA) raided the offices and residences of two top rights activists in the region: Parveena Ahanger, the head of the Association of Parents of Disappeared Persons, and Khurram Parvez, a member of the Jammu and Kashmir Coalition of Civil Society (JKCCS).
After the raids, human rights activism in the region has been completely throttled.
JKCCS chairman Parvez Imroz told Al Jazeera that in the past two years, rights violations by India's security forces have become more brazen in the restive region.
"[…] Because along with political impunity, they now enjoy moral impunity," he said, adding that the "neutralisation of civil society and human rights groups" is against the UN's Universal Declaration of Human Rights.
"Depriving people of their daily rights, using threats and intimidation to silence people … Whatever little agitation and protest victims used to have that space has been choked."
No end to violence
One of the arguments the BJP government had made while enforcing its 2019 decision was that the move will reduce the armed rebellion against the Indian rule in the region, which started more than 30 years ago.
But the records tell another story.
A local official, on condition of anonymity, told Al Jazeera that in the first seven months of 2021, at least 80 local youths have joined the rebellion. In 2020, 163 had joined, he said.
Last month, at least 31 armed rebels were killed in more than a dozen gun battles, with the trend showing there is no end to violence in the region.
Civilian fatalities have also risen. While 32 civilians were killed during protests or security operations last year, at least 19 civilians lost their lives in the first six months of 2021, report by a local civil society group says.
Yashwant Sinha, the former federal minister and member of Human Rights Forum Jammu and Kashmir, told Al Jazeera there is a lot of resentment among people because of what happened two years ago.
"The trust deficit has deepened. It is a sullen silence," he said after his visit to the region last week.
"To tell you the truth, normalcy has not returned to the Kashmir valley. The fact that there is no stone-throwing in the streets and there are no demonstrations does not mean normalcy has returned."
Fears of dispossession
After it tightened its grip over the region militarily, the federal government also introduced a series of policy decisions and abolished many historic land laws, which protected the land rights of the region's natives for decades.
New Delhi on Tuesday released a 76-page document, Jammu and Kashmir: Marching to a new tune, highlighting the "achievements" of the government since August 5, 2019.
In the document, the government said it has issued four million domicile certificates issued to people to settle in Indian-administered Kashmir, including 55,931 certificates given to Hindu and Sikh refugees who came to the region in 1947 when the subcontinent was partitioned to form India and Pakistan.
The document further said that nearly 3,000 similar certificates were issued to members of the marginalised Valmiki community, who work as sanitation workers, and to hundreds of Gurkhas brought to Kashmir from Nepal. Until August 5, 2019, these individuals were not recognised as citizens of the erstwhile state.
However, the document is silent on the number of domicile certificates given to people from other Indian states, a silence that is heightening anxiety in the Muslim-majority region about New Delhi trying to alter its demography.
Besides, New Delhi has also thrown open other gates for the outsiders to settle in the region. Jobs earlier reserved for permanent residents of the region are now open to domicile certificate holders.
Moreover, in another disturbing trend, at least 11 government employees have been terminated from their jobs for "being a threat to the state".
Local political analyst Sheikh Showkat Hussain told Al Jazeera the moves have created a fear of dispossession and loss of rights over jobs and land
"All the apprehensions people had about the status quo have proved true," he said.
"They were apprehensive that if the status quo continues, they will be outnumbered by those who come from Indian states and they will be dispossessed of their land and identity. All of this has come true."
Politician Tarigami said people of the region are "being ripped apart into smaller units, ripped off their jobs and rights over the natural resources that are theirs".
Sinking economy
Perhaps the worst impact of the 2019 decision has been on the region's economy, which traders and industrialists say has collapsed, with thousands of job losses and rising unemployment.
Sheikh Ashiq, the president of Kashmir Chamber of Commerce and Industry told Al Jazeera that the region's economy has suffered losses worth $7bn in two years of consecutive lockdowns, first due to the scrapping of the special status and later due to the coronavirus pandemic.
"When we were hoping to revive the trade after the 2019 lockdown, COVID-19 hit the region. We conveyed to the government the need for comprehensive support to revive the businesses," Ashiq told Al Jazeera.
Ashiq said at least 500,000 Kashmiris have lost their jobs since 2019, including nearly 60,000 employed in the flagship tourism and horticulture sectors.
With the existing economy of the region on the verge of collapse, local businesses are not hopeful of new investments in the region.
"The businesses who have already invested their blood and money should be saved first," said Ashiq.
Siddiq Wahid, the former vice-chancellor of the Islamic University of Science and Technology in the region, said New Delhi's decisions have put even the BJP government "in a difficult position" by creating more trouble spots.
"It has worsened for Delhi," he told Al Jazeera. "Now, it (government) has four trouble spots to control. The Jammu area feels economically deprived due to land rights that have been taken away from them. Ladakh is another spot as they are not happy with New Delhi because they were promised a union territory with powers of local authority which has not happened."
Indonesian economy grows for first time in five quarters – FRANCE 24
Issued on: 05/08/2021 – 09:24
Jakarta (AFP)
Indonesia's economy bounced back in the second quarter to post its first growth in more than a year, but analysts warned the recovery might be short-lived as Covid-19 surges.
Southeast Asia's largest economy grew by 7.07 percent in the April-to-June quarter compared with the same period last year, the Central Statistics Agency (BPS) said Thursday.
The figure is higher than a projection by the Central Bank of Indonesia, which predicted growth of 6.75 percent.
The expansion, the first positive figure in five quarters, was driven by a pick-up in exports and imports as Indonesia's trading partners also saw greater activity.
"For the economy to keep growing, the key is how we manage the health sector, comply with health protocols and vaccinate people to reach herd immunity," BPS head Margo Yuwono told a press conference.
Domestic consumption also contributed to the comeback with motorcycle and car sales jumping 2.5 and 7.5 percent respectively compared with the first quarter.
Greater business activity and more public mobility as a result of pandemic restrictions being relaxed also contributed to the recovery, Yuwono added.
But analysts believe Indonesia will struggle to record continued growth as a virus surge triggered by the Delta variant wracks the country.
"Indonesia's economy is struggling badly, with Q2 GDP data showing that the recovery lost some momentum even before the latest surge in virus cases," Gareth Leather, a senior Asia economist for Capital Economics, said in a statement.
The archipelago has reported more than 3.5 million infections and over 100,000 deaths from Covid-19 though official figures are widely believed to be an underestimate.
It has never implemented a full lockdown but introduced restrictions in early July limiting travel and non-essential business activity.
Last year the country's economy shrunk 2.07 percent as it entered its first recession since the 1997 Asian financial crisis.
The central bank recently cut its 2021 GDP growth forecast to between 3.5 percent and 4.3 percent.
© 2021 AFP
Chilean Circular Economy Pioneer Poised for Expansion – Triple Pundit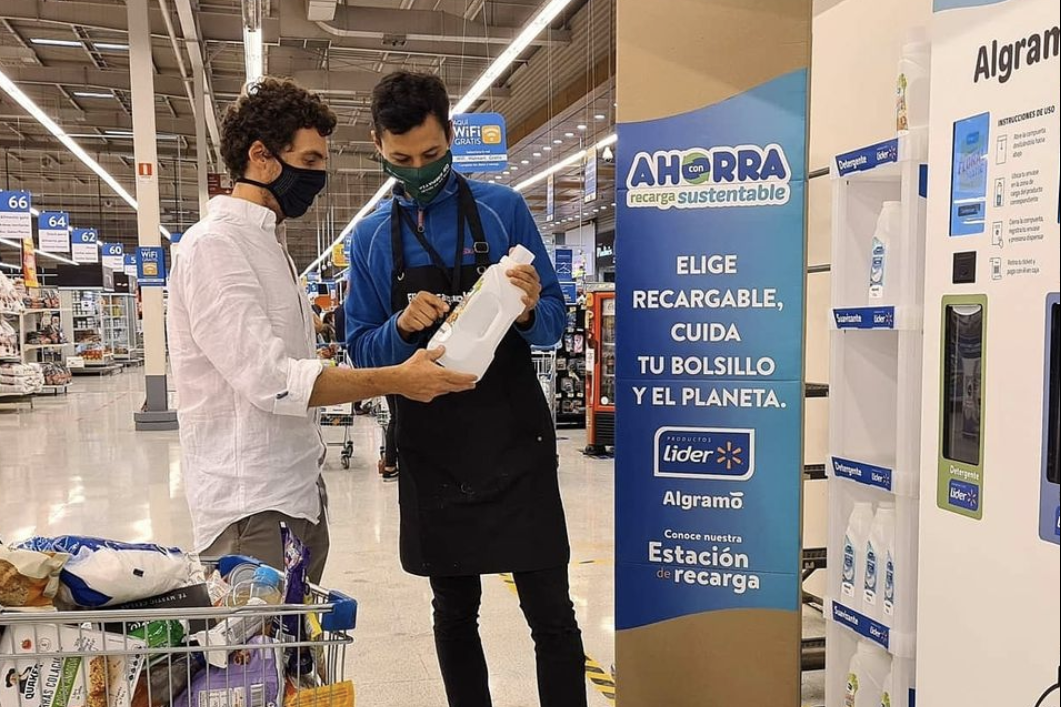 Pay for the product, not the packaging. Start filling bottles, not landfills. These are just a few of the value propositions Algramo, a Chile-based company, has introduce in recent years. In business for a decade, Algramo is a circular economy game-changer … and still very much on the rise.
Algramo provides a self-service, cashless way to buy big brand cleaning products in a more sustainable way. Algramo stations – which are smart dispensing systems, sort of like vending machines – are set up at retail locations, including Walmart, throughout Chile. The process is simple: users download an app, charge their account, bring their reusable bottle to an Algramo dispenser and then select how much of the cleaning product they wish to buy.
Having just secured $8.5 million in funding from Mexico's Dalus Capital, with participation from Angel Ventures, FEMSA Ventures, Volta Ventures, Impact Assets, University Venture Fund, Century Oak Capital and Closed Loop Partners' Ventures Group, Algramo says it will launch pilot stations around the world.
Projects are already underway with retailers and distributors in Mexico, Jakarta, London and in New York locations to set up new stations. Algramo's supply chain management initiative requires careful handling to promote its sustainable, bulk-refilling solution while also not upending existing supplier-retailer relationships.
Algramo's initiative and distribution model captured the attention – early on – of some consumer packaged goods (CPG) giants, like Unilever, Nestlé and Colgate-Palmolive. As reported in a recent TechCrunch article, Algramo, in its early stages, had to make the business case to the big retailers and consumer grands of the world to provide bulk products in refillable containers to help consumers, the planet and these companies' bottom lines. Recently, these large corporations have started to listen and respond at a local level – and have partnered with other companies to launch similar services in the process.
In the interview with Techcrunch, Algramo CEO José Manuel Moller said, "…we're integrating into their supply chains, working with the retailers and the brand[s] so they don't disrupt existing relationships. And actually, ordering the product in bulk saves them about 60 percent of the space."
In addition to saving space by offering reusable bottles, any packaging costs, which can range from 10 to 30 percent of the product cost, are removed.
The result is a scalable way to bring together big brands and big retailers while saving customers money and mitigating single-use plastic waste. When customers refill their "smart reusable packaging" at an Algramo dispenser, they are rewarded with increased savings.
To date, Algramo's total funding amount has totaled $11 million. This invested capital is supporting three key socially responsible investment themes: Climate innovation through mitigating plastic waste; business productivity by offering a true circular economy solution; and improving consumer accessibility by promoting inclusion and enabling consumer access to better priced, big brand products.
Once the latest pilot stations launch and if they operate successfully, Algramo can will be able to prove that its circular economy model performs well – even within the well-established, albeit ripe for disruption, retail and CPG sectors. The success of these global stations will increase Algramo's valuation and should help to attract significant addition funding in the near future. Then, perhaps within the next several years, Algramo stations will become more prevalent – making access to consumer products, while eliminating plastic waste in the process, far more accessible to more consumers. This could be a likely win for everyone involved.
Image credit: Algramo/Instagram