Should mobile gamers consider upgrading to iPhone 12? – Financial Post
Apple's new phones have plenty of features to excite gamers, but are they worth the cost of levelling up your hardware?
Postmedia may earn an affiliate commission from purchases made through our links on this page.
Article content
I'm not sure I know anyone who doesn't use their phone as a gaming platform. In its latest study of the Canadian game market, the Entertainment Software Association of Canada reports that 94 per cent of Canadian adults use a mobile device for gaming. That's nearly 19 out of 20 people.
Whether we're casually playing The New York Times' addictive daily Spelling Bee challenge on the couch while binging seasons of TV on Netflix or hunkered down and focused with headphones and a Bluetooth controller playing Call of Duty Mobile, mobile devices are an undeniably convenient way to get a gaming fix.
I've been using an iPhone 7 Plus for the past four years, and it's met all of my mobile gaming needs. I've felt no particular urge to upgrade. But when Apple contacted me with an opportunity to put the iPhone 12 Plus through its gaming paces, my curiosity was piqued. In this world of incremental and cumulative mobile hardware upgrades, is four years long enough to see some truly significant enhancements in the mobile gaming experience?
Advertisement
This advertisement has not loaded yet, but your article continues below.
Article content
There's no question Apple's iPhone 12 family, which launched last fall, are powerful gaming devices. Hardware nerds know these A14 Bionic-equipped phones are crazy fast thanks to a six-core CPU, a new performance controller to distribute heavy workloads, and a four-core GPU, resulting in a computer mind capable of processing 11 trillion operations per second.
Put in terms we can all understand, the iPhone 12 munches through resource-intensive mobile games like Pac-Man set loose in a maze of glowing dots and power pellets without any ghosts to bother him.
More than that, it's Apple's first 5G phone (a key upgrade for online play), has LiDAR for improved accuracy of projected images in augmented reality (AR) gaming, an enhanced haptic engine for nuanced tactile control feedback, and a beautiful display with brilliant contrast and stunning clarity thanks to a pixel density ranging from 458ppi on the iPhone 12 Pro Max all the way up to 476ppi on the iPhone 12 Mini.
But will the average player notice these boons? That depends entirely on the kind of games they play.
Someone who uses their phone for crosswords and match-three puzzles probably won't notice much of a difference in their gaming beyond quicker downloads and load times. Which means there's really no pressing need to upgrade if your go-to mobile game is Candy Crush Saga.
However, players of games that are a little more ravenous for resources are bound to both see and feel some of the advantages of all this newfangled technology.
Advertisement
This advertisement has not loaded yet, but your article continues below.
Article content
Take, for instance, League of Legends: Wild Rift. Riot Games' mobile version of its global PC sensation League of Legends — the most popular game on the planet, by some metrics — is exactly the sort of game that benefits from the latest and greatest mobile hardware. Launched in regional beta last year, this competitive multiplayer online battle arena (MOBA) game is designed to replicate the desktop experience to make it appealing to the millions who play on a computer.
"We rebuilt literally everything from the ground up," said Michael Chow, the game's executive producer. "We wanted to create the magic on mobile devices, including everything that makes League what it is to our desktop players."
Given the impressive guts of the iPhone 12, it's no surprise that the game looks great and runs like a dream when played on Apple's latest family of phones. But serious players are likely to notice more than just the pretty graphics.
As Apple's first 5G-enabled handset, people playing on one of Canada's speedy new 5G cellular networks are more likely to enjoy a smoother experience while on the go. You'll see this not just via a steadier and more reliable connection, but also in the controls, with the lag between tapping a button and seeing the command rendered onscreen noticeably reduced. This is key for competitive online games, where even a hint of lag can mean the difference between life and death.
"We think it's literally the best 5G performance of any phone or device in the world," said Chow of the iPhone 12. "We're able to deliver the truest level of competitive integrity. It's a stable, super low latency experience that really makes the game shine when every millisecond decision counts."
Advertisement
This advertisement has not loaded yet, but your article continues below.
Article content
Chow's team is also keen to take advantage of iPhone 12's advanced haptic feedback capabilities to enhance the game's touch controls. He refused to speak in detail of what Riot is working on in this regard, but he did provide some hints as to what players might expect.
"It can range from the mundane — like confirmatory buzzes –—to really feeling the heat of battle," said Chow. "It's pretty awesome, but none of it is live in the game yet."
Stockholm, Sweden-based King is similarly excited about what the iPhone 12 means for its upcoming Crash Bandicoot: On the Run!, a mobile runner based on the long-running platformer series born on the original PlayStation a quarter century ago.
The game's senior producer (and Canadian expat) Bob Woodburn reckons the iPhone 12's prodigious processing power will make On the Run! shine on Apple's devices.
"We're aiming for best-in-class visuals," said Woodburn. "We wanted to see how close to triple-A quality console graphics we can come. We've taken a lot of chances with stuff, like real-time shadows and complicated lighting changes, and we're seeing a stable 60 frames per second and really responsive controls running on iPhone 12."
Fellow Canadian Nathan Young, development director at Vancouver-based Kabam, which makes high-profile mobile exclusives based on pop culture properties, shares Woodburn's enthusiasm for the A14 Bionic's ability to take mobile game visuals to the next level.
Advertisement
This advertisement has not loaded yet, but your article continues below.
Article content
"The iPhone 12 really excites us because it allows us to push the envelope in terms of what's possible with our games as we release them," said Young while discussing his studio's upcoming multiplayer brawler Marvel Realm of Champions. "It's a visually stunning experience on iPhone 12. It really looks amazing. We believe that this is how Marvel is meant to be played on mobile."
Another potentially significant advantage Apple's A14 Bionic processor helps facilitate is extending battery life. Mobile games — especially those with sophisticated graphics — tend to be notorious power hogs, draining juice quicker than Superstore manager Glenn Sturgis. But Apple's new processor can be leveraged to go a bit easier on the phone's precious energy stores.
"It basically allows us to better optimize assets with features like memoryless textures," explained Young. "We can optimize the assets we use so that they don't burn as much battery or produce as much heat."
As for my own personal experience with the iPhone 12 Plus versus my old iPhone 7 Plus, I've noticed significant benefits in many of the games I play, but not so much in others.
Some of the games to which I've been hopelessly addicted over the past couple of years — mostly entries in Nintendo's mobile library (particularly Dr. Mario World) — show minor visual enhancements in colour and clarity that can be attributed to the iPhone 12's improved Retina display. And I can anecdotally confirm that I've experienced a noticeable improvement in battery life (though I can't say the degree to which this can simply be chalked up to a new versus four-year-old battery). These are the sorts of improvements I expect from iterative hardware change.
Advertisement
This advertisement has not loaded yet, but your article continues below.
Article content
However, some of the other, more visually intense games I enjoy playing — Sayonara Wild Hearts, Sky: Children of the Light, and The Witness, to name a few — feel much nimbler when loading and rendering. And they look great on the iPhone 12 Plus' Super Retina XDR display, which is noticeably larger (despite a smaller, narrower chassis — a benefit for one-handed play), brighter and crisper.
And I'm looking forward to being able to download hefty Apple Arcade games in a flash over 5G once I finally begin leaving the house again.
Circling back to our original question, is the iPhone 12 a worthy upgrade for avid mobile gamers?
The answer will be different for everyone, but in my case it's yes. My four-year-old phone has had a very good run, but gains in processing power, display technology, and battery life over the last few years combined with the potential benefits of features like 5G support make for a pretty compelling argument to level up my mobile hardware.
Report: New Nintendo Switch With 4K Output, OLED Screen Will Release Before Christmas – Kotaku
Last year, Bloomberg reported that a new model of the Nintendo Switch would be out sometime in 2021. Today, they're reporting some more specific details, like the size of the screen and some 4K news.
The original report was very light on details, saying only that Nintendo "has looked into including more computing power and 4K high-definition graphics", but that has now been clarified to say that this new model will feature an OLED screen made by Samsung, which will be seven inches across (current Switch models are 6.2 and 5.5 inches for the regular and Lite respectively) and feature a 720p resolution.
It will also, perhaps even more importantly, output 4K visuals when connected to a TV, which will make for one hell of a resolution change when switching between docked and handheld mode.
Bloomberg's report says production on the new screens will commence in June, with the "displays slated for shipment to assemblers around July", meaning this new model would be ready "in time for the holidays".
Nintendo reportedly plans to release new Switch with larger Samsung OLED display – MobileSyrup
It seems there might be at least some level of truth to rumours that Nintendo is working on a new version of the Switch.
According to a recent report from Bloomberg, the company plans to release a new version of the Switch with a larger display in time for the 2021 holiday season.
This time around the console's 7-inch, 720p display will be OLED and manufactured by Samsung Display. Bloomberg says that the displays are set to ship in July to the various companies that assemble the Switch.
Making the jump to OLED would give the Switch better battery life and likely improve the screen's contrast ratio. The current version of the Switch features a 6.2-inch LCD screen, while the Switch Lite's LCD display measures in at 5.5-inches.
Though the current Switch's LCD screen is passable, moving to a Samsung panel would almost certainly improve its overall picture quality given the South Korean company's prowess in the TV and smartphone display space.
The report also mentions that this new version of the Switch will be capable of outputting 4K visuals to a television, hinting that at least its dock will feature a faster processor. While interesting, this could potentially splinter the Switch's installed base and result in few developers taking advantage of the increased graphical power, similar to the 3DS and the New 3DS.
It's unclear if anything else about the actual Switch console will change beyond the larger screen and the 4K output. Though the Switch continues to sell well and recently hit 79.87 million consoles sold as of February 1st, it faces stiff competition from Microsoft's more recent Xbox Series X/S and Sony's PlayStation 5.
This could be an effort on Nintendo's part to build excitement surrounding the home console-portable hybrid system while moving into the holiday season.
However, Shuntaro Furukawa, the Japanese gaming giant's president, recently stated that Nintendo has no plans to announce a new version of the Switch "anytime soon."
Last year The Wall Street Journal reported that Nintendo was working on two Switch models, the Switch Lite and the Switch Pro. Though the Switch Lite eventually released, the company has repeatedly denied a more powerful Switch is on the way.
According to previous rumours, the upgraded version of the Switch features a more powerful processor, an improved design and possibly a dock with built-in hardware.
Source: Bloomberg
Nintendo Plans Switch Model With Bigger Samsung OLED Display – Bloomberg

Follow Bloomberg on Telegram for all the investment news and analysis you need.
Nintendo Co. plans to unveil a model of its Switch gaming console equipped with a bigger Samsung OLED display this year, hoping the larger touchscreen can prop up demand in time for the holidays, people familiar with the plan said.
Samsung Display Co. will start mass production of 7-inch, 720p-resolution OLED panels as early as June with an initial monthly target of just under a million units, said the people, who asked not to be identified discussing internal matters. The displays are slated for shipment to assemblers around July, the people said. Representatives for Nintendo and Samsung Display declined to comment.
Nintendo seeks to sustain a Switch lineup that continues to sell well against the Xbox and PlayStation, thanks to pandemic-era breakout hits like Animal Crossing and a chip crunch that's plagued supply of rival devices. But the gadget is now into its fifth year, while Microsoft Corp. and Sony Corp. both have new and more powerful machines in the market.
The gaming community has speculated online about the introduction of an OLED or organic light-emitting diode screen, but Nintendo has stayed mum and President Shuntaro Furukawa said in February his company has no plans to announce a new Switch "anytime soon." Samsung's involvement is the strongest indication that Nintendo is serious about updating the console, and on a large scale.
Shares of the Kyoto-based games maker fell 3.6% in Tokyo on Thursday amid a wider market selloff.
What Bloomberg Intelligence says

"The release of a more premium version of Nintendo's Switch console with an OLED display and support for 4K graphics for the holiday 2021 selling season could drive the company's sales above consensus for the fiscal year ending March 2022 and extend the life cycle of the Switch platform for many more years."

– Matthew Kanterman and Nathan Naidu, analysts

In February, Nintendo raised its annual forecasts after the Switch helped the company to its best quarterly earnings since 2008. The games maker hopes to sustain that run in 2021 despite stiffening competition and an ebbing pandemic.
Read more: Nintendo Raises Outlook After Surpassing High Expectations
"The OLED panel will consume less battery, offer higher contrast and possibly faster response time when compared to the Switch's current liquid-crystal display," said Yoshio Tamura, co-founder of display consultancy DSCC.
Nintendo decided to go with rigid OLED panels for the new model, the people said, a cheaper but less flexible alternative to the type commonly used for high-end smartphones. The latest model will also come with 4K ultra-high definition graphics when paired with TVs, they said. That could intensify a longstanding complaint of developers, who have struggled with the difference in resolution between handheld and TV modes and now face a bigger gap between the two.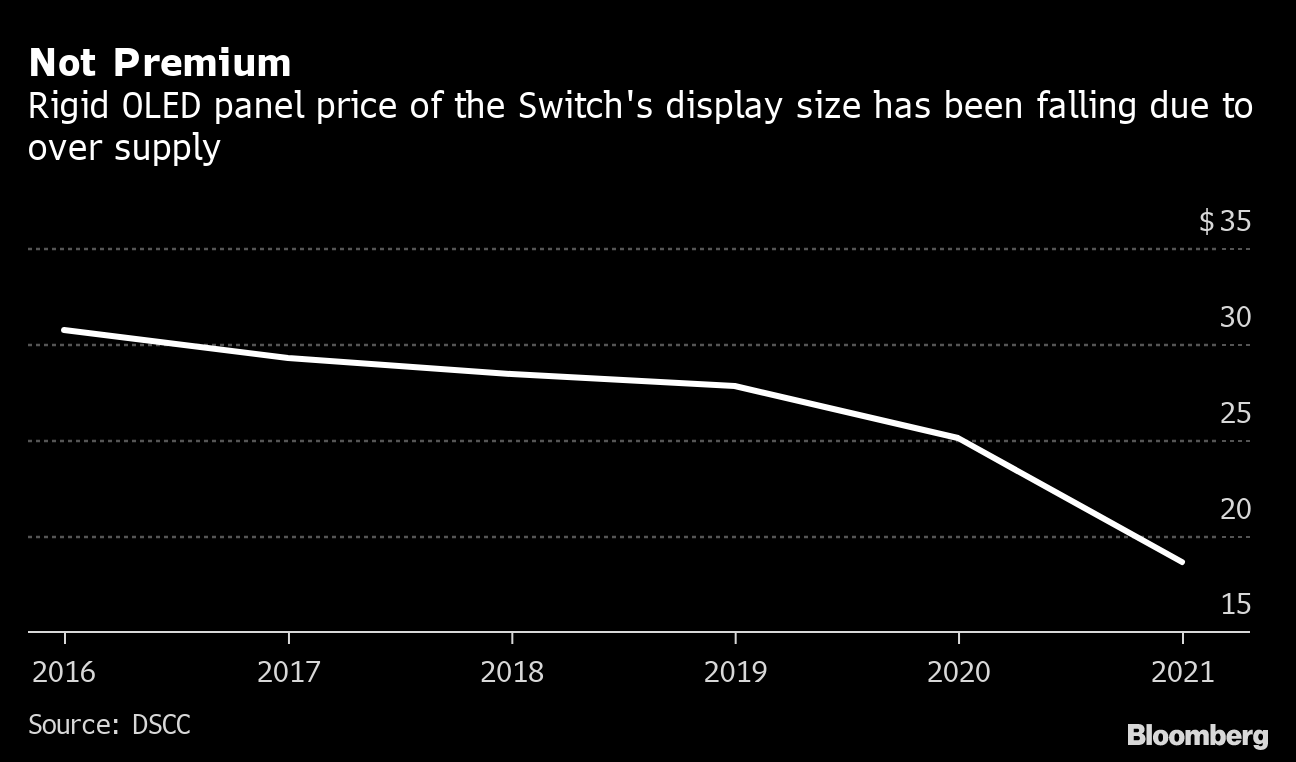 The deal benefits Samsung Display because market prices for so-called rigid OLED panels have been falling due to excess supply. Winning a customer like Nintendo also helps the Korean giant — an affiliate of Samsung Electronics Co. — firm up production plans. Nintendo in turn secures a valuable partner and supplier at a time semiconductor shortages are squeezing the supply of display-related components.
The new display's resolution mirrors the current Switch and Switch Lite but is an upgrade from the Switch's 6.2-inch and Lite's 5.5-inch size. If the console's housing remains unchanged, the new Switch is likely to sport a thinner bezel.
(
Updates with share price and analyst comment
)