Snapdragon 870 versus Dimensity 1200, flagship killer chipset battle – gizmochina
Just this week and we already have three new powerful processors that will appear inside some of the smartphones launching this year. They are the Snapdragon 870 5G processor from Qualcomm and the Dimensity 1200 and Dimensity 1100 from MediaTek.
For this edition of Chip Battle, we are pitting the Snapdragon 870 5G against MediaTek's Dimensity 1200 processor. Both chipsets are expected to be the SoC for phones that fall under the flagship killer category, so it makes sense to see how they compare against each other. The table below shows a spec-by-spec comparison:
Processor
Snapdragon 870 5G
Dimensity 1200
Node size
7nm
6nm
CPU
1 x ARM Cortex-A77 at 3.2GHz
3 x ARM Cortex-A77 at 2.42GHz
4 x ARM Cortex-A55 at 1.8GHz
1 x ARM Cortex-A78 at 3.0 GHz
3 x ARM Cortex-A78 at 2.6GHz
4 x ARM Cortex-A55 at 2.0GHz
GPU
Adreno 650
ARM Mali-G77 MC9 (9 cores, Boosted)
ISP
Spectra 480

Supports up to 200MP
Supports 4K video capture
Supports 8K video capture

MediaTek Imagiq Camera
(five-core) HDR-ISP

Supports up to 200MP
Supports 4K HDR video capture

AI Engine
Hexagon 698

(15 TOPS)

MediaTek APU 3.0 (six cores)
Max On-Device Display and Refresh Rate
QHD+ at 144Hz
4K at 60Hz
QHD+ at 90Hz
FHD+ (2520 x 1080) at 168Hz
Modem
Snapdragon X55

Supports mmWave and sub-6GHz spectrums

Multi-SIM features: Global 5G multi-SIM

5G Uplink Speed: Up to 3 Gbps
5G Downlink Speed: Up to 7.5 Gbps

Supports all spectrums

Multi-SIM features: True Dual 5G SIM (5G SA + 5G SA)

5G Uplink Speed: Up to 2.5 Gbps
5G Downlink Speed: Up to 4.7 Gbps

Connectivity
Wi-Fi 6
Bluetooth 5.2
GPS, GLONASS, NavIC, Galileo, Beidou, QZSS
Wi-Fi 6
Bluetooth 5.2 with LC3 encoding
Dual Frequency GPS, GLONASS, NavIC, Galileo, Beidou, QZSS
Gaming
Snapdragon Elite Gaming

Qualcomm Game Color Plus v2.0
Qualcomm Game Smoother 

True HDR game rendering
10-bit color depth
2020 color gamut
Updateable GPU drivers

HyperEngine 3.0

Networking Engine 3.0
Rapid Response Engine 3.0
PQ Engine 3.0 (Ray Tracing in Mobile Games and AR)
Resource Management Engine 3.0
Node Size
The Snapdragon 870 5G is a 7nm chipset just like its siblings – the Snapdragon 865 and Snapdragon 865 Plus. MediaTek, on the other hand, has switched to the smaller 6nm process.
A smaller node is known to bring an increase in performance and power efficiency, and as you can see the Dimensity 1200 is the chipset with the smaller node size, so it wins this round.
CPU
The two chipsets have eight cores each and they use the same 1+3+4 arrangement but where they differ is in the cores themselves.
The Snapdragon 870 is practically an overclocked Snapdragon 865 and Snapdragon 865 Plus chipset, so you get the same cores but at a higher clock speed. It has a prime Cortex-A77 core that has the highest clock speed of a mobile CPU core at 3.2GHz. Its performance cores are also the same Cortex-A77 clocked at 2.42GHz while the efficiency cores are Cortex-A55 cores clocked at 1.8GHz.
The Dimensity 1200 has the more powerful Cortex-A78 cores as its prime core and performance cores. ARM says that the Cortex-A78 boasts a 20% increase in performance over the Cortex-A77. There are four Cortex-A78 cores inside the Dimensity 1200 which gives it a significant advantage over the Snapdragon 870 which has the older Cortex-A77 cores.
On top of that is the fact thatsave for the prime core, all of the cores of the Dimensity 1200 chipset including the A55 efficiency cores are clocked higher than those of the Snapdragon 870 5G.
At the moment, there are no benchmark results to back up the claim but the Dimensity 1200 should have the upper hand as it has the more powerful CPU cores and also has a smaller node size.
GPU
The Adreno 650 is the GPU inside the Snapdragon 870 5G, the same one inside the Snapdragon 865 duo. Qualcomm didn't say that it has increased the clock speed for the Snapdragon 870 5G, so we will assume the GPU performance is unchanged from that of the Snapdragon 865 Plus.
The Dimensity 1200 has a Mali-G77 MC9 (9 cores) GPU. This is not ARM's most powerful GPU, the Mali-G78, which is found inside the Kirin 9000, Exynos 2100, and Exynos 1080 chipsets. MediaTek says that the GPU has gotten a performance increase of 13% compared to that of the Dimensty 1000+.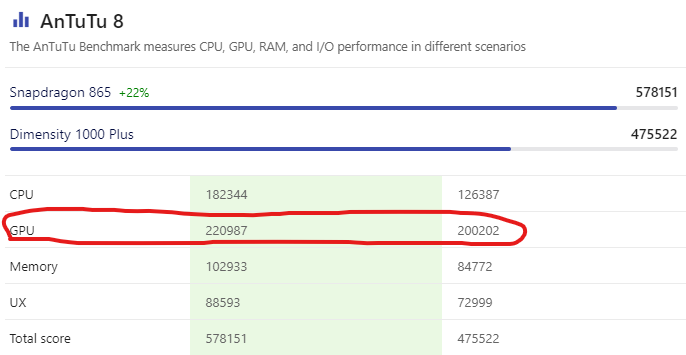 The Adreno 650 is a powerful GPU and benchmark results have shown that the Snapdragon 865 has a better GPU score than the Dimensity 1000+ which has a Mali-G77 MC9 GPU too. However, since MediaTek claims that the GPU in the Dimensity 1200 boasts a 13% increase in performance over that of the Dimensity 1000+, then the GPU performance gap between the Snapdragon 870 5G and Dimensity 1200 should be smaller or even erased. We will have to wait for benchmark results and real device reviews to know which processor is better.
To know how the standard Mali-G77 MC9 performs, you should check out our review of the iQOO Z1 which has a Dimensity 1000+ processor.
One area where the Adreno 650 has the upper hand is in having support for updateable GPU drivers. MediaTek is yet to offer that feature for its own chipsets.
The Snapdragon 875 also supports QHD+ displays at a refresh rate of 144Hz and 4K displays at a 60Hz refresh rate. The Dimensity 1200 supports QHD+ displays at a maximum refresh rate of 90Hz which goes all the way up to 168Hz for 1080p screens.
EDITOR'S PICK: Qualcomm's CPUs are about to get even more powerful as it plans to acquire NUVIA

ISP
The Spectra 480 ISP inside the Snapdragon 870 5G is known to be pretty impressive based on reviews and comparisons of phones powered by the Snapdragon 865/865 Plus. It has support for 200MP cameras, 8K video recording, and HEIF video capture.
MediaTek's Imaqiq Camera HDR-ISP also has few tricks up its sleeve. The five-core ISP brings support for 200MP photos, staggered 4K HDR video recording that boasts a 40% greater dynamic range and real-time 3-exposure fusion. MediaTek also says that it has support for bokeh video, multi-person AI-segmentation, and AI-Panorama Night Shot. Night Shots are also now 20% faster. Unfortunately, there is still no support for 8K video recording
AI
The Hexagon 698 boasts 15 TOPS but MediaTek doesn't say the value of its own APU 3.0 AI engine. However, AI Benchmark ranks the APU 3.0 AI engine inside the Dimensity 1000+ over the Hexagon 698 inside the Snapdragon 865 Plus processor. Since these are the same AI Engines inside the Dimensity 1200 and Snapdragon 870 respectively, we will give this round to MediaTek.
Connectivity
The Snapdragon X55 has support for mmWave and sub 6GHz spectrums as well as SA and NSA networks. The modem also brings 5G multi-SIM support but according to Qualcomm's explanation, it doesn't seem to mean you can use 5G on both SIM slots at the same time.
Qualcomm's modem also boasts faster downlink and uplink speeds. There is also Wi-Fi 6, Bluetooth 5.2, and support for various positioning systems including GPS, NavIC, Beidou, and GLONASS.
MediaTek says that the modem inside the Dimensity 1200 supports all spectrums with 5G-CA (carrier aggregation) across TDD/FDD. It also supports true dual 5G SIM (5G SA + 5G SA), has a special Elevator Mode and 5G HSR mode that ensures a reliable 5G experience across networks. As shown in the table, the downlink and uplink speeds are slower than that of the Snapdragon 870.
The Dimensity 1200 also has support for Dual-band for GNSS, GPS, Beidou, Galileo, and QZSS. It also has support for NavIC. There is Wi-Fi 6 but no Wi-Fi 6E and its Bluetooth 5.2 has support for LC3 encoding.
Gaming
Gaming is another important area where these two chipsets show their strengths.
Qualcomm's chipset has Snapdragon Elite Gaming which brings features such as Game Color Plus v2.0 and Game Smoother. It also has True HDR game rendering, 10-bit color depth, and desktop forward rendering.
MediaTek's HyperEngine 3.0 Gaming Technology enhances connectivity, responsiveness, image quality, and power efficiency with features like 5G call and data concurrency, multi-touch boost, ultra-low latency true wireless stereo audio, high FPS power saving, and super hotspot power saving. However, the game-changing feature it has is support for Ray Tracing in mobile games and AR.
Conclusion
The Snapdragon 870 5G builds upon the success of the Snapdragon 865 Plus with an even more powerful CPU. Its GPU, though unchanged, will handle any game you throw at it. The Snapdragon X55 modem also offers blazing uplink and downlink speeds and its ISP is one of the best in its class.
The Dimensity 1200 is also a beast with its four Cortex-A78 cores, one of which has the highest clock speed in a processor. MediaTek says it has upped the GPU performance, and it has also added some very useful features to the ISP such as a faster night shot mode. Its modem brings true dual 5G SIM support and its game engine brings ray tracing to mobile games.
We expect any phone powered by either of these two chipsets to offer incredible performance at a much affordable price tag than more premium smartphones. If you want a flagship killer phone that doesn't put a hole in your pocket, you should look for phones powered by these chipsets.
ALWAYS BE THE FIRST TO KNOW – FOLLOW US!
Abbotsford Airport had 4th highest traffic in Canada in 2020, and its number are down – Chilliwack Progress – Chilliwack Progress
Abbotsford International Airport (YXX) became the fourth most active airport in Canada during the pandemic – and its total traffic was down from 2019.
December ended what was described as a "devastating year" for air travel, according to a Statistics Canada report (Feb. 25) on the total air movements at the 90 airports under NAV Canada.
Statistics Canada defines air movements as any "take-off, landing, or simulated approach by an aircraft as defined by NAV Canada." The numbers show Canada's major international airports are seeing comparable runway activity as smaller airports.
Total aircraft movements at top 10 Canadian airports, 2020. Statistics Canada report.
---
Vancouver International Airport, for instance, had the third most traffic with 156,540 total aircraft movements in 2020 (down 53 per cent from 2019), while YXX had 137,265 (down just 17 per cent).
Month-over-month since May, Abbotsford Airport has consistently been in the top five for aircraft movements, even reaching number two for July and August when their traffic surpassed 2019's numbers.
Other international airports are seeing similar declines. Toronto's Lester B. Pearson Airport – Canada's busiest airport historically – experienced the largest drop at 62 per cent, having over 280,000 fewer take-offs and landings in 2020.
"As a result of the COVID-19 pandemic, other international take-offs and landings nosedived to levels not seen in 20 years," the report says.
Across the country, international flights were down 58 per cent for the year, flights to the U.S. fell by 68 per cent, while domestic movements declined 36 per cent, according to the report.
Year-over-year change in aircraft movements, by sector. Graph from Statistics Canada.
---
More restrictions were announced by the federal government on Jan. 29, 2021 to curb the spread of COVID-19 and the new variants. Airlines have since suspended all flights to and from Mexico and other Caribbean countries until April 30.
As of February, all international flights are being funnelled through four Canadian airports, and passengers have to present proof of a negative COVID-19 test before departure, and must quarantine for three days at a government approved hotel.
---
@portmoodypigeon
patrick.penner@missioncityrecord.com
Like us on Facebook and follow us on Twitter.
Microsoft .NET Conf: Focus on Windows – InfoQ.com
Earlier this week, the first edition of the .NET Conf: Focus series for 2021 took place, featuring Windows desktop development topics. The event targeted developers of all stripes, covering both existing functionalities on .NET 5 and upcoming projects such as .NET MAUI and Project Reunion. The focus conferences are free, one-day live-streamed events featuring speakers from the community and .NET product teams.
The focus series is a branch of the original .NET Conf, an annual event organized by the .NET community and Microsoft that showcases the latest developments for the .NET platform. Each focus event targets a specific .NET-related technology, providing a series of in-depth, hands-on sessions aimed at .NET developers.
.NET Conf: Windows was different from the other past events in the series because it was focused on a single operating system (OS) – which may seem strange considering the ongoing unification plan towards a cross-platform, multi-OS .NET framework. However, the focus was justified, considering the importance of upcoming projects such as .NET MAUI and the ongoing efforts related to ARM64 development.
The conference started with an overview of the latest developments related to .NET and desktop development. In this context, Scott Hunter, director of program management at Microsoft, talked about existing .NET 5 features related to desktop app development, such as self-contained single executable files and ClickOnce deployment. He also talked about the latest performance improvements and features in Windows Forms and WPF, assisted with live demonstrations by Olia Gavrysh and Dmitry Lyalin, both at Microsoft.
The following session, presented by Cathy Sullivan (program manager at Microsoft), featured the preview release of the .NET Upgrade Assistant, an automated tool to assist developers in upgrading existing .NET applications to .NET 5. While not being a complete upgrade tool (developers will still have to complete the upgrade manually), its GitHub repository includes a link to a free e-book on porting ASP.NET apps to .NET Core that covers multiple migration scenarios.
The remainder of the sessions were short (approx. 30 minutes), covering topics mentioned in the keynote (such as WPF and Windows forms – including the recent support for ARM64 released with .NET 6 Preview 1), app deployment with ClickOnce, and specific coverage of WebView2, Microsoft's new embedded web browser control used by Windows Forms. Other interesting sessions included demonstrations on building real-time desktop apps with Azure SignalR services (presented by Sam Basu) and accessing WinRT and Win32 APIs with .NET 5 (presented by Mike Battista and Angela Zhang, both at Microsoft).
The last three sessions focused on features and projects expected to ship with .NET 6 later this year. Daniel Roth, program manager at Microsoft, talked about building hybrid applications with Blazor. Hybrid applications are native apps that use web technologies for the UI, and support for cross-platform hybrid apps is an important feature of both .NET 6 and .NET MAUI.
Zarya Faraj and Miguel Ramos explained the concepts behind Project Reunion, which provides a unified development platform that can be used for all apps (Win32, Packaged, and UWP) targeting all the Windows 10 versions. The event was closed with a presentation by Maddy Leger and David Ortinau (both at Microsoft) on the future of native applications development in .NET 6 – which focused on .NET MAUI.
A relevant takeaway from the conference is how the recent efforts on developing native device applications targeting multiple platforms are revolving around .NET MAUI. However, it is important to notice that .NET MAUI does not represent a universal .NET client application development model, merging both native and web applications. This is an important distinction, especially in light of the many cross-references and mentions of Blazor Desktop, another highly anticipated feature in .NET 6. Richard Lander, program manager for the .NET team at Microsoft, recently approached this topic in multiple comments and posts:
I think folks may be missing the narrative on Blazor desktop. It is intended as a compelling choice for cross-platform client apps that enable using web assets. […] Blazor Desktop and MAUI are intended to be separate. Blazor Desktop will be hosted via a MAUI webview. MAUI will provide the desktop or mobile application container. MAUI will enable using native controls if that is needed/desired.
The next focus events are still undefined. The complete recording of this event is already available on YouTube. Recordings of all .NET Conf and .NET Conf: Focus events are available in curated playlists on MSDN Channel 9.
Pokémon turns 25 – Eurogamer.net
Pokémon is 25 years old today, 27th February 2021.
27th February 1996 saw the release of Pocket Monsters Red and Green in Japan for the Game Boy.
25 years later, Pokémon is one of the biggest entertainment brands in the world, and one of the most successful video game franchises.
Designer Satoshi Tajiri has said he was inspired to create the Pokémon saga after collecting insects as a boy.
Pocket Monsters Red and Green was a huge hit in Japan. Pokémon Red and Blue, as it was known on these shores, wouldn't launch in Europe until 5th October 1999.
Since then, Pokémon has established an empire, with scores of video games, TV shows and films. Pokémon's link to Nintendo has endured, with the core series of games all launching on the company's platforms.
And Pokémon shows no sign of slowing down. Amid the enduring popularity of mobile hit Pokémon Go, a flood of new games are coming soon.
New Pokémon Snap is due out on Nintendo Switch in April 2021.
Pokémon Brilliant Diamond and Pokémon Shining Pearl launch in late 2021, and see a retro-styled return to Sinnoh.
And an open-world Sinnoh game called Pokémon Legends Arceus and set in a feudal version of the region then follows in early 2022.
Shorter term, tomorrow, 28th February, a live Pokémon concert starring Post Malone will also take place.
So, here's to you, Pokémon! I choose you!