Social media fraud: The influencers promoting criminal scams – BBC News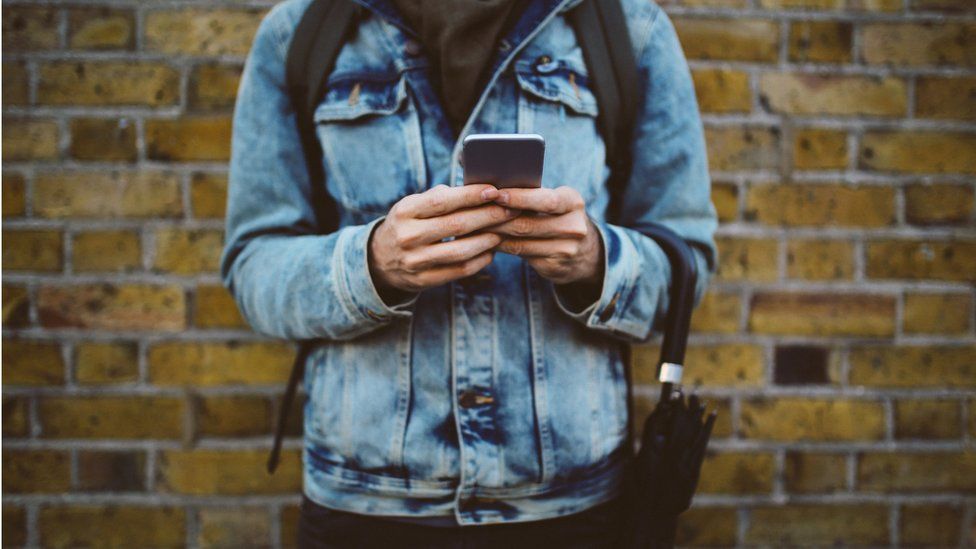 On social media, there's a new type of influencer. But instead of promoting clothing lines and lifestyle products, they promote fraud.
They flash stacks of cash, hide their faces, and some even lure new recruits by selling guides on committing fraud.
As part of an investigation for BBC Panorama, I discovered just how easy it was to make deals with fraudsters and purchase fraud guides online. I also unmasked one anonymous influencer who has been selling them.
On social, perpetrators of online retail fraud refer to it as "clicking", making it seem more innocuous.
But committing fraud – which is defined by the police-run service Action Fraud as using trickery to gain a dishonest advantage, often financial, over another person – can lead to up to 10 years in prison.
The guides being traded are known as methods.
They can target banks, retailers and even the government's Universal Credit system, leaving organisations and members of the public out of pocket.
And they all rely heavily on something known as fullz, slang for full information.
These are the personal details of an unconnected person: typically an individual's name, phone number, address and bank details.
With the fullz in hand, fraudsters can follow the steps in the guides to make online purchases or even take out a loan in someone else's name.

Panorama: Hunting the Social Media Fraudsters is on BBC One at 19:35 BST on Monday or later on iPlayer

How do these private details end up in circulation in the first place?
They have often come from phishing scams. Think of those dodgy emails or text messages that pretend to be from legitimate sources and con people into revealing their personal information.
Sometimes these fraudsters conduct or commission phishing activities themselves, or sometimes they get hold of the information via others.
Exploiting a person's "fullz" – by, for example, making purchases using their details – can wreck their credit score. A bad credit score can have life-changing implications: it affects your chances of applying for a loan, or getting a mortgage, or even opening a new bank account.
I contacted one fraudster who was advertising his services on social media and, through a messaging app, he offered to build me a fake website and send 4,000 phishing texts on my behalf to get people's personal details. His fee was £115.

Terms used by scammers
methods – tips on how to commit fraud
fullz – short for full details. Relates to personal banking information (e.g. I can get you their fullz)
clicking – fraudulently purchasing products from online retailers

On a separate Instagram profile, I noticed a scammer had posted some "fullz" – as a sort of free sample, encouraging people to pay to receive many more stolen details. I decided to call some of the phone numbers that were listed.
It was difficult listening to a stranger react as I told them their names, addresses, card details and phone numbers were posted online for anyone to see and exploit.
I later met up with one of the victims, Wilson from Oxford, who said seeing all his details online was scary because it made him realise how unprotected he was.
So why aren't more people behind these schemes being caught?
Cybercrime specialist Jake Moore says investigators are facing an uphill battle to find the culprits.
"Anonymous accounts are leaving not just a small amount of breadcrumbs to investigate them – there are no breadcrumbs," he says. "There's no digital footprint left behind them. So to investigative this is nearly impossible."
But being an influencer inevitably means sharing some elements of your life online – and over time, one influencer has left behind a few too many clues.
He calls himself Tankz, and in videos of him rapping online, he boasts: "I'm a London scammer. I see it, I want it, I click it."
He sells fraud guides – or methods.
I posed as someone interested in learning about fraud and messaged Tankz about his methods via Instagram. We bought his top guide for £100.
It arrived as a link, sent via social media, to 43 files on a cloud storage system.
The files were filled with detailed techniques on how to exploit online retailers. They also directed would-be criminals to websites where they can buy "fullz".
We wanted to find out who this masked fraud influencer was.
Panorama analysed footage Tankz posted on social media, and realised he gave too much away while trying to remain anonymous.
We noted a reference to north London's Wembley as his local area, a mention of studying economics and finance at university, and a glimpse of his car number plate.
One clip also featured a distinctive black-and-grey carpet, and we were able to find a match on a website advertising student accommodation in the Wembley area.
We went to the block, spotted the car, and waited. Then we saw a man approach the car wearing the exact same tracksuit Tankz had been wearing earlier that day in a social media video.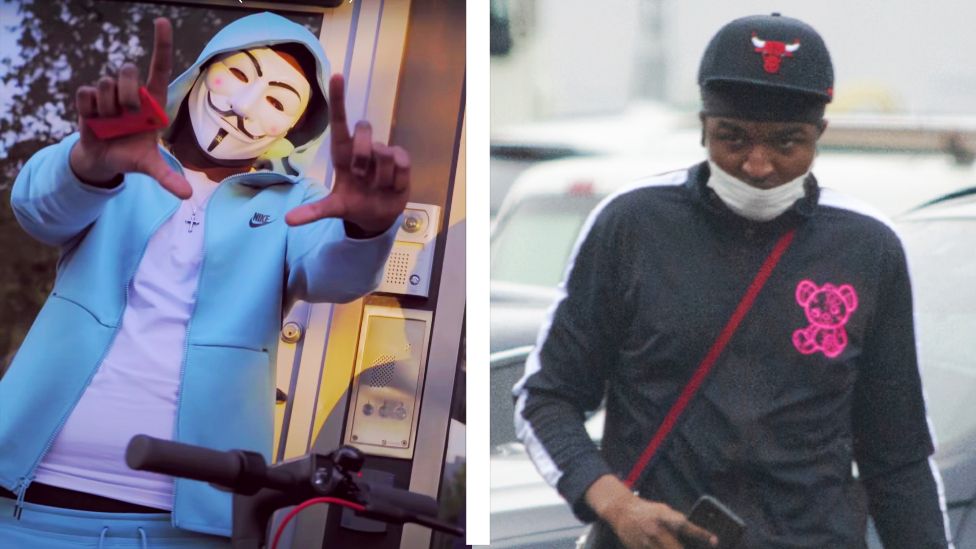 We had unmasked the masked fraudster but who was he?
His social media posts are anonymous, but we discovered that his songs were also listed on Apple Music. On one of his tracks, the copyright isn't listed to Tankz, but to what seems is his real name: Luke Joseph.
It didn't stop there. We discovered an email sent from Tankz's official address which also made a reference to the same name. There was even an eBay account under the name of Tankz, where Luke Joseph is the contact address.
Finally, we discovered that there was someone of the same name living in the same student accommodation block in Wembley. It seems that Tankz may be a London student called Luke Joseph.
We contacted Luke Joseph, and Tankz, but we didn't get a response.
His TikTok, Instagram and Snapchat accounts were removed by the respective social media platforms after Panorama notified them about the content.
Since then, he has created a new TikTok account where he continues to post about his life.
So what are the wider authorities doing to crack down on online fraud and those who promote it?
Earlier this year, the government revealed plans to reduce illegal and harmful digital content. It wants the communications regulator Ofcom to police social media and hold big tech giants to account.
Fraud-related content was not originally set to be included in this Online Safety Bill, but at the last minute the government changed its mind. The word "fraud" is still absent, but it could be covered by what the bill refers to as "illegal content".
Some have voiced concerns that it won't specifically address the problem.
Arun Chauhan, a solicitor specialising in fraud, says he thinks the bill "is not fit for purpose in the fight against fraud".
But a government spokesperson told Panorama the new law would "increase people's protection" from scams, and said they "continue to pursue fraudsters" and "close down the vulnerabilities they exploit".
TikTok, Twitter, Facebook, Snapchat, Instagram and YouTube all told us they did not allow fraud on their platforms.
They said that they took fraud very seriously and were constantly clamping down on criminal content.
The question is whether they can take it down faster than it's being posted.
Panorama: Hunting the Social Media Fraudsters is on BBC One at 19:35 BST on Monday or later on iPlayer
Utah's ambitious social media law
Utah's sweeping social media legislation passed this week is an ambitious attempt to shield children and teens from the ill effects of social media and empower parents to decide whether their kids should be using apps like TikTok or Instagram.
What's not clear is if — and how — the new rules can be enforced and whether they will create unintended consequences for kids and teens already coping with a mental health crisis. And while parental rights are a central theme of Utah's new laws, experts point out that the rights of parents and the best interests of children are not always aligned.
For instance, allowing parents to read their kids' private messages may be harmful to some children, and age verification requirements could give tech companies access to kids' personal information, including biometric data, if they use tools such as facial recognition to check ages.
"Children may be put at increased risk if these laws are enforced in such a way that they're not allowed to some privacy, if they are not allowed some ability for freedom of speech or autonomy," said Kris Perry, executive director of the nonprofit Children and Screens: Institute of Digital Media and Child Development.
The laws, which will go into effect in a year, impose a digital curfew on people under 18, require minors to get parental consent to sign up for social media apps and force companies to verify the ages of all their Utah users. They also require tech companies to give parents access to their kids' accounts and private messages, which has raised alarms for child advocates who say this could further harm children's mental health by depriving them of their right to privacy. This is especially true for LGBTQ2S+ kids whose parents are not accepting of their identity.
The rules could drastically transform how people in this conservative state access social media and the internet, and if successful, serve as a model for other states to enact similar legislation. But even if the laws clear the inevitable lawsuits from tech giants, it's not clear how Utah will be able to enforce them.
Take age verification, for instance. Various measures exist that can verify a person's age online. Someone could upload a government ID, consent to the use facial recognition software to prove they are the age they say they are.
"Some of these verification measures are wonderful, but then also require the collection of sensitive data. And those can pose new risks, especially for marginalized youth," Perry said. "And it also puts a new kind of burden on parents to monitor their children. These things seem simple and straightforward on their face, but in reality, there are new risks that may emerge in terms of that that collection of additional data on children."
Just as teens have managed to obtain fake IDs to drink, they are also savvy at skirting online age regulations.
"In Southeast Asia they've been trying this for years, for decades, and kids always get around it," said Gaia Bernstein, author of "Unwired," a book on how to fight technology addiction.
The problem, she said, is that the Utah rules don't require social networks to prevent kids from going online. Instead, they are making the parents responsible.
"I think that's going to be the weak link in the whole thing, because kids drive their parents insane," Bernstein said.
There is no precedent in the United States for such drastic regulation of social media, although several states have similar rules in the works.
On the federal level, companies are already prohibited from collecting data on children under 13 without parental consent under the Children's Online Privacy Protection Act. For this reason, social media platforms already ban kids under 13 from signing up to their sites — but children can easily skirt the rules, both with and without their parents' consent.
Perry suggests that instead of age verification, there are steps tech companies could take to make their platforms less harmful, less addictive, across the board. For instance, Instagram and TikTok could slow down all users' ability to mindlessly scroll on their platforms for hours on end.
The laws are the latest effort from Utah lawmakers focused on children and the information they can access online. Two years ago, Gov. Spencer Cox signed legislation that called on tech companies to automatically block porn on cell phones and tablets sold, citing the dangers it posed to children. Amid concerns about enforcement, lawmakers in the deeply religious state revised the bill to prevent it from taking effect unless five other states passed similar laws — which has not happened.
Still, child development experts are generally hopeful about the growing push to regulate social media and its effects on children.
"Children have specific developmental needs, and we want to protect them at the same time that we're trying to push back on Big Tech," Perry said. "It's a two-part effort. You have to really put your arm around the kids while you're pushing Big Tech away."
Trans Flight Attendant Famed For United Airlines Ad Found Dead After Emotional Social Media Post
<!–
–>
Kayleigh Scott, a transgender flight attendant who gained fame after appearing in a United Airlines commercial, has died after posting an emotional note to her social media channels. According to The Independent, the 25-year-old was found dead on Monday in her Colorado home. In her Instagram and Facebook posts, she penned a heartbreaking letter to her friends and family that asked them to remember the "good memories we have shared".
"As I take my final breaths and exit this living earth, I would like to apologize to everyone I let down," Scott wrote. "I am so sorry I could not be better. To those that I love, I am sorry I could not be stronger. To those that gave me their everything, I am sorry my effort was not reciprocated. Please understand that me leaving is not a reflection on you, but the result of my own inability to turn myself for the better," the flight attendant added.
In her post, Scott also named a few of her loved ones and apologised saying, "I will see you all again on the other side".
Scott's mother, Andrea Sylvestro, confirmed her daughter died after posting the letter. In a Facebook post, Ms Sylvestro wrote, "Kayleigh Scott…I am so unbelievably proud to have you as my daughter, proud and amazed by everything that you have done in your life, your smile was absolutely beautiful, your laughter was unbelievably contagious, your heart was bigger than any of us could have ever understood."
As per The Independent, the Denver Police Department is now investigating Scott's death. The cops stated that a final determination as to the cause of death will be made by the Denver Medical Examiner's office.
Separately, United Airlines said it was saddened by the loss of Scott. "We are incredibly saddened by the tragic loss of Kayleigh Scott and extend our deepest condolences to her family, friends and coworkers," the company stated.
Notably, Kayleigh Scott made headlines in 2020 when United featured her as a part of its diversity campaign. In the clip for Trans Day of Visibility, she spoke about the importance of coming out and living authentically. "I used to be so embarrassed about being trans," she said, adding, "All I wanted was to blend in."
The following year, Ms Scott also spoke about her progress since publicly coming out as transgender. She had alluded to battling depression. " I'm really struggling to find happiness and hope. I'm begging 2023 to be better to me. Please," she wrote, as per the outlet.
Utah social media law means kids need approval from parents
SALT LAKE CITY –
Children and teens in Utah would lose access to social media apps such as TikTok if they don't have parental consent and face other restrictions under a first-in-the-nation law designed to shield young people from the addictive platforms.
Two laws signed by Republican Gov. Spencer Cox Thursday prohibit kids under 18 from using social media between the hours of 10:30 p.m. and 6:30 a.m., require age verification for anyone who wants to use social media in the state and open the door to lawsuits on behalf of children claiming social media harmed them. Collectively, they seek to prevent children from being lured to apps by addictive features and from having ads promoted to them.
The companies are expected to sue before the laws take effect in March 2024.
The crusade against social media in Utah's Republican-supermajority Legislature is the latest reflection of how politicians' perceptions of technology companies has changed, including among typically pro-business Republicans.
Tech giants like Facebook and Google have enjoyed unbridled growth for over a decade, but amid concerns over user privacy, hate speech, misinformation and harmful effects on teens' mental health, lawmakers have made Big Tech attacks a rallying cry on the campaign trail and begun trying to rein them in once in office. Utah's law was signed on the same day TikTok's CEO testified before Congress about, among other things, the platform's effects on teenagers' mental health.
But legislation has stalled on the federal level, pushing states to step in.
Outside of Utah, lawmakers in red states including Arkansas, Texas, Ohio and Louisiana and blue states including New Jersey are advancing similar proposals. California, meanwhile, enacted a law last year requiring tech companies to put kids' safety first by barring them from profiling children or using personal information in ways that could harm children physically or mentally.
The new Utah laws also require that parents be given access to their child's accounts. They outline rules for people who want to sue over harms they claim the apps cause. If implemented, lawsuits against social media companies involving kids under 16 will shift the burden of proof and require social media companies show their products weren't harmful — not the other way around.
Social media companies could have to design new features to comply with parts of the laws that prohibit promoting ads to minors and showing them in search results. Tech companies like TikTok, Snapchat and Meta, which owns Facebook and Instagram, make most of their money by targeting advertising to their users.
The wave of legislation and its focus on age verification has garnered pushback from technology companies as well as digital privacy groups known for blasting their data collection practices.
The Electronic Frontier Foundation earlier this month demanded Cox veto the Utah legislation, saying time limits and age verification would infringe on teens' rights to free speech and privacy. Moreover, verifying every users' age would empower social media platforms with more data, like the government-issued identification required, they said.
If the law is implemented, the digital privacy advocacy group said in a statement, "the majority of young Utahns will find themselves effectively locked out of much of the web."
Tech industry lobbyists decried the laws as unconstitutional, saying they infringe on people's right to exercise the First Amendment online.
"Utah will soon require online services to collect sensitive information about teens and families, not only to verify ages, but to verify parental relationships, like government-issued IDs and birth certificates, putting their private data at risk of breach," said Nicole Saad Bembridge, an associate director at NetChoice, a tech lobby group.
What's not clear in Utah's new law and those under consideration elsewhere is how states plan to enforce the new regulations. Companies are already prohibited from collecting data on children under 13 without parental consent under the federal Children's Online Privacy Protection Act. To comply, social media companies already ban kids under 13 from signing up to their platforms — but children have been shown to easily get around the bans, both with and without their parents' consent.
Cox said studies have shown that time spent on social media leads to "poor mental health outcomes" for children.
"We remain very optimistic that we will be able to pass not just here in the state of Utah but across the country legislation that significantly changes the relationship of our children with these very destructive social media apps," he said.
The set of laws won support from parents groups and child advocates, who generally welcomed them, with some caveats. Common Sense Media, a nonprofit focused on kids and technology, hailed the effort to rein in social media's addictive features and set rules for litigation, with its CEO saying it "adds momentum for other states to hold social media companies accountable to ensure kids across the country are protected online."
However, Jim Steyer, the CEO and founder of Common Sense, said giving parents access to children's social media posts would "deprive kids of the online privacy protections we advocate for." Age verification and parental consent may hamper kids who want to create accounts on certain platforms, but does little to stop companies from harvesting their data once they're on, Steyer said.
The laws are the latest effort from Utah lawmakers focused on the fragility of children in the digital age. Two years ago, Cox signed legislation that called on tech companies to automatically block porn on cellphones and tablets sold in the state, after arguments about the dangers it posed to children found resonance among Utah lawmakers, the majority of whom are members of The Church of Jesus Christ of Latter-day Saints. Amid concerns about enforcement, lawmakers ultimately revised that legislation to prevent it from taking effect unless five other states passed similar laws.
The regulations come as parents and lawmakers are growing increasingly concerned about kids and teenagers' social media use and how platforms like TikTok, Instagram and others are affecting young people's mental health. The dangers of social media to children is also emerging as a focus for trial lawyers, with addiction lawsuits being filed thorughout the country.
——
Ortutay reported from Oakland, California.