Social media harming people's access to facts: Horgan – Alaska Highway News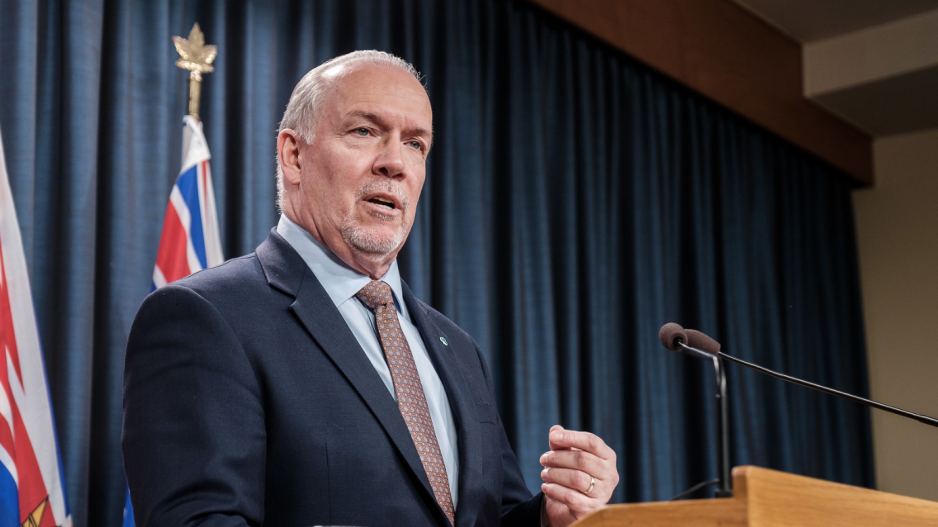 Social media is harming people's ability to get factual information about their communities, the country and the world, Premier John Horgan said Sept. 17.
"That worries me a lot," Horgan told delegates of the Union of BC Municipalities as their annual convention wrapped up Sept. 17.
The premier, who had considered journalism as a career, said unlike news produced by journalists, much of what is found on social media is not fact-checked or verified.
But, he said, as more people turn to questionable sources, news outlets lose advertising and have to lay off journalists — resulting in less verified news coverage.
"I've seen the erosion of local information, credible reliable, verifiable information for the public to better understand the challenges they face locally, provincially, nationally and internationally."
He said he often grumbles to friends who depend on social media for news, and often reminds them none of what they read there is verified or fact-checked.
"It is opinion that is put out into the world and then absorbed by the multiple millions depending on whether or not it starts to trend," he said.
Horgan said citizens need accurate information but asked, "how do we do that without appearing to be the state intervening?"
"We have, I think, a tussle right now between how does the government protect open access to information and how does open access to information protect the public that is consuming that information."
"We just don't know where it's coming from anymore."
Nelson Coun. Keith Page posed the question to Horgan, saying social media has hollowed out the revenue model of traditional media outlets leading to attrition in the ranks of journalists. Further, he said, under-investment in libraries combined with the harms of social media have led to a decline in social knowledge infrastructure in B.C.
"It affects everybody here and it affects everybody out there," said outgoing UBCM president Brian Frenkel.
Netflix's 'Squid Game' estimated to be worth about $900 million – Bloomberg News
"Squid Game," Netflix Inc's biggest original series launch, is estimated to be worth almost $900 million for the streaming giant, Bloomberg News reported late on Saturday, citing figures from an internal Netflix document.
The nine-episode thriller, in which cash-strapped contestants play childhood games with deadly consequences in a bid to win 45.6 billion won ($38.58 million), became an international hit after it launched last month.
In comparison to its estimated net worth, the show cost just $21.4 million to produce, Bloomberg said.
According to the report https://bloom.bg/3lNzxGY, about 132 million had watched at least two minutes of the show in its first 23 days, easily breaking the record set by U.K. costume drama "Bridgerton," which was streamed by 82 million accounts in its first 28 days.
Netflix had earlier announced the show had amassed 111 million fans, but Bloomberg said those figures were based on slightly older data.
Los Gatos, California-based Netflix estimated that 89% of people who started the show watched more than one episode, the news agency said, and 66% of the viewers finished watching the series in the first 23 days.
Netflix did not immediately respond to Reuters' request to comment on the report. An attorney for the company told Bloomberg that it would be inappropriate for Bloomberg to disclose the confidential data contained in the documents that it had reviewed.
The series is also the first Korean drama to snatch the top spot on Netflix in the United States, and has even spurred interest among people in learning Korean.
In China, where Netflix is unavailable without a VPN, a Beijing bakery has introduced a Squid Game-themed confection-making challenge in its store.
The show has even drawn positive comments from Amazon Inc founder Jeff Bezos, with the billionaire calling the work "impressive and inspiring." Amazon's streaming service Prime Video competes with Netflix.
($1 = 1,182.0700 won)
(Reporting by Shubham Kalia in Bengaluru, Editing by Nick Zieminski)
Russian actor and director making first movie in space return to Earth after 12-day mission
A Russian actor and a film director making the first move film in space returned to Earth on Sunday after spending 12 days on the International Space Station (ISS).
The Soyuz MS-18  Space capsule carrying Russian ISS crew member Oleg Novitskiy, Yulia Peresild and Klim Shipenko landed in a remote area outside the western Kazakhstan at 07:35 a.m. (0435 GMT), the Russian space agency Roscosmos said.
The crew had dedocked from the ISS three hours earlier.
Russian State TV footage showed the reentry capsule descending under its parachute above the vast Kazakh steppe, followed by ground personnel assisting the smiling crew as they emerged from the capsule.
However, Peresild, who is best known for her role in the 2015 film "Battle for Sevastopol", said she had been sorry to leave the ISS.
"I'm in a bit of a sad mood today," the 37-year-old actor told Russian Channel One after the landing.
"That's because it had seemed that 12 days was such a long period of time, but when it was all over, I didn't want to bid farewell," she said.
Last week 90-year-old U.S. actor William Shatner – Captain James Kirk of "Star Trek" fame – became the oldest person in space aboard a rocketship flown by billionaire Jeff Bezos's company Blue Origin.
Peresild and Shipenko have been sent to Russian Star City, the home of Russia's space programme on the outskirts of Moscow for their post-flight recovery which will take about a week, Roscosmos said.
(Reporting by Vladimir Soldatkin; Editing by Raissa Kasolowsky)
'Don't squish them': Photos on social media show slimy, sticky salamanders in Labrador – CBC.ca
It was late at night when Adam Reid took his dog out and found a little salamander on his front steps. The Happy Valley-Goose Bay man says he panicked, thinking it was an escaped pet, and took it inside.
"I was like, 'I cannot leave this poor little salamander here,'" Reid said. "It's started getting cold in Labrador. Things get pretty chilly."
Reid made a Facebook post and was surprised to learn that the critters are native to Labrador and even thrive there.
After confirming the salamander — who Reid had affectionately named Sal' — was in fact going to be OK, he took it out and let it go in his garden.
"We had our parting words and a few tears were shed by my puppy who didn't want to let him go. But I put him back in the garden and he went on his way," Reid said.
"Sal, if you're out there, I hope you're doing good, buddy."
Shylah Ernst said after Reid's post, she too saw salamanders on two occasions outside her work at a local daycare.
"We found four smaller salamanders inside of an old tire that had some water in the bottom of it," Ernst said.
The little amphibians were paraded around the daycare to show the children, Ernst said. However, they were all released back to the wild a short time later.
"Of course, they kept trying to pick him up. But we put him in a little container with some grass and sand," Ernst said.
"They looked at him and they played with him in his little basket … they loved him."
Salamanders more common than you'd think
Sean Boyle, a postdoctoral researcher at Memorial University, says people may not realize just how common the creatures are. He said they are an important part of the ecosystem but they are out of sight for almost the entire year.
"If you think in terms of biomass — which is the total mass of all of the individuals of the species — the biomass of a salamander will greatly outweigh the biomass of moose. So say you have 100 moose, you'll probably have tens of thousands of salamanders that weigh more than all of that combined," Boyle said.
There are two types of salamanders in Labrador — the two lined salamander and the blue-spotted salamander. The two-lined salamander is aquatic while the blue-spotted salamander lives mostly on land.
"Amphibians in general are really good at surviving tough conditions," Boyle said. "These two salamanders specifically, they kind of just bury themselves, either in the clear running water … or they'll bury themselves in the leaf litter in the soil and avoid the frost line."
If people see a salamander out and about, Boyle said, they don't need to worry about spooking it ,but he said don't pick it up and avoid it if possible.
"If you do have to pick them up, just make sure there's absolutely nothing on your hands. So that's no no bug spray, no sunscreen, no moisturizer, anything like that, because it can be very toxic to them."
Salamanders, like all amphibians, breathe through their skin and their skin can take in chemicals can hinder their ability to breathe, Boyle said. However, he said if people see salamanders, it's most likely wild and not a pet.
"For the most part, if people have pet salamanders, they're not the species that we would have in Canada," Boyle said. "And so the salamanders that you see in the wild would look different than ones that were escaped pets."
Ernst said she was surprised to read on social media that people didn't know salamanders were in Labrador, but she said she did grow up seeing them out and about. If people do find them, she said please leave them be.
"Don't squish them. Put them back. Leave them alone. Let them grow. So some people are afraid of them and they'll like 'uh step on that,' especially when they're small, but that's a sin. Leave them alone, let them grow. Let them make a home here."
Read more from CBC Newfoundland and Labrador