Social media stardom spins into Hollywood career for Canadian YouTuber Inanna Sarkis – CBC.ca
Inanna Sarkis's trajectory has taken her from goofing around with friends in silly Internet videos to having 10 million followers, a name on dressing room doors, a home under the Los Angeles sun and her name in mainstream movie credits.
It's also taken her back to her Canadian roots.
The 26-year-old, who was born and raised in Hamilton, has been in Winnipeg since mid-November, filming a horror-thriller called Seance.
Having been living in L.A. for a few years, it took an adjustment to get used to winter once again.
"The weather has been a little chilly but for the most part it's been a great experience," she said.
Seance, which will eventually be shopped to international buyers, is about an all-girls boarding school haunted by a vengeful spirit. Sarkis is also in two other movies currently in post-production, as well as one that is soon to be released and a TV movie that has just been completed.
But don't think she's outgrown those silly videos with friends. That's what launched her career and Sarkis is someone loyal to her roots.
"I do have this [social media] platform and I want to use it to inspire and influence people," she said, adding her primary audience ranges in age from 18-24.
She graduated from Ryerson University in Toronto with a major in criminal justice but Sarkis said her passion was always performing. So she packed up and chased that dream to L.A.
She got into an acting school and was taking classes when she was introduced to someone considered a star on the now-defunct Vine app, which allowed users to share six-second-long, looping video clips.
[embedded content]
Sarkis had never heard of Vine and had no social media presence at all but was intrigued. She starred in one of the person's Vine comedy sketches and then decided to start making her own.
That led to launching a YouTube channel that she hoped would give her some exposure that she could use to leverage her acting career. She created short films and better quality content than Vine would allow.
And it worked.
She realized that when she started to get recognized on the street, and not just in the United States but overseas in Europe.
"It was just a weird, crazy feeling," she said. "I wasn't even in any movies then, I was just creating these fun videos with my friends. But people were noticing the content I was creating."
She now has more than three million Youtube subscribers and 10 million followers on Instagram.
'Helped me survive'
It wasn't instant, though. At first, she wasn't making any income as she worked to built up her platform.
Sarkis said she would write, direct, produce, edit and post YouTube videos every day. She would also collaborate on, and appear in, videos for friends with bigger followings, to piggyback on their popularity and raise her own.
At the same time, she was bartending and working other jobs to pay bills.
She can't recall when her first brand deal came through, but as Sarkis' YouTube subscription list grew the companies came calling.
She became an influencer — someone with access to a large audience and viewed by brands as being able to persuade others. Brands offer products, vacations, and other opportunities in exchange for some exposure.
What was once "a fun thing I did on the side with friends" became a solid income source.
"I don't want to put a number on it but it's like any other job, if you put in the effort and the time and energy it starts becoming lucrative," Sarkis said.
"It was my main source of income for some time. It helped me survive living in L.A. and having my own place and I went there with nothing, really, so I can tell you that much."
She is now putting more work into transitioning into full-time acting and those paycheques are the primary income. But Sarkis doesn't plan on cutting ties with the platforms that helped mold her.
She still writes, produces, directs and acts in her own videos, as well as casts others for parts, but now she has a crew that helps edit and do other production work.
These days she's only publishing one or two videos a month on YouTube but posts short Instagram videos multiple times a day. Most recently, Winnipeg and its snowy scenes have made an appearance.
Sarkis has longer-term goals for fame but none involve straying too far from the content-creator blueprint.
She wants to produce her own TV series — "There's a bunch of things that I've written over the years" — and write a book, then movie script, that delves into the story behind her namesake.
Sarkis, who comes from middle-eastern DNA — an Assyrian father and Bulgarian mother — is named after the Sumerian goddess of beauty and love.
Sarkis says that middle-eastern heritage is not as well known as the stories of Greek mythology and wants to change that.
In the short term, however, she is heading back to L.A. on the weekend as filming on Seance wraps in the city.
Despite the cold, she is taking warm memories of Winnipeg back to California.
"It just made me feel like home, everyone's been super nice."
Toronto media day: Raducanu eyes 'a clean slate'; Sakkari faces a tough truth – WTA Tennis
TORONTO — Emma Raducanu says she is looking forward to a fresh start to her career ahead of her title defense at the US Open later this month. This week, the World No.10 returns to her birthplace in Toronto to make her tournament debut at the National Bank Open.
Toronto: Draw | Order of Play | Tournament 411
Fresh off a run to the quarterfinals of the Citi Open last week, Raducanu was asked to reflect on her US Open win and follow-up season.
"To have success at a young age, obviously you have to be really grateful because I'm doing what I love, but also I've reached success way earlier than I ever really would have thought I did," Raducanu said. "So I'm pretty proud of myself in that way.
"But it has been a tough year. I've definitely gone through and experienced a lot of challenges. To be fair, I've learned a lot from all of it. I think it's going to be nice once the US Open is finished and [I can] carry on from there. Start again.
"I think it will be nice to take all of the lessons from the last year and just [have] a clean slate."
Seeded No.9 this week, Raducanu will face 2021 Montreal champion Camila Giorgi in the first round.
In search of the real Maria Sakkari
After taking a 6-3, 6-1 loss to Shelby Rogers in the second round of the Mubadala Silicon Valley Classic last week, World No.3 Maria Sakkari had to face a difficult truth: She was not enjoying the life of a top tennis player.
Sakkari, Osaka among players looking for a spark in Toronto
"I just sat down with [Coach] Tom [Hill] for a lot of hours and just realized that I'm not enjoying being one of the best players in the world, which was something very tough to admit and very tough to handle," Sakkari told reporters. "But it's the truth. It's the reality. I think that the pressure and everything was something I had to deal with."
Sakkari has not been herself since making the biggest final of her career this spring at Indian Wells, where she lost to Iga Swiatek in the championship match. Sakkari credits her mother, former player Angeliki Kanellopoulou, for reminding her to enjoy her career. It won't last forever.
"After the match against Paula [Badosa in the Indian Wells semifinals] it was very emotional because I knew that I was going to be a Top 3 player after winning that match," Sakkari said. "[In Greece] I was always the person and the player that, because my mom was very famous back home, they always used to say 'She's never going to make it, even if she changes everything. She will never make it.' And then suddenly, out of nowhere, I become one of the best players in the world.
"So for me, it was very tough to handle it. I struggled. Sometimes when you are on the tour and you play week after week, you don't stop and you don't realize what you have really achieved. It takes time for some people and I believe that it took time for me.
"But I feel like I'm on the right track to being myself again. And I believe you're going to see a different Maria than in the last three months."
Netflix is not in deep trouble. It's becoming a media company – CNN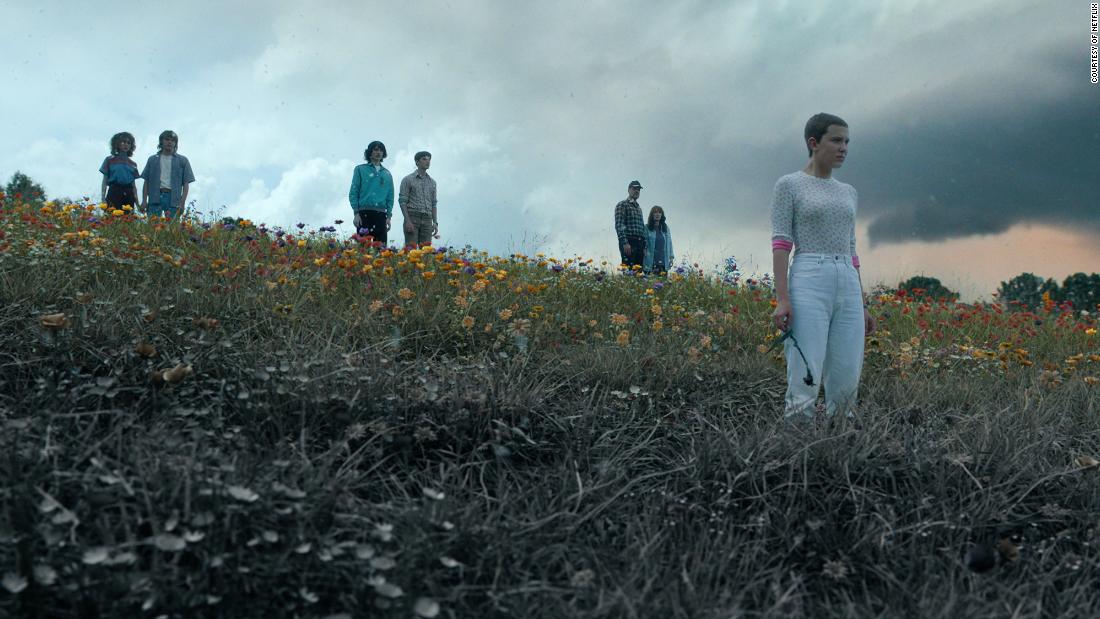 New York (CNN Business)Netflix has had a terrible 2022. In April, it said it lost subscribers for the first time since 2011. Its stock has tumbled more than 60% so far this year.
Yet its recent struggles may not be the start of a downward spiral or the beginning of the end for the streaming giant. Rather, it's a sign that Netflix is becoming a more traditional media company.
Netflix
(NFLX)
was originally valued as a Big Tech company, part of the Wall Street acronym, "FAANG," which stood for
Facebook
(FB)
,
Apple
(AAPL)
,
Amazon
(AMZN)
, Netflix and
Google
(GOOG)
. Wall Street once valued the company at about $300 billion — a number on par with many Big Tech companies that Netflix's business model ultimately couldn't live up to.
"I think Netflix was extremely overvalued," Julia Alexander, director of strategy at Parrot Analytics, told CNN Business. "Unlike those companies that have different tentacles, Netflix does not have a lot of tentacles."
But Netflix was never really a tech company.
Yes, it relied on subscriber growth like many companies in the tech world, but its subscriber growth was built on having films and TV shows that people wanted to watch and pay for. That's more a like a studio in Hollywood than a tech company in Silicon Valley.
Netflix looked a lot more like a tech company than, say, Disney, Comcast, Paramount or CNN parent company Warner Bros. Discovery. But as those traditional media companies start to look a lot more like Netflix, Netflix in turn is starting to take page out of its rivals' playbooks: It's going to
start serving ads
and it has been releasing some shows over the course of weeks and months rather than all at once.
Netflix has said that its cheaper ad tier and clampdown on password sharing may come next year. It's partnering with
Microsoft
(MSFT)
for its
ad business.
"I think in many ways the moves Netflix are making suggest a transition from tech company to media company," Andrew Hare, a senior vice president of research at Magid, told CNN Business. "With the introduction of ads, crackdown on password sharing, marquee shows like 'Stranger Things' experimenting with a staggered release, we are seeing Netflix looking more like a traditional media company every day."
Hare added that Netflix's former business strategy, which was "once sacrosanct is now being thrown out the window."
"Netflix once forced Hollywood deeply out of its comfort zone. They brought streaming to the American living room," he said. "Now it appears some more conventional practices could be what Netflix needs."
At Netflix right now, "a lot of these strategic moves are being made as they mature and move into the next phase as a company," noted Hare. That includes focusing on cash flow and revenue rather than just growth.
"In other words, old school business," he said.
— CNN Business' Moss Cohen contributed to this report.
City of Brandon – August 7th Media Release – City of Brandon –
For the last 24 hours:
Drinking in Public Leads to Multiple Criminal Charges:
At about 11:40 AM Saturday morning, it was reported that a male subject was acting bizarrely in and around the 700 block Rosser Ave. When located in the area, the 21 year-old was drinking an alcoholic beverage so was detained under the LGCCA. He was subsequently found to be in breach of multiple conditions of two separate Probation Orders. Search incident to arrest revealed a machete in his backpack. He disclosed taking an unknown quantity of unknown pills, so was released on appropriate police imposed conditions as he was receiving medical assessment and treatment. He is to appear in Court on October 3rd, facing one count of possessing a weapon and six counts of failing to comply with a Probation Order.
Break & Enters:
An unlocked attached residential garage on Falcon Crescent was entered overnight on Friday and tools were stolen. Some of those were recovered strewn across neighbouring property.
A resident in the 300 block 27th Street reported that the detached garage had been forcibly entered overnight Thursday – Friday. The complainant was unsure if anything had been stolen but the walk-through door frame had been damaged during the incident.
Theft With Threat:
At about 3:50 PM Saturday afternoon, it was reported that a resident in the 700 block 20th Street had been robbed of a bicycle approx. 20 minutes prior, while in his back yard. Police attended and spoke with the victim who related that an unknown male came into his back yard and stole an old bicycle of no value, and brandished a knife while doing so. The suspect left without further incident. The suspect was described as Indigenous in appearance, 6'5", skinny, wearing a blue hoodie, black bandana and hat. The knife was pulled from the front right pants' pocket.
Arrest Warrants:
A 28 year-old female was encountered in the 700 block 18th Street Saturday evening, with personal effects strewn about a business vestibule. A records query revealed a warrant for arrest for failing to comply with a Probation Order. She was arrested and released on scene with a court date of October 3rd.
Just before midnight Saturday night, Brandon RCMP advised having a 51 year-old male in custody on the strength of a BPS held warrant for arrest for sexual assault. RCMP had attended to a complaint in Glenboro and encountered the accused. He is held in custody and will appear before the court later today.
Motor Vehicle Collision With Injuries:
At 11:15 PM Saturday night, 911 reported a two vehicle collision at the intersection of Russell Street and Madison Crescent. Two occupants were stuck in a vehicle that had rolled over onto its' side. The investigation revealed that the driver of the rolled vehicle failed to stop at the stop sign. That driver was transported to BRHC by EMS with non-life threatening injuries. The second driver was uninjured.
Others:
Several people were detained from separate incidents, for their own safety or to prevent a breach of the peace, due to their level of intoxication. They will be held in custody until sober enough to care for themselves.
RELEASE AUTHORIZED BY:
A/Staff Sergeant Dallas Lockhart, #101
C Platoon
~~~~~~~~~~~~~~~~~
Anyone with information on any unsolved crime is asked to call Brandon Crime Stoppers at 204-727-(TIPS) 8477, www.brandoncrimestoppers.com or by texting BCSTIP and your message to CRIMES (274637). Crime Stoppers pays up to $2000.00 cash for information that leads to the solution of a crime.
CRIME STOPPERS 204-727-TIPS