Spend on haircuts, home renos and restaurants to stimulate economy: economists – OrilliaMatters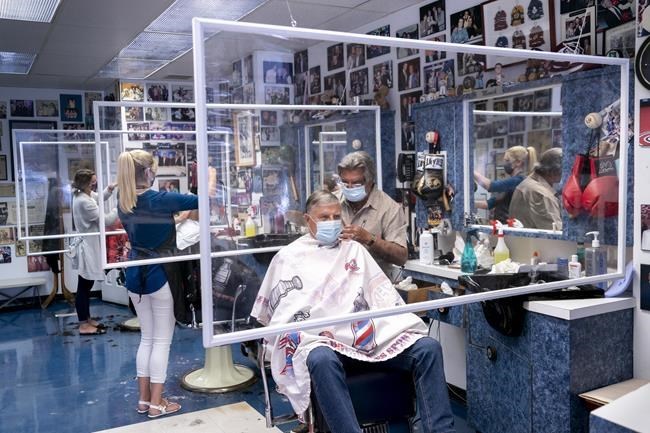 TORONTO — Canadians who want to help the country's economy rebound should book haircuts, hire tradespeople for home renovations and keep ordering from local restaurants, economists say.
They believe these actions are more likely to quickly stimulate Canada's economy and keep money within the country than online impulse shopping, which many have gravitated to during COVID-19 lockdowns.
"We could get a little bit more bang for every buck that's spent by households if they were incentivized to spend more on the services that have domestic content and those also just happen to be the services that have been hardest hit during the pandemic," said Royce Mendes, a senior economist with at CIBC.
Spending on services, said Mendes on Friday, helps stimulate a rebound because the people who offer them are likely to take money they earn and spend it within the domestic economy again.
If they see demand for their services return quickly enough, they may spend more on supplies needed for their work and may hire back Canadians laid off during the pandemic.
The economy lost almost 213,000 jobs in January as lockdown measures erased months of gains and marked the worst monthly declines since last April. The hospitality and service industry were hit particularly hard because restaurants, salons and other entertainment venues were ordered closed in many provinces to quell the spread of the virus.
However, Statistics Canada said Friday that 259,000 jobs were added in February, almost entirely wiping out losses sustained since the start of the year.
Douglas Porter, Bank of Montreal's chief economist, said spending on services can help stimulate the economy and bring back even more jobs, but the reality is lockdowns and restrictive measures still remain in parts of the country, so haircuts or trips to the gym aren't an option for everyone.
"Canadians should really double down on trying to help local businesses and services as much as they can and in the here and now and that's with things like supporting your local restaurant through takeout or a small retailer through curbside pickup," he said.
While he's hoping Canadians will boost the economy by opening up their wallets, he warned that it won't be an option for everyone.
Some have seen their financial situation bolstered during the pandemic, but others have taken on mounting debt or lost their source of income.
"Before this all began, the single biggest concern for the Canadian economy was an overextended consumer, so I would say this (spending advice) applies to people whose finances can actually handle that," he said.
Yet Porter doesn't believe it will be hard to get most people to spend again.
Many, he said, have saved during the pandemic and others are anxious to spend on favourite pastimes they've missed or on something other than goods.
"You only need so many Peloton bikes," he joked.
Mendes had similar predictions.
"I expect that there will be some indulging, some going out for dinner more often or going out for maybe more expensive dinners," he said.
"Maybe even going on a vacation that is a little bit more expensive, or maybe going on a few more vacations over the next 12 months."
When vacations are safe and permitted, he said the key will be encouraging people to travel within Canada.
"Keeping that money within the borders will help the economy recover at a faster pace."
Mendes' remarks echoed a recent call by Destination Canada, a crown tourism corporation, for Canadians to consider domestic travel before flying abroad. The company recently said that if enough Canadians shift their international travel plans to focus on domestic destinations, it could speed up recovery for the tourism sector by up to one year.
This report by The Canadian Press was first published March 12, 2021.
Companies in this story: (TSX:CM, TSX:BMO)
Tara Deschamps, The Canadian Press
Bank of Canada signals rate hike in 2022, tapers bond purchases
By Julie Gordon and David Ljunggren
OTTAWA (Reuters) -The Bank of Canada signaled on Wednesday that it could start hiking interest rates in late 2022, as it sharply boosted its outlook for the Canadian economy and reduced the scope of its bond buying program.
The central bank said it now expects economic slack to be absorbed in the second half of 2022, from a previous forecast of into 2023. It held its key overnight rate steady at 0.25%.
Governor Tiff Macklem, speaking to reporters after the decision, made clear that while the bank is committed to refrain from raising rates until the economy is running at full capacity, there is no guarantee borrowing costs will rise when those conditions are met.
"What we do when those conditions are met, we'll have to assess that at the time. There's nothing mechanical," he said, adding: "We're looking for a full recovery, we're not going to count our chickens before they're hatched."
The Bank also said it now believes the COVID-19 pandemic will be "less detrimental" than previously assessed to the economy's potential output.
Canada's annual inflation rate doubled to 2.2% in March, Statistics Canada said separately, in part due to a statistical effect caused by a sharp deceleration last year during the coronavirus pandemic.
The Bank of Canada targets the midpoint of an control range of 1% to 3%. It expects inflation to temporarily rise to about 3% this year, before falling to around 2% in the second half. It will then fall further in early 2022 before recovering.
Canada's economy is expected to grow 6.5% in 2021, up from a forecast of 4.0% in January, the central bank said in its spring Monetary Policy Report, also released Wednesday.
It sees economic growth in the United States, which is Canada's largest trading partner, at 7.0% this year, up from 5.0%.
Much of the growth comes down to a massive U.S. stimulus plan passed in March and Canada's own stimulus package, unveiled Monday as part of Prime Minister Justin Trudeau's government's first budget in more than two years.
"Our projection at a macro level really captures the fiscal stimulus that has been announced both by provincial governments and to a large degree the federal government," said Macklem.
BOND TAPERING
The Bank of Canada cut its weekly net purchases of Canadian government bonds to a target of C$3 billion ($2.4 billion) from C$4 billion, saying the adjustment reflected the progress made in the economic recovery.
"Certainly this is a more hawkish statement that begins to lay the foundations for the removal of the substantial monetary policy support that has been put in place over the past year," said Josh Nye, senior economist at RBC Economics.
While recent job growth looks positive, the Bank warned it may take considerable time for full employment to be reached. Due to population growth, Canada needs to add 475,000 jobs to return to its pre-pandemic employment rate, it said.
The Canadian dollar strengthened as much as 1.2% to 1.2459 per greenback, or 80.26 U.S. cents, its biggest gain since last June, while Canada's 2-year yield jumped about 4 basis points to 0.334%.
(Reporting by Julie Gordon and David Ljunggren, additional reporting by Steve Scherer, Fergal Smith, Nia Williams, Jeff Lewis and Moira Warburton; Editing by Franklin Paul, Paul Simao and David Gregorio)
U.S. dollar rebound after Canada tips toward higher rates
By David Henry
NEW YORK (Reuters) – A U.S. dollar rebound against major currencies was interrupted on Wednesday after Canada's central bank signaled it could start an interest rate hike in 2022 and reduced the scope of its asset-buying program.
The dollar index, which tracks the U.S. currency against six major peers, turned down after the announcement from the Bank of Canada and was off by 0.1% in late afternoon (1946 GMT) in New York after having been up as much as 0.24% for the day. The greenback lost about 1% against the Canadian dollar.
Earlier the U.S. dollar had rebounded from a seven-week low hit overnight against major currencies as broad weakness in stock markets triggered by a resurgence of COVID-19 cases in India and Japan encouraged a retreat to the safe-haven appeal of the greenback.
The safety bid had also supported the Swiss franc and the Japanese yen as the bright outlook for a global recovery dimmed.
But the catalyst for the move between the two North American dollars on Wednesday was a reminder that the outlook for changes in interest rates have been key to currencies as recoveries unfold. The greenback weakened through much of April as U.S. interest rates declined and as traders bet that vaccinations would open up a stronger global economic recovery and drive demand for riskier and higher-yielding currencies.
The greenback's bounce had come with softer U.S. Treasury yields as investors reconsidered how long it might take before inflation forces the Federal Reserve to tighten monetary policy and as they saw prices for oil and stocks hit on Tuesday by the prospect of a slower global recovery because of more COVID-19 cases.
The Fed's Open Market Committee meets next week and the European Central Bank decides policy on Thursday. Though neither is expected to signal a change in policy now, traders may hold back from big bets for a few days, said Joseph Manimbo, senior market analyst at Western Union Business Solutions.
"I think the market is just going to play it carefully in case the Fed changes its tune," Manimbo said.
At the moment, he sees the market acting as though it is at "somewhat of a crossroads for the dollar given that it has struggled this month."
Some analysts have said that a new inclination by the Bank of Canada to tighten monetary policy could prove to foreshadow changes by other central banks.
The Bank of Canada sharply raised its outlook for the economy and reduced the scope of its large-scale asset-buying program while keeping its key interest rate steady. It said the pandemic will be "less detrimental" to the economy than it had thought.
The central bank's message brought back some of the appetite for risk, which carried over to other commodity-linked currencies, strategists at ANZ Research noted. The Australian and New Zealand dollars gained about 0.5%.
The benchmark 10-year Treasury yield climbed to 1.58% on the news from Canada and then hovered around 1.57%, not far from the 1.60% level at the start of the week, as the note consolidated gains after a reversal that had driven yields to a 14-month high at 1.7760% last month. The note held steady even after an auction of 20-year bonds showed strong demand.
The biggest casualty of the dollar's rise in Wednesday trading was the euro, with the single currency weakening as much as 0.24%. It was last flat at $1.2032 after touching a seven-week high of $1.2079 overnight.
The Japanese yen, often seen as a safer refuge than the dollar, gained against the greenback to 107.86 but then drifted back to 108.08.
In cryptocurrencies, bitcoin traded around $55,500, consolidating after its dip to as low as $51,541.16 on Sunday. It set a record high at $64,895.22 on April 14.
Graphic: EURUSD and CESI – https://fingfx.thomsonreuters.com/gfx/mkt/yzdpxbkwdpx/EURUSD%20and%20CESI.JPG
(Reporting by David Henry in New York and Saikat Chatterjee in London; Editing by Will Dunham, Hugh Lawson, Jonathan Oatis and Sonya Hepinstall)
Canadian Dollar Gain Biggest in 10 months as Bank of Canada cuts stimulus
By Fergal Smith
TORONTO (Reuters) – The Canadian dollar surged by the most since June 2020 against its U.S. counterpart on Wednesday and the Toronto stock market rebounded as investors welcomed a move by the Bank of Canada to dial back emergency support for the economy.
The loonie strengthened 0.9% to 1.2495 per U.S. dollar, or 80.03 U.S. cents. Canada's main stock index ended 0.5% higher at 19,143.25, clawing back some of its decline over the previous two days.
"I think we are seeing positive sentiment toward the Canadian economy coming off the comments from the Bank of Canada today," said Colin Cieszynski, chief market strategist at SIA Wealth Management.
The Bank of Canada signaled that it could start hiking interest rates in late 2022, as it sharply boosted its outlook for the Canadian economy and cut the pace of bond purchases to C$3 billion per week from C$4 billion.
The central bank began a large-scale bond buying program last year to support the economy during the coronavirus crisis.
The reduction in stimulus puts Canada's central bank at odds with some other major central banks, such as the Federal Reserve and the European Central Bank, that have said they will maintain or even increase the pace of bond buying.
"It makes sense that Canada might be one of the ones to start scaling back first … our economic numbers have been quite positive," Cieszynski said.
Canada's annual inflation rate doubled to 2.2% in March, Statistics Canada said, while the average of the Bank of Canada's three core measures was 1.9%, up from 1.8%.
The Canadian dollar, which touched its strongest intraday level since March 18 at 1.2455, was able to rally despite pressure on the price of oil, one of Canada's major exports.
U.S. crude oil futures settled 2.1% lower at $61.35 a barrel amid concerns that surging COVID-19 cases in India will drive down fuel demand in the world's third-biggest oil importer.
Still, the Toronto Stock Exchange's energy sector advanced 0.9%, while the materials group was up 1.1%, bolstered by higher gold prices. Last Friday, the TSX notched a record high at 19,380.68.
Canadian government bond yields were higher across the curve. The 2-year rose 2.2 basis points to 0.317%, near the top if its range since the start of the year.
(Reporting by Fergal Smith; Editing by Kirsten Donovan and David Gregorio)