How rising interest rates are bringing big opportunity for real estate investors in Midland
During the pandemic, the real estate industry found itself in a unique situation.
Financial uncertainty and job loss prompted many property owners to sell, while the remote work model brought others the opportunity to relocate away from the city to smaller urban centres and more remote areas. Increased demand and lower borrowing rates caused listing prices to soar and stories of properties selling for hundreds of thousands over asking became the norm.
Fast-forward to the present day market. Interest rates continue to climb and the market has cooled. Property values are falling and many potential buyers are wondering if it's better to wait it out.
Here's why a cooler market can be a hot time to invest
Buying while the market is still softening has definite advantages.
Motivated sellers: Dipping prices and steadily increasing borrowing rates have some property owners feeling the pinch and as the trend continues, they are more likely to sell before the situation bottoms out.
On the other hand, once the downturn does begin to improve, those same sellers will be motivated to hang on to those assets or hold out for a higher price.
Less competition: Wise investors recognize those times when they have the upper hand in the scenario, and that time is now.
Potential buyers looking for Midland real estate are hesitant to move forward in an unstable market, meaning those stories of bidding wars and umpteen-thousands-over-asking are further and fewer between.
Investment value: Properties purchased during a softer market can often be obtained at a lower cost than what was paid even a year ago. As the economy becomes stronger and those properties regain their market value, today's investors will be left with solid value in long-term assets.
Finding the right financing to secure soft-market investment opportunities
Canada's inflation rate should begin to slow in early 2023 with costs of energy and other essentials gradually decreasing, and the Bank of Canada is expected to begin reducing borrowing rates towards the end of 2023. Until then, potential buyers looking for additional investment funding are left wondering about their borrowing options.
While investing in property during an inflated economy can seem like a risky move, this market can actually leave buyers in a unique position that brings big returns.
Although your interest rate may be higher in the short term, once interest rates come down, those buyers could see their properties increasing in value hundreds of thousands over a couple years.
Sale of $37M property could be biggest residential real estate deal in Kelowna history – iNFOnews
A 90-acre parcel of land in the Rutland area of Kelowna has gone on the market for $37 million.
It's not listed through any realtor but is posted on the For Sale by Owner Inc. website.
It's 90.19 acres at 1151 McKenzie Rd., which is north of the Toovey Road subdivision and west of the Black Mountain Golf Course.
The land went on the market two to three weeks ago, according to the owners' lawyer, Crystal Wariach.
"Over 90 acres of Kelowna's finest future development land with spectacular panoramic views of the lake and city lights," the real estate listing says.
The land is not in the agricultural land reserve and is designated for housing.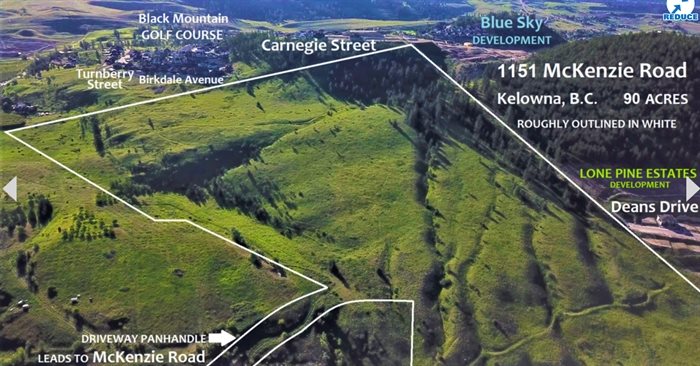 This outlines the property.
Image Credit: Submitted/ForSalebyOwner.ca
In 2019, when city council was looking at various growth scenarios, Wariach emailed councillors on behalf of the owners (cited as Balbir Wariache and Mrs. Prem Wariache).
She asked that this parcel retain is designation as future housing, which is what happened.
"Over the past two years, my clients have had professional development plans created for the property," she wrote. "The plans provide for the build out of up to 320 lots for single-family homes on the property."
The owners bought the property in 1999 and continue to own it, Wariach confirmed.
She wasn't able to confirm, by publication time, whether development options had changed from the 320 lots envisioned in 2019.
The land is included in the Bell Mountain Area Structure Plan that was adopted by council in 2003.
Most of the land within that plan has been developed into single-family housing in subdivisions such as Blue Sky, Prospect Mountain and Lone Pine Estates, Wariach's 2019 email says.
The largest sale through the MLS listing service that has been publicized to date was announced in January 2021 when the Kirschner Mountain housing development sold for $22 million.
It included 190 acres of land left from a larger parcel that was part of the Kirschner Mountain housing development.
READ MORE: Sale of Kirschner Mountain for $22 million makes Okanagan history
If the McKenzie Avenue property sells for $37 million it will eclipse that sale in terms of residential property sold through the MLS system in the city.
Since the Kirschner Mountain sale, there have been bigger real estate deals in Kelowna.
Last December, the Mission Group paid $24 million for the former B.C. Tree Fruits plant near the North End of downtown.
READ MORE: $24M sale of Kelowna waterfront property will trigger hundreds of millions in economic impact
Earlier this year, Victor Projects spent $33 million to buy the former Costco site near the Highway 33 and Highway 97 intersection.
The McKenzie Road listing can be seen here and Wariach can be contacted by email at cwariach@outlook.com.
---
To contact a reporter for this story, email Rob Munro or call 250-808-0143 or email the editor. You can also submitphotos, videos or news tips to the newsroom and be entered to win a monthly prize draw.
We welcome your comments and opinions on our stories but play nice. We won't censor or delete comments unless they contain off-topic statements or links, unnecessary vulgarity, false facts, spam or obviously fake profiles. If you have any concerns about what you see in comments, email the editor in the link above.
An ETF to Consider While Investors Pick Up Distressed China Real Estate
Investors are giving the China real estate market a second look as the country continues to work through the real estate doldrums brought on by last year's Evergrande Crisis. As such, this opens up opportunities for exchange traded funds (ETFs) that get exposure to Chinese real estate.
It's often said in the investment world to follow the "smart money." That could mean tailing the bets of institutional money managers such as Brookfield Asset Management, which is looking at opportunities in distressed Chinese real estate.
Per a South China Morning Post article, "Brookfield Asset Management is on the lookout to acquire premium commercial property from distressed Chinese developers, aiming to increase its footprint in the world's second-largest economy where fresh capital is needed to bail out the troubled real estate sector." Based on the report, the Canadian firm is targeting properties in specific cities with the probability of generating returns in the long run.
"We are seeing opportunities and are pursuing lucrative deals," said Yang Yiwen, senior vice-president of real estate portfolio management for Brookfield in China. "There will be drawn-out negotiations because of pricing gaps to close."
As mentioned, the value stems from last year's Evergrande Crisis, which saw a number of large real estate developers come close to defaulting on their loans. This prompted them to sell real estate such as commercial buildings at low prices in China's prime locales, giving real estate investors plenty of opportunities to snatch up property at a bargain.
An ETF to Play the Real Estate Bounce
ETF investors looking to play a rebound in China's real estate market can obtain exposure using the Global X MSCI China Real Estate ETF (CHIR). CHIR seeks to provide investment results that generally correspond to the price and yield performance, before fees and expenses, of the MSCI China Real Estate 10/50 Index.
The underlying index tracks the performance of companies in the MSCI China Index (the "parent index") classified in the real estate sector, as defined by the index provider. Summarily, ETF investors get the following:
Targeted exposure: CHIR is a targeted play on the real estate sector in China — the world's second-largest economy by GDP.
ETF efficiency: In a single trade, CHIR delivers access to dozens of real estate companies within the MSCI China Index, providing investors with an efficient vehicle to express a sector view on China.
All share exposure: The index incorporates all eligible securities as per MSCI's Global Investable Market Index Methodology, including China A, B, and H shares, red chips, P chips, and foreign listings, among others.
A look back, and ahead, at Canada's commercial real estate landscape
This year's Global Property Market conference opened with presentations which looked both forward and back . . .  reviewing the major trends of 2022 and offering an investment outlook for 2023.
Following are snapshots of what MSCI head of real estate economics Jim Costello and LaSalle Investment Management global strategist Jacques Gordon had to say during their talks at the Nov. 29 event at the Metro Toronto Convention Centre.
MSCI is a New York City-headquartered provider of decision support tools and services for the global investment community and Costello has 30 years of experience analyzing the relationships between real estate and economics.
LaSalle is a global real estate money manager with more than $81 billion in assets under management.
Gordon has been responsible for the macro strategy and micro research used to guide all investment decisions in 30 countries, but will soon take a new role as executive in residence at the Massachusetts Institute of Technology Center for Real Estate.
Jim Costello, MSCI
Costello said the real estate industry has enjoyed a period of tremendous returns globally and in Canada, but that dropped significantly in Q3 and major challenges remain ahead.
The global volume of real estate deals valued at more than $10 million is down from last year, when there was an enormous flow of capital into the sector. It is still, however, at an elevated level compared to historic deal flows.
"It was just a lot of folks hungry for yield in a period when interest rates were exceptionally low," Costello said. "But as rates reset, there are going to be challenges for some of those investments."
Many of the deals being done were larger as smaller assets that were traditionally purchased by investors with limited pools of capital behind them stopped moving earlier.
Liquidity fell in 97 of 155 global markets in the third quarter and Costello doesn't see it picking up again for a while.
New York City was the most liquid market in the world from 2017 to 2020, but the Australian city of Sydney now holds that title.
Larger gaps have been created between buyer and seller price expectations. Costello said price corrections are needed to drive U.S office liquidity.
He believes sellers need to cut their price expectations by 15 per cent to get deals done and that number could increase.
Deal activity was down in Q3 in every asset class and the most popular markets have also changed.
Instead of traditional front-runners New York City and London, Los Angeles and Dallas have become the top global markets owing to their large number of logistics facilities and apartment buildings — two asset classes investors continue to chase.
Alternative real estate sectors — including self-storage, data centres, medical office, research and development, manufactured housing, student housing and seniors housing — have been gaining ground on more traditional asset classes.
Jacques Gordon, LaSalle Investment Management
Gordon said there were four inflection points affecting global economies and real estate in the transition from 2022 to 2023 and beyond. Things are moving:
•    from interest rates being lower for longer to higher rates with a heavier drag on cash flows;
•    from a COVID rebound to a global stall;
•    from upward price pressure to downward price pressure; and
•    from fossil fuel-driven economies to renewable energy-driven economies.
"Most of us are in private equity real estate," Gordon said in talking about interest rates. "Whether we're debt or equity players, we're putting money to work for multiple years at a time.
"When you do that, you realize that we're going to have to endure this period of, probably, 12 to 18 months of higher inflation and higher interest rates, but this too shall pass."
Gordon said the COVID-19 pandemic "blasted a hole in the global economy" in 2020, but last year there was a "supercharged rebound with governments just blasting out surplus money."
However, gross domestic product (GDP) numbers in countries around the world have been well below expectations in 2022.
Oxford Economics' GDP forecasts for next year aren't good, with several countries (including Canada) expected to have negative growth.
Real estate experienced major upward price pressure through 2021 and the first part of 2022, but now investors are having to deal with downward price pressure and declining transaction volumes in the sector.
Gordon said the depth of buyer pools has retreated across property types and, although deals can still get done, there are fewer bids for properties and sellers often don't want to accept them.
Office vacancy rates are on the rise. JLL figures show a global vacancy rate of 14.5 per cent, with Europe at 7.2 per cent, Asia Pacific at 14.1 per cent and the U.S. at 19.1 per cent in the third quarter.
Coal, oil and gas comprise 77 per cent of the global primary energy mix, but Gordon said the future of energy looks nothing like its past.
He believes it's going to take a lot of hard work to reduce the reliance on fossil fuels and shift toward more environmentally friendly energy.
"We in this room can commit to a net-zero-carbon world, but we need the rest of the world to come with us," Gordon said. "Otherwise, we won't get there."