Vietnam Seeks Bond Market Growth After Real-Estate Credit Crunch
(Bloomberg) — Vietnam is seeking to expand the nation's corporate bond market as it grapples with a credit crunch for a real-estate sector hurt by a handful of highly-leveraged companies, according to Finance Minister Ho Duc Phoc.
The government does not see a wider impact beyond the select firms that have engaged in bad or illegal practices, he told Bloomberg News in Hanoi on Tuesday. It's working to ease access to capital for property developers given the market rout and enable easier access to funding for years to come.
"Those companies in financial trouble are the ones that expanded too much and beyond their capacity, such as building dozens of projects at the same time and exceeding their financial abilities," he said. "Now as the central bank tightens credit limits to fight inflation, these companies are facing liquidity problems and hurting their investors' confidence."
By 2030, Vietnam is aiming to grow corporate bond volumes to 25% of gross domestic product from about 11% currently, he added. The outstanding corporate bonds market is worth about 1,200 trillion dong ($48.3 billion).
Among other points mentioned, Phoc said the government wants to:
Speed up the process for developers to get legal rights to develop land
Work with the central bank to decrease borrowing costs for companies and help with restructuring debt payments
Boost investor confidence following recent anti-graft measures
Ensure bond issuers are offering buyers accurate information and repay the bond on time when it dues to build up investors' trust
The statements come amid the government's sweeping regulatory probe on corruption in the corporate bond market that's landed heavily on Vietnam's real estate developers. Property firms are now faced with a funding crunch, along with higher rates and warnings by the central bank against risky real estate loans, sending investors fleeing.
The broad anti-corruption crackdown may also have large implications for one of Southeast Asia's fastest growing economies, home to some of the largest suppliers of conglomerates like Apple Inc. and Samsung Electronics Co.
Slumping Markets
Vietnam's corporate bond sales and volumes tumbled this year, with sales through private placements falling by 51% to 240.76 trillion dong through October, according to the Vietnam Bond Market Association. That represents 96% of the total corporate bond sales, it added, citing exchange and securities data. The benchmark VN Index has slid 36%, driven by property and bank firms, to become the world's worst-performing major gauge.
Concerns are now growing that the real estate market is at risk of a severe downturn that could be a drag on the broader economy. In response, the government appointed a team of ministerial-level officials to address the property sector's credit crunch.
A turnaround may be coming. Prime Minister Pham Minh Chinh has said he wants to make it easier for property companies to access funds, issue bonds and obtain permits to sell projects, which in the process will restore confidence, said Phoc.
Among other changes, officials are also looking to make the process of changing construction permits easier and faster while giving developers more flexibility to change schedules to reflect market opportunities. That would include shifting from a planned office development to building an apartment complex and more affordable housing, he said.
But to convince the market that the guideline changes will help deliver this vision of a more streamlined system, the government must first ease investor concern, which he said has been hurt by recent speculation.
"The stock market has recently been hurt by a lost of investors' confidence and rumors so we will give more information in official channels and must take measures to boost companies' operations," Phoc said, without providing details. The finance ministry is meeting with banks and companies to discuss solutions to stem the rout on Wednesday.
–With assistance from Clarissa Batino and Catherine Bosley.
BRAUN: Pace of real estate decline finally slowing – Toronto Sun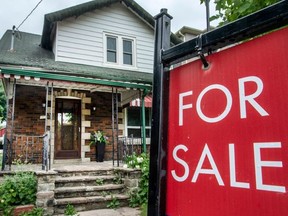 Article content
Prices will likely still fall in Toronto, but the decline has begun to slow and expectations are that prices will bottom in the spring.
Article content
Some areas in the GTA have done better than others.
As predicted, areas outside the city where prices skyrocketed once remote work became a possibility are among the hardest hit.
Prices in Cambridge, for example, are off 22%, while London and Brantford have seen an 18% decline. Kitchener-Waterloo, Kawartha Lakes and Hamilton/Burlington have all had a 17% drop in prices.
While Toronto's decline has been 11%, prices are expected to fall further.
Toronto also saw a drop of almost half (49.3%) in numbers of home sales in October versus October 2021, while new listings were down 11.5%.
Article content
"The market downturn may be in a late stage, but it doesn't mean things are about to heat up again," said Robert Hogue, RBC's assistant chief economist, in the report.
"We expect high — and still-rising — interest rates will continue to challenge buyers for some time. This will keep activity quiet for a while longer, even if it stabilizes near current levels."
Recommended video
For those on the sidelines wondering when or if to buy, a Toronto mortgage expert (who prefers not to be named) has some words of wisdom.
For starters, he prefers to keep all the gloom and doom on the down-low. A correction notwithstanding, real estate remains a solid investment.
So on the plus side, "with the correction have come reduced prices and reduced closing costs, especially in the GTA," the expert said.
Article content
And maybe no bidding war, although some neighbourhoods have not lost value because the three rules of real estate — location, location, location — never change.
If you're wondering what the bank will lend you for a mortgage, the expert offered a useful rule of thumb: 4.2 times your salary will tell you what you qualify for.
That's provided you don't have a lot of other debt, obviously.
As for figuring out your monthly mortgage payments, calculate $6 per thousand; a $500,000 mortgage will cost $3,000 a month, for example.
The fact that a one-year mortgage is currently at the highest rate and the five-year rate is lower — an inverted yield curve — is a sign of uncertainty.
"For the first time in my career, I'm not telling people what to do. Instead, I'm telling them their options," he said.
Article content
As for that swift rise in interest rates tamping down inflation, that's working "to some extent."
The government should have started two years ago and raised rates more slowly, he explained.
The consensus seems to be that the worst is behind us, "but we're heading into stagnation. Things will level off, but we need stability."
There's very little on the market right now, but the expert's expectation is that things will pick up after March break, when young families will start looking again in earnest.
"The banks aren't taking any chances. Anyone who thinks the banks are just giving money away — no! It's never been tougher to get credit."
Last word: focus on your debt. "I used to say, 'Continue to save.'
"Now I say, 'move from investing to getting rid of debt.'"
Durham real estate broker says 'date the rate, marry the house' – durhamregion.com
LACKIE: Buyers in driver's seat as sellers ride out real estate rough seas – Windsor Star
Article content
I got some blowback last week when I suggested that while quite clearly the housing market is in the throes of a strong correction, life and real estate continues on.
Article content
No, I was not shilling for my industry and, by extension, one might assume, my livelihood.
Article content
Yes, I still absolutely believe that things are rough and about to get rougher.
But notable to me is the fact that even amidst all of the scary headlines and all of the well-founded doom and gloom, there are still real estate deals happening in this city. And while as far as I can tell, the who and the how and the why has shifted from the who and the how and the why that drove that wild market that already feels like a distant memory, I'm not sure what we're seeing should be written-off as anecdotal outliers.
Transaction volume is down by half compared to this time last year. Interest rates currently stand at levels inconceivable less than a year ago. New homeowners are stressed, would-be home buyers are spooked, and everyone else is trying to figure out how worried they need to be.
Article content
Yes, yes and yes.
But here's what I am observing in real time: buyers are absolutely still out there.
Our transaction volume may be down by half, but the remaining half of what was truly record-levels is not inconsequential. It maybe just feels that way.
Case in point: I listed an adorable house in a central Toronto neighbourhood last week. The perfect starter home for first-time buyers. It would have been an absolute bun fight last winter.
I wasn't sure how it would go. And because of that, I left nothing to chance. We shined her up, I spent a small fortune on staging, the photos were perfect. We did all the things.
Article content
I also spent a lot of time managing expectations. All we need is one buyer, I explained to my clients — just one.
Never would I have guessed that we would end up with twenty-five groups braving the miserable cold to come to the open house. And these weren't people just out killing time on a Sunday. These were buyers, with parents in tow, and home inspection reports in hand, armed with their questions and their critical eye. The same buyers that are supposedly priced out or debilitated by the fear of catching falling knives.
RECOMMENDED VIDEO
Offer night yielded four offers. But unlike the offer nights of days prior, these prospective buyers weren't armed with letters to the sellers and waving their bank drafts around. They were cool. They had conditions. And their numbers were conservative. Even in competition.
Article content
The house sold for less than I expected, but with the four offers the market was clearly speaking and my clients were willing to listen.
And this experience tracks with what I am hearing from my colleagues: the buyers still out there will participate at the right price. They will come forward when they're good and ready. There is no FOMO. They will offer on things, sure, but will walk if it's not right for them.
And this will be how the prices continue to grind downwards.
So while yes, the market has slowed right down, I wonder if the stasis is also due to the logjam of sellers determined to wait out these unfavourable conditions.
I suspect that once reluctant acceptance of new-new normal settles in, we will see inventory rise and sales volume increase. But I feel pretty confident in saying that it will be quite a long time before sellers leave the table feeling like heroes again.