Squamish Art Walk on tap – Squamish Chief
In a year where events of all types have been wiped out because of the COVID-19 pandemic, it's comforting that a couple of cornerstones will be returning, albeit in a different form.
The Squamish Arts Council's annual Art Walk is set to run from Nov. 1 to 28, with some pandemic adaptations, of course.
Executive director Amy Liebenberg said that while the number of participating artists, at roughly 25, is consistent with past years, there are understandably fewer hosting venues in 2020.
"They're either not open or not interested in encouraging excess clientele, especially if they're just coming to look and not necessarily coming to patronize the business," she said.
The venues taking part this year as Zephyr Café, Saha Eatery, Squamish Academy of Music, Northyards Cider, the Squamish Public Library, The Ledge Community Coffee House, Andy Anissimoff Gallery and Britannia Mine Museum.
While the event's art-viewing element is similar to years past, the more radical change has to do with studio tours and other artist interaction, as many of the studios are small and not suited to welcoming the public for a peek behind the curtain at this time.
Instead, artists will share "the tools they use, the processes they use and how their wonderful, creative imaginations transform ordinary materials into the magic you see all around," Liebenberg said. The tours will be available on Instagram by searching the hashtag #squamishartist.
"Enjoy the behind-the-scenes tours and enjoy what these incredible artists are making," she said.
As well, the Anonymous Art Show will be back for a second go-around.
"We have some of the most amazing artists I've ever known who live and work in Squamish and so it's going to be really fun to have them back again for some Anonymous Art Show pieces," she said.
Artists will submit their pieces by early November, while the show is set for Nov. 26 at 7 p.m. via Zoom.
"You hope to be the first in line to grab a piece that most delights you," she said.
In terms of participants, Liebenberg said there are always a few surprises, as last year, there were several who hadn't painted in many years if ever before, while there were some who work in a different medium, such as textiles, trying their hands at something new.
Liebenberg said that with many artists having had tough times this year, they would appreciate a purchase or, at the very least, a message of support for a job well done.
"Our creative community deserves all of our support and a big round of applause for continuing to do some pretty heavy emotional lifting on behalf of the community," she said.
For more, visit squamishartscouncil.com.
Foyer Gallery set for fundraiser
One of the Art Walk participants, Foyer Gallery at the Squamish Public Library, will hold a fundraising event of its own in November.
The gallery was unable to host its traditional events, a May gala with an exhibit in the lead-up, where for a $50 sponsorship, patrons can take part in a "raffle for art" event.
This year, supporters are encouraged to take part in a pay-what-you-can campaign of sponsorship. Each supporter will be entered into a random draw for one of six pieces of artwork by a local artist or a one-on-one virtual art lesson from curator and painting instructor Toby Jaxon. To donate, head to squamishlibrary.ca.
"We formatted it and decided that we'd take a stab at getting some donations before 2020 ends," she said with a chuckle.
Among the artists donating pieces are three volunteers, also known as the "hanging crew" for their work installing new exhibits monthly or, now during COVID, every six weeks: 20-plus-year veteran Fran Solar, 13-year helper Linda Wagner and, in her third year, relative newbie Karen Yaremkewich.
The three have not only diverse mediums, with Wagner being an oil painter, Yaremkewich being a fabric artist and Solar working with metal, but they also have distinct skills when installing the shows.
"Fran is a master at creating interesting vignettes. We've got these three beautiful display cases, so that's her specialty. Linda, she's super gifted at figuring out where all the wall art should go and coordinating the pieces based on size and style and colours. Karen, she's really proactive at moving the inventory around, getting up on the ladder—and it doesn't hurt that she's super tall," Jaxon said.
Jaxon added that she's also been creating virtual versions of the galleries so visitors can decide if there's a piece they'd like to see more closely or purchase before arriving, especially given the library's limited hours.
Mother-daughter art show explores grief around pregnancy loss and infertility – CBC.ca
A mother-daughter art show at the Guild in Charlottetown explores the grief around pregnancy loss and infertility, to find healing, but also to help others.
"We chose Metamorphosis because this whole exhibit is about transformation," said Jennie Thompson.
"The transformation you experience when you're going through grief, when you're experiencing miscarriages and what that looks like, and how it can change you as a person."
Jennie uses watercolour paintings for the exhibit, while her mother, Elaine, creates felted pieces out of wool and silk.
"I wanted to do it with my mom because at its core, a lot of this art is about, for me anyway, about being a mother, that journey toward motherhood," Jennie said.
"Plus, it's a really personal topic and I'm really vulnerable so mom adds that extra support for me."
This is Jennie's first art show, a challenge she said she took on to help her heal after four pregnancy losses since 2016.
"This exhibit, it wasn't just for me, but also for other people who are going through the same thing, because it can be such an isolating experience," she said.
"For somebody to come down here and see it in colour, on walls, I think is a really powerful statement and it's just a way to let other people know they're not alone, and it does suck."
Supporting other women
Jennie is part of the P.E.I. Fertility/Infertility Support Group on Facebook and hopes to start offering virtual peer-support meetings.
"It's pretty powerful, it's really vulnerable, when this journey first started for me, I wouldn't talk about it to anyone," she said.
"But the other part of it was, there is this stigma around pregnancy loss. We're not supposed to tell people we're pregnant until we're three months in, so think of how isolating that is."
She said she hopes to let other women know that there are people they can talk to.
"For women who lose their pregnancy that they had hoped so much for, after eight weeks, nine weeks, they feel like they can't tell anyone about it. So this is my way of saying, you absolutely can," she said.
"When you do feel ready to have people come to you and say, 'That happened to me too,' you find out that you're not alone."
"It's such a common, unfortunate experience for a lot of women," Thompson said.
"I think it's just really important to break down that stigma, and that barrier for women."
'Extremely proud'
Elaine said she feels extremely proud to be doing the art exhibit with her daughter.
"She knows that being able to speak about this, and share it with other people, that she's not only trying to help herself, but she's trying to help others," Jennie said.
"I could not be more proud of her, and the fact that she asked me to be part of it, that just gives me chills to my toes."
Jennie echoed her mother's feelings.
"I feel really proud, and I feel really proud to have done it with my mom," she said.
"I think this is an amazing memory that we will have forever."
The exhibit continues until Dec. 5 at the Guild in Charlottetown.
More from CBC P.E.I.
Hariri Pontarini To Design Art Gallery of York University – Urban Toronto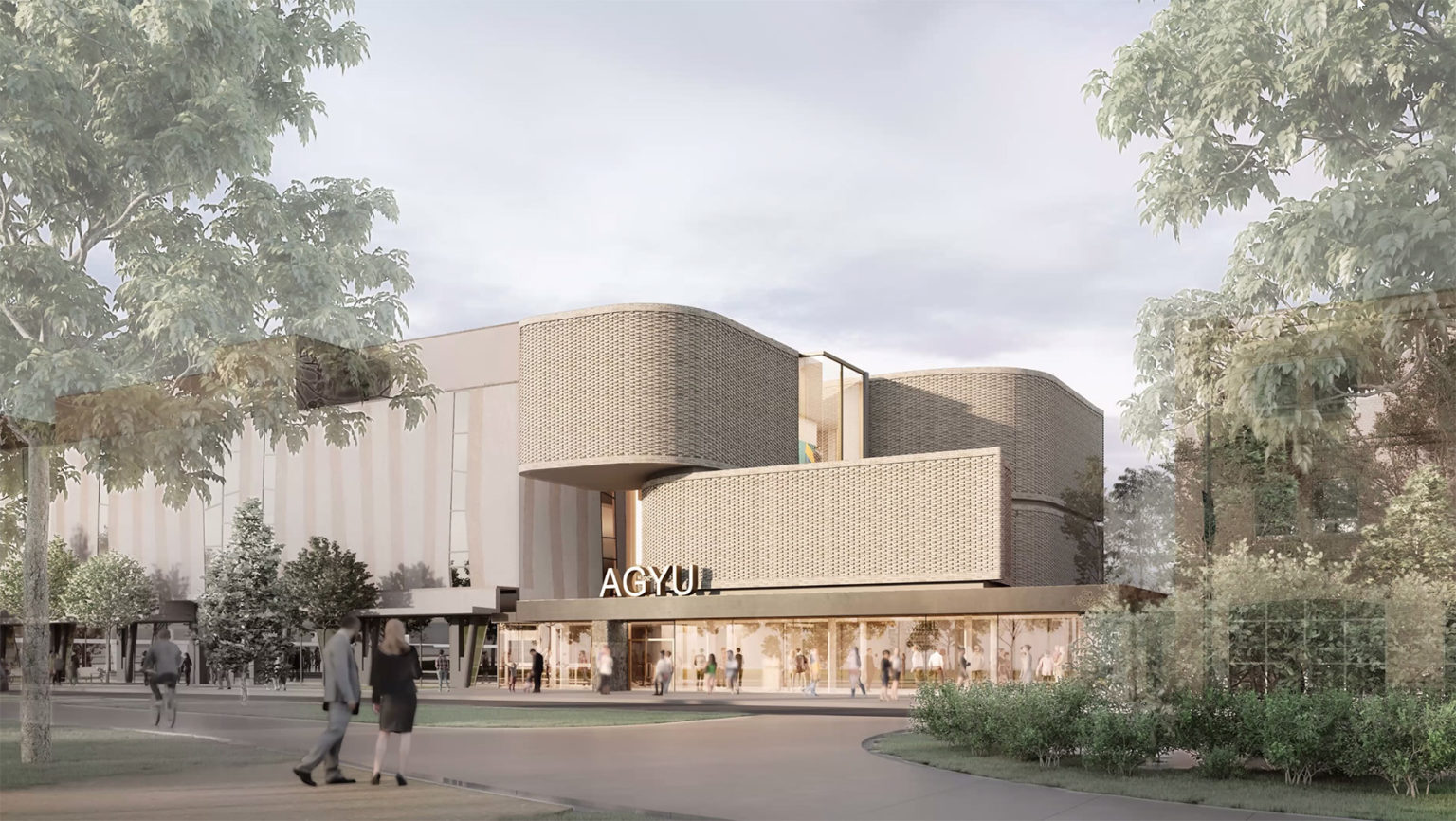 Hariri Pontarini Architects (HPA) have been selected to design a new, stand-alone art gallery at York University. The new building will become a centrepiece at the Keele Campus, building upon the rich history of the Art Gallery of York University (AGYU), and magnifying its reach into the local community and the world beyond.
Rendering of the winning design. Image courtesy of Hariri Pontarini Architects.
Boasting a contemporary, contextual design with the firm's signature curves, HPA's proposal stood out in the online design competition which saw a wide show of interest from strong contenders in the architectural community. Moriyama and Teshima Architects and gh3 were also on the shortlist. All three firms have received Governor General's Medals in Architecture.
The new building will be located at the heart of the School of Arts, Media, Performance & Design, adjacent to the Harry W. Arthurs Common, steps from the subway station. The three-storey building will highlight contemporary and historic art and include a ground level event space with four separate gallery spaces set within a xeriscape garden.
AGYU's collection currently contains 1,700 works including…
prominent donations of works by Norval Morrisseau and Andy Warhol
200 prints and sculptures by renowned and influential Inuit artists including Kenojuak Ashevek and Kananginak Pootoogook
paradigmatic work by Canadian "Automatistes" Jean-Paul Riopelle and Paul-Emile Borduas
American Modernists such as Helen Frankenthaler and Kenneth Noland
RISE, an internationally acclaimed film by Bárbara Wagner and Benjamin de Burca, featuring performances from some of Toronto's most influential spoken word and rap artists.
Aerial: The new building will sit at the heart of York Keele Campus' School of Arts, Media, Performance & Design, adjacent to the Harry W. Arthurs Common, between the Accolade East Building and the Centre for Film & Theatre. Image courtesy of Googlemaps.
Founding Partner Siamak Hariri cites his excitement to help reimagine the AGYU's future, "To signify this transformation, we were inspired by metaphor and nature. Like a butterfly, each of the five wings of the new gallery extend their reach out to the campus and of course beyond. Responding to the AGYU's aspiration to expand the social and civic role of the gallery, the building will have a powerful presence, a new presence, embracing the full University Common, and welcoming and attracting visitors to all the wonder it has to offer."
The AGYU opened in 1988 and moved into its current 3,000 ft² in 2006. The new building, combined with the AGYU's existing space, will form a unified art institution and an important hub for artistic engagement. "The new design reflects our vision of an accessible and collaborative art gallery that serves as a space for creation, exhibition and appreciation of diverse art and culture," says President & Vice- Chancellor Rhonda Lenton.
Philanthropists and art collectors Joan and Martin Goldfarb donated $5 million towards the gallery, kicking off this expansion and flagging the importance of the arts on campus. The eponymous Joan and Martin Goldfarb Gallery will honour the Goldfarb's long history of supporting the arts at York University.
Rendering of the winning design, aerial view from across the Harry W. Arthurs Common. Image courtesy of Hariri Pontarini Architects.
With this win, HPA adds to its notable cultural and institutional portfolio, which includes the recently opened Tom Patterson Theatre in Stratford, and the internationally award-winning Bahá'í Temple of South America.
You can learn more from our Database file for the project, linked below. If you'd like to, you can join in on the conversation in the associated Project Forum thread, or leave a comment in the space provided on this page.
* * *
UrbanToronto has a new way you can track projects through the planning process on a daily basis. Sign up for a free trial of our New Development Insider here.
Province puts up $100K to get more art into public places on P.E.I. – CBC.ca
The province has set aside $100,000 over the next two years to develop a public art policy for the province.
Michelle MacCallum, director of cultural development with Innovation PEI, says it will enable the province to commission and acquire public art for government sites such as hospitals, schools and parks.
"I love seeing artwork all over our province," she said.
"I think about how much it delights and engages and sometimes challenges people when they come upon public art."
Different than art bank
MacCallum said it will also be another opportunity for Island artists to display their work and earn money from it.
She said it will be different from the provincial art bank.
"This is more specific to sites. So if we were building a new school or some kind of provincial government office building, if you think about it, the building in and of itself is a public entity. But there's nothing, there's no art around it. It doesn't say anything about it, about the people that use it, about what it's for," MacCallum said.
"So public art is there to augment the site specifically rather than just acquiring a catalog of the best of art, which is what the art bank does."
Selected by jury
MacCallum said they will consult with architects and developers of potential sites, then put out request for proposals. The art will be selected by a jury.
She said there are a few sites being considered, but it's too soon to disclose the locations.
More from CBC P.E.I.