Statistics Canada to say today how country's economy fared in third quarter of 2020 – CKPGToday.ca
By Canadian Press
Dec 1, 2020 1:08 AM
OTTAWA — The national statistics office will say this morning how much Canada's domestic economy bounced back in the third quarter of the year.
The Canadian economy suffered its worst three-month stretch on record in the second quarter as the economy came to a near halt in April before starting to recover in May and June.
Expressed at an annualized rate, real gross domestic product fell 38.7 per cent in the second quarter, the worst posting on record.
The rebound is expected to be equally sharp in the ensuing three-month stretch over July, August and September.
Charting the Global Economy: Economic Pain Lingering Into 2021 – Bloomberg
The economic distress of the Covid-19 pandemic is picking up where it left off at the end of 2020.
The latest high-frequency data show activity in the advanced economies softened in the first two weeks of the new year. In the U.S., government figures showed retail sales fell for a third month in December as a resurgent virus prompted another tightening of business restrictions. Europe is facing the possibility that output will shrink in consecutive quarters.
Here are some of the charts that appeared on Bloomberg this week on the latest developments in the global economy:
U.S.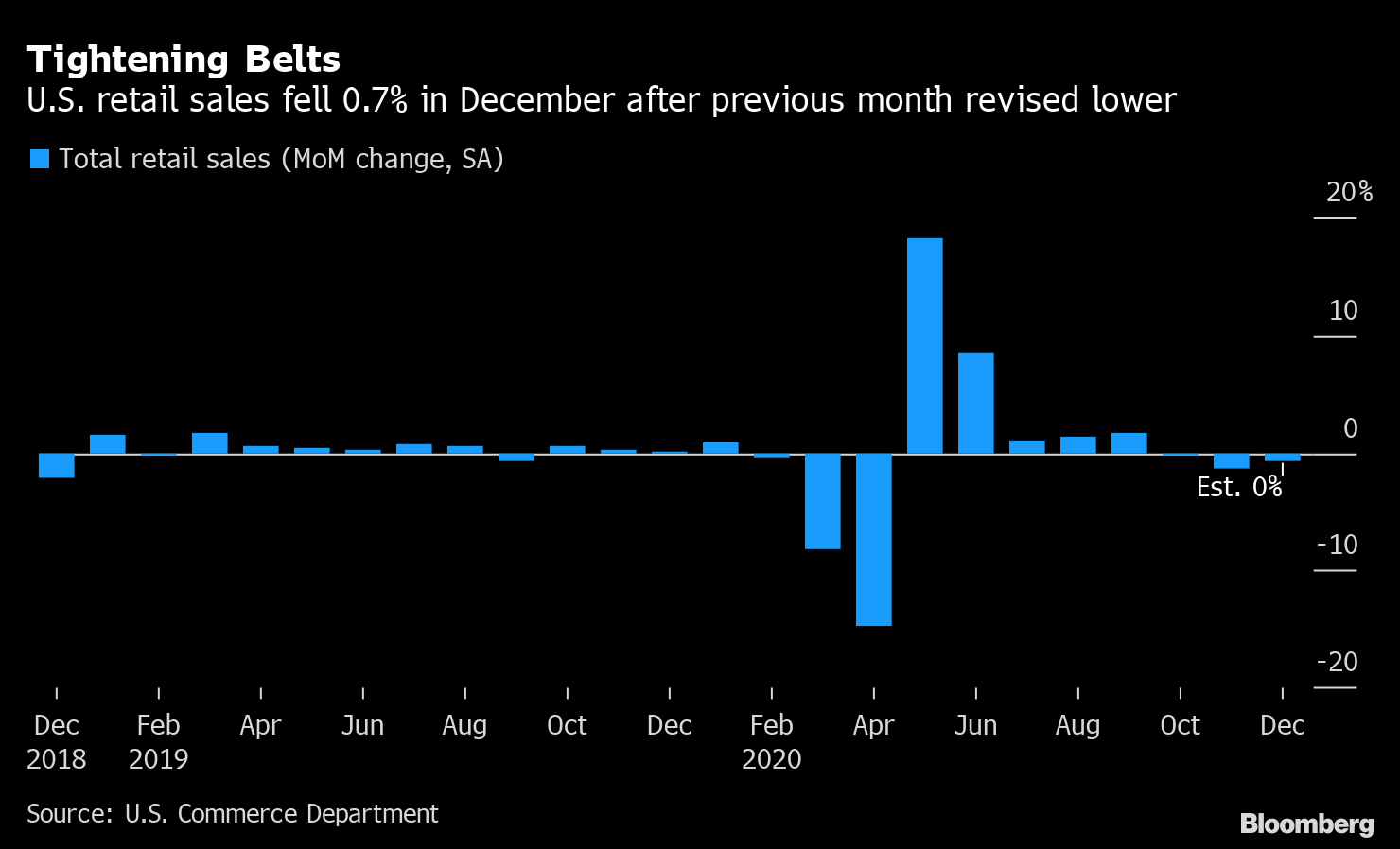 Retail sales declined at the close of the holiday-shopping season, wrapping up a painful year for the nation's merchants as the pandemic forced store closures and kept consumers at home. The value of receipts for all of 2020 rose just 0.6%, the weakest performance in 11 years.

Meanwhile, the U.S. factory sector continues to show promise. The rate of job openings, or number of available positions as a share of total employment in the non-durable goods industry plus the vacancies, hit 5.1% in November, the fifth straight record in data back to 2000.
Europe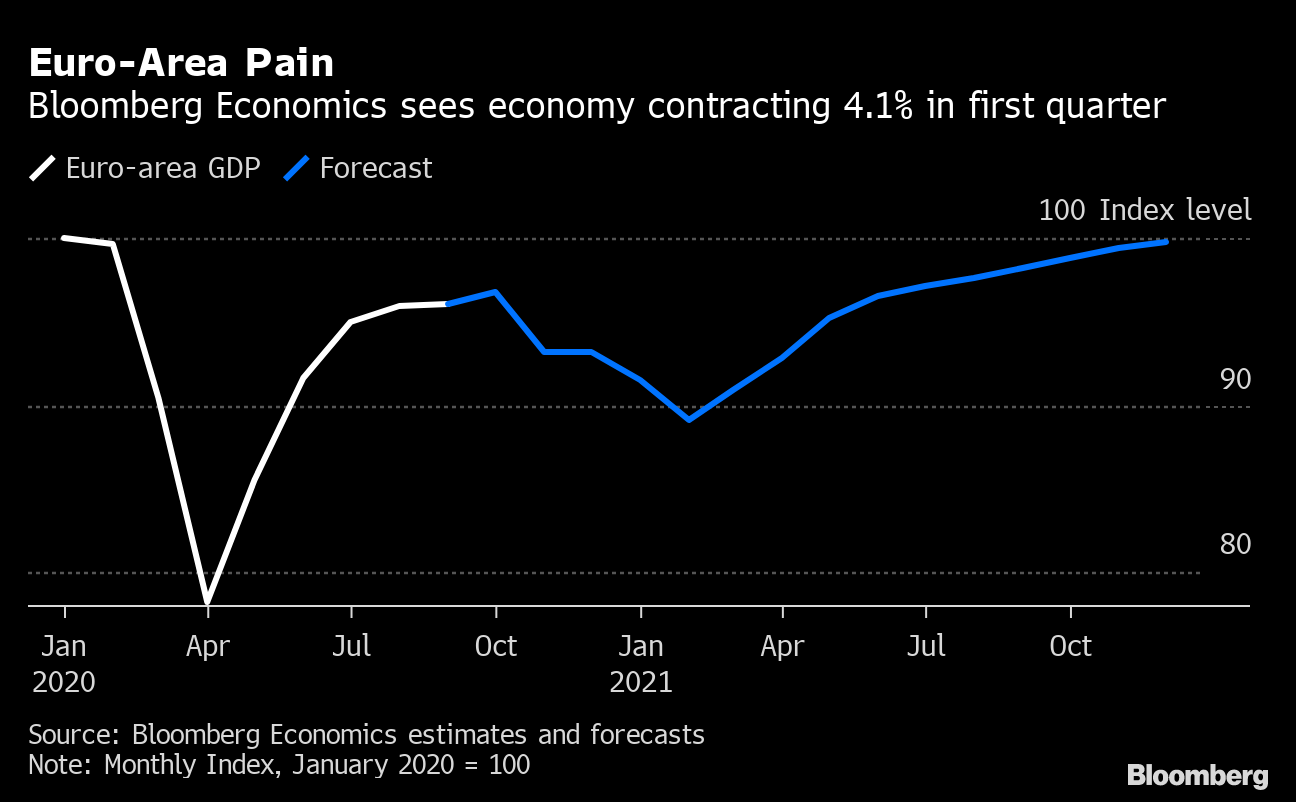 Under pessimistic assumptions on the duration of new lockdown restrictions to contain the spread of Covid-19, Bloomberg Economics lowered its first-quarter estimate for the euro-area economy to a 4.1% contraction, after a 1.5% drop in the final three months of 2020.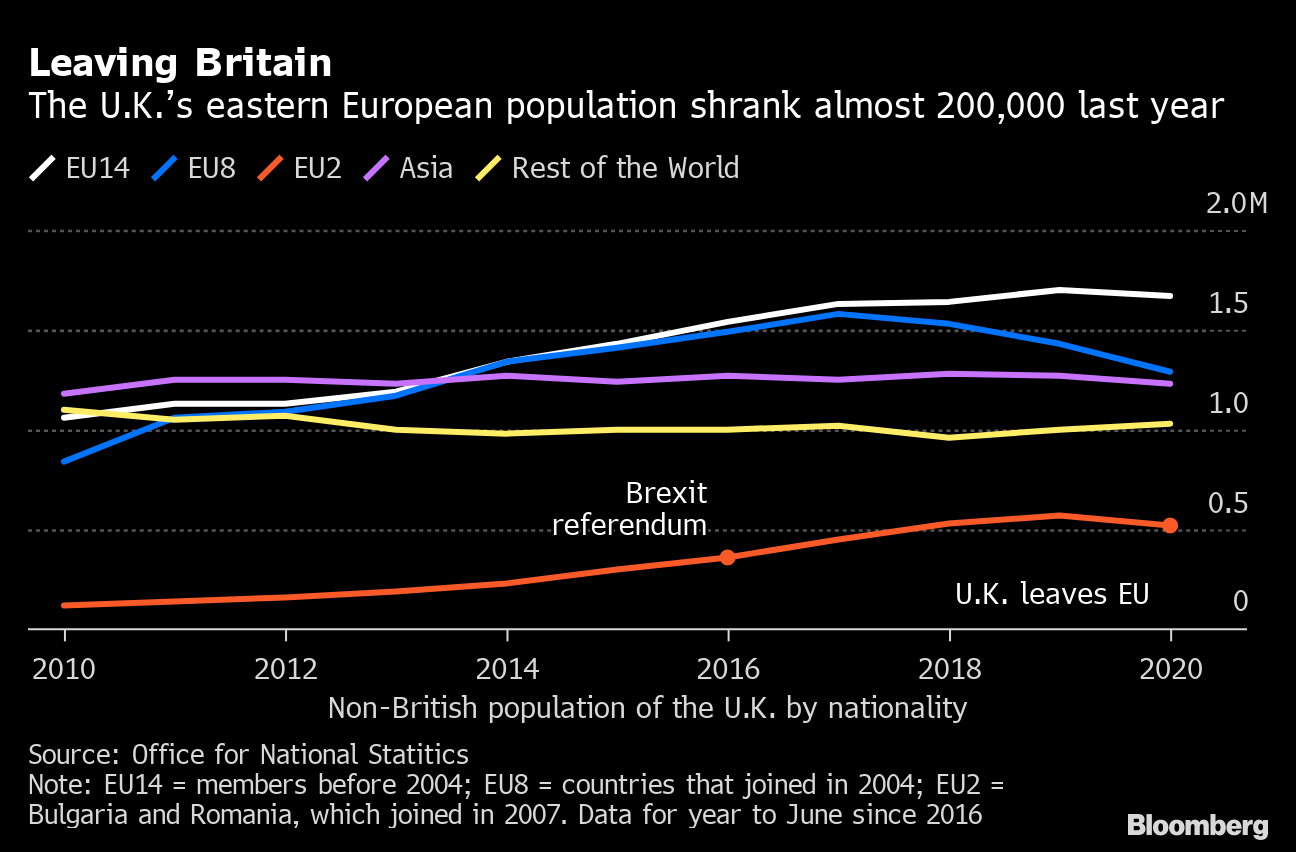 The number of eastern Europeans living in the U.K. last year slumped to levels last seen in 2015 ahead of the end of the Brexit transition and as the coronavirus lockdowns closed huge parts of the economy.
Asia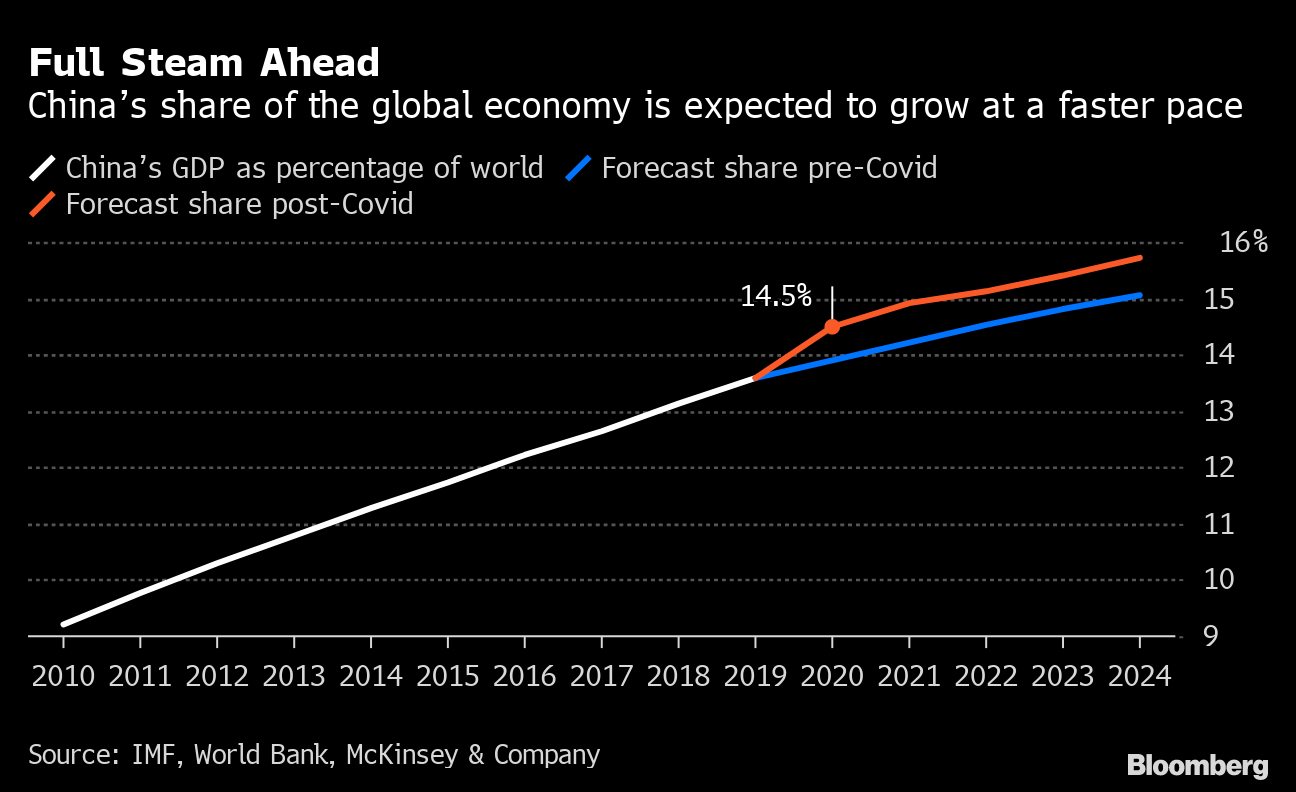 China's economic ascent is accelerating barely a year after its first coronavirus lockdowns, as its success in controlling Covid-19 allows it to boost its share of global trade and investment.
Emerging Markets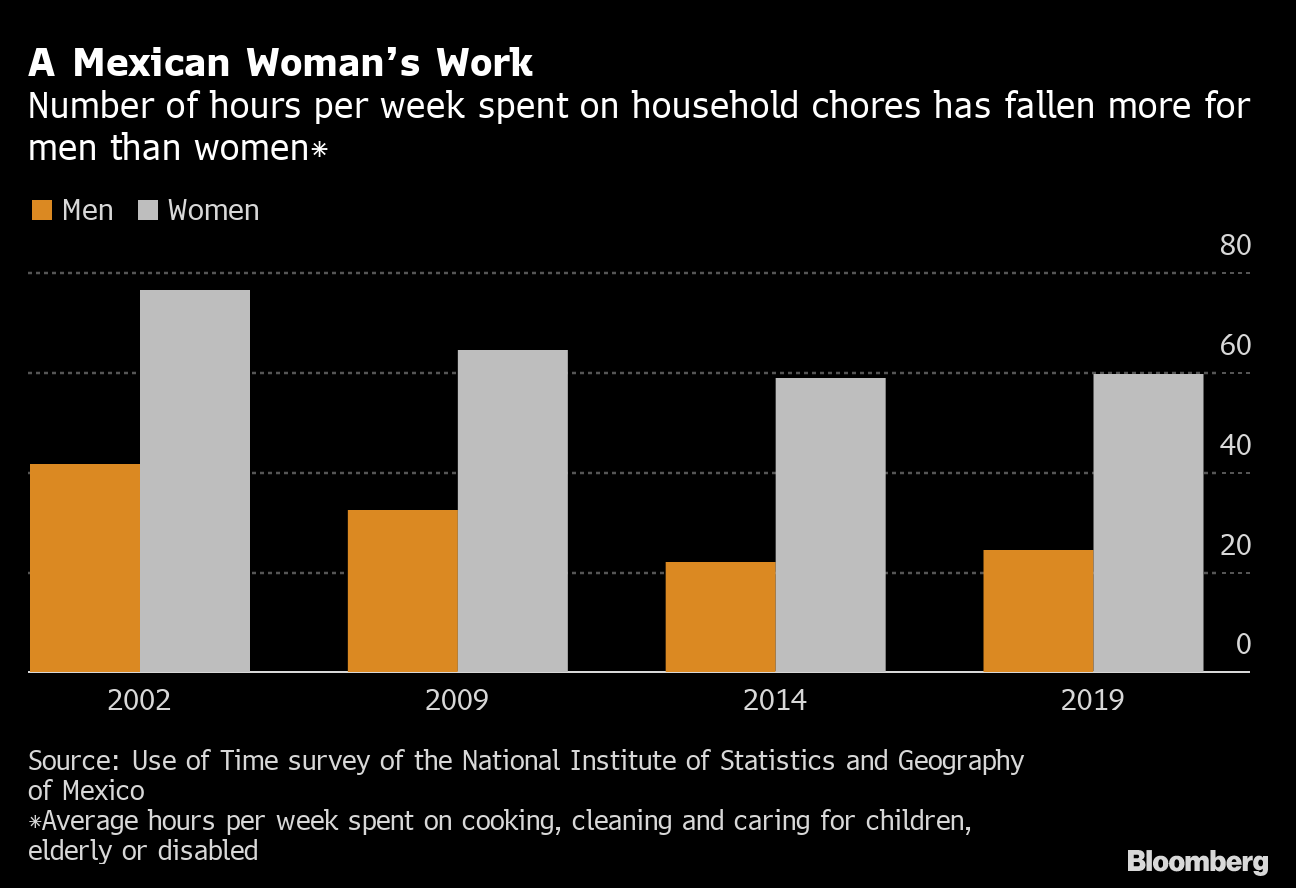 The women of Mexico already faced the worst economic prospects in Latin America. Now the pandemic threatens to sink them even further, aggravating chronic inequality and dragging down the country's fortunes.
World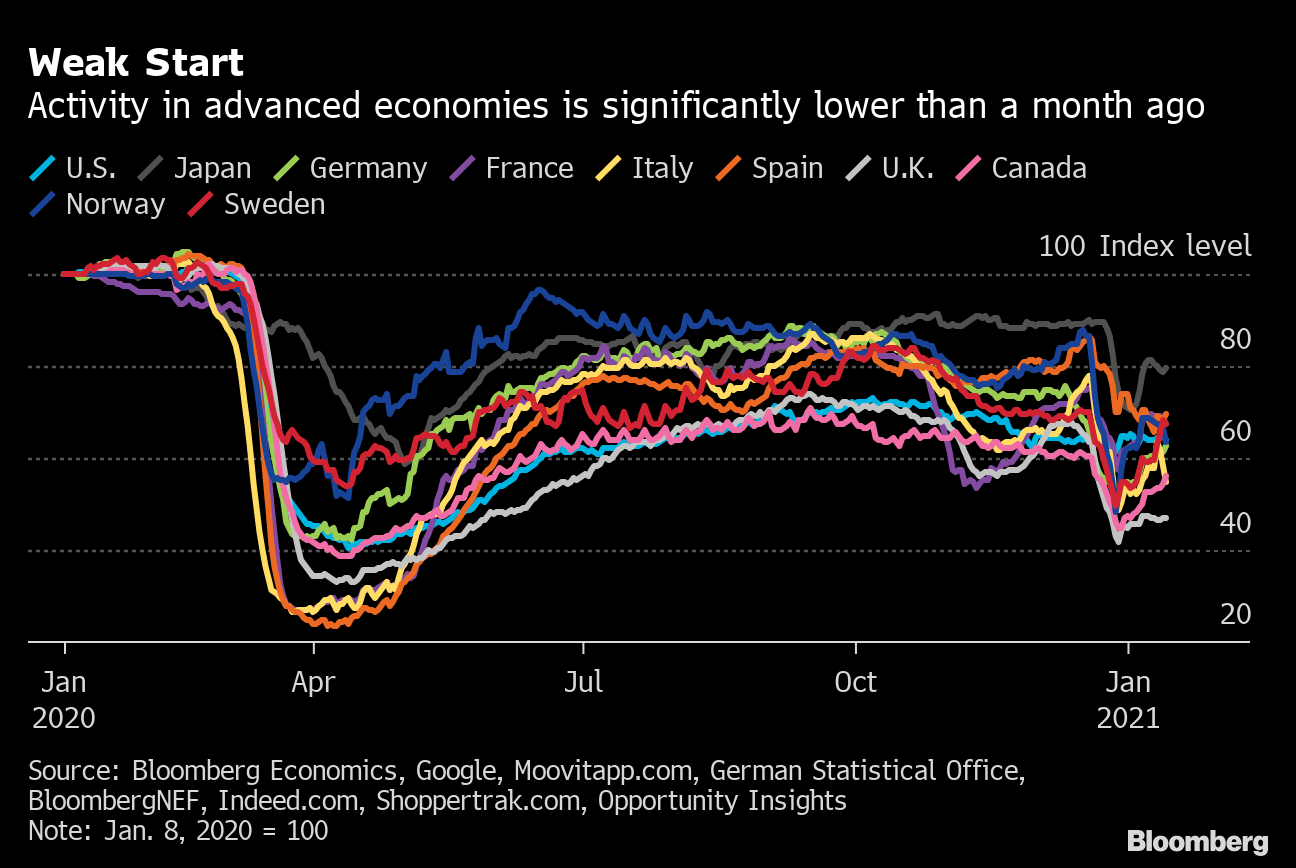 After the holiday slump, activity in several of the world's largest advanced economies extended their recovery in the second week of January. Yet compared with early December, Bloomberg Economics gauges that integrate data such as mobility, energy consumption and public transport usage remain significantly lower.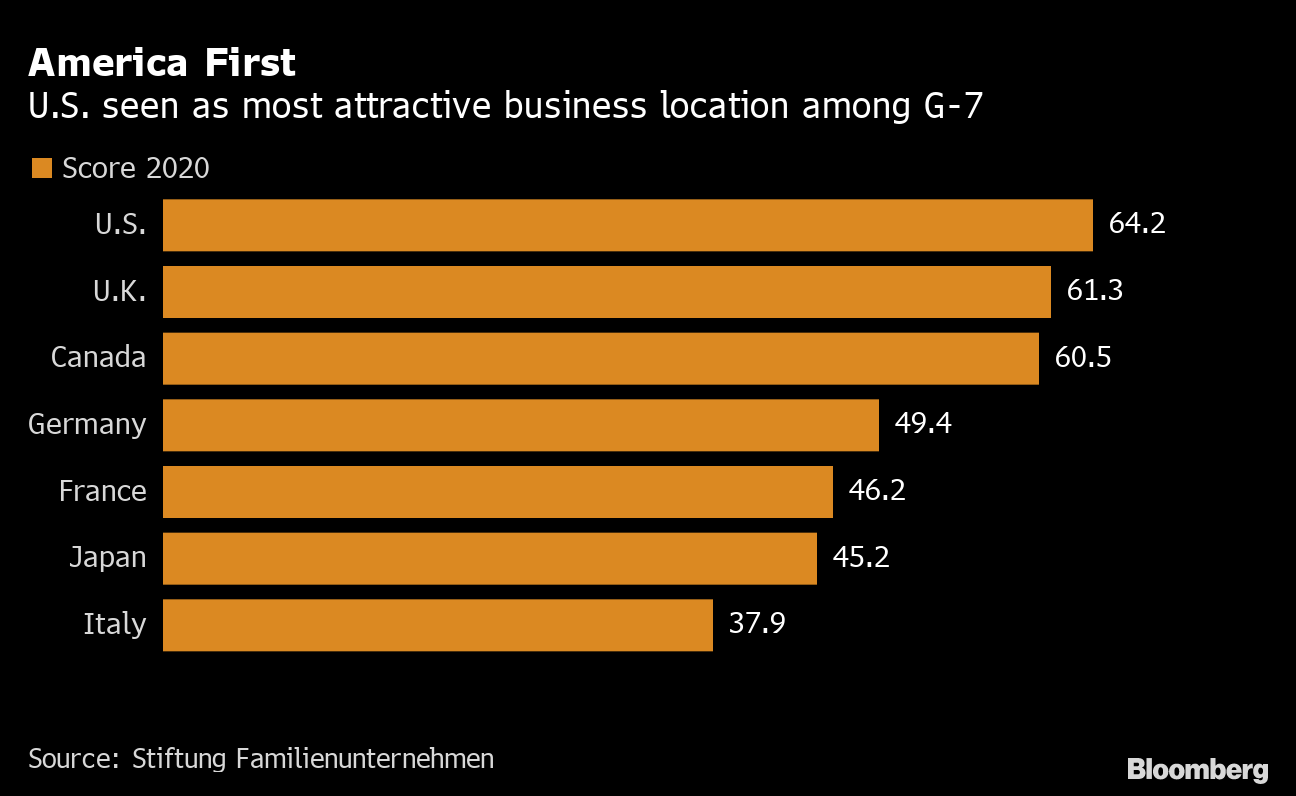 The U.K. dropped behind the U.S. as the best international business location for the first time since the ranking was created by Germany's Foundation for Family Businesses in 2006. Even so, it's still ahead of other Group-of-Seven countries, with Italy at the bottom of the list.
— With assistance by Maeva Cousin, Tom Orlik, David Powell, Bjorn Van Roye, Jamie Rush, Maria Eloisa Capurro, Sophie Caronello, Enda Curran, Max De Haldevang, Tom Hancock, Lucy Meakin, Iain Rogers, and Jordan Yadoo
Biden's aid plan could revamp economy, prompt GOP resistance – 570 News
BALTIMORE — The $1.9 trillion rescue plan unveiled by President-elect Joe Biden offers the chance to sculpt the U.S. economy toward the Democrats' liking: a $15 minimum wage, aid to poor families and federal dollars going to public schools.
It's an ambitious effort that would arrive after roughly $4 trillion has already been devoted to fighting the pandemic. But it could be quickly trimmed by congressional Republicans who are skeptical about raising the minimum wage and increasingly focused on the federal budget deficit that ballooned under President Donald Trump.
"This is an opening bid. There is a sense from Republican staff that $1.9 trillion is a little rich," said Bill Hoagland, a former Republican aide who is senior vice-president of the Bipartisan Policy Center. "But President-elect Biden is an astute student of the Senate and negotiations and I have a feeling that they would expect this to be the top and not everything would be accepted."
Biden stressed in his Thursday speech announcing the plan that low interest rates mean the government should borrow now in hopes of having faster growth and a more stable financial outlook in the future.
"If we invest now boldly, smartly and with unwavering focus on American workers and families, we will strengthen our economy, reduce inequity and put our nation's long-term finances on the most sustainable course," Biden said.
The question is what elements of the Biden plan can win enough Republican votes to clear the evenly split Senate, where at least 60 votes will be needed. Without Republican buy-in, Biden's proposal could pass with a simple majority under budget reconciliation — but that's a time-consuming process that would limit what Democrats are able to accomplish.
Florida Sen. Rick Scott, a Republican, attacked the plan Friday as an attempt to pass liberal policies and shuffle money to Democratic states with it's $350 billion in state and local government aid.
"We cannot simply throw massive spending at this with no accountability to the current and future American taxpayer," Scott said in a statement.
The $15 minimum wage may be among the most controversial provisions. Many business groups and Republicans have historically opposed it.
Matthew Haller, head of government relations for the International Franchise Association, noted that $15 wages would be relatively high in parts of rural Georgia and West Virginia, both states that will be represented by Democratic senators. But, more importantly, the coronavirus outbreak has crushed sales at restaurants and small retailers that might be forced to close if they face higher labour costs.
"It's the straw that breaks the camel's back," Haller said.
Nor have projections about stable federal budgets proven to be accurate in the past. After reviewing the Biden plan, Marc Goldwein, senior vice-president at the Committee for a Responsible Federal Budget, doubted that the additional spending would cause enough growth to shore up the federal government's long-term finances.
"More stimulus and support will improve the economic outlook, and that alone may make it worth it," he said. "But it is very unlikely that the greater borrowing will improve the fiscal outlook."
The Biden plan conforms to the view that the federal government can reduce economic inequality and fuel growth by increasing spending on social services and sending cash directly to households.
It would provide direct payments of $1,400 per person to eligible households, temporarily expand tax credits for children and childcare, help childcare providers and enhance jobless benefits and food aid. There would be $400 billion to get the nation vaccinated, including $130 billion that could help schools safely reopen with smaller classes or better ventilation systems.
The array of spending in the Biden plan would halve the child poverty rate to 6.6%, the lowest level ever based on records going back to 1967, according to estimates from researchers at Columbia University.
"Lifting millions of families out of poverty even for one year can have beneficial long-term consequences for the affected children," said Zach Parolin, one of the researchers at Columbia.
There is also the possibility that the Biden plan could lead to lasting changes in the social safety net. By temporarily making the child tax credit fully refundable, families who don't earn enough money to owe federal income taxes would still qualify for the maximum benefit, which the plan would increase to $3000 per year per child, more for children under age 6.
"It's a reasonable question why more hasn't been done on this previously," said Melissa Kearney, an economist at the University of Maryland. "Perhaps it took this pandemic to make the economic suffering of poor families – and the moral and economic cost of that – glaringly obvious."
But Biden is only providing the framework for negotiations, rather than a finished product and much of the promised benefits could be diluted. Alec Phillips, an economist with Goldman Sachs, expects there to ultimately be $1.1 trillion in relief, about 60% of what Biden outlined Thursday.
The challenge is that Senate Democrats would likely need to rely on the reconciliation process to avoid the risk of a Republican filibusters from Republicans. Without reconciliation, Biden would need 60 votes.
Reconciliation, which requires a simple majority, has never been used for discretionary spending, a category that would appear to include the state fiscal aid, education grants and public health spending proposed by Biden, Phillips said in an analyst note.
"We do not expect ten Republicans to support a $1.9 trillion relief package," he said. "While it is possible that congressional Democrats might find a way to do this, it looks more likely that the need to find bipartisan support might constrain the size of the package."
Josh Boak, The Associated Press
Banks well-armed for uncertain economy: DBRS – Investment Executive
Total credit loss provisioning rose sharply to $23.7 billion in 2020, up from $8.9 billion recorded in the prior year. Yet most of this came on performing loans, it reported.
Gross impaired loans rose in 2020 too, largely driven by credit impairments in sectors most directly affected by the pandemic, DBRS said, particularly the oil and gas, retail, and hospitality sectors.
Nonetheless, the banks also generated still-solid loan growth of 5% year over year, it said.
Loan growth was largely powered by residential mortgage lending, amid low mortgage rates and strong housing markets.
"Conversely, other personal lending growth was muted during [fiscal 2020], with aggregate credit card balances declining a significant 13% year over year as consumers remained cautious and economic activity was muted," said DBRS.
As well, commercial loan growth slowed to 5% from double-digit growth in prior years.
Looking ahead, gross impaired loans are expected to rise in 2021 as loan deferrals that were implemented in the face of the pandemic have since expired.
DBRS said the outlook for future loan loss provisioning "will largely be a function of loan growth and credit migration."
The underlying economic outlook remains uncertain too, particularly in the short term.
Under its moderate scenario, DBRS forecast that Canadian GDP contracted by 5.5% in 2020. GDP is expected to by 5.0% in 2021, followed by 2.5% growth in 2022.
"The near-term economic outlook remains troubling and recovery prospects will likely depend on the severity and duration of the current coronavirus resurgence; however, we expect the outlook to brighten by mid-year as vaccines become more widely available," said Robert Colangelo, senior vice president, global financial institutions group at DBRS Morningstar.
Given the uncertain economic outlook, DBRS said it expects "the earnings power of banks to continue to be constrained; however, their highly diversified franchises and demonstrated abilities to manage expenses should provide an offset."
Additionally, the banks' capital and liquidity levels will remain elevated and well above the regulatory minimums, it said.
The banks' aggregate tier one capital ratio rose by 80 basis points in fiscal 2020 to 12.3% "largely driven by internal capital generation," DBRS said. "This high level of capital provides these banks with a significant capital buffer to absorb higher credit losses."
"Restrictions on dividend increases and share buybacks may be lifted once the path to economic recovery becomes clearer," it said.
For now, DBRS has a stable outlook on the banks' credit ratings. Upgrades remain unlikely due to the operating environment, whereas negative rating pressure could materialize if the banks "experience a sustained deterioration in asset quality or a significant weakening of profitability," it said.