The Art Market Shows How NFTs May Work Out As Investments – Forbes
NFTs, or non-fungible tokens, are an emerging technology trend. Will they prove good investments? The art market offers some clues.
What Are NFTs Anyway?
Blockchain technology can verify ownership of digital and physical assets. Specifically EIP-721 has been broadly used for this purpose. You can prove ownership of anything (not just cryptocurrency) via the blockchain. That's important. Most people would only want to play large amounts of money for something if they can prove ownership.
Lindy Effect
Now, this NFT trend may seem precarious. Pessimists may argue that something will break with this process in future. It may. However, the history of cryptocurrencies and the so-called Lindy effect suggests that the technology may prove robust. The longer a technology lasts, the longer we might expect it to remain. NFTs have a short history of just a few years, but Bitcoin has now lasted two decades. Hence the technology looks set to remain and evolve, even if valuations can be debated.
What The Art Market Tells Us
The long-term history of the art market suggests that there may be a future for some NFTs since, for now, the NFTs look closest to the art market. However, there are some big caveats too. A detailed analysis of the history of the art market by Rachel Pownall at Tilburg University shows that the returns to art have been about 7% a year over the 1980 to 2006 period.
It's important to note that's an average and returns to art have varied, being quite strong in the 1980s, generally weaker in the 1990s, with prices often declining, and more robust in the 2000s.
Maybe that's a reason to be optimistic about NFTs if they are indeed fine art, perhaps returns may be similar.
Dead Artists And Scarcity
A crucial economic principle is that of scarcity. Water or oxygen may be necessary for life and therefore essential, but they don't command high prices as they are abundant.
Certain cryptocurrencies have performed well, in part, because their supply is limited by design. Looking at art, the the works of Matisse are highly valued, but he died in 1954. Hence there won't be any new Matisse paintings.
Indeed, most of the value of the art market consists of dead artists.
This is an issue for NFTs. Of course, they don't plan to produce any more CryptoPunks beyond the 10,000 that are out there. Still, Larva Labs, who produced the CryptoPunks have also produced 20,000 Meebits. Then there are Super Yetis, CyberKongz, DeadHeads, Voxies and the Bored Ape Yacht Club. The list goes on. Mike Winkelmann, a leading NFT artist, is very much alive at 40 years old. He's unlikely to stop producing.
The point is that because NFTs are successful, others are getting in on the action. Supply is increasing. It's classic economics. That's seldom good for retaining value. In addition to scarcity, we have second crucial point, selection bias.
Selection Bias
Even the average 7% annual return to art, as a rough number, may well be overstated. The reason is we have much better data on auction valuations than less glamorous and more routine dealer transactions.
The Quality Bar
Only art passing a quality bar makes it to auction. If something is found to be a fraud or its value declines in some other way, chances are it won't be up for auction. If we're just tracking the winners and seeing a 7% return, the return for the average person buying art may be quite a bit lower. Maybe they pick the wrong artist, or maybe an artist falls out of favor.
The auction houses chose what art to sell. That's part of their usefulness and their criteria evolve over time. Indeed, some auction houses now sell NFTs, but of course only the more successful ones.
Tracking Winners
So art indices that track auction house valuations, because that's where the good data is, likely overstate returns to art in general by just looking at the long-term winners. John Constable was certainly not the only British artist in the 1800s, but he's one of only a few we still hear about.
This is a big issue for NFTs. Yes CyperPunks have done well for many holders with CryptoPunk #3100 selling for over $7 million in March 2021. But launching in 2017, this was among the earlier NFT projects. A lot of other NFT projects get a lot less attention and a worth far less. Importantly, a lot more NFTs are likely coming in the years ahead.
So maybe certain NFTs that stand the test of time may make sense as a long-term investment, much like fine art. However, surging supply does not bode well. Investing in NFTs may look easy in retrospect, because we'll continue to talk about the winning projects and forget the others. In that way, investing in NFTs may be a lot like investing in art.
Art Auctioneer Offers Up Midcentury Masterpiece In L.A. At $8.5 Million – Forbes
With a career as a renowned art auctioneer and founder of Los Angeles Modern Auctions, Shannon Loughery knows a valuable masterpiece when she sees one—and Loughery's recently listed Midcentury Modern-style home in Encino is just that.
Determining the value of a work of art is not so different from that of a home. Ask any art auctioneer or real estate broker around the globe, and they will tell you about the litany of factors that go into determining the worth of something and how many of those factors might overlap—like artist, uniqueness and condition.
The artist, in this case, is celebrated Los Angeles architect Donald G. Park, who designed the 1972-built home.
Known as the Lewis Estate, this abode may perhaps be Park's magnum opus, or at the very least his most architecturally significant. A modernist marvel, the house consists of three expansive dodecagon structures bridged together with a glass pavilion.
Perched upon an acre of the Encino Hills with stunning views overlooking the San Fernando Valley, this one-of-a-kind house spans over 6,800 square feet of interior space with six bedrooms and six bathrooms.
The home's unique design gives way to a spectacular interior with soaring wood panels that stretch across the geometric ceiling, walls of glass windows that allow for a 200-degree view, and warm-toned tile in a circular pattern that encloses a recessed living area with a fireplace.
Freestanding stones walls help to separate the floorplan but also allow ample space for displaying art.
The kitchen is styled with a retro feel but is outfitted with modern appliances like a smooth top stove located on the island with an overhead vent.
A variety of flooring is used throughout the house, including patterned tiles, parquet wood and mint green carpet that covers a sleek, spiral staircase. Rich color accents are ubiquitous and on full display in places like the deep green of the tub and sinks of the upstairs bathroom, the vivid pink and purple of the kitchen cabinetry and the built-in couch's soft yellow.
Completing the floorplan are a separate vintage bar, two dining areas and an atrium opening to a breathtaking beamed skylight.
Outside, the patio faces the valley, where residents can gaze upon a landscape of mountains and city lights as they soak in the heated spa, swim in the pool or sit around the gas fire pit.
This rare home, located at 17862 Via Vallarta, is priced at $8,495,000. Mick Partridge of Hilton & Hyland is the listing agent.
---
Hilton & Hyland is a founding member of Forbes Global Properties, a consumer marketplace and membership network of elite brokerages selling the world's most luxurious homes.
Secrecy surrounds major new public art piece in downtown Kelowna – The Daily Courier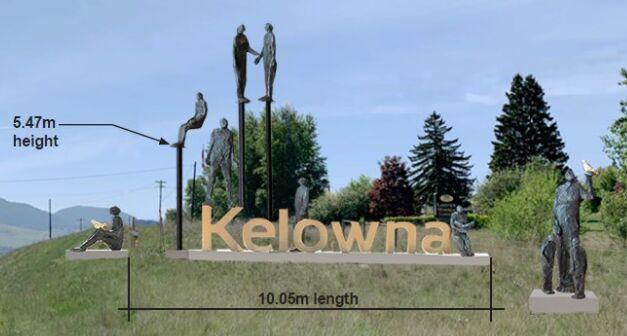 A major piece of public art once planned for Highway 97 North disappeared last year after criticism from city councillors.
One main complaint about the proposed $250,000 sculpture, which featured 10 human figures perched atop tall poles, was that its beauty and grace would be lost by being placed next to the busy highway with all its speeding cars.
Coun. Gail Given suggested last November that artist Ted Fullerton's proposed sculpture should have been located in pedestrian-friendly City Park where people could better relate to its scale and take pictures of themselves beside it.
Fast forward to Wednesday, when much secrecy was woven into a press release issued by the Kelowna Art Gallery about a "large new outdoor public art sculpture" about to be unveiled next to the building on Water Street.
"No announcements will have been made via any Gallery communications before the media preview event," art gallery spokesman Joshua Desnoyers wrote in an email invitation to attend the event.
Feverish media minds, or one of them anyway, wondered if the about-to-unveiled sculpture was a revival of Fullerton's ill-fated piece, which was conceived as a new 'Welcome to Kelowna' sign.
"I can confirm that it is not a sculpture by Ted Fullerton, although that is a very astute guess," Desnoyers wrote in an email.
So media, and all of Kelowna, will have to wait until 9:30 a.m. on Oct. 27 to get a look at the sculpture, described as having been made by "an established artist whose work has been shown throughout North America and who has received major commissions in Canada and the U.S."
Kelowna currently has more than 70 pieces of public art. The newest, whatever it is, will be located between two of the most photographed sculptures, 'Rhapsody', a representation of playful dolphins at the entrance to Waterfront Park, and 'Bear' , a representation of a bear, in Stuart Park.
The look of 'Bear' was such a closely guarded secret before its unveiling in 2010 that it was wrapped in plastic and a security guard was hired to watch over it the night before, lest anyone try to get a sneak peek.
Whatever happened to plans for a new Welcome to Kelowna sign on Highway 97 North also remains a bit of a mystery as calls to relevant authorities at City Hall were unreturned Wednesday.
Del Mar unveils five new pieces of public art – Del Mar Times
The city of Del Mar's temporary outdoor sculpture program has opened with five new works in downtown Del Mar, along a one-mile art stroll.
The Del Mar Foundation is providing approximately $15,000 in funding for the program over the first two years and the pieces will remain on display for up to 23 months.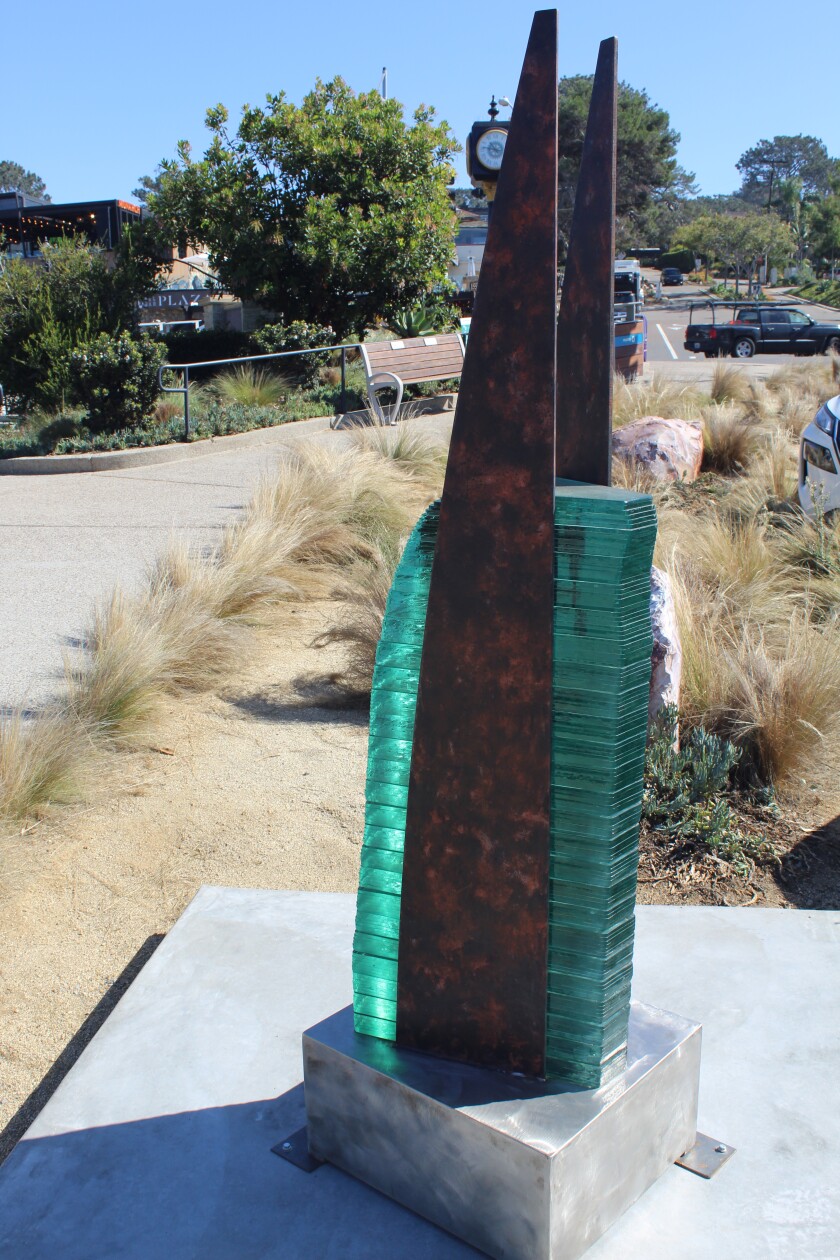 Take the Del Mar art walk:
Hanging Out by Maidy Morhous at 15th Street and Stratford Court
Birds Eye View by Petrello and Graham at the southeast corner of 14th Street and Camino del Mar
Terpsichore by David Beck Brown at the southeast corner of 12th Street and Camino del Mar
Moonshadow by Jeffery Laudenslager and Deanne Sabeck at the northeast corner of 9th Street and Camino del Mar
Pasaje a lo Infinito by Hugo Heredia at 5th Street and Camino del Mar