The ball's in Sony's court for PS4 games running at 120fps on PS5
We're starting to get a sense of why PlayStation 5 users are unlikely to see PlayStation 4 games run at 120 frames per second on Sony's new console – despite the PS5 being perfectly capable of doing it.
Last week, I reported on how Infinity Ward had quietly updated Call of Duty: Warzone to run at 120fps on Xbox Series X, but not on PS5.
Warzone, which comes up as a PS4 app when it's downloaded on PS5, does not boot in 120Hz, and there are no in-game menu functions to enable it. Activision declined to comment when contacted by Eurogamer, leaving us to assume the reason for this difference had to do with the way Sony handles backwards compatibility. At the time, I speculated that Infinity Ward would have to create a full PS5 port of Warzone in order to enable 120fps on the console.
Now, we have evidence to suggest that line of thinking is correct. Rocket League is in a similar boat to Warzone: the hugely popular football driving game has been updated to run at 120fps on Xbox Series X, but not on PS5. Why?
Developer Psyonix told Eurogamer there were a few reasons for the decision, and pointed out enabling 120fps on PS5 "requires a full native port", whereas it's just a "minor patch" on Xbox Series X and S.
"Our team's main focus this year was our recent free to play transition and updating major features like our Tournaments system," Psyonix said.
"Due to this we had to make tough decisions on what else we could achieve. Enabling 120hz on Xbox Series X|S is a minor patch, but enabling it on PS5 requires a full native port due to how backwards compatibility is implemented on the console, and unfortunately wasn't possible due to our focus elsewhere."
This seems pretty clear cut, and goes some way to explain why we're a lot less likely to see PS4 games running at 120fps on PS5 than we are to see Xbox One games running at 120fps on Xbox Series X and S.
I thought I'd check in with Digital Foundry chief Richard Leadbetter to see what he thought about all this, and what may happen in the future.
"120Hz support has indeed been a feature for Xbox for some years now, though Rainbow Six Siege was the only game that actually exceeded 60 frames per second," Leadbetter said.
"The strategy from Microsoft was always to implement features like this and VRR (variable refresh rate) ahead of time so display manufacturers had target hardware to work with, mostly so the foundations would be in place for next-gen games.
"Right now, Sony limits 120Hz support to games specifically designed for PS5, meaning that 'enhanced' PS4 games like Rocket League and Warzone can't tap into the feature.
"Theoretically it should be possible for Sony to adjust this (PSVR games can run at 1080p resolution at up to 120Hz) but it will require a fair degree of work – and I guess the question is whether engineering resources focused on PS5 could be redirected to PS4 instead. It really does seem like the ball is in Sony's court on this one."
So there you have it. Unless Sony sorts this out – and the company has so far expressed no indication it plans to do so – that PS5 120fps backwards compatibility dream will probably remain just that: a dream.
Source: – Eurogamer.net
Alleged Xiaomi Mi 11 and Mi 11 Pro specifications surface on Weibo – Notebookcheck.net
Some Xiaomi Mi 11 and Mi 11 Pro specifications have shown up online. Both phones are tipped to come with a 1440p screen that refreshes at 120Hz. The Mi 11 Pro will allegedly support fast charging at 120W. Xiaomi is expected to unveil the Mi 11 series by the end of December 2020.
With the Xiaomi Mi 11 series' launch date drawing closer, the internet is abuzz with speculations about the phone's specifications. Xiaomi and Qualcomm have already confirmed that it will run the Snapdragon 888, so we know that for sure. However, there seems to be a lot of buzz around the Xiaomi Mi 11 series' camera and battery prowess. A table showcasing the alleged specifications of the Xiaomi Mi 11 and Mi 11 Pro's side-by-side has now surfaced on Weibo. It shouldn't be long before we know if this information is correct. Ice Universe suggests that Xiaomi plans on launching the Mi 11 series at the end of December.
It is unclear as to how many cameras both smartphones will come in total. The base Xiaomi Mi 11 is billed to ship with a 108MP Samsung ISOCELL HM3 sensor assisted by a 13MP ultra-wide-angle lens. Things begin to get murky here, as the machine translation fails to tell us the telephoto lens' megapixel count. It may also come with a hole-punch 20MP selfie camera. There appears to be a macro lens thrown in the mix, too. More details about it should emerge as time passes. The Xiaomi Mi 11 will reportedly ship with a 4,700mAh battery that can be charged at 50W via a cable, and at 30W wirelessly. Prices are expected to start at RMB 3,999 (US$610) for the base variant with 8GB of LPDDR5 RAM and 128GB of USF 3.1 storage. Other Xiaomi Mi 11 features include an under-display fingerprint scanner, NFC, and a 1440p screen with a refresh rate of 120Hz.
Moving on to the better-specced Xiaomi Mi 11 Pro (or Mi 11 Ultra according to some sources), we get what appears to be a 50MP primary sensor. However, an earlier report told us that the 50MP image is a result of 4:1 pixel billing, so we're likely looking at a 200MP sensor. It will be assisted by a 48MP ultra-wide-angle lens and a 48MP telephoto lens. Xiaomi could very well follow Huawei's path and throw in a second telephoto lens for good measure. Even the Galaxy S21 Ultra is billed to feature a similar setup, giving Xiaomi additional incentive to follow suit. Things get even more impressive when we look at the Xiaomi Mi 11 Pro's battery specifications. It will allegedly support fast charging at 120W over a cable and 80W wirelessly. Xiaomi has been working on its 100W fast charging tech for quite some time now, and it's good to see it make its way in a flagship smartphone. The Xiaomi Mi 11 Pro is expected to cost RMB 5,299 (US$807) for the same memory and storage configuration as the non-Pro variant. Information about the exact screen size is scant, but it stands to reason that the smartphone will come with a 1440p 120Hz AMOLED screen.
Xiaomi Mi 11, Mi 11 Pro specifications and images leaked – gizmochina
Xiaomi is expected to launch the Xiaomi Mi 11 series later this month. The lineup reportedly includes two handsets named the Mi 11 and Mi 11 Pro. Fresh leaks have surfaced on Weibo to reveal the specs of the two phones. Also, a couple of images have also surface to showcase the rear camera design of the Mi 11 duo. Before reading ahead, readers are advised to digest this report with a grain of salt since these leaks are not from regular leakers.
Xiaomi Mi 11 and Mi 11 Pro specifications (Unconfirmed)
The leak reveals that the Mi 11 and Mi 11 Pro will be equipped with S-AMOLED panels that offer a 120Hz refresh rate and quad HD+ resolution. The exact screen size is not mentioned in the leak. Both phones are said to be equipped with 20-megapixel front-facing cameras.
The Mi 11 could be backed by a battery of around 4,780mAh capacity and it may come with support for 50W wired charging and 30W wireless charging. The Mi 11 Pro could be coming with a smaller battery of around 4,500mAh capacity. It may support 120W wired charging and 80W wireless charging.
The leak states that Mi 11 may feature a 108-megapixel + 13-megapixel (ultrawide) + 5-megapixel (macro) triple camera setup. The Mi 11 Pro could be equipped with a 48-megapixel (OmniVision OV48C) + 20-megapixel (ultrawide) + 12-megapixel (telephoto with 2x optical zoom) triple camera setup.
The Snapdragon 888 will fuel the device with LPPDR5 RAM and UFS 3.1 storage. For security, these phones have an under-display fingerprint scanner and 2D face unlock. The other features that are available on Mi 11 duo include dual speakers, x-axis linear motor, IR blaster, and NFC. The leak states that the Mi 11 with 8 GB RAM + 128 GB storage may cost 3,999 Yuan (~$610) to 4,499 Yuan (~$686). The Pro model with the same RAM and storage may cost 5,299 Yuan (~$808) to 5,499 Yuan (~$838).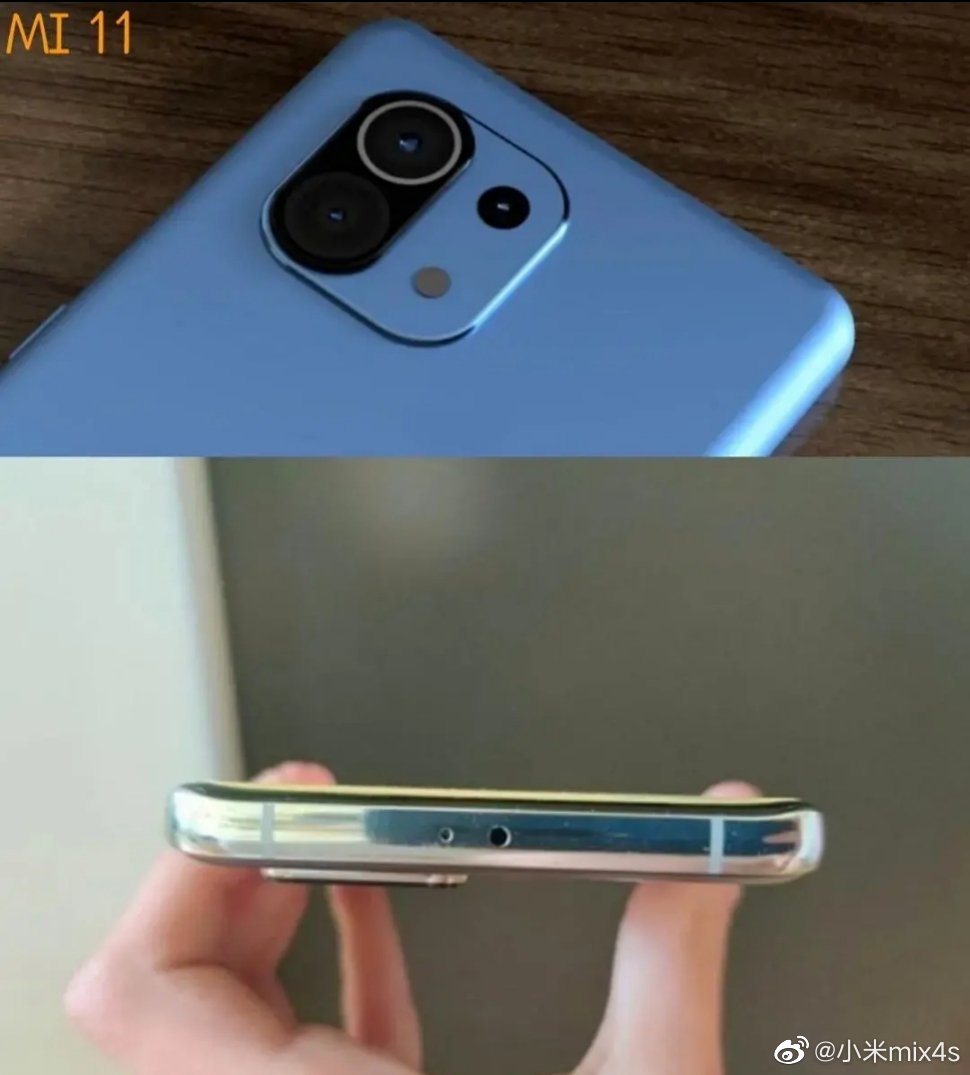 Tipster Digital Chat Station hinted today that the Mi 11 series will have a horizontal camera array. Shown above are some images that reveal that the Mi 11 duo will have a square-shaped camera module.
ALWAYS BE THE FIRST TO KNOW – FOLLOW US!
Amazon is replacing PS5 consoles that might have been stolen in transit – BGR – BGR
Some consumers who bought a PS5 from Amazon received a random item instead.
Amazon refunded the purchases and offered vouchers, but customers who thought that they were getting consoles were irate and wanted to know when they could buy a PS5.
Amazon is now emailing customers to offer them a replacement for the PS5 order.
---
As if securing a PlayStation 5 hasn't been difficult enough, in a cruel twist of fate, some consumers who thought that they were actually able to complete their orders on or before launch day ended up receiving a random item from their seller instead. As IGN reported late last month, Amazon customers in the United Kingdom were getting a wide variety of products in the mail instead of the next-generation consoles that they ordered, from cat litter and George Foreman grills to bed sheets and lamps. It's unclear why this happened, but Amazon appears to be on the case.
A few days after the publication of freelance journalist Bex April May's exhaustive investigation surrounding the PS5 orders, some UK customers that were sent the wrong item began receiving emails from Amazon alerting them that a new PS5 had been obtained and would be shipped their way within the next two weeks.
---
BGR's Top Deal of the Day
FDA-authorized Powecom KN95 masks that block 99% of viruses and small particles cost $45/box — now they're $22.31 at Amazon! Price:$24.99
Available from Amazon, BGR may receive a commission
---
"We are pleased to confirm that we will be able to secure a PlayStation 5 for you as a replacement for the order that you didn't receive," said the email from Amazon, which was forwarded to IGN by May. "Subject to valid payment, we expect to dispatch your PlayStation 5 within 14 days of your confirmation."
Amazon has yet to offer an official explanation for the botched orders. As such, theories began to spring up, some of which May discusses in her piece for IGN. Shortly after receiving her package, May posted a video on Twitter of what was meant to be a PS5 unboxing, but instead turned into an air fryer unboxing:
Happy #PS5 day everyone. Tried to document our one's unveiling, but Amazon have tricked us with an unsolicited air fryer instead (after giving delivery password). Anyone else had this problem today? pic.twitter.com/99IUSzSJUU

— Bex April May (@bexlectric) November 19, 2020
After the video went up, someone responded, noting that Amazon doesn't use clear tape on its packages. If you have received a package from Amazon recently, you know that they all use black Prime-branded tape. Other shoppers said that they encountered the same clear tape on their packages. Had someone tampered with their Amazon boxes? Had they removed the PS5 consoles and replaced them with different items? There are few products harder to get a hold of right now than a PS5, and with the resale market on fire, it certainly seems plausible.
That said, there are a number of safeguards that would make it very difficult, if not impossible, for someone working at an Amazon warehouse or delivering packages to swap out an order. There's a good chance that we will never find out what happened, but at least Amazon is attempting to do right by its customers.