The Economy Is Good, Actually – The Atlantic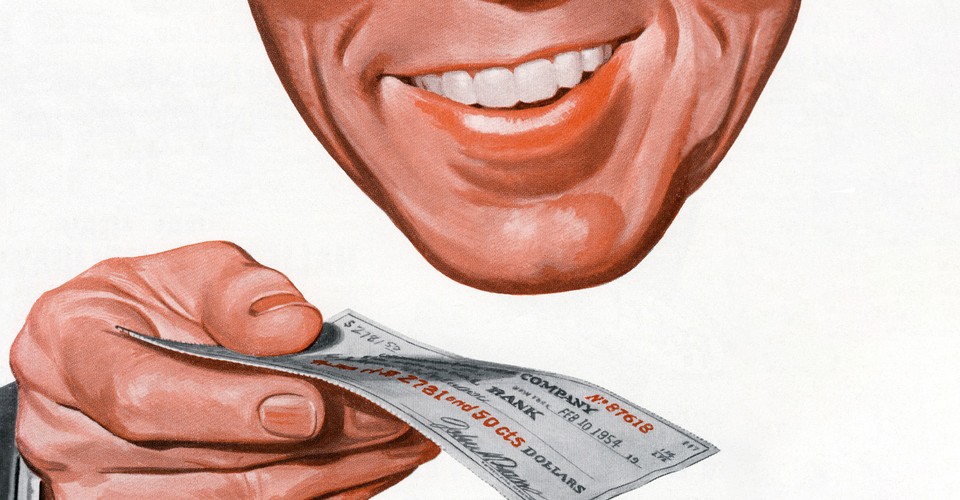 We are living through the best labor market in 50 years. The U.S. economy created 467,000 jobs in January, more than triple the 125,000 that economists had anticipated. According to the most recent data, the economy created 700,000 more jobs at the end of last year than previously believed. Workers are leaving their jobs for greener pastures at record levels, organized labor is enjoying a resurgence of worker power unseen in a generation, and pay for low-wage workers is up even after adjusting for inflation.
Compared with the federal government's response to the 2008 financial crisis, the recovery from the COVID-19 crash has been an extraordinary success. It took more than a decade after the onset of the previous recession for the unemployment rate to fall back to 4 percent, the level where it stands today. Even this figure understates the gap between the Great Recession and the pandemic-era economy. Most of the jobs created after the 2008 crisis paid poverty wages, and the country never recovered all of the manufacturing jobs it lost. Today, manufacturing jobs have nearly returned to their pre-pandemic levels amid a burst of onshoring activity across different industries. The stunning jobs numbers over the past two months were secured as the Omicron variant damaged commercial activity across the country.
It remains difficult to find intellectuals or policy makers eager to take credit for these triumphs. This silence is especially noticeable on the left, which can reasonably claim much of the change in approach as its own. The federal government spent far more money over the course of the pandemic than it did in response to the 2008 crash, and spent more of that money on ordinary families. The child-tax-credit expansion unveiled by President Joe Biden in early 2021 cut child poverty in half all by itself, never mind the hardships averted by expanded unemployment benefits and stimulus checks.
The primary rationale for this reluctance to declare victory is not a secret: Many Americans are pretty miserable at the moment. The pandemic itself is a grief machine, and most of the efforts that households and governments can take to mitigate the coronavirus's spread are extremely frustrating. Biden's approval rating has been in the toilet since the summer, and reached new lows last month. The collapse of Biden's Build Back Better agenda, which was sabotaged by two senators in the president's own party, has not helped his cause, and neither has his administration's clunky and at times bizarre response to the pandemic itself. (White House Press Secretary Jen Psaki mocking the very idea of sending out free COVID-19 tests to households was probably the low point.)
But most of the conversation about the economy today is not about manufacturing jobs, strike activity, or quit rates. It's about inflation. And wage growth across the pandemic is much less impressive when you focus on the past six months or so of consumer-price data. Inflation-adjusted wages are actually up since the first quarter of 2020, but they were down 2.4 percent over the course of 2021. (Even this data point carries a silver lining, though: Workers in the bottom third of the income distribution still enjoyed modest wage gains last year, a break with recent trends in which wage growth has been concentrated at the top.) Polling consistently indicates that voters loathe inflation. In 2013, when inflation was nonexistent, a majority of Americans cited inflation as "a very big problem." It is less popular today.
Just why inflation remains a problem is a matter of intense debate among economists, but virtually everyone accepts two premises. First, the pandemic is a major cause of rising prices. Shutting down whole sectors and then starting them up again creates all sorts of disruptions and bottlenecks that lead to shortages, which in turn lead to price increases. Second, the higher prices created by those shortages are exacerbated by robust consumer purchasing power. How much of either factor—high household demand or bad bottlenecks—is responsible for the problem remains under dispute, but it seems likely that inflation will not dissipate until the supply-chain issues are resolved. In the meantime, any good economic news—more jobs, better pay—will put at least some upward pressure on prices. People are reluctant to claim credit for the recovery because they are reluctant to accept blame for inflation.
They shouldn't be. Highlighting the strength of the job market may or may not be a winning message for politicians, but it's essential for understanding both the calamity we avoided and how to respond to inflation going forward. The conventional response to rising prices—higher interest rates from the Federal Reserve, withdrawing fiscal stimulus—may well bring prices down, but it will do so by attacking the incomes of ordinary Americans, particularly those at the edges of the labor market. Given Senate gridlock, this may well be the best that policy makers can do with the tools available to them. But it is not the only way to deal with rising prices. An excess-profits tax on businesses is one; rent control for families is another. Both have the advantage of avoiding a direct hit to consumer pocketbooks.
The Great Recession was a generational cataclysm for the American middle class. The COVID-19 recession has not been, because policy makers have prioritized the benefits of a high-demand economy over the risk of moderately rising prices. They should not be ashamed of their success.
China's Economy Shows Signs of Improvement as Covid Eases – BNN
(Bloomberg) — China's economy showed further signs of improvement in June with a strong pickup in services spending as Covid outbreaks and restrictions were gradually eased.
The official manufacturing purchasing managers index rose to 50.2 from 49.6 in May, the National Bureau of Statistics said Thursday, slightly below the median estimate of 50.5 in a Bloomberg survey of economists. It was the first time since February that the index was above 50, indicating expansion in output compared with May.
The non-manufacturing gauge, which measures activity in the construction and services sectors, climbed to 54.7, the highest in more than a year and well above the consensus forecast of 50.5.
China's CSI 300 Index rose as much as 0.9% while major stock gauges in Asia broadly fell.
Government restrictions to contain Covid outbreaks have gradually eased over the last month. The financial hub Shanghai lifted its two-month lockdown at the start of June by allowing more shops to reopen, more factories to resume production, and for port operation to pick up.
The data suggests "the pace of recovery accelerated as the Covid situation stabilized," said Peiqian Liu, chief China economist at NatWest Group Plc. There was a "broad based but still soft recovery in both production and new orders," and the figures show the rebound is still milder compared with the recovery from the Wuhan lockdown in 2020, she said.
Some 19 of the 21 sectors in the service sectors tracked in the survey returned to expansion last month, up from just six in the previous month, according to the NBS. Gauges of sectors previously hit badly by the outbreaks all improved, such as railway transport, air transport, accommodation, catering and entertainment.
The recovery remains fragile though as the country sticks to its Covid Zero strategy, meaning restrictions could be tightened if outbreaks of the highly transmissible omicron variant flare up again. Chinese President Xi Jinping reaffirmed his Covid Zero policy this week, saying it was the most "economic and effective" for the country.
Economists, meanwhile, are holding firm on their gross domestic product growth forecasts for this year. The median projection in a Bloomberg survey for 2022 growth is 4.1%, well below Beijing's annual target of around 5.5%. Bloomberg's aggregate index of eight early indicators showed some improvement in June, though the recovery remains muted.
(Updates with additional details)
©2022 Bloomberg L.P.
China's economy didn't bounce back in the second quarter, China Beige Book survey finds – CNBC
China's exports surged by 16.9% in May from a year ago, two times faster than analysts expected. Pictured here on June 15, 2022, are workers in Jiangsu province making stuffed toy bears for export.
Si Wei | Visual China Group | Getty Images
BEIJING — Chinese businesses ranging from services to manufacturing reported a slowdown in the second quarter from the first, reflecting the prolonged impact of Covid controls.
That's according to the U.S.-based China Beige Book, which claims to have conducted more than 4,300 interviews in China in late April and the month ended June 15.
"While most high-profile lockdowns were relaxed in May, June data do not show the powerhouse bounce-back most expected," according to a report released Tuesday. The analysis found few signs that government stimulus was having much of an effect yet.
Shanghai, China's largest city by gross domestic product, was locked down in April and May. Beijing and other parts of the country also imposed some level of Covid controls to contain mainland China's worst outbreak of the virus since the pandemic's initial shock in early 2020.
In late May, Chinese Premier Li Keqiang held an unprecedentedly massive videoconference in which he called on officials to "work hard" — for growth in the second quarter and a drop in unemployment.
Transportation, construction companies aren't telling you they're getting new products. They're telling you they've slowed investment, their new projects have actually slowed.

Shehzad H. Qazi

Managing Director, China Beige Book
Between the first and second quarters, hiring declined across all manufacturing sectors except for food and beverage processing, according to the China Beige Book report.
The employment situation likely won't start to improve until China stimulates its economy more in the fall, China Beige Book Managing Director Shehzad H. Qazi said Wednesday on CNBC's "Squawk Box Asia."
So far, there's been little sign that stimulus has kicked in, especially in infrastructure, said Qazi who is based in New York.
"Transportation, construction companies aren't telling you they're getting new products," he said. "They're telling you they've slowed investment, their new projects have actually slowed."
Inventories surge, orders drop
Unsold goods piled up, except in autos. Orders for domestic consumption and overseas export mostly fell in the second quarter from the first. Orders for textiles and chemicals processing were among the hardest-hit.
The only standout domestically was IT and consumer electronics, which saw orders rise during that time. Orders for export grew in three of seven manufacturing categories: electronics, automotive and food and beverage processing.
"Weak domestic orders and expanding inventories indicate the presumed second-half improvement will be unpleasantly modest," the report said.
The authors noted the services sector saw the greatest reversal. After accelerating in growth in the first quarter, services businesses saw revenue, sales volumes, capex and profits drop in the second quarter.
Across China, only the property sector and the manufacturing hub of Guangdong saw any year-on-year improvement, the China Beige Book said.
Official second-quarter gross domestic product figures are due out July 15. GDP grew by 4.8% in the first quarter from a year ago.
U.S. Economy Shrank Worse-Than-Expected 1.6% Last Quarter As Recession Fears Grow – Forbes
Topline
The economy last quarter posted its worst annualized showing since the pandemic-induced recession in 2020, the government said in an updated release Wednesday, blaming an unexpected decline in economic activity on the omicron variant of Covid-19 and decreased government assistance.
Key Facts
The U.S. economy shrank at an annual rate of 1.6% in the first quarter of 2022—the first decline since the second quarter of 2020, the Bureau of Economic Analysis reported Wednesday in a worse-than-expected update to last month's figure, which showed a decline of 1.5%.
The update primarily reflected softer-than-expected spending on business inventories and residential investments, which was only partially offset by an uptick in consumer spending, the government said.
In the first quarter, a record wave of Covid-19 cases spurred by the omicron variant resulted in continued restrictions and business disruptions, while government assistance programs including forgivable loans to businesses and social benefits to households expired or tapered off—further preventing growth, according to the release.
Broad declines in exports, government spending and business inventories, along with increased imports, spurred the overall decline, the government said.
The overall drop stands in stark contrast to the economy's better-than-expected growth of 6.9% in the fourth quarter, the fastest rate in nearly 40 years, thanks in part to a jump in exports and increased inventory investments by car dealers.
What To Watch For
Economists are widely calling for a return to growth this quarter, thereby avoiding the two consecutive quarters of negative GDP growth that constitute a technical recession, but a growing wave of experts have warned odds of a recession next year are growing. In a research note on Monday, analysts at S&P Global Ratings said aggressive Federal Reserve policy to combat ongoing price spikes will usher in low economic growth this year and potentially risk a recession, warning: "What's around the bend next year is the bigger worry." S&P put the odds of a recession in 2023 at 40%—more than the 35% odds Morgan Stanley issued last week.
Key Background
Though the economy quickly bounced back after the Covid recession in 2020, the Fed's withdrawal of pandemic stimulus measures, Russia's invasion of Ukraine and lingering Covid restrictions have heightened market uncertainty this year. Last quarter, the stock market posted its worst showing since the market crash in early 2020, with the S&P falling 5% and the tech-heavy Nasdaq 9%. "Recession risks are high—uncomfortably high—and rising," Mark Zandi, chief economist at Moody's Analytics, said in a recent note. "For the economy to navigate through without suffering a downturn, we need some very deft policymaking from the Fed and a bit of luck."
Crucial Quote
In an email after April's initial report, which estimated a 1.4% decline despite expectations for 1% growth, Bankrate analyst Mark Hamrick said the lackluster performance serves as a reminder of the "volatile and complicated times in which we live," but that the contraction is "less worrisome" because key drivers of economic growth, such as consumer and business spending, have been holding up despite the widening trade deficit and big swings in business inventories.
Further Reading
Cathie Wood Claims Economy Already In A Recession—Warns Inflation And Inventories Pose 'Big Problem' (Forbes)
Unemployment Will Rise And 'Extreme' Price Pressures Continue As Fed Hikes Risk Recession, S&P Warns (Forbes)
Major Bank Is First To Forecast A Recession—More Could Follow (Forbes)