The four latest contenders to Facebook's social media throne – CNBC
In the aftermath of the election, millions of users rushed to sign up for Parler, an up-and-coming social media app that has quickly become a hub for conservatives seeking refuge from what they believe is censorship from Facebook and Twitter. Those companies have labeled or hidden posts from President Trump and others disputing the results of the 2020 presidential election.
This rush of sign ups launched Parler into the top spot on Apple's App Store list of free apps earlier this week. The surge is reminiscent of other social media upstarts that tried to exploit key markets where Facebook was lacking, like Snapchat among teens or TikTok for short-form video.
Taking on Facebook is no small task, and many apps have failed in this endeavor. Facebook counts more than 3 billion monthly users across its numerous services, including Instagram and WhatsApp. No other social media platform is even close. Additionally, the company has fended off many would-be challengers, often by copying their key features and using them to keep users from leaving.
But newcomers keep trying. Here are four to watch:
TikTok
Perhaps the biggest threat to Facebook's social media dominance is TikTok, the wildly popular user-generated video app of Chinese origin. The app shows users a never-ending feed of videos of other users dancing, singing, cracking jokes or putting to use fascinating augmented-reality visual effects. Over the last few years, TikTok has emerged as one of the most popular apps for teenage and young adult users on the internet.
TikTok and Douyin, its Chinese counterpart, together claimed 980 million monthly active users in September, up from 670 million a year prior, according to data from App Annie. That puts the app on pace to surpass the 1 billion MAU mark in 2021.
Facebook has taken note of TikTok's fast-paced growth, and in August, it responded with the global launch of Reels, a TikTok copycat feature available on Instagram. Just as Facebook was able to stave off Snapchat by bringing stories to Instagram, it is now taking the same approach to the threat of TikTok.
Besides Facebook, TikTok also faces regulatory challenges due to security concerns due to its parent company ByteDance, which is based in China. Although TikTok was able to successfully navigate the threat of being shut down by President Donald Trump, it is still unclear what will happen to the app under the Biden administration. A Biden technology advisor to the transition on Tuesday said it was "too early to say" the incoming administration's view on TikTok.
Parler
With the uptick in post-election sign ups, Parler saw its total registered members rise from 4.5 million last week to approximately 8 million now, according to a statement from Parler COO Jeffrey Wernick. In terms of active users, that figure has grown from 500,000 active devices two weeks ago to more than 4 million.
Like Facebook and Twitter, Parler offers users standard social media features — there's a feed where you see posts, photos and videos from the users you follow. Parler's biggest draw is how it's positioned itself as the antithesis to Facebook and Twitter.
"Parler is a non-biased, free speech social media focused on protecting user's rights," the app's description reads on the App Store.
Parler, however, is not the first social media app to come around actively catering specifically to conservatives. Four years ago, there was Gab, a similar app with the exact same proposition. Gab grew until it was tied to the Pittsburgh synagogue shooting in 2018, in which 11 people died. The shooter, Robert Gregory Bowers, posted on his Gab page an hour prior to the shooting.
After the shooting, Gab was ditched by its hosting provider and payment processors, forcing the service to go offline, and it never recovered. With a hyper-conservative user base, Parler will have to walk the tightrope of giving its users free speech while preventing their online activity from culminating in an offline event that forces the app to shut down.
Discord
Another fast-growing social app is Discord, which lets users create "servers" where friends can hang out in text-focused chat rooms or on voice or video calls. The app is especially popular among video gamers, who use the voice and video call features to chat with their friends while gaming together online.
Discord has seen its usage grow to more than 100 million monthly active users, up nearly 79% from 56 million last November, according to the company. Discord claims it is not a social network but rather a communications service as it is fundamentally different from other social apps in that it does not run ads or rely on an algorithmic feed to show users content. Instead, Discord makes money by charging users for its Nitro $9.99 per month subscription service that offers users more features.
Discord may not consider itself a social media app, but Facebook clearly sees a threat. More and more, Facebook has put an emphasis on making video games a key part of its service, offering live streaming services, cloud gaming, and 50-person group video calls.
OnlyFans
OnlyFans is the only one of these social media threats that does not actually offer a mobile app. That's because OnlyFans has become the go-to spot for users to sell original adult content, which Apple bans from the App Store.
Despite not having an app, OnlyFans has grown tremendously in the last year. It was mentioned in a rap verse by Beyonce earlier this year, and TikTok and Instagram users frequently post links directing their followers to their OnlyFans accounts.
OnlyFans hasn't said how many monthly active users it has, but the app has 75 million total users and 1 million creators, which is up from 30 million users and 450,000 creators in May.
Although OnlyFans is known primarily for being used to subscribe to and purchase adult content, there are some who use the app to sell subscriptions and post non-pornographic content. If OnlyFans continues to wrack up users, it could become the de facto spot for users who want a paid social media experience free of ads.
OnlyFans poses is a unique challenge. Facebook has banned porn on its services throughout its history, and it would not be allowed to have an iOS app if it suddenly decided to change its policies. By going the adult content route, OnlyFans has seemingly built itself a moat that prevents Facebook from copycatting its services the way it has with Snapchat and TikTok.
Right in the centre – Many in the media have failed us – myWestman.ca
Details

Published on Friday, November 27, 2020
By Ken Waddell
Neepawa Banner & Press
After nine grinding months of daily death count statistics, there are some media types coming to some realizations. Among those realizations, the most tragic one is that the efforts of governments across Canada and around the world are not working to control C-19. After all the lockdowns and fond hopes of bending the curve, few places in the world are winning the battle. The larger the centre and the more closely packed the population, the more people are dying. The sad fact appears to be that we are not winning the battle.
That said, the overall death rates are not as high as some predicted (yet) and the overall annual death rate may not be as high as we were told to fear.
The constant stream of numbers about deaths, hospitalizations, ICU cases and recoveries is only part of the story.
And this is where the media have failed. Instead of constantly barking at governments about who has done what and who failed to do that, the media, with all their resources, all their abilities to investigate solutions, has failed miserably. Newspapers, TV stations, web sites and radio have all hammered endlessly at spewing out the stats fed to them by the government. The daily death count has become a morbid benchmark for the media who simply pass on the stats assuming they have somehow done their job. They haven't. Many media types will protest and have protested, that it is not their job to come up with the solutions. But it is their job to identify the possible solutions and shed light on them. In a time of danger, when there is little to lose by exploring ideas, media should have pulled out all the stops to show us there is hope and there may be a solution to C-19 some day.
Many people are hoping for a vaccine and that seems like a good idea. However, there are many who don't want a vaccine, pointing to how sick one can become after getting the flu vaccine shot. Personally, I have heard from many who have been quite ill after getting the flu shot.
But it's more than those things that the media have missed. It's the possible solutions that they have missed as well.
For example, some possible solutions that I have found or been told about are as follows. A local doctor says that the use of nebulizers has been used for asthma sufferers and for treating viruses for years. They reportedly use properly and highly diluted Hydrogen Peroxide and a saline solution. The resulting solution is nebulized and it is an already approved method for asthma.
Then, just last week a man named Grant Rigby from Killarney notified us and said he has seen research that shows that virus-infected droplets of moisture spread farther and faster in dry air. It seems that maintaining 40 to 60 per cent humidity would be a good idea and he calls for building code and building operation recommendations be put in place. I bet that nobody has checked air quality or humidity in a seniors' home in a coon's age. Even if they did, does anyone know the optimum level? I bet that spaces, especially those heated with gas furnaces, are way drier than 60 per cent humidity.
There are countless studies that show administering Zinc and/or Vitamin D makes a huge difference in fighting off virus infections. What are the nutrition standards for hospitals and care homes? Are media looking at that? No, they are too busy bashing meat and milk in our diets to have time to actually look at real nutrition. Why isn't the mainstream media promoting these things? Why isn't the CBC using the $2.5 million a day the taxpayers send them to research some solutions? Oh right, I forget, they are too busy criticizing government and health officials and promoting every crack-pot society-changing theory that comes out of the social studies classes at universities.
For sure, governments have lagged behind all over the world on the C-19 deal, but the media has sure been behind as well. And the media will howl it's not up to them to come up with solutions. They aren't the elected officials. Think it through folks, we are all responsible to come up with solutions instead of just pressing our butts into the recliner and watching the daily death toll stats.
Media, politicians, civil servants, all of us, we have a duty to search and learn as opposed to just accepting the daily noise.
Disclaimer: The writer serves as a volunteer chair of the Manitoba Community Newspaper Association. The views expressed in this column are the writer's personal views and are not to be taken as being the view of the MCNA board or Banner & Press staff.
Correction: In my column this week, I incorrectly said Hydrogen Peroxide could be used to treat asthma. What should have been said was that Pharmaceutical Grade Hydrogen Peroxide in a diluted saline solution had been used in private practises and clinics for a long time to combat bacterial and viral infections.
Daughter of former Ghana president warns of social media scam around his funeral – CNN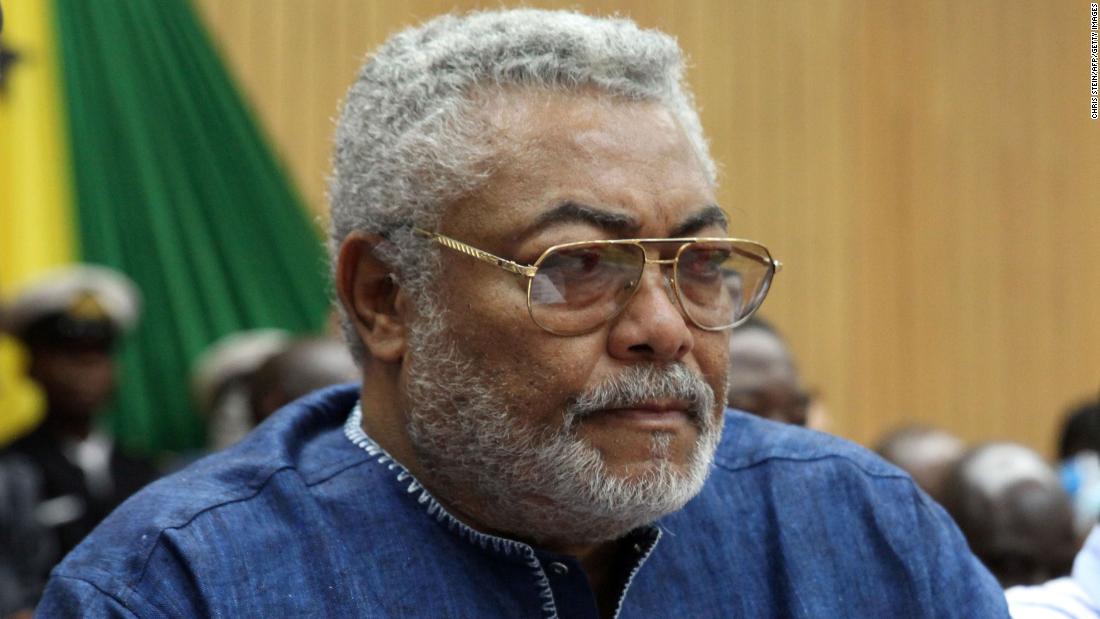 In a statement posted on Facebook, Zanetor Rawlings said the culprits are purporting to be her or a representative and urging individuals to make donations to funeral arrangements.
"The modus operandi of these criminals is to first engage the attention of unsuspecting people who genuinely wish to express their condolence to the MP, then they proceed to solicit for donations for the funeral arrangements," Rawlings, who represents the Klottey Korle constituency in Ghana's parliament, said on Friday.
Her office asked the public to be on the lookout and report anyone to the police who engages with them on social media claiming to be her.
One example that she posted shows an impersonator sending bank account information to a victim and asking them to "please try and donate if you can," claiming the funds are for "arrangements for the funeral."
She warned the culprits that "impersonation is a crime" and that "anyone caught will be prosecuted." According to Ghana's 1960 Criminal Code, a person who defrauds another using false pretenses "shall be guilty of a second degree felony."
Her handle on her official Instagram, Facebook and Twitter accounts is @zanetorofficial. Funeral arrangements for her father have not yet been finalized.
On Tuesday, Rawlings posted a photo on Facebook showing her dancing with her late father. "You're sorely missed, daddy," read the caption.
Jerry Rawlings, who seized control of Ghana twice in military coups before becoming the country's democratically elected president,
died earlier this month
at the age of 73.
Rawlings remained a power broker in Ghanaian politics while serving in various international diplomatic posts, including as the African Union's representative in Somalia.
New #HolidayPG social media campaign set to reward you for shopping local – CKPGToday.ca
Between Friday, November 27 and December 17, Chamber of Commerce elves will be out at local businesses, looking for local shoppers.
If your caught shopping local, you'll receive a local gift card on the spot. For additional opportunities to be entered for weekly prizes, take a picture of yourself purchasing from a local business during the contest period, tag the Chamber and use the hashtag #HolidayPG.
Participants will be entered into a weekly draw for a $100 gift card to a local business.
"This is a great way for us to help smaller local businesses who may not have the budget for a big marketing campaign to have something," says CEO, of the PG Chamber of Commerce Todd Corrigall.
All social media entries are eligible for the weekly draw, held every Friday afternoon from November 27th to December 17th, with the final draw on the 18th being a mega prize couples event for New Years Eve.
In addition, every Chamber member business that supports this marketing campaign will be entered into a final draw for an identical New Years Eve package
For more information about the #HolidayPG campaign visit the Prince George Chamber of Commerce on social media or its website at www.pgchamber.bc.ca.