'The Last Of Us Part 2' Still Has One More Trick Up Its Sleeve – Forbes
Now that The Last of Us Part 2 has come and gone, speculation now turns to what Naughty Dog is doing next. Part 3? Uncharted 5? Something new? And yet I think we're forgetting one key thing that Naughty Dog talked about a long, long time ago, meaning we're not quite done with Last of Us Part 2 just yet.
Factions multiplayer.
Back when The Last of Us Part 2 was revealing different bits of itself to the public, Naughty Dog answered the multiplayer question way back in September 2019:
"We wanted to address multiplayer in The Last of Us: Part II. As we've stated, the single player campaign is far and away the most ambitious project Naughty Dog has ever undertaken. Likewise, as development began on the evolution of our Factions mode from The Last of Us: Part I, the vision of the team grew beyond an additional mode that could be included with our enormous single player campaign. Wanting to support both visions, we made the difficult choice that The Last of Us: Part II would not include an online mode."
"However, you will eventually experience the fruits of our team's online ambition, but not as part of The Last of Us: Part II. When and where it will be realized is still to be determined. But rest assured, we are as big a fan as Factions as the rest of our community and are excited to share more when it's ready."
I have heard almost no one talking about this as Naughty Dog's next project, and I myself had even forgotten about it until it came up on Twitter a few days ago, but this seems like it's going to be something we see launching on PS5, and I wouldn't be shocked to see it in 2021.
The Last of Us's original Factions multiplayer was a part of the craze of every single player game needing to have a multiplayer mode for a limited time, and while that often went poorly for many games where it seemed tacked-on, Factions actually developed quite a fanbase, and is thought of fondly by most players to this day.
It seems that Naughty Dog wants to build on that, and I would not be surprised to see a much larger investment in Factions this time around, especially judging by that statement they released almost a year ago.
At first I thought maybe they could tie this in with a Last of Us Part 2 special PS5 edition, but it seems like that needs to happen sooner rather than later, and I'd be amazed if we hit the launch of PS5 without The Last of Us Part 2 being "enhanced' in some way for the system. And Sony might be forced to follow Microsoft's "Smart Delivery" lead and not charge $60 again for a new version like they did with TLOU Remastered last gen.
Rather, I can see TLOU 2's Faction multiplayer coming later down the line, likely as a free release, likely as something that is supported by a battle pass and slate of cosmetic microtransactions. I could foresee them doing the original Factions model with its different modes, but also something like a smaller scale battle royale concept, where players stalk each other on a map in the vein of PUBG style gameplay, perhaps. Old Factions plus new concepts to make it worth being a standalone title, and something that would support a F2P monetization model.
In short, despite the silence, I would imagine that Naughty Dog is very much working on Factions as its next project. No, it won't be as major as a full sequel, but this seems like something they'll want to get out as a revenue generator, and then they'll probably move on in full to their next big project, and I'm guessing much of the studio already has, as it won't take everyone to do Factions.
But yeah, it seems like it may be time for an update about this after nearly a year, so hopefully we hear something soon.
Follow me on Twitter, YouTube and Instagram. Pick up my sci-fi novels Herokiller and Herokiller 2, and read my first series, The Earthborn Trilogy, which is also on audiobook.
Epic being sued over Fortnite's Coral Castle – GoNintendo
Coral Castle is a location in the current Chapter of Fortnite, which you can see in the image above. Turns out Coral Castle is also the name of a real-life location in Florida. The company behind that location, which is also known as Florida's Stonehenge, is out to sue Epic for using the Coral Castle name in Fortnite.
There's more to the lawsuit than just the name, though. The people at Coral Castle museum feel that the Fortnite location has a lot of similarities to the real-life spot, including "nautical/beach motifs, castle structures, partial castle walls, and stone objects."
Coral Castle wants to get monetary damages associated with the confusion between the two, and for Epic using the trademarked name without their permission.
Active COVID-19 cases drop by two Friday – BlackburnNews.com
Active COVID-19 cases drop by two Friday
August 15, 2020 5:27am
Lambton Public Health reported Friday night that the number of active COVID-19 cases dropped from 13 to 11.
There are 331 confirmed cases of the virus, unchanged from Thursday, with 295 of those resolved, up two.
The death toll remains at 25.
On its website Saturday, Bluewater Health reported that there are no positive patients in hospital and 16 are awaiting test results, including pre-surgical screening.
'Fortnite' app removal threatens social lifeline for young gamers – Fox Business
NEW YORK/BENGALURU – A YouTube alert interrupted Jack Erricker's schoolwork on Friday morning as he and kids all over the world woke up to the news that their favorite game, Fortnite, had been taken down from Apple's Store and Google Play store.
"It's basically the only game I play," said Erricker, an 11-year-old in Bengaluru, India, an avid Fortnite player on his Apple iPad. "I'm not happy, I don't think it's a good move."
Fortnite, which has attracted more than 350 million players globally, is especially popular among younger gamers and has become one of the few lifelines to the outside world for kids trapped at home during the coronavirus pandemic. Unable to play outside, kids are spending hours with friends chit-chatting and fighting on Fortnite, which is free to play and available on nearly all devices.
APPLE AND GOOGLE GO TO WAR WITH EPIC GAMES OVER FORTNITE
Apple and Alphabet Inc's Google on Thursday removed Fornite from their app stores for violating in-app payment guidelines, and the news spread rapidly among kids who are otherwise too young to get headlines off CNN, the BBC or the New York Times.
Removal means no new players can download the game and the app will not receive updates from the store. But the game will continue to work for now for those who already have it.
Calum Jack, an eight-year-old from London, heard the Fortnite news from friends in Asia as soon as he woke up at 6 a.m. The topic was "all over YouTube," he said.
FACEBOOK BASHES APPLE JOINING THE FRAY ON WAIVING COMMISSION FEES
He is online up to 10 hours a day, playing, building or just chatting with up to 20 friends as far apart as Canada and India. Fortnite and other online games have been Jack's main social outlet since coronavirus lockdowns closed schools across the world in March.
"It's been very important since we've been on holiday. We play all the time," he said.
Fortnite-owner Epic Games has challenged Apple's policy of taking a cut of purchases made inside the app by allowing users to pay Epic directly at a cheaper price. The financial ramifications of the move were apparent even to young gamers.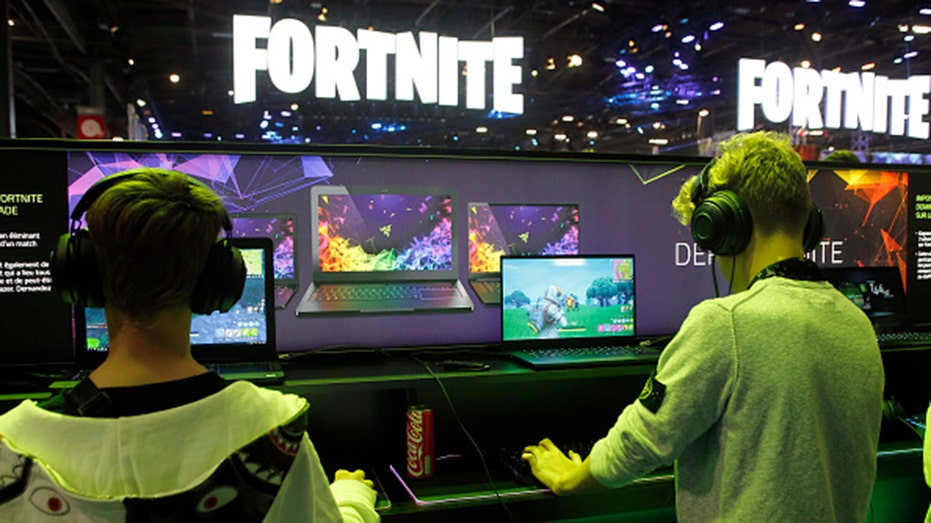 GET FOX BUSINESS ON THE GO BY CLICKING HERE
"Epic was cutting into Apple's profit margins," said Zoraan Kunnel, 13, of Bengaluru, India.
On Thursday, Epic released a video within Fortnite, on YouTube and other social media channels mocking Apple's iconic "1984" ad with the hashtag "FreeFortnite." The hashtag has trended on social media and racked up nearly 26 million views on short-form video app TikTok.
"My friends think that Fortnite is going to win the argument," Erricker said. "There's a lot of people who play Fortnite, and they'll be against Apple."
As to what Jack will do if the game stops working on his iPad, he said: ""I'd just play on the [Sony] PS4."
READ MORE ON FOX BUSINESS BY CLICKING HERE