The Latest: German media appeal for help for local staff – The Reminder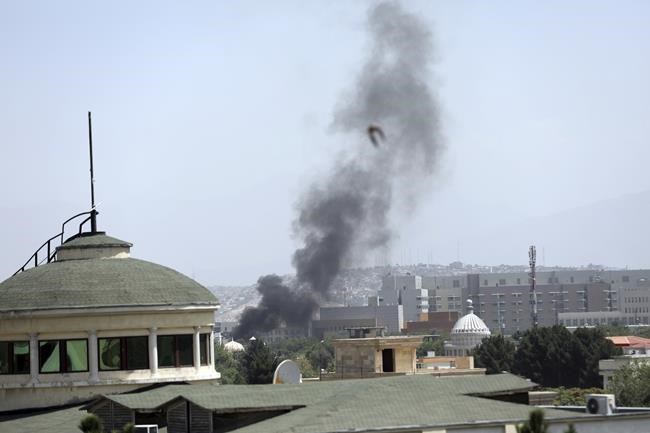 WASHINGTON — Dozens of nations from around the world are calling on all involved in events in Afghanistan to respect and facilitate the departure of foreign nationals and Afghans who wish to leave the country.
More than 60 nations released a joint statement Sunday night citing what they call "the deteriorating security situation" in Afghanistan. The statement says that those in power and authority across the country "bear responsibility — and accountability — for the protection of human life and property, and for the immediate restoration of security and civil order."
The nations' statement also says that roads, airports and border crossings must remain open, and that calm must be maintained.
The statement concludes: "The Afghan people deserve to live in safety, security and dignity. We in the international community stand ready to assist them."
The statement was distributed to U.S. media by the State Department.
___
WASHINGTON — A State Department official says the American flag is no longer flying at the U.S. Embassy in Kabul amid evacuations from Afghanistan's capital. The official tells The Associated Press that nearly all embassy personnel have been relocated to the city's international airport.
The official says the flag itself is with embassy personnel, who are among thousands of Americans and others waiting for flights. The official was not authorized to discuss the details publicly and spoke on condition of anonymity
In a joint statement Sunday night, the State Department and the Pentagon say they are taking steps to secure the airport for safe departures by way of civilian and military flights.
The statement says the U.S. security presence will have expanded to nearly 6,000 troops over the next two days and will take over air traffic control.
Those leaving include American citizens who have been living in Afghanistan, locally employed staff of the U.S. mission in Kabul and their families, and other particularly vulnerable Afghan nationals.
Also part of the departure plan are thousands of Afghans eligible for U.S. special immigrant visas. Nearly 2,000 of those with special visas have arrived in the United States over the past two weeks.
— Matthew Lee.
___
WASHINGTON — President Joe Biden and other top U.S. officials have been stunned by the pace of the Taliban's nearly complete takeover of Afghanistan, as the planned withdrawal of American forces urgently became a mission to ensure a safe evacuation.
The speed of the Afghan government's collapse and the ensuing chaos posed the most serious test of Biden as commander in chief, and he was the subject of withering criticism from Republicans who said that he had failed.
Biden campaigned as a seasoned expert in international relations and has spent months downplaying the prospect of an ascendant Taliban while arguing that Americans of all political persuasions have tired of a 20-year war, a conflict that demonstrated the limits of money and military might to force a Western-style democracy on a society not ready or willing to embrace it.
By Sunday, though, leading figures in the administration acknowledged they were caught off guard with the utter speed of the collapse of Afghan security forces. The challenge of that effort became clear after reports of sporadic gunfire at the Kabul airport prompted Americans to shelter as they awaited flights to safety.
___
UNITED NATIONS — U.N. Secretary-General Antonio Guterres is urging the Taliban and all other parties to exercise "utmost restraint" in order to protect the lives of Afghans and ensure the delivery of humanitarian aid.
U.N. spokesman Stephane Dujarric said Sunday that "the United Nations remains determined to contribute to a peaceful settlement, promote the human rights of all Afghans, notably women and girls, and provide life-saving humanitarian assistance and critical support to civilians in need."
The U.N. humanitarian office said members of the humanitarian community — both from the U.N. and non-governmental organizations — remain committed to helping the millions of Afghans needing assistance and are staying in the country despite the "highly complex" security environment.
The office, known as OCHA, said in a statement Sunday that more than 18.4 million people were already in need of assistance before more than 550,000 people were displaced by conflict this year, a figure that doubled since May.
___
This story has been corrected to show that OCHA said more than 18.4 million people were already in need of assistance, not 550,000.
___
KABUL, Afghanistan — A Taliban spokesman and negotiator tells The Associated Press that the militant group is holding talks aimed at forming an "open, inclusive Islamic government" in Afghanistan.
Suhail Shaheen spoke to the AP after the Taliban overran most of the country in a matter of days and pushed into the capital, Kabul, as the United States scrambled to withdraw diplomats and other civilians.
Earlier, a Taliban official said the group would announce a new government from the presidential palace, but those plans appear to be on hold.
___
WASHINGTON — The United States is sending another 1,000 troops to Afghanistan, raising the U.S. deployment to roughly 6,000.
A defense official tells The Associated Press on Sunday that 1,000 troops from the 82nd Airborne are going directly to Kabul instead of going to Kuwait as a standby force. The defense official spoke on condition of anonymity to discuss a deployment decision not yet announced by the Pentagon.
On Saturday, President Joe Biden authorized the U.S. troop deployment to rise to roughly 5,000 by adding about 1,000. Since then, the Taliban have entered the capital of Kabul and Afghanistan's president has fled the country.
Helicopters have been evacuating personnel from the U.S. Embassy, and several other Western missions also are preparing to pull their people out.
— Robert Burns
___
KABUL, Afghanistan — The Al-Jazeera news network is airing footage of a large group of Taliban fighters inside the presidential palace in the capital of Afghanistan.
The Taliban are expected to announce their takeover from the palace, renaming the country as the Islamic Emirate of Afghanistan. The militants have taken over most of Afghanistan in a matter of days as the U.S. scrambles to withdraw after 20 years of war.
___
LONDON — Britain's Defense Ministry says U.K. troops have arrived in Kabul to help evacuate remaining Britons there.
Prime Minister Boris Johnson said after chairing a Cabinet emergency committee meeting Sunday that the priority is to get out British nationals, as well as Afghans who helped U.K. forces in Afghanistan over the past 20 years, "as fast as we can."
"The ambassador is working round the clock, has been there in the airport to help process the applications," he told Sky News. "We certainly have the means at the moment to get them out … It's just a question of making sure that they're able to do it over the next few days."
The "vast bulk" of embassy staff and officials have already left Afghanistan, Johnson added.
___
NEW YORK — The Latest developments on Afghanistan, where a Taliban blitz has taken large swaths of territory just weeks before the final pullout of American and NATO troops:
The U.N. Security Council will hold an emergency meeting on Afghanistan Monday morning (10 am EDT) at the request of Estonia and Norway.
Council diplomats said Sunday that U.N. Secretary-General Antonio Guterres will brief council members on the latest situation following the Taliban takeover of the capital, Kabul.
The U.N. chief on Friday had urged the Taliban to immediately halt their offensive in Afghanistan and negotiate "in good faith" to avert a prolonged civil war. He also said he is "deeply disturbed by early indications that the Taliban are imposing severe restrictions in the areas under their control, particularly targeting women and journalists.
___
KABUL, Afghanistan — Senior U.S. military officials say Kabul's international airport has been closed to commercial flights as military evacuations continue.
The suspension of commercial flights cuts off one of the last avenues to escape the country for Afghans fearful of Taliban rule. The officials spoke on condition of anonymity to discuss ongoing operations.
The Taliban captured most of the country in a matter of days and swept into the capital on Sunday.
Scenes of chaos played out at the airport earlier, as Afghans rushed to get on the last flights out of the country.
Videos circulating online showed airport personnel struggling to coral crowds boarding a plane on the tarmac, while a man with an injured leg lay on the ground. In the background, a U.S. Air Force plane was landing.
___
KABUL, Afghanistan — A Taliban official says the group will soon declare the Islamic Emirate of Afghanistan from the presidential palace in the capital, Kabul.
That was the name of the country under the Taliban government ousted by U.S.-led forces after the Sept. 11, 2001, attacks. The official spoke on condition of anonymity because he was not authorized to brief media.
___
KABUL, Afghanistan — The U.S. Embassy in Kabul has suspended all operations and told Americans to shelter in place, saying it has received reports of gunfire at the international airport.
The U.S. is racing to airlift diplomats and citizens out of Afghanistan after the Taliban overran most of the country and entered the capital early Sunday.
"The security situation in Kabul is changing quickly and the situation at the airport is deteriorating rapidly," the embassy said in a statement.
"There are reports of the airport taking fire and we are instructing U.S. citizens to shelter in place. The U.S. Embassy in Afghanistan has suspended consular operations effective immediately. Do not come to the Embassy or airport at this time."
___
PARIS — France is relocating its embassy in Kabul to the airport to evacuate all citizens still in Afghanistan, initially transferring them to Abu Dhabi.
Foreign Minister Jean-Yves Le Drain said in a statement Sunday that military reinforcements and aircraft would deploy in the hours ahead to the United Arab Emirates, "so that the first evacuations toward Abu Dhabi can start."
Evacuations have been in progress for weeks and a charter flight put in place by France in mid-July. Since May, France has taken in Afghan employees at French structures under potential threat, with 600 people relocated to France.
France gradually pulled out troops from Afghanistan between 2013 and 2015, and since then former personnel who worked for the French Army and their families, some 1,350 Afghans, were brought to France, the statement said.
___
KABUL, Afghanistan — Afghan leaders have created a coordination council to meet with the Taliban and manage the transfer of the power, after the religious militia's lightening offensive swept to the capital, Kabul.
In a statement posted on social media by former president Hamid Karzai, he said the body will be led by the head of the High Council for National Reconciliation, Abdullah Abdullah, as well as the leader of Hizb-e-Islami, Gulbudin Hekmatyar, and himself.
The statement said the move was "to prevent chaos and reduce the suffering of the people," and to manage peace and a "peaceful transfer."
___
BERLIN — The United Nations refugee agency says more than 550,000 people in Afghanistan have fled their homes due to the conflict since the start of this year.
A situational update published Sunday by Geneva-based UNHCR shows about 126,000 people were displaced in the previous month to Aug. 9, the most recent date for which figures are available.
A spokeswoman for UNHCR said that while the situation inside Afghanistan is fluid, "for now the displacement is largely internal."
"There is a need to support the humanitarian response in the country," Shabia Mantoo told The Associated Press. "If we do see cross border movement then additional support outside the country will be necessary too."
The agency continues to have international and Afghan staff on the ground, she said.
___
BERLIN — German media have issued an urgent appeal to Chancellor Angela Merkel and the country's foreign minister for an emergency visa program to help local staff who worked for them to leave Afghanistan.
In an open letter Sunday, major German newspapers, public and commercial broadcasters, and the dpa news agency warned that "the lives of these freelance staff are now in acute danger."
The media outlets stressed that reporting from Afghanistan over the past two decades would have been "unthinkable without the efforts and bravery of the Afghan staff who supported us on the ground: local journalists, stringers and translators."
Citing several recent fatal attacks on journalists, the letter said that due to the advance of the Taliban "it must be feared that such murders will now dramatically increase – and many of our staff are at risk."
"We are convinced: there is no time to lose now," it adds. "Our staff who want to leave the country are at risk of persecution, arrest, torture and deaths. That is why we ask you act quickly."
___
KABUL, Afghanistan — Afghan officials say embattled President Ashraf Ghani has fled the country as the Taliban moved further into Kabul.
Two officials speaking on condition of anonymity as they weren't authorized to brief journalists told The Associated Press that Ghani flew out of the country. Abdullah Abdullah, the head of the Afghan National Reconciliation Council, later confirmed Ghani had left in an online video.
"He left Afghanistan in a hard time, God hold him accountable," Abdullah said.
Ghani's whereabouts and destination are currently unknown.
___
TORONTO — Canada has suspended diplomatic operations in Afghanistan and Canadian personnel are on their way back to Canada.
Foreign Minister Marc Garneau said in a statement the decision to suspend operations is temporary and the embassy will reopen if the security situation allows staff to be safe.
Some 40,000 Canadian troops were deployed in Afghanistan over 13 years as part of the NATO mission before pulling out in 2014. More than 150 Canadian soldiers died during the Afghanistan mission.
___
WASHINGTON — U.S. Secretary of State Antony Blinken says the U.S. is evacuating remaining staff at the U.S. Embassy in Kabul as the Taliban enter the Afghan capital. But he is playing down America's hasty exit, saying "this is manifestly not Saigon."
Speaking on ABC's "This Week" on Sunday, Blinken said: "The compound itself, our folks are leaving there, and moving to the airport."
Blinken also confirmed that U.S. Embassy workers were destroying documents and other items ahead of fleeing the embassy, but insisted "this is being done in a very deliberate way, it's being done in an orderly way, and it's being done with American forces there to make sure we can do it in a safe way."
The evacuation of the U.S. Embassy in Kabul had U.S. military helicopters lifting off from embassy grounds Sunday, and sent puffs of black smoke up into the skies over Kabul as U.S. officials worked to keep sensitive material from falling in Taliban hands.
The scene comes after President Joe Biden earlier this year played down any idea that the Taliban could capture the country, or that the Afghanistan war would end up in scenes reminiscent of the Vietnam one, with military helicopters taking off from embassy rooftops.
Blinken defended Biden's decision to end the nearly 20-year U.S. military mission in Afghanistan, saying Biden's hands were tied by a withdrawal deal President Donald Trump struck with the Taliban in 2020.
If Biden had called off the withdrawal, "we would have been back at the war with the Taliban," and forced to surge tens of thousands of American forces back into Afghanistan, Blinken said.
__ Ellen Knickmeyer in Oklahoma City.
___
ISLAMABAD — A special flight of Pakistan's national airline PIA has arrived in Islamabad carrying 329 passengers from Kabul, and another carrying 170 people will arrive later today. A spokesman for the airline said Saturday that the airline will operate three flights tomorrow to transport Pakistanis and other nationalities looking to leave Kabul.
PIA and other commercial flights from Kabul were heavily delayed Sunday due to a U.S. military transport plane that blocked the runway, the airline said.
___
WASHINGTON — Secretary of State Antony Blinken, Defense Secretary Lloyd Austin and Army Gen. Mark Milley, the chairman of the Joint Chiefs of Staff, will brief House members on the situation in Afghanistan in an unclassified virtual conference on Sunday morning, according to an invitation obtained by The Associated Press.
House Speaker Nancy Pelosi requested the meeting along with an in-person classified briefing when the House is back in Washington the week of Aug. 23.
— Mary Clare Jalonick in Washington
___
BERLIN — NATO says that it is "helping to maintain operations at Kabul airport to keep Afghanistan connected with the world."
In a statement it says that it would also maintain its diplomatic presence in Kabul. "The security of our personnel is paramount, and we continue to adjust as necessary," it added.
NATO provided no details on its number of staff still in Afghanistan, but said it was "constantly assessing developments" in the country.
"We support Afghan efforts to find a political solution to the conflict, which is now more urgent than ever," the statement said.
The Associated Press










































































































<!– Photo: 20210815050840-6118e1b034952589d132d67cjpeg.jpg, Caption: Smoke rises next to the U.S. Embassy in Kabul, Afghanistan, Sunday, Aug. 15, 2021. Taliban fighters entered the outskirts of the Afghan capital on Sunday, further tightening their grip on the country as panicked workers fled government offices and helicopters landed a
---
---
This has been shared
0
times
VM.Track.gaSource = "Flin Flon Reminder";VM.Track.siteId = 63;
googletag.cmd.push(function () googletag.enableServices(); googletag.pubads().refresh(VMslots, changeCorrelator: false ); );
–>
Opinion: Why is the government spending $21-million advertising on social media such as TikTok? – The Globe and Mail
[unable to retrieve full-text content]
Opinion: Why is the government spending $21-million advertising on social media such as TikTok? The Globe and Mail




Source link
Why social media makes you feel bad
Have you ever found yourself scrolling through social media and noticed you felt a bit down? Maybe a little envious? Why aren't you on a yacht? Running a startup? Looking amazing 24/7?
The good news is you are not alone. Although social media has some benefits, it can also make us feel a little depressed.
Why does social media make us feel bad?
As humans we inherently compare ourselves to others to determine our self-worth. Psychologists call this social comparison theory.
We primarily make two types of comparisons: upward and downward comparisons.
Upward comparisons occur when we compare ourselves to someone else (in real life or on social media) and feel they are better than us (an unfavourable comparison for us) in whatever domain we are assessing (such as status, beauty, abilities, success, and so on).
For example, comparing your day at work to your friend's post from the ski fields (we're looking at you Dave!) is likely to be an upward comparison. Another example is making appearance comparisons which can make you feel worse about yourself or your looks .
Although upward comparison can sometimes motivate you to do better, this depends on the change being achievable and on your esteem. Research suggests upward comparisons may be particularly damaging if you have low self-esteem.
In contrast, downward comparisons occur when we view ourselves more favourably than the other person – for example, by comparing yourself to someone less fortunate. Downward comparisons make us feel better about ourselves but are rare in social media because people don't tend to post about the mundane realities of life.
Comparisons in social media
Social media showcases the best of people's lives. It presents a carefully curated version of reality and presents it as fact. Sometimes, as with influencers, this is intentional but often it is unconscious bias. We are just naturally more likely to post when we are happy, on holiday or to share successes – and even then we choose the best version to share.
When we compare ourselves to what we see on social media, we typically make upward comparisons which make us feel worse. We compare ourselves on an average day to others on their best day. In fact, it's not even their best day. It's often a perfectly curated, photoshopped, produced, filter-applied moment. It's not a fair comparison.
That's not to say social media is all bad. It can help people feel supported, connected, and get information. So don't throw the baby out with the bathwater. Instead, keep your social media use in check with these tips.
Concrete ways you can make yourself feel better about social media
Monitor your reactions. If social media is enjoyable, you may not need to change anything – but if it's making you exhausted, depressed or anxious, or you are losing time to mindless scrolling, it's time for change.
Avoid comparisons. Remind yourself that comparing your reality with a selected moment on social media is an unrealistic benchmark. This is especially the case with high-profile accounts who are paid to create perfect content.
Be selective. If you must compare, search for downward comparisons (with those who are worse off) or more equal comparisons to help you feel better. This might include unfollowing celebrities, focusing on real posts by friends, or using reality focused platforms like BeReal.
Redefine success. Influencers and celebrities make luxury seem like the norm. Most people don't live in pristine homes and sip barista-made coffee in white sheets looking perfect. Consider what real success means to you and measure yourself against that instead.
Practise gratitude. Remind yourself of things that are great in your life, and celebrate your accomplishments (big and small!). Create a "happy me" folder of your favourite life moments, pics with friends, and great pictures of yourself, and look at this if you find yourself falling into the comparison trap.
Unplug. If needed, take a break, or cut down. Avoid mindless scrolling by moving tempting apps to the last page of your phone or use in-built focus features on your device. Alternatively, use an app to temporarily block yourself from social media.
Engage in real life. Sometimes social media makes people notice what is missing in their own lives, which can encourage growth. Get out with friends, start a new hobby, embrace life away from the screen.
Get amongst nature. Nature has health and mood benefits that combat screen time.
Be the change. Avoid only sharing the picture-perfect version of your life and share (in a safe setting) your real life. You'd be surprised how this will resonate with others. This will help you and them feel better.
Seek help. If you are feeling depressed or anxious over a period of time, get support. Talk to your friends, family or a GP about how you are feeling. Alternatively contact one of the support lines like Lifeline, Kids Helpline, or 13Yarn.
Canada adds Russian media personalities, companies in latest round of sanctions
OTTAWA — Canada has announced it is imposing a new round of sanctions on Russian media personalities and companies accused of spreading disinformation about Moscow's invasion of Ukraine.
Foreign Affairs Minister Melanie Joly announced the latest sanctions against 38 individuals and 16 entities, saying those affected are propagating Russian President Vladimir Putin's lies.
Among those added to Canada's blacklist are several Russian singers, including former contestants on the popular Eurovision singing contest, as well as actors and athletes.
The list also includes one of Russia's largest state-owned media groups, MIA Rossiya Segodnya, which owns and operates a large number of Russian-language companies.
Many of the new additions had already been sanctioned by Canada's allies following Russia's invasion of Ukraine nearly a year ago.
The new measures come amid questions about the effectiveness of Canada's sanctions regime.
The Canadian Press reported this week that as of June 7, Canada had ordered $123 million in assets within Canada frozen, and $289 million in transactions had been blocked under sanctions prohibitions related to Russia.
But by late December, the RCMP said only $122 million in assets were listed as seized, and $292 million in transactions had been blocked despite hundreds more people associated with Russia being put on the sanctions list.
The police force did not provide an explanation for why the sums reported by financial institutions had hardly changed during that period.
This report by The Canadian Press was first published Feb. 3, 2023.
The Canadian Press