The latest on the coronavirus outbreak for Jan. 29 – CBC.ca
Coronavirus tracker: Follow the spread of COVID-19 as cases rise in much of Canada.
Canadian aviation sector pleads for more aid in light of new travel restrictions.
Moderna, as with Pfizer before, will cut deliveries of its vaccine to Canada in the short term.
Johnson & Johnson says they'll soon be ready to ask U.S. regulators to approve their COVID-19 vaccine
Read more: Some Alberta restaurant owners say they have no choice but to defy pandemic restrictions; find out more about the importance of low dead volume syringes in maximizing the vaccination rollout.
Ottawa, Canadian airlines suspend certain flights, introduce further travel restrictions during pandemic
Canada's main airlines have agreed to cancel service to the Caribbean and Mexico and the federal government is introducing new mandatory quarantine rules as it tries to discourage international travel during the pandemic.
Prime Minister Justin Trudeau announced on Friday that Air Canada, WestJet, Sunwing and Air Transat have agreed to suspend service to some sun destinations until April 30, and will be making arrangements with their customers who are in these regions now to organize flights home.
"The government asked, and we agreed," said Ed Sims, president and CEO of WestJet. "While we know that air travel is responsible for less than 2 per cent of cases since the start of the crisis, and even less today, we recognize the Government of Canada's ask is a precautionary measure."
International passenger flights, including from the U.S., will land only at Vancouver, Toronto-area, Calgary and Montreal airports starting next week. The prime minister said as soon as possible, the government will be introducing mandatory PCR testing at the airport for people returning to Canada, on top of the pre-boarding test already required. The Ontario government was expected on Friday afternoon to announce its own testing initiative at Pearson Airport.
When asked why other vacation destinations, including Florida, aren't part of the suspensions, Transport Minister Omar Alghabra said the government looked at the most popular locations.
Travellers will have to wait up to three days at an approved hotel for their test results, at their own expense, which Trudeau said is expected to be more than $2,000. Those with a negative test will then be able to finish their 14-day quarantine at home, with increased surveillance. Canada's Chief Public Health Officer Dr. Theresa Tam added that returnees will also be swabbed on Day 10.
Canada has had a ban on non-essential travel into the country by anyone who isn't a citizen or permanent resident since March. Canada follows Britain and Australia, among others, in announcing some form of hotel quarantine for air travellers.
From The National
The At Issue panel discusses the COVID-19 vaccine rollout struggles and whether political leadership is to blame. Plus in this extended edition, the panellists explore what the next governor general needs to bring to the role. 21:06
IN BRIEF
Canadian aviation sector pleads for more aid in light of COVID-19 travel restrictions
With new air travel restrictions looming, industry representatives and union leaders painted a bleak picture of the state of the industry Thursday as they pleaded with MPs on the House of Commons transportation committee for direct aid for airlines and other air sector businesses.
Mike Mueller, senior vice-president of the Aerospace Industries Association of Canada, said Canadian businesses in the civil, defence and aerospace sectors have lost over 40 per cent of their revenue due to reduced international travel caused by COVID-19. Almost all companies are reporting various levels of shutdowns, and more than 50 per cent have laid off employees, he said.
"While the government's emergency measures have been appreciated and helpful — they're just not enough," said Mueller.
Mueller warned that Canadian companies would struggle to compete in the future with businesses from countries like France, the U.S., and Germany, which he says have spent billions of dollars on bailouts for airlines and related companies.
Rob Giguere, chief executive officer of the Air Canada Pilots Association, said his union represents 700 fewer active pilots than it did before the pandemic due to furloughs, layoffs or early retirements. Those who are still flying are taking home an average of 65 per cent of their salary, he said, while Air Canada is burning through almost $15 million each day.
Representatives for air traffic controllers and machinists also expressed serious concerns.
A spokesperson for Deputy Prime Minister Chrystia Freeland said the government is committed to supporting Canadian airlines and workers.
Kat Cuplinskas said the sector had received over $1.5 billion through the Canada emergency wage subsidy. The federal government also announced $1 billion in support for airports and smaller airlines in its fall economic update. Any further support, she said, would be dependent on the airlines refunding cancelled flights, restoring regional routes that were cut to reduce costs and protecting jobs across the sector.
Moderna to cut deliveries to Canada in new blow to vaccination campaign
Canada's vaccination campaign faced another setback Friday with the announcement that Moderna will delay some shipments of its product next month.
The Massachusetts-based company was set to send some 230,400 shots to Canada next week, with 249,600 shots to follow three weeks later, but those forecasts have now been upended, a testament to just how uncertain the government's vaccine projections have become. Moderna is expected to ship between 20-25 per cent less product to Canada in February than originally planned.
Prime Minister Justin Trudeau tried to reassure the public that the pace of vaccinations will pick up as spring draws near.
"This temporary delay doesn't change the fact that we will still receive two million doses of the Moderna vaccine before the end of March, as we've been saying for months," he said. "We know that this is something that we're going to have to keep watching very, very closely."
This is the second time in less than a month that Canada has had to contend with delivery delays from a pharmaceutical company. Pfizer is shipping roughly 80 per cent fewer shots than it initially promised over the next four weeks as it grapples with the fallout from upgrades to its manufacturing plant in Puurs, Belgium.
Despite Trudeau's assurances, the delays mean that Canada will struggle to meet its target of six million Pfizer-BioNTech and Moderna shots delivered by the end of March. To meet that target, more than 3.5 million doses of the two products will have to be delivered in the month of March alone — or roughly 885,000 doses a week.
Beyond the two products already approved, Health Canada regulators are reviewing the clinical trial data for the AstraZeneca vaccine, and a promising vaccine candidate from Johnson & Johnson's pharmaceutical division, Janssen.
The EU's medicines agency on Friday approved the AstraZeneca vaccine, a shot that was co-developed with researchers at the University of Oxford. Health Canada is expected to make a decision about the AstraZeneca product "in the coming days," a spokesperson said in a statement.
Read more about the adjustments
Johnson & Johnson ready to ask U.S. for emergency approval of COVID-19 vaccine
Johnson & Johnson's long-awaited vaccine developed by its Janssen division appears to protect against COVID-19 with just one shot, the company reported Friday.
In a trial that is still ongoing and has tracked some 44,000 patients in the U.S. and seven other countries over three continents, the vaccine so far has been 66 per cent effective overall at preventing moderate to severe illness, and much more protective — 85 per cent — against the most serious symptoms.
Dr. Matthew Oughton, an infectious disease specialist at Jewish General Hospital in Montreal, told CBC News the trial data "certainly looks promising for a single dose, which of course will certainly ease a lot of the logistics we've been dealing with so far with the current vaccines that have been granted approval."
He said by examining mixed populations across continents, the J&J trial is not only "looking at differences in how different groups of people respond, that also means that they capture different viral variants, so they have a good sense of the real-world efficacy of this vaccine."
Researchers tracked illnesses starting 28 days after vaccination — about the time when people getting a two-dose vaccine such as the Moderna and Pfizer-BioNTech products would have needed another shot.
While the effectiveness in trials is lower than what Moderna and Pfizer reported, the myriad supply issues resulting so far from dozens of countries demanding a scarce resource mean it could be a welcome addition in the fight against COVID-19 in certain cases.
Says Matthew Miller, an associate professor at the Institute for Infectious Disease Research at McMaster University, "less efficacious vaccines might be appropriate for lower-risk populations."
Dr. Anthony Fauci, director of the U.S. National Institute of Allergy and Infectious Diseases, also was particularly encouraged by the findings with respect to patients with the most serious symptoms — in the vaccine group, no one who was vaccinated needed hospitalization or died after Day 28.
J&J said that within a week, it will file an application for emergency use in the U.S., and then abroad. The Canadian government signed an agreement with Johnson & Johnson for up to 38 million doses of their vaccine should Health Canada approve its use.
Read more about the trial data
Stay informed with the latest COVID-19 data.
THE SCIENCE
COVID-19 treatments: Data pours in, but doctors still often in wait-and-see mode
Even with the progression of vaccinations, people will continue to become very sick due to the coronavirus. Doctors who treat people with COVID-19 in hospital wards, intensive care units and out in the community continue to juggle conflicting clinical trial results — sometimes for the same treatment based on studies in different countries — most of which feature data from a small numbers of patients.
Dr. Lynora Saxinger, an infectious disease physician in Edmonton, follows the advances in treatments and how they're communicated.
"Enthusiasm travels so quickly and becomes ingrained before you even have a chance to really support whether it's a good idea," she told CBC News. "Then you're facing a bit of a battle to actually calm down enthusiasm if the data are less strong than the press release really suggested."
Media releases can be accompanied by what are known as preprints, or draft manuscripts that haven't been checked for errors and include all of the available data and a study's methods.
Last week, for example, Canadian hospitals put out news releases about two potential treatments: heparin, a common blood thinner for patients with moderate COVID-19 and colchicine, an oral medication used to treat gout.
As a result, Dr. Zain Chagla, an infectious disease physician in Hamilton, Ont., says he experienced the mismatch between patient expectations and what he could offer firsthand.
"When you put out a press release on Friday night and your patients that test positive for COVID on Saturday are saying, 'OK, where's my colchicine?' It's very hard … to counsel them appropriately."
Saxinger said she's "provisionally excited" about the colchicine findings so far. Chagla and Saxinger both said ivermectin, an anti-parasite drug, needs further study in clinical trials, while Saxinger puts potential treatments with antivirals, monoclonal antibodies and convalescent plasma in the too-soon-to-tell group because larger or better trials are still needed.
The rub is that studies running in multiple countries can also be difficult to set up, especially since health-care systems are already stretched. Contracts and insurance paperwork can also bog down the trials.
"Outpatient trials are super hard to fund," Chagla said. "It's hard to navigate."
Despite all of the advances in treatments, and as Canada progresses in vaccine coverage of the eligible population, Saxinger sees greater potential in prevention from public health measures such as physical distancing, masking and staying close to home.
AND FINALLY…
Brazil's Amazon overwhelmed by new virus variant, longstanding health-care issues
"Where is the help?" Priscila Carvalho, whose mother lay on a respirator inside a Manus hospital, yelled in Portuguese to a cluster of TV cameras. "People are dying here! It's not a game!"
That was the scene captured by news crews earlier this month in front of a hospital in Manaus, the biggest city in Brazil's vast Amazon. Experts on the ground say the spread of a new variant there is so rapid — and the government's response so inadequate — that it's overwhelming doctors, nurses and hospitals.
Doctors Without Borders is struggling to find places for severe cases that need to be sent from the two smaller communities they are helping, São Gabriel da Cachoeira and Tefé, both several days' boat journey from Manaus.
"If the system collapses in Manaus, this whole population of the interior of the Amazon will not have access to necessary higher levels of care, with potentially grave consequences," said Pierre Van Heddegem, the head of a mission run by Doctors Without Borders in the region.
Local factors make conditions there ripe for the virus's spread. Indigenous communities have large households, poor access to health care and little reliable information.
The death rate in the Amazon is more than 170 per 100,000 residents, well over three times the rate of Canada. Nationally, deaths have topped 215,000, putting Brazil's toll second only to the United States. It has the third-highest number of coronavirus cases after the U.S. and India, at more than nine million.
Brazil started a vaccination campaign in the past two weeks, but doses are scarce and the country is relying on a vaccine made by China that has not seen the same levels of transparency as those approved in North America and Europe.
Read more about the situation on the ground
Find out more about COVID-19
For full coverage of how your province or territory is responding to COVID-19, visit your local CBC News site.
To get this newsletter daily as an email, subscribe here.
Still looking for more information on the pandemic? Reach out to us at covid@cbc.ca if you have any questions.
US stocks rally as Fed minutes meet expectations – Al Jazeera English
Investors fear that overly aggressive interest rate hikes by the Fed could tip the economy into recession.
Wall Street closed higher Wednesday, boosted after minutes from the Federal Reserve's latest monetary policy meeting showed policymakers unanimously felt the United States economy was very strong as they grappled with reining in inflation without triggering a recession.
The minutes from the Federal Open Market Committee's May meeting, which culminated in a 50-basis-point rise in the Fed funds target rate – the biggest jump in 22 years – showed most of the committee's members judged that further such rate hikes would "likely be appropriate" at its upcoming June and July meetings.
"The uniformity of opinion is a good thing," said Ross Mayfield, investment strategy analyst at Baird in Louisville, Kentucky. "There's a lack of uncertainty of what needs to be done in the near term."
"By the time [the Fed] gets to September, they will have plenty of economic data to make their move from there, so they continue to maintain optionality," Mayfield added.
All three major US stock indexes gyrated earlier in the day amid increasing jitters stemming from business and consumer surveys, economic data and corporate earnings reports suggesting a cooling American economy – even as the Fed prepares to toss a bucket of cold water on it to tackle decades-high inflation.
Fears that overly aggressive interest rate hikes by the Fed could tip the economy into recession despite evidence that inflation peaked in March has driven those concerns.
"There's some credence to the idea that inflation is doing [the Fed's] job for them," Mayfield said. "There's already a cooling occurring, and financial conditions have tightened over the last month because of dollar strength and equity market weakness."
On Thursday, the Department of Commerce is due to release its second take on first-quarter GDP, which analysts are expected to show a slightly shallower contraction than the 1.4 percent quarterly annualised drop originally reported.
The Personal Consumption Expenditures report will follow on Friday, which will provide further clues regarding consumer spending and whether inflation peaked in March, as other indicators have suggested.
The Dow Jones Industrial Average rose 191.66 points, or 0.6 percent, to 32,120.28, the S&P 500 gained 37.25 points, or 0.95 percent, to 3,978.73 and the Nasdaq Composite added 170.29 points, or 1.51 percent, to 11,434.74.
Nine of the 11 major sectors in the S&P 500 rose, with consumer discretionary stocks leading the pack with a gain of 2.8 percent.
Amazon.com Inc and Tesla Inc provided the strongest lift to the S&P 500 and the Nasdaq, rising 2.6 percent and 4.9 percent, respectively.
Department store operator Nordstrom Inc surged 14.0 percent on the heels of its upbeat annual profit and revenue forecasts.
Fast-food chain Wendy's Co jumped 9.8 percent after a regulatory filing revealed that shareholder Nelson Peltz was considering a potential takeover bid for the company.
Shares of Nvidia Corp fell more than 8 percent in after-hours trading after the company's second-quarter revenue forecast missed expectations.
Gas Up Nearly 4 Cents; Price Freeze Lifts in Labrador – VOCM
Despite predictions to the contrary, the regulated price of gas is up in most parts of the province.
Gasoline is up by 3.9 cents a litre, except along the coast of Labrador. Diesel on the island is up by 1.3 cents while diesel in Labrador has dropped by 11.6 cents a litre. Furnace oil costs over a cent a litre more on the island while stove oil on the island up by the same amount. Stove oil in Labrador is down by 23.70 cents a litre.
Propane meanwhile is down by just under 2 cents.
The suspension of maximum price adjustments on the coast of Labrador lifts as of today as fuel deliveries resume for the season—that means significant increases, in some cases by about a dollar a litre, for some fuels.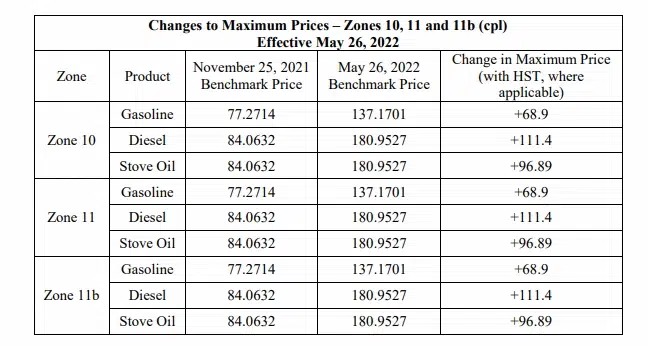 Cheese not on the table in Canada-U.K. trade talks as Britain seeks market access
OTTAWA — The British foreign secretary has often been mocked for her preoccupation with cheese. It started eight years ago when Liz Truss expressed outrage in a speech to her party's annual conference.
"We import two thirds of our cheese," she raged. "That is a disgrace."
Now Truss is facing another battle over cheese, this time with Canada.
Britain wants greater access to Canadian markets for more than 700 varieties of cheese including Stilton, Cheshire, and Wensleydale, a crumbly variety originating from Yorkshire.
But Ottawa has made it clear it does not want to see more British cheddar, let alone artisan varieties such as stinking bishop, renegade monk and Hereford hop, on Canadian fridge shelves.
During the first round of negotiations of the U.K.-Canada trade deal, Canada told Britain that a larger quota for British cheese is not on the negotiating table.
When it was a European Union member, Britain was part of the Comprehensive Economic and Trade Agreement with Canada, giving it some access to Canada's cheese market.
After the U.K. left the EU, a "continuity agreement" with Canada was swiftly put in place to maintain the CETA arrangement until a bilateral trade deal could be struck.
Ralph Goodale, Canada's high commissioner to the U.K., said if Britain wants more access to Canadian markets for its cheese as part of a bilateral free-trade agreement, it will have to knock on Brussels' door and get its part of the dairy quota back.
"The point is we have already provided that volume in the EU deal and the British left it there without taking it with them," he said in an interview. "That's an issue they need to resolve with the Europeans because the Europeans have their quota."
Goodale said the U.K.'s request for extra access for British cheese — on top of the access given to the EU — is "what the Canadian negotiators consider to be pretty much a dead end."
"You are talking about a double concession — one we have already made to the EU and the request is being made by the U.K. for yet another one on top of that," he said.
The high commissioner said Canada values its trading relationship with the U.K., adding that he is confident that a mutually-beneficial trade deal will be reached.
But if Canada allows the British to export more of their cheese it would involve "a major commitment of compensation to dairy producers" in Canada to make up for lost incomes.
In 2018, after the United States-Mexico-Canada Agreement gave the U.S. fresh access to the Canadian dairy market, Prime Minister Justin Trudeau said he would compensate Canadian dairy farmers.
Canada's dairy industry was worth over $7 billion in 2020, according to the Canadian Dairy Commission's annual report.
There are over 10,000 dairy farms in Canada — most of them in Quebec and Ontario — with an average of 92 cows per farm, it said.
Until at least the end of next year, Britain will be able to keep exporting its cheese to Canada under the trade continuity agreement, the U.K.'s trade department said.
This allows U.K. cheese exporters to access the Canadian market tariff-free under the EU portion of Canada's World Trade Organization cheese tariff rate quota.
As part of the 1995 WTO agreement on agriculture, Canada established tariff rate quotas for cheese and other dairy products. The quotas set out quantities of dairy that could enter Canada with little or no duty.
For Britain, a fully fledged free trade deal with Canada is crucial after Brexit left it looking for fresh tariff-free markets.
"We want to negotiate an ambitious and comprehensive new agreement with Canada that will strengthen our close and historic bilateral trade relationship," said a U.K. government trade spokesman in a statement, adding the relationship was worth about $34.5 billion in 2021.
In March, U.K. Trade Secretary Anne-Marie Trevelyan flew to Canada to announce with Canada's Trade Minister Mary Ng that bilateral negotiations had officially begun.
In a speech in the House of Lords in London earlier this month, Goodale reported on progress in the talks, saying that "both sides are optimistic that, as good as CETA and the continuity agreement were, we can do better still when Canada and the U.K. negotiate a deal face-to-face, directly with each other."
Like Goodale, Ng said Canada is confident a free-trade deal with Britain will be reached, enhancing co-operation in a number of areas, including on renewables, sustainability and the digital economy.
"Canada values the relationship with the United Kingdom. They are … an important trading partner and a trade agreement with the U.K. will be very good for Canadian businesses," she said in a phone interview from Thailand last weekend.
But she was also firm about the need to protect Canada's dairy producers, and that means keeping more British cheese out.
"I have been very clear, our government has been very clear, that we will not provide access to our supply-managed sector," she said. "We have been clear about that from the get-go."
The Canadian dairy sector now produces 1,450 varieties of cheese, including ewe, goat and buffalo varieties, as well as the cheese curds used in the Québécois dish poutine.
At least half of Canada's cheese is made in Quebec, which is home to a number of artisan varieties including bleu l'ermite, or blue hermit, and Oka, a popular semi-soft rind cheese.
Pierre Lampron, president of the Dairy Farmers of Canada, has made it clear he will fiercely protect Canadian cheese from British interlopers.
Lampron said he had "validated that the issue of access to the Canadian dairy market was not on the agenda of these trade talks."
Canada's protectionist stance toward its dairy industry may have pleased farmers. But it has caused some tension with close allies.
Earlier this month, New Zealand launched a formal trade dispute against Canada, accusing the federal government of breaking promises to give access for dairy imports under the Trans-Pacific Partnership agreement.
The Biden administration also recently said it was asking for a second dispute settlement panel under the U.S.-Mexico-Canada Agreement to review a trade dispute with Canada over dairy import quotas.
This report by The Canadian Press was first published May 26, 2022.
Marie Woolf, The Canadian Press