The 'ring of fire' solar eclipse of 2020 occurs Sunday. Here's how to watch online
A "ring of fire" solar eclipse will briefly appear in parts of Africa and Asia this weekend, and if you aren't out there in person, you can take in the spectacular show online.
Sunday's solar eclipse is what is known as an annular eclipse, in which the moon does not completely cover the sun as it passes between the star and Earth as seen from our planet. Instead, a ring of sunlight will still shine around the outer edge, hence its nickname: a "ring of fire" eclipse.
The time of maximum eclipse, when that "ring of fire" event happens, will be at 2:40 a.m. EDT (0640 GMT) Sunday, June 21, when the moon crosses into the center of the sphere of the sun, from Earth's perspective. The eclipse starts at 11:45 p.m. EDT Saturday, June 20 (0345 GMT Sunday) and ends at 5:34 a.m. EDT (1034 GMT) June 20, according to NASA.
The eclipse will happen just a couple of hours after the moon enters the "new moon" phase. Because the moon will be near its apogee or farthest part from Earth, the size of the moon's disk will not be quite enough to cover the sun. The small ring of sunlight still visible will make this an "annular" eclipse (from the Latin annulus, meaning ring-shaped.)
Regions in the path of visibility include the Democratic Republic of the Congo, Central African Republic, South Sudan, Sudan, Ethiopia, the Red Sea, Yemen, Saudi Arabia, Oman, the Gulf of Oman, Pakistan, India, China, Taiwan, the Philippine Sea (south of Guam), northern Australia and the north Pacific Ocean.
IMPOWhile you will need to take precautions to protect your eyes if you are there in person, online the solar eclipse is perfectly safe to view with unprotected eyes. There are several options available.
Slooh webcast
[embedded content]
Astronomy broadcasting service Slooh will have a virtual star party starting at 1 a.m. EDT (0500 GMT). You can watch it live here on Space.com, courtesy of Slooh.
While the general public can also stream the show on Facebook, Twitter and YouTube, paid Slooh members (individual membership annual prices start at $20 USD) can join a live discussion together at Slooh.com.
"Slooh will feature live streams of the eclipse from several partner observatories in the Middle East, India, and the Far East," Slooh said in a release. "Members will be able to snap photos of the eclipse throughout the live coverage. They can load their images into Slooh's new Eclipse Quest, which will automatically generate a superb memento poster of the event."
Time and Date
[embedded content]
Time and Date, a website that tracks skywatching events, will start its own webcast at 1 a.m. EDT (0500 GMT).
"Due to COVID-19 travel restrictions, our original plan of sending our mobile observatory to Oman had to be scrapped," representatives stated about the broadcast. "While we are sad about not being able to go, we are working hard to make sure that we still bring you stunning live images and commentary of this extraordinary astronomical event."
The Virtual Telescope Project
[embedded content]
The Virtual Telescope Project will begin its webcast at 1:30 a.m. EDT (0530 GMT). The company is based in Rome, but will partner with imagers and videographers in Africa and Asia "thanks to very generous people willing to share their views with the world," said founder Gianluca Masi in a statement.
"Yes, it will be somewhat unique; the … solar eclipse will happen soon after the solstice, making the event even more fascinating," Masi added.
Participants in The Virtual Telescope Project's webcast so far include Masi himself, Ahmed Saad (Karachi, Pakistan), the Taqwa Observatory in Pakistan, Space India, the Astronomical Society of Somalia, Abu Dhabi's International Astronomical Center, Ali Abdullah (Lahore, Pakistan) and Lij Tuha (Dodola, Ethiopia.)
While the path of the eclipse is long — going across two continents and 14 countries — the path of greatest visibility is quite narrow, Time and Date said. In West Africa, the path reaches its maximum width of 53 miles (85 kilometers) wide and the "ring of fire" lasts for about 1 minute and 20 seconds.
Sunday's "ring of fire" solar eclipse comes amid the so-called eclipse season of 2020, which features three eclipses (two of the moon and one of the sun) in the space of one month.
The first event was a relatively minor penumbral lunar eclipse on June 5. After Sunday's solar eclipse, another minor lunar eclipse will occur overnight on July 4 and 5.
Source: – Space.com
NASA pens new rules to prevent us from contaminating the Moon and Mars – The Weather Network
NASA has a strict set of guidelines for sending missions out into space to prevent Earth microbes from contaminating the planets and moons that we visit. Now, the agency has revised those rules to clear the way for human missions to the Moon, and eventually Mars.
Science fiction has already taught us many lessons about the human exploration of space. Chief among those lessons is how we need to do everything we can to prevent some kind of harmful alien bacteria or organisms from being brought back to Earth.
On the flipside, however, is another crucial issue: to preserve the unique alien environments of our solar system – on the Moon, Mars, and other celestial bodies. To do this, we also need to prevent them from being contaminated by microbes that originate from Earth. That is one of the key points of the Outer Space Treaty – an international agreement for the fair and responsible use of space.
This is where NASA's Office of Planetary Protection comes in. The sole concern for this part of the agency is the possibility of harmful biological contamination due to space exploration. Their rules and regulations cover both forward contamination (Earth microbes hitching a ride to another celestial body) and back contamination (returning spacecraft, or astronauts, or samples bringing alien microbes back to Earth).
This is an artist's concept of NASA's Mars Science Laboratory spacecraft approaching Mars. Credit: NASA/JPL-Caltech
By pure biological necessity, we bring microbes with us, no matter what we do or where we go. Apparently, with NASA's previous rules, this fact would prevent any living astronaut from ever setting foot on Mars. They would also impose restrictions on visiting anywhere on the Moon that could have frozen water ice.
With new missions to the Moon currently in the works, such as NASA's Artemis program, and with ideas for future crewed missions to Mars, the agency realized they needed to revisit these guidelines.
Now, after going over those rules, they have released two new NASA Interim Directives (NIDs) this week.
These directives take into account what they've learned from nearly 20 years of continuous human habitation of the International Space Station, as well as decades of robotic exploration of the Moon and Mars, and even from their plans for the new Lunar Gateway station.
The first NID changes how we treat the surface of the Moon. Before this, visiting anywhere on the lunar surface required special consideration, because we now know that the Moon has pockets of water ice. The new NID states that these restrictions now only count for specific areas of the surface where these pockets could exist; notably the so-called Permanently Shadows Regions at the bottom of craters near the lunar poles, and the Apollo landing sites which already contain biological materials left behind by the astronauts. The rest of the lunar surface would be free from planetary protection restrictions.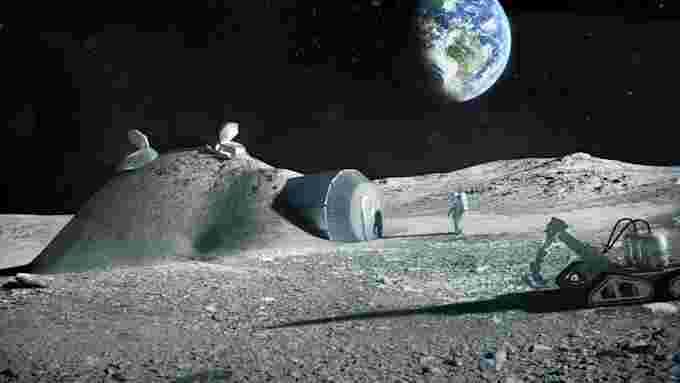 This artist's rendition shows a base on the Moon. Credit: ESA
"We are enabling our important goal of sustainable exploration of the Moon while simultaneously safeguarding future science in the permanently shadowed regions," Thomas Zurbuchen, Associate Administrator of NASA's Science Mission Directorate, said in a NASA press release. "These sites have immense scientific value in shaping our understanding of the history of our planet, the Moon and the solar system."
The other NID updates the planetary protections in place for Mars. Before now, Mars had one of the most stringent sets of restrictions in place. Anything that would touch down on the surface needed to be almost completely sterilized before it would be allowed to launch. For landers and rovers with life-detection capabilities, such as the Viking landers or the new Perseverance rover, they would have to be even more thorough.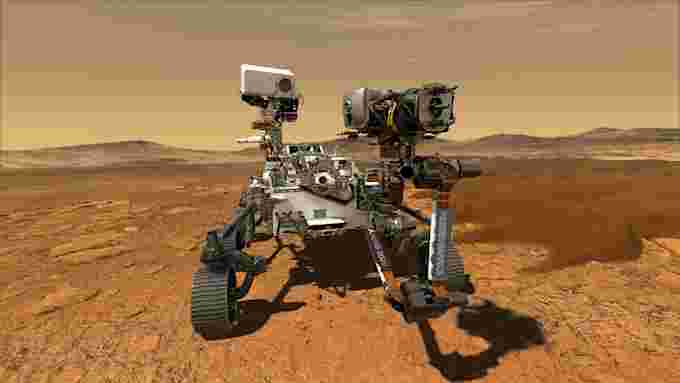 This artist's rendition shows the Perseverance rover on the surface of Mars. Credit: NASA
Basically, there's no sense in sending a robot to detect life on another planet if it only ends up detecting life that hitched a ride from Earth. To ensure that the search for extraterrestrial life is as honest and thorough as possible, we cannot bring anything with us.
The problem becomes: we can't use the same sterilization methods with human astronauts as we do robotic explorers. So, if we are going to plan crewed missions to Mars, these rules have to change.
There's one limitation to changing the rules, however. Even after over 40 years of exploring the surface of Mars, we still don't know enough about it to develop a responsible set of restrictions.
"The challenge with Mars is that we simply don't yet have enough information to know where it is we can go and where we shouldn't go, and where we can go but we need to be more careful than other places," NASA Administrator Jim Bridenstine said when the new NIDs were announced.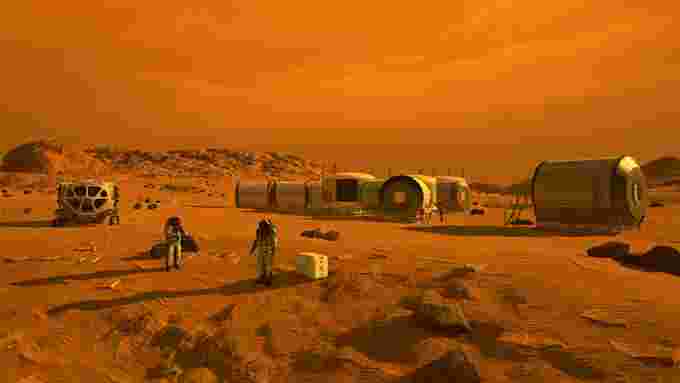 A simulated base on Mars. Credit: NASA
NASA's new Perseverance Rover is designed to search for signs that life existed on Mars in its distant past. It may even be able to tell us if there is life on the planet now (although in all likelihood, it would be microbes deep beneath the ground). Perseverance is currently scheduled to launch later this month, with a landing in Mars' Jezero crater in February of 2021. So, once Perseverance arrives and begins its investigations, the science it collects will go into forming these new rules for human missions to Mars.
RELATED: PERSEVERANCE! NASA MARS2020 ROVER GETS ITS NEW NAME
Space mystery: Scientists spot 'unexpected class of astronomical objects' – Express.co.uk
They can be everything from the leftovers of a supernova, a planetary nebular, or looking at something such a proto-planetary disc or star-forming galaxy from a certain angle.
They can also be a sign of a bug and may come about when there are bright sources from incorrectly-calibrated telescopes.
However, the newly discovered circles do not appear to be explained by any of those more traditional objects.
Instead, the researchers note, they "appear to be a new class of astronomical object".
Your guide to spotting the NEOWISE comet – London Free Press (Blogs)
Article content
Discovered at the end of March, the NEOWISE comet is passing within 100 million kilometres of our planet. "That in astronomical terms is close, but in human terms very far," said Parshati Patel, an astrophysicist with Western University's Institute for Earth & Space Exploration.
So don't worry — even though Patel says comets are unpredictable, this one won't ram into the Earth, as often happens in Hollywood movies and science-fiction paperbacks.
Comets are leftover chunks from the formation of a planet, she says, composed of dust, ice and rocks. "It's almost like a dirty snowball in many ways," Patel said. They appear as bright spots, with a tail, in the sky.
Patel got up early this week to catch a glimpse of NEOWISE, which gets its name from the asteroid-hunting part of NASA's Wide-field Infrared Survey Explorer mission, an Earth-orbiting telescope that detected the object.
"I personally went on Tuesday. It wasn't really great. There were some clouds in the sky," Patel said. "We couldn't really see it with the naked eye."