The Value Proposition Of The Real Estate Agent Of The Future – Forbes
Technology changes everything, from the way we communicate to the way we shop and even the way we eat. Technology is moving faster than ever and bringing with it massive changes and disruptions. When it comes to real estate, many agents are terrified that they will be wiped out by technology and they'll soon be out of business.
While it is true that technology can wipe out jobs, positions and even entire industries, the reality is that people will always need people. Real estate being not only a people business but a uniquely complex people business, there will always be a need for agents who provide value. That's the caveat: provide value.
The difficulty lies in the fact that the way we provide value has to change. In the past, the value of the real estate agent was in access to home listings, good lenders and other service providers. Those days are over, thanks to the internet. Any prospective buyer or seller is a click away from all of that information. They don't need an agent to send them homes or get preapproved with a lender; they can easily do that on their own. Pretty soon they may not even need you to tour a property or send an offer.
So what value do you bring today? Have you asked yourself that question in earnest? What do you bring to the table? Technology has transformed the traditional real estate agent's value proposition, and it will continue to do so. How do you stay in business long term? The answer is by changing the way you provide value.
An acquaintance of mine was going through an immigration process a few years ago, and I remember they downloaded all of the necessary forms online, filled them out, paid the fees and submitted their application themselves. No need for a lawyer. At the same time, another acquaintance was going through a similar process, the difference being that they did hire a lawyer who cost thousands of dollars. The one who did it on their own eventually succeeded, but it took years. Multiple missing pieces set them back months time and time again. They had to do it all themselves from beginning to end, and there was a lot of guessing involved. The one who used a lawyer also succeeded, and did so much quicker and with less stress.
The interesting thing about this example is that both succeeded. A lawyer was not necessary for success, per se. The information is out there. The documents can be downloaded, and all of the instructions are readily available to everyone. So why use a lawyer? The answer is convenience and peace of mind. The answer is expertise and experience. The answer is, much like the reason you buy insurance, security.
We as real estate professionals must realize that we are not needed for the small tasks of sending homes and scheduling showings. We are needed for our expertise and experience. We are needed in case something goes wrong. We are the customers' insurance policy against disaster. That is our value proposition in 2020.
Through modern marketing tactics like creative content, video and audio, we can deliver that value proposition to our communities. We can't shy away from technology, nor can we slow down its advance. What we can do is embrace it and evolve with it. We can make real estate transactions easy for people, educate them and create bonds of trust that will outlast any shiny new piece of tech.
The agents who can spread that message of comfort and security are the ones who are going to win. Those who resent technology and the "darn kids" who use it will lose. Face it — you're not needed for most of the small tasks you probably spend most of your time on, like showings and home listings. Let it go, and evolve. You're much more valuable than a daily email with home listings.
Real estate sales set record in Powell River – Powell River Peak
Residential real estate sales in the Powell River region in August 2020 were significantly higher than those of the previous year.
According to Powell River-Sunshine Coast Real Estate Board president Neil Frost, August featured a significant year-over-year gain and marked a new sales record for that month.
"Home sales in the region continued to rebound in August, smashing the previous record for the month set back in 2005," said Frost. "New supply is also on the rise but is not keeping pace with demand. As a result, the market has tightened significantly and the imbalance between supply and demand is putting upward pressure on prices in the region."
In August 2020, the average single-family home sold for $464,655 and was on the market for an average of 60 days. In 2019, the average single-family home sold for $394,763 and was on the market for 70 days.
Frost said August statistics regarding vacant land speak to how busy the market has been, and that more people are turning to building. Some people coming from out of town want new properties or are not finding what they want, according to Frost.
He said the median house price of $419,000 is probably accurate. He said that is the going price of a decent family home in Powell River.
"We have seen a bit of a bump here over these past couple of months," said Frost. "The activity has kind of pushed prices up. It's still active and there were quite a few sales in the higher price range in August, which really pulled average prices up."
In terms of single-family homes, in August 2020, there were 48 homes sold, valued at $22,768,111, compared to 28 homes, valued at $11,053,358, in August 2019.
There were three single-family mobiles and manufactured homes, valued at $598,900, sold in August 2020, compared to five units, valued at $668,000, in August 2019.
For single-family condos, apartments and duplexes, there were four sold in August 2020, valued at $1,178,200, compared to eight, valued at $2,090,500, in August 2019.
Totals for residential properties for August 2020 were 56 units valued at $24,545,211, compared to 41 units, valued at $13,811,858, in August 2019.
For non-residential, in August 2020, there were 10 parcels of vacant land sold, valued at $1,761,000, compared to five parcels in August 2019, valued at $363,000.
In terms of industrial, commercial and institutional, there were three units sold in August 2020, compared to no units the previous year.
Frost said Texada Island has been active, with affordability and the lifestyle it offers over there.
In terms of year-to-date residential sales comparisons between this year and last, in 2020, there were 283 homes sold, compared to 274 in 2019.
"In a year where we thought we were going to sell less, we're pleasantly surprised that we're on track to do the same kind of sales," said Frost.
According to the buyer and seller statistics for August 2020, there were 30 local buyers and 25 out of area buyers. Statistics for all of 2020 show 51.1 per cent local buyers and 48.9 per cent out of area buyers.
In terms of sellers in August 2020, 49 were local and 10 were from out of the area. The year's statistics show 87.3 per cent of sellers were local and 12.7 per cent were out of area.
The Pandemic is Changing Life Sciences Real Estate – GlobeSt.com
As other segments of the economy have suffered in 2020, life sciences are emerging as a bright spot.
Private investors have put more than $16 billion to work in life sciences in the first half of 2020, while the National Institutes of Health continues to up its grant volume. In 1994, NIH gave out $11 billion in grants. By 2019, that number jumped to $39.1 billion, JLL's Life Sciences practice Global Leader Roger Humphrey wrote for NAIOP.
The pursuit of COVID-19-related therapeutics, antibody tests and a vaccine contributed to this increase in funding. But it wasn't the entire story, according to Humphrey. An aging US population needing life-sustaining and life-extending care, wellness-conscious millennials and a prescription drug market on track to reach $1 trillion by 2022 also drove this market.
To secure funding, Humphrey writes that life sciences companies must create a work environment that encourages innovation and productivity while remaining flexible to meet new and evolving demands.
As these firms need to remain flexible, they're adopting more technology, such as machine learning and artificial intelligence.
"That means a growing portion of today's lab looks more like a traditional office, even if its operational systems are far more sophisticated," Humphrey writes.
While computers and the internet have allowed many office workers to work remotely, Humphrey writes that life sciences companies still brought workers into labs. They are incorporating staggered shifts and social distancing to keep their work on track. Many administrative staffers at these companies are working from home.
"Flexible lab space that can adjust to a variety of work tasks with limited downtime will be critical, along with 'free' space that can be called on to meet changing industry conditions," Humphrey writes.
The locations of this space could be changing, though. Boston, San Francisco and San Diego secured up to 70% of venture capital investments in 2019. While these locales offer proximity to a highly educated workforce and ties to leading research institutions, Humphrey reports some companies are starting to look to secondary markets to cut costs. He writes that these secondary markets include Maryland, North Carolina's Research Triangle, Philadelphia, New York and Los Angeles.
Others agree that high costs are creating new life science hubs. "Major metropolitan cities like Boston, San Francisco, Seattle and San Diego that have been long-established life science hubs are expensive to operate in," Mark Hefner, CEO and shareholder of MGO Realty Advisors told GlobeSt. in an earlier interview.
"Everything from real estate to cost of living in these cities is expensive. Now, with the Covid-19 crisis, companies are facing tremendous budget constraints and increasing pressures on their bottom line, forcing them to reconsider where they are located."
Moody's Doubles Down On Forecast of Canadian Real Estate Prices Falling Soon – Better Dwelling
One of the world's largest credit rating agencies doubled down on its Canadian home price forecast. Moody's Analytics sent clients its September update on Canadian real estate prices. The forecast reiterates they expect price declines to begin towards the end of this year. The report also names impacted cities this time, with Toronto expected to be a leader lower.
Forecast Vintages
A quick note on reading Moody's charts, which includes "forecast vintages." If you've only looked at consumer forecasts, these might be new. They're scenarios that vary depending on the forecasting model's inputs. Instead of giving a forecast like, "prices will drop x%," they give a range based on factors. These factors are fundamentals that have typically supported prices.
The Moody's forecast shows vintages as baseline, S1, S3, and S4. The September baseline is the scenario they believe has the highest probability. The S1 is what happens if indicators are better than expected. This would mean unemployment drops fast, and disposable income doesn't fall much. The S3 is what happens if fundamentals are worse than expected. S4 is the worst scenario that can unfold in a reasonable amount of time. Abrupt scenarios and black swans can still be worse. It's just those are outside of the range of reasonable expectations.
Canadian Real Estate Markets To Start Showing Weaknesses Soon
Moody's previous forecast didn't expect the market to show signs of weakness until Q3, and they're doubling down. The report's economist expects stimulus, mortgage deferrals, and interest rates to contain damage until Q3. They expect by Q3, the optimism of those programs will begin to wear thin. The reality of how meaningful the improvements are, should be apparent by then. The optimism should then fade. It's at this point they believe prices can no longer defy employment, vacancy, and delinquency rates.
Canadian Real Estate Prices To Drop Around 7%
The firm expects all scenarios to show a drop in the near future, but how much depends on fundamentals. In the September baseline, the firm's economist is forecasting a ~7% decline at the national level. This scenario expects unemployment at 8.56%, and a 2% drop of disposable income next year. Since the rise in disposable income was due to temporary supports, the fall is expected.
In the other scenarios, things vary from a brief drop to a very deep, multi-year decline. In the S1 scenario, there's only a brief dip in Q1, before prices rocket even faster and higher. In S3, a slightly worse than base case, prices fall about 15%, taking them back to 2016 levels. In S4, if disposable income, GDP, and/or unemployment worsen, prices drop about 22%, back to 2015 levels. Of course, this trend isn't evenly distributed across Canada. However, it's also not distributed how most might expect.
Prairie Cities and Toronto Real Estate To Lead The Declines
The base case sees Prairie cities and Toronto real estate leading price declines. Calgary, Edmonton, and Regina lead the drop, with a peak-to-trough decline between 9 to 10%. This is a trend already apparent in the regions' condo markets. Toronto, a little more unexpected, is forecasted to see a 9% price drop, from peak to trough. Vancouver's drop is forecasted below the national average, with an average decline of almost 7%. The last market is interesting, since other organizations gave Vancouver much worse forecasts.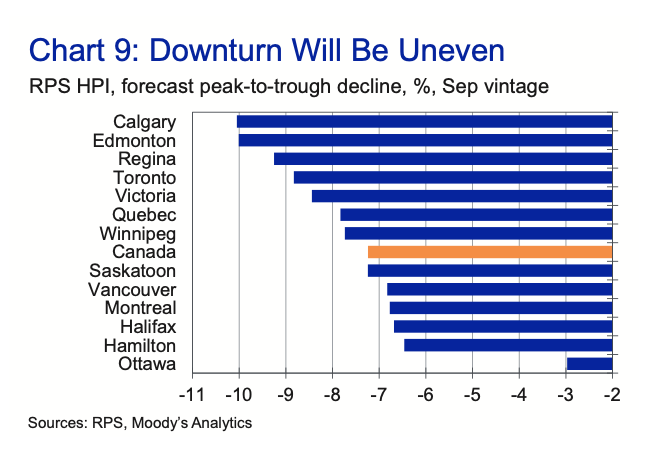 Toronto Real Estate To Experience Uneven Declines Across Regions
The base case for Toronto expects an uneven decline, with some regions harder hit. The drop across Toronto CMA is expected to be about 9%, from peak to trough. Pickering should see smaller declines, but experience minimal growth through 2025. Markham is the most surprising though, not expected to hit 2017 highs by 2025. The trend here appears to be regions short on space will recover the fastest. Although that is likely to depend on the type of housing as well.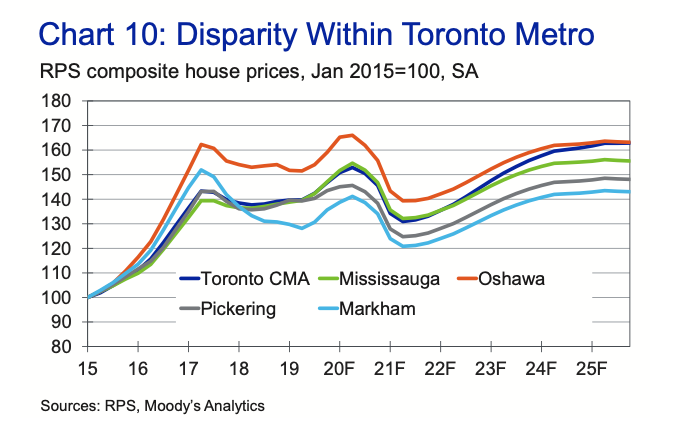 The forecast notes pandemic uncertainty, and its potential to bring greater downside. As it gets colder, the potential of more indoor activity may lead to a second wave. The report's economist believes this can bring even larger declines to prices. Shifting consumer behavior is also a wild card that can also push prices lower, as are any vaccine delays.
Like this post? Like us on Facebook for the next one in your feed.