Therapy through art – Sault Star
Article content
Art has been know to bring people together and that is what has happened when the world has felt so far apart during this pandemic.
Article content
Katherine Roy and Christine Lajoie have been working with a group via Zoom to use creativity to help get through the uncertainty of times.
The Coy Wolf Art Club started getting together digitally every Wednesday in January through a Ininew Friendship Centre (IFC) program and on July 21 the members had an opportunity to display and sell their creations at the Cochrane Handmade 705 Market at the Pap's parking lot.
Founders Roy and Lajoie have worked together for a few years having had an art show "Raibows and Roadkill" in 2018 along with Cindy Nadeau Chapman and Gunhild Hotte.
"We wanted to re-collaborate," said Roy. "With Christine running the Wasa-Nabi program at the IFC they are sponsoring us to have this club. We have zoom meeting from my studio. We have never actually been all together before. This is the first time of being in the same space."
Roy noted "Christine thinks up crazy assignments and every week we do something different. We keep an eye out for every social justice event and Christine helps us react to the things that are going on. That is a big part of our therapy."
She said the club "Really encourages each other and boosts each other with showing and discussing our art. It is the collaboration of artists being together."
While the group is small, Roy said that it really helps to focus on the individuals covering ages 12 to 75.
"The knowledge that we have come across with just having our conversations," said Roy "has helped to delve into mental health. It allows us to focus on our own subjects. Working with Christine is making fun the top priority. I think we all get something different out of it."
Article content
All the participants were donning Coy Wolf Art Club masks printed by Jenn Peckins of Twinkle Creations in Cochrane.
Lajoie said "I am so excited that the members made it out. It is all about them. I wanted them to have the experience."
Angel James, one of the members said she joined "Because I have always loved doing art. It is something that I have been passionate about. A lot of people don't take the time to realize their creative qualities so that is why I like to take the time to paint. The fact that more people were able to show their creativity in this art show is great."
Even though Nathaniel Wolfraim joined because of Angel he said "I joined because I don't have the chance to paint."
He said with the ability to get supplies through the program has helped him explore his creativity.
The club will meeting again in the fall for their next session. To get more details check out Facebook/Wasa-Nabin Cochrane Christine.
Indigenous knowledge keepers help Winnipeg Art Gallery in renaming of art collections – CTV News Winnipeg


WINNIPEG –
Indigenous knowledge keepers are helping Winnipeg Art Gallery-Qaumajuq rename pieces of art that were given inappropriate titles.
Julia Lafreniere, head of Indigenous initiatives at WAG-Qaumajuq, has been working with researchers and Indigenous knowledge keepers to identify 57 works at the gallery that are in need of a name change.
It is part of the art gallery's work to decolonize its collection.
"As with many historical art collections at galleries, there are often pieces that have inappropriate titles in today's context. For example, some pieces will still carry words like 'Indian,' or 'Eskimo,' or 'Savage,'" Lafreniere told CTV News.
Julia Lafreniere, head of Indigenous initiatives at WAG-Qaumajuq, has been working with researchers and Indigenous knowledge keepers to identify 57 works at the gallery that are in need of a name change. (Source: Danton Unger/ CTV News Winnipeg)
The gallery identified each nation depicted in these 57 pieces, and asked knowledge keepers from those nations to rename the art. She said Anishinaabe, Cree, Dakota, Inuit and Dene knowledge keepers joined the initiative.
"They all did it in their own way," Lafreniere said, adding some knowledge keepers held renaming ceremonies, giving the pieces new names in their Indigenous languages.
One collection, formerly titled 'Drawings of Eskimo Clothing', is being given a new name in Inuktitut, 'Ajjinuanga Angnaop Annuranganik.'
One collection, formerly titled 'Drawings of Eskimo Clothing' (pictured), is being given a new name in Inuktitut, 'Ajjnuanga Angnaop Annurangnik' as a part of WAG-Qaumajuq's renaming initiative. (Source: Danton Unger/ CTV News Winnipeg)
While the pieces are getting new names, Lafreniere said the knowledge keepers have asked that the old names still be included to be used as an educational tool.
She said the renaming is an important step.
"The titles, oftentimes, are the first way that the artwork is introduced to the public and people engaging with that artwork," she said.
"Giving them these new titles given by ceremonial leaders from the Indigenous community, it really ingrains Indigenous knowledge into the canon of art history."
She said WAG-Qaumajuq is the first art gallery to do this kind of renaming initiative, but she hopes other galleries do the same.
More information about the Artworks Renaming Initiative can be found online.
Jidar, Rabat's street art festival draws international attention | | AW – The Arab Weekly
Art Beat: Prize-winning author pays Coast a virtual visit – Coast Reporter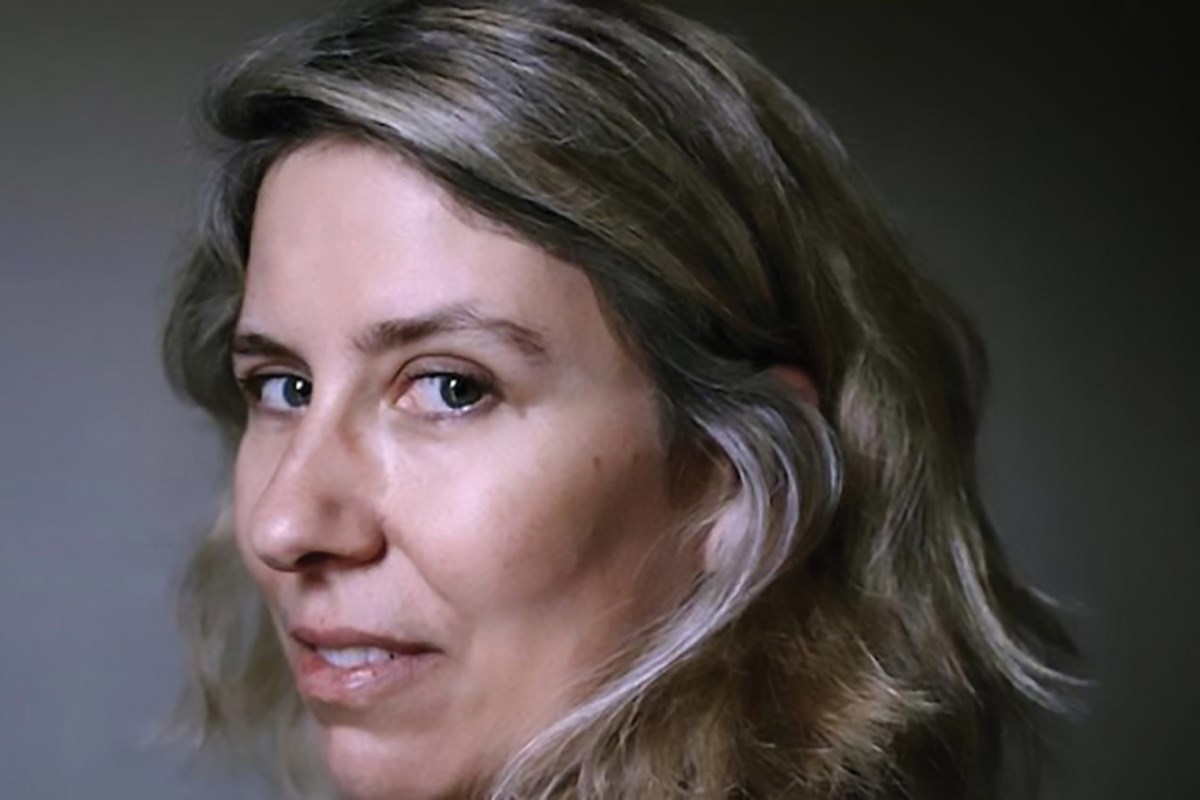 The Sunshine Coast Arts Council's Reading Series presents author Gil Adamson on Saturday, Sept. 18 at 7 p.m. Adamson will read from her recent novel, Ridgerunner, a finalist for the 2020 Scotiabank Giller Prize, and winner of the Writers' Trust Fiction Prize. Set in the Canadian and U.S. West in 1917, the book is a sequel to Adamson's well-received first novel, Outlander. Publisher House of Anansi described Ridgerunner as "a vivid historical novel that draws from the epic tradition… a literary Western brimming with a cast of unforgettable characters touched with humour and loss, and steeped in the wild of the natural world." The reading is a Zoom event and it's free. Register in advance through eventbrite.ca.
A Beautiful Mess
FibreWorks Studio & Gallery in Madeira Park is holding an opening reception on Saturday, Sept. 18 for its new exhibition, A Beautiful Mess: the joyful & random discovery of the artistic process. Creating something real out of the imagination can be a dishevelled and uncertain undertaking, usually carried out in private. Here, FibreWorks is turning that inside-out. "This show aims to create a sense of intimacy between the artist and the public." The reception runs from 2 to 4 p.m. The show will run until Oct.31.
Live Music
The Roberts Creek Legion has helped keep live music going on the Sunshine Coast through the warmer days over the past 18 months, thanks to its outdoor stage. Those setups have kept patrons in the fresh air and safely separated. Now the club is moving its visiting bands back to its indoor stage – and visitors onto its new dance floor – with a "Grande Re-Opening" on Friday, Sept. 17, featuring the Ween tribute band, Captain Fantasy. Doors at 7 p.m. The legion follows on Saturday, Sept. 18, from 7 to 11 p.m. with a string of acts, including The Locals, Eddy Edrick, Michelle Morand, and an open-stage jam. Proof of vaccination will be required for admission to all shows.
The Locals also play the outdoor venue at Tapworks in Gibsons on Saturday, from 2:30 to 4:30 p.m. That might depend on the weather, as (at press time) heavy rain was forecast for Saturday.
The Clubhouse Restaurant in Pender Harbour presents Karl Kirkaldy on Friday, Sept. 17, from 5 to 8 p.m. On Sunday, Sept. 19, Half Cut and The Slackers rock the Clubhouse from 2 to 5 p.m.
Joe Stanton is scheduled to entertain on Saturday, Sept. 18 on the patio at the Backeddy Resort and Marina in Egmont. Again, that's weather-dependent.
Let us know about your event by email at arts@coastreporter.net.