These are the best Android smartphones [Late 2020] – 9to5Google
As the end of the year approaches, new phones are on the minds of many between holiday discounts and buying gifts for family members. If you're looking for the best Android smartphones available today, here are our top picks.
Samsung Galaxy S20 FE
Best for most people
Samsung is the most popular brand in the Android market, and for good reason. The company's smartphones get a lot right from performance to design. The standard Galaxy S20 series was far from affordable starting at $999 (despite being extremely good phones anyway), but the Galaxy S20 FE takes a different approach to deliver a starting price of just $699.
The Galaxy S20 FE has a 6.7-inch, 120Hz AMOLED display, a trio of cameras headlined by a 12MP shooter, and offers features like IP68 water resistance, wireless charging, and solid battery life with wireless charging. It also features the same Snapdragon 865 processor as Samsung's $1,000+ phones, only paired with 6GB of RAM instead of 12GB. There's also 5G support on all carriers.
The Galaxy S20 FE is just a tremendously good deal as we put forward in our review. The only potential negative for some people might be that this phone is plastic instead of glass, but that's all down to personal preference. It also comes in a plethora of color options.
Google Pixel 5
Best for photos
If pictures are your biggest focus, there's no better choice than Google's Pixel 5. Here's why.
Pixel 5 is not a true flagship smartphone, rather focusing on a "what you really need" approach. The Snapdragon 765 chipset has enough power for just about anyone, and paired with 8GB of RAM it delivers solid overall performance. Plus, Google's software suite is fully available on this device, and you have 128GB of storage for all of your apps and media. There's also a 4,080 mAh battery that easily powers this device and its 6-inch 1080p OLED display through over a day of use.
What really stands out here, though, is the camera and its software. There's a 12MP standard camera and a 16MP ultrawide shooter. Both can capture stunning photos that, thanks to excellent software, provide the best overall shooting experience on any smartphone. There are also some great video features that you can learn more about in our review.
Finally, perhaps the biggest selling point of the Pixel 5 is that Google is offering free unlimited Photos storage on this phone for as long as you have it. That's a massively valuable perk that no other phone will have.
Google Pixel 5 is available for $699 from the Google Store, Amazon, B&H Photo, Best Buy, and most major carriers.
Google Pixel 4a
Best on a budget
In the same vein as the Pixel 5, Google's Pixel 4a is also an excellent choice for its camera, battery life, and unlimited Photos storage. This phone, though, goes farther by offering simply the best Android experience in a $349 phone.
The Snapdragon 730 chipset inside of the Pixel 4a combined with 6GB of RAM and 128GB of storage delivers solid overall performance on Android 11. Plus, you'll get guarenteed software support for at least three years, meaning some major Android updates and monthly security patches. That's something no one else offers at this price point.
Rounding things out, the 5.8-inch display has slim bezels, wonderful colors, and blacks thanks to the OLED tech, and a size that feels comfortable in the hand. If you need a bigger phone, the Pixel 4a 5G jumps up to 6.2 inches while also upgrading the processor, adding 5G support, and throwing an ultrawide rear camera into the mix.
Google Pixel 4a is available for $349 from the Google Store, Amazon, B&H Photo, and Best Buy. The Pixel 4a 5G is also available from the Google Store, Amazon, B&H Photo, and Best Buy, and you'll find both phones at major carriers, too.
OnePlus 8T/OnePlus 8 Pro
Best for gaming
If you're buying a smartphone for performance or, more specifically, gaming, the OnePlus 8 series is the best choice. OnePlus smartphones have killer specs that rival any other Android flagship, but for a fraction of the price. The OnePlus 8T, for example, starts at $749 while delivering a 120Hz display, Snapdragon 865 processor, and a large OLED display.
The OnePlus 8 and 8 Pro both offer that same chip with up to 12GB of RAM, a minimum of 128GB of storage, and at least three cameras headlined by 48MP primary shooters. All three are currently running the latest Android OS, too, with Android 11.
Why are these phones so good for gaming? OxygenOS has a special "Fnatic Mode" that helps minimize interruptions and maximize performance. You'll often find that OnePlus phones can handle gaming better than most. Plus, since this is Android, you can still access Fortnite that isn't currently possible on iPhones.
Every OnePlus smartphone also includes timely major Android updates (quarterly security patches) as well as super-fast charging. The OnePlus 8 and 8 Pro can charge at up to 30W while the 8T can hit a whopping 65W.
You can buy the OnePlus 8 from $699, the OnePlus 8T from $749, and the OnePlus 8 Pro from $899. The OnePlus 8 is also sold at Verizon and the 8T at T-Mobile.
Samsung Galaxy Note 20 Ultra
Best for productivity
Samsung's Galaxy Note 20 Ultra truly goes all out on the spec sheet. It offers up a massive 6.9-inch 120Hz 1440p AMOLED display. It's huge, it's bright, and it looks absolutely gorgeous in person. You can also use that display with the embedded S Pen, which now offers latency that's indistinguishable from a real pen. Under the hood, the Snapdragon 865+ delivers 5G support and killer performance with 12GB of RAM and 128GB of storage alongside it. Wireless charging and a 4,500 mAh battery round out this powerhouse.
As far as cameras go, Samsung delivers a package that outshines its Galaxy S20 series, this time around offering a 108MP primary sensor helped by laser autofocus for crisp photos. There's also a 12MP ultrawide shooter and a 12MP periscope zoom lens that helps to enable zoom up to 50x. Add on Samsung's excellent video features, and this is truly one of the best camera systems on any Android smartphone right now, even rivaling the Google Pixel series.
The Galaxy Note 20 Ultra is by far the best device on the market for productivity, and during the holidays you're likely to find it on sale below its $1,299 price point. There's also the standard Note 20, which is a bit smaller, has a few downgrades, and cuts $300 off the retail price.
You can buy Galaxy Note 20 Ultra from Samsung, B&H Photo, Amazon, Best Buy, Verizon, AT&T, and T-Mobile, among other retailers and carriers.
FTC: We use income earning auto affiliate links. More.
---
Check out 9to5Google on YouTube for more news:
[embedded content]
MediaTek taps TSMC 6-nanometer tech for new flagship 5G phone chips – TheChronicleHerald.ca
By Stephen Nellis
(Reuters) – MediaTek Inc on Wednesday said it would use Taiwan Semiconductor Manufacturing Co's 6-nanometer chipmaking technology for its newest chips aimed at premium 5G smartphones.
Taiwan's MediaTek appears to be one of the first high-volume customers for the technology and is among a handful of companies with modem technology to connect phones to mobile data networks, competing against Qualcomm Inc and Samsung Electronics Co Ltd. The new chips announced Wednesday, called Dimensity 1100 and 1200, build on MediaTek's efforts to go after higher-priced handsets where Qualcomm's Snapdragon chips have historically had stronger market share.
Like Qualcomm and Apple, MediaTek designs chips and then contracts out production to outside firms. The newest chips will be made at TSMC, on a chipmaking technology called 6-nanometer. Qualcomm's chips are being made by Samsung on 5-nanometer technology while Apple Inc uses TSMC's 5-nanometer technology.
Smaller chipmaker technology is faster and more power efficient. MediaTek's previous chips used a 7-nanometer process, and moving to newer manufacturing technology along with advances in the chip's design make it 22% faster at computing tasks while consuming 25% less power, Finbarr Moynihan, general manager of international corporate sales, told Reuters in an interview.
(Reporting by Stephen Nellis in San Francisco; Editing by Leslie Adler)
Galaxy S21 Plus specs vs. S21 Ultra vs. S20 Plus vs. S20 Ultra: Samsung S phones compared – CNET
Samsung's trio of phones that make up its flagship S21 lineup have arrived — and the higher-end S21 Plus and S21 Ultra come packed with all the trappings you'd expect from a premium Android phone. All three are available to preorder now, and will ship on Jan. 29.
If you're in the market for something fancier than the base model, it's probably a good time to take a closer look at how Samsung's pro phones, the S21 Plus and the S21 Ultra, compare with each other, and how they differ from their predecessors.
The standout change to the S21 is the price tag. Following lackluster sales of the S20 family, the South Korean company slashed prices by $200 across the S21 line, with the S21 Plus and S21 Ultra starting at $1,000 (£949, AU$ 1,549) and $1,200 (£1,329, AU$1,849) respectively.
The S21 Pro and S21 Ultra also have the expected incremental upgrades working in their favor: Processors are speedier, the displays have been upgraded and the cameras have been improved to take crisper photos and videos. The S21 Ultra now also supports Samsung's stylus, the S Pen (sold separately), which blurs the line between the S series and the more professional Note series.
Samsung has also packed some refinements into the S21 Ultra's camera system, but it hasn't updated headline features such as 8K resolution and the phone's 108-megapixel shooter. If you're an avid photographer, you'll likely care that the S21 Ultra comes equipped with two telephoto lenses (as opposed to one in the S20 Ultra) that offer 3x and 10x optical zoom, instead of digital zoom. Plus the main image sensor is apparently larger, which will allow it to capture photographs with improved dynamic range.
It's also important to highlight the features Samsung removed to allow it to start at those lower prices. Because Samsung slashed prices of all three of S21 phones, it needed to save on costs by eliminating expandable storage entirely and ditching the in-box charger and earphones. The pricier S20 Pro and Ultra meanwhile, let you add up to 1TB storage and include those bundled accessories.
For more details on the differences between the S21 Ultra, S21 Pro, S20 Ultra and S20 Pro, take a look at our specs chart below.
Galaxy S21 Pro vs. S21 Ultra vs. S20 Pro vs. S20 Ultra
| | Galaxy S21 Plus | Galaxy S21 Ultra | Samsung Galaxy S20 Plus | Samsung Galaxy S20 Ultra |
| --- | --- | --- | --- | --- |
| Display size, resolution | 6.7-inch Flat FHD+ Dynamic AMOLED 2X (2,400×1,080 pixels) | 6.8-inch Edge WQHD+ Dynamic AMOLED 2X (3,200×1,440 pixels), | 6.7-inch Dynamic AMOLED 2X | 6.9-inch Dynamic AMOLED 2X |
| Pixel density | 394 ppi | 515 ppi | 525ppi | 511ppi |
| Dimensions (Inches) | 2.97×6.35×0.30 in | 2.97×6.50×0.35 in | 2.9×6.37×0.30 in | 2.99×6.57×0.35 in |
| Dimensions (Millimeters) | 75.6×161.5×7.8 mm | 75.6×165.1×8.9 mm | 73.7×161.9×7.8 mm | 76.0×166.9×8.8 mm |
| Weight (Ounces, Grams) | 7.12 oz; 202g | 8.07 oz; 229 g | 6.56 oz; 186g | 7.76 oz; 220g |
| Mobile software | Android 11 | Android 11 | Android 10 | Android 10 |
| Camera | 64-megapixel (telephoto), 12-megapixel (wide-angle), 12-megapixel (ultra-wide) | 108-megapixel (wide-angle), 12-megapixel (ultra-wide), 10-megapixel (telephoto), 10-megapixel (telephoto) | 12-megapixel (wide-angle), 64-megapixel (telephoto), 12-megapixel (ultra-wide), time-of-flight camera | 108-megapixel (wide-angle), 48-megapixel (telephoto), 12-megapixel (ultra-wide), time-of-flight camera |
| Front-facing camera | 10-megapixel | 40-megapixel | 10-megapixel | 40-megapixel |
| Video capture | 8K | 8K | 8K | 8K |
| Processor | Snapdragon 888 or 64-bit Octa-Core Processor 2.8GHz (Max 2.4GHz +1.8GHz) | Snapdragon 888 or 64-bit Octa-Core Processor 2.8GHz (Max 2.4GHz +1.8GHz) | 64-bit octa-core processor (Max 2.7GHz + 2.5 GHz + 2.0 GHz) | 64-bit octa-core processor (Max 2.7GHz + 2.5 GHz + 2.0 GHz) |
| Storage | 128GB/256GB | 128GB/256GB, 512GB | 128GB, 512GB | 128GB, 512GB |
| RAM | 8GB | 12GB, 16GB | 12GB (5G), 8GB (LTE) | 12GB, 16GB |
| Expandable storage | None | None | Up to 1TB | Up to 1TB |
| Battery | 4,800 mAh | 5,000 mAh | 4,500 mAh | 5,000 mAh |
| Fingerprint sensor | In-screen | In-screen | In-screen | In-screen |
| Headphone jack | No | No | No | No |
| Special features | IP68 rating, 5G-enabled, 30X Space Zoom, 10W wireless charging, | IP68 rating, 5G-enabled, 100X Space Zoom, 10W wireless charging, 10x optical zoom | 5G enabled; 120Hz refresh rate; water resistant (IP68) | 5G enabled; 120Hz refresh rate; 100X zoom; water resistant (IP68) |
| Price off-contract (USD) | $1,000 (128 GB) | $1,200 (128 GB) | $1,199 (128 GB) , $1,349 (512GB) | $1,399 (128GB), $1,599 (512GB) |
| Price (GBP) | £949 | £1,329 | £999 (5G) | £1,199 (128GB), £1,399 (512GB) |
| Price (AUD) | AU$1,549 | AU$1,849 | AU$1,499 (4G), AU$1,649 (128GB), AU$1,899 (512GB) | AU$1,999 (128GB), AU$2,249 (512GB) |
LG Considering Exit From Smartphone Business, Halts LCD Production for iPhone – MacRumors
LG is considering exiting the smartphone business entirely amid declining shipments and accrued losses of $4.5 billion over the past five years (via The Korea Herald).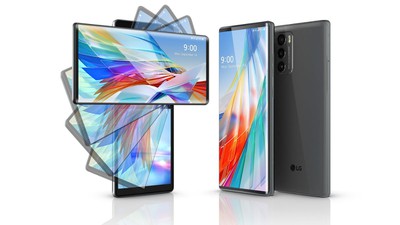 LG CEO Kwon Bong-Seok cautioned staff earlier today that the company is re-evaluating its presence in the smartphone industry:
Since the competition in the global market for mobile devices is getting fiercer, it is about time for LG to make a cold judgment and the best choice. The company is considering all possible measures, including sale, withdrawal and downsizing of the smartphone business.
He added that regardless of any change, the company will retain its current employees from the smartphone division and reassign them elsewhere.
LG has seen rapidly declining smartphone shipments in recent years, and the company is now believed to hold a market share of just two percent. LG has posted major financial shortfalls in its smartphone segment for 23 consecutive quarters, reaching a total loss of $4.5 billion.
When taking office as CEO in January 2020, Kwon pledged to turn the company's smartphone business around. The CEO's latest comments therefore appear to be an admission of failure to make the segment profitable.
At the same time, LG is reportedly ending its production of LCD displays for the iPhone, according to The Elec. LG Display had previously attempted to supply LCDs for the second-generation iPhone SE, but failed to meet Apple's requirements, leading to Japan Display and Sharp being selected as suppliers instead. LG's factory that previously made the components will be repurposed to manufacture automobile display panels.
Earlier this month, LG unveiled one of the world's first rollable smartphones at CES, as the company has endeavored to explore unusual designs to lure in customers. The future of this device, and other LG smartphones such as the LG Velvet and LG Wing, are now highly uncertain.