Things are looking up for real estate markets heading into 2020 – Financial Post
After a disappointing 2018, when housing prices and sales declined, 2019 has been a year of resilience for housing markets across most of Canada. Not only did sales numbers stabilize and resume an upward climb, but prices also demonstrated some strength.
As we move closer to 2020, those involved with the real estate industry and the million-plus Canadian households who are likely to buy or sell a residential property in the next year are wondering whether things will continue to improve in the year ahead, or if there is more trouble in store.
The good news is that a review of the forecasts by leading real estate experts in Canada points to a recovery in 2020. The Canadian Real Estate Association (CREA) estimates the national home sales to reach 530,000 units in 2020, an 8.9 per cent increase over the total expected for 2019. CREA also expects the national average price to hit $531,000 in 2020, a 6.2 per cent increase.
Royal LePage, meanwhile, is predicting a 3.2 per cent year-over-year increase in housing prices next year with RE/MAX a little more optimistic at 3.7 per cent. Though their benchmark prices are different from CREA, they see the market moving in the same direction.
Likewise, a poll of 18 economists, conducted by Reuters in November, also saw gains ahead, predicting Canadian housing prices would rise by 3 per cent in 2020 and 2.9 per cent in 2021.
The positive forecast for housing markets in 2020 is supported by strong immigration numbers that are likely to maintain a sustained demand for housing in Canada's most populous housing markets. A Royal LePage survey reported in October 2019 that "newcomers to Canada are expected to purchase one in every five homes on the market over the next five years."
At the same time, CREA notes that the Bank of Canada is unlikely to raise interest rates in 2020, which will drive demand for mortgage finance.
While most market watchers are optimistic about housing, there are some causes for concern. For starters, not everyone expects a three-plus per cent jump in prices. Fitch Ratings, a debt assessment firm, is forecasting a mere 1 per cent growth in housing prices in 2020. When adjusted for 2 per cent inflation, Fitch is forecasting a decline in real house prices for the next year.
Another concern is that listings are not keeping pace with sales. An increase in new listings, when sales are climbing, is needed to restrict inflationary pressures. Royal LePage, in its forecast for 2020, is also mindful of a lack of growth in listings. "The story in 2020 will be lack of supply," warns the real estate firm.
Accompanying the tightened supply is growth in mortgage credit. This has caught the attention of the Bank of Canada. In a recent address, Carolyn Wilkins, senior deputy governor of the Bank, noted that a drop in mortgage rates had "boosted" the markets. "Many of the same ingredients that were present in some housing markets three years ago — namely strong underlying demand, tight supply and low-interest rates — are present again," she noted.
Despite the concerns, markets are better equipped to deal with the determinants of inflationary pressures. The Bank of Canada expects "the regulatory and other measures in place will support the quality of new credit and mitigate the buildup of imbalances in the housing market."
The regulatory measure credited the most with addressing housing price inflation is the stress test, which was expanded in January 2018 to include uninsured mortgages and required borrowers to qualify at a higher rate than the negotiated rate with the lender to address the possibility of a future rate hike.
While Prime Minister Justin Trudeau has directed his finance minister, Bill Morneau, to review the tests and potentially make them more dynamic, it is not certain if or precisely how that will happen. Any changes will have to balance the needs of Alberta and the Prairies, where housing markets have been struggling, with those of regions where demand has already started to pick up.
All told, a vibrant labour market, vigorous demand for housing and low interest rates suggest conditions will be favourable for housing in 2020. The federal government's initiative to help new homebuyers with shared equity mortgages and a possible review of the stress test are also positive signs. But as always in real estate, there are plenty of unknowns that could disrupt that positive picture.
Murtaza Haider is a professor of Real Estate Management at Ryerson University. Stephen Moranis is a real estate industry veteran. They can be reached at www.hmbulletin.com.
Proptech and the Rising Tide of Technology in the Real Estate Industry – insideBIGDATA
It is no secret that utilizing newer
technology like big data and analytics can shake up and revolutionize nearly
any industry. The real estate industry is no exception here, and has, in fact,
already begun reaping the rewards that big data and data-driven technologies
can provide.
The huge amounts of data generated by the real
estate industry can be leveraged to its advantage even further going forward as
new technology and ideas are pushing the envelope for the real estate industry
at both the macro and micro scale.
Analytics
<!–
–>
One of the most basic and powerful data-driven tools that the real estate industry has at their disposal comes in the form of analytics. The benefits of data analytics in real estate extend to both the consumers and realtors because it allows for advanced property evaluation across a huge spectrum of parameters from expected appreciation and depreciation rates to crime statistics, accessibility, and other factors. This not only allows for real estate companies to determine value more accurately and mitigate risk, but increases customer engagement as well, providing them with highly relevant information regarding potential purchases.
The huge amount of real estate data available can, and should, be leveraged for maximum predictive impact just as Wall Street uses the data available to model algorithmic trading. Through the use of data analytics, realtors and investors are able to keep up to date on vital market data in real-time, allowing for the ability to stay ahead of the curve on the rapidly changing market of commercial real estate. Accurate, timely market data can make a massive impact on a company's ability to turn a profit on a piece of real estate and empowers potential home buyers by providing a comprehensive view of the market even as it changes minute to minute.
While these huge pools of real estate data are already being used by Artificial Intelligence programs to improve the customer experience through personalization and predictive home evaluation over time, AI can further change the real estate game. AI can help to accurately predict which locations will be the most beneficial for developers to invest in, optimizing market-level profitability and revenue and revenue as well as helping to identify optimized spatial layouts of new developments.
Virtual Reality
Though the real estate industry has been relatively slow in hopping on the big data train, it has taken a short amount of time for the industry to see the massive value that data brings to the table. Data can show investors, developers, and potential buyers detailed and pertinent information about real estate without ever having to see it in person. While macro-level data like land valuation, crime statistics, accessibility, and traffic flow are incredibly important when looking at real estate development and investing, the data generated at the micro-level is now coming into play in a big way.
Data comes in a variety of different forms, and while it can be easy to be tempted to shelf classic visual data for the more esoteric sets of data pertaining to a piece of real estate. Visual data, however, is actually at the forefront of one of the more inventive and exciting data-driven technologies being used in the real estate industry today. When enough visual data is available, realtors can implement Virtual Reality technology in order to give prospective buyers a tour of the property, giving an in-depth look at the dimensions of any given building that a static photograph simply cannot provide.
Again, VR is another new data-fueled technology that benefits both buyers and sellers of real estate. Realtors massively expand their market as they don't have to set up actual appointments to show a home and can actually show it simultaneously to many different potential clients. Additionally, homes can be staged virtually through VR, turning an empty and visually cold, unfurnished home into a staged home in an instant with the ability to change any furniture or fixtures in the blink of an eye to appeal to any number of aesthetic palettes.
Informed Decisions
The real estate industry has been long considered generally conservative, relying on more Luddite business methods and general entrepreneurial skills to operate quite successfully for decades. This is all changing with the rise of "Proptech", technologies that capitalize on the huge amounts of data generated in the world of real estate, which is working to help both purveyors and purchasers to make more informed decisions.
Quantifiable data, whether gathered from historical sources, social media platforms, or any other number of sources, work to show a bigger picture than many are used to seeing. When investors, realtors, and buyers are all able to see the forest for the trees, everyone comes out ahead as they have the ability to make a better decision based on all of the available data instead of just historical data or gut feelings.
In its raw form, much of the data generated by or relating to the real estate industry isn't all that helpful. However, with the power of data analytics, machine learning tools, and Artificial Intelligence, the heavy-duty number crunching is taken care of, leaving a distilled and very useable product. In a way, these new technologies are really leveling the playing field when it comes to real estate, providing the same advantage to anyone willing to take the time to apply big data in an effective way.
These technologies are unlikely to outright upend the real estate industry anytime soon, considering the industry's historically slow adoption of new technology. They will, however, revolutionize how properties are sold, evaluated, marketed, and even seen on a very real level.
About the Author
Avery Phillips is a freelance human based out of the beautiful
Treasure Valley. She loves all things in nature, especially humans.
Leave a comment down below or tweet her @a_taylorian with any questions or comments.
Sign up for the free insideBIGDATA newsletter.
What it takes to be the Best Real Estate Agent
Aaron Kirman has sold roughly $6 billion worth of real estate over his 25-year career, making him one of the top realtors in Los Angeles.
He routinely sells multimillion-dollar properties, including one estate for a whopping $65 million, and on his new CNBC show, "Listing Impossible," he helps homeowners sell their luxury real estate. He also runs the Aaron Kirman Group (AKG), a real estate team he started in 2017 that's grown from seven agents at its inception to nearly 70 today.
As a top realtor, Kirman makes seven figures, but not all agents earn a ton of money — and that's one of the biggest misconceptions about the job.
"On average, agents make anywhere between $30,000 and $50,000, which isn't what the public thinks that they make," he tells me when I spent a day shadowing him from 7 a.m. to 7 p.m. "It's a lot less than you think because it's such a competitive industry."
Entry-level agents can bring home even less than that because "it takes about a year to sell something," he says.
Over the course of the day I spend with Kirman, he lets me in on what it takes to make it in the cutthroat industry. Here are his three keys to success:
You have to put in the time
Even Kirman, who's established himself as one of the most successful agents in the country, works long days that often end past 9 p.m. A misconception about the job is that realtors, especially those at the top, don't work that hard. "It's a tough job," he assures me. "There are a lot of nuances that make it extremely complicated."
When it comes to being successful, "60% of it is showing up," he says. "You just have to work really hard."
While he logs a lot of hours, "it's in a different format than most [jobs]," he says. "I don't sit at a desk or in an office. I'm out and about."
You have to be brutally honest
Kirman has worked hard over his career, "but I especially credit my success to one secret: I'm brutally honest with my clients," he writes for CNBC Make It. "If agents don't tell their clients what mistakes they're making, it can take much longer for a home to sell."
During the day I spent with him, two of our appointments were to assess the staging of homes nearly ready to put on the market. True to his word, Kirman didn't hold back when offering feedback. His commentary ranged from, "Hate the chandelier. We gotta get this down." to "Everything is disgusting," which was his gut reaction to one particular home theater.
I especially credit my success to one secret: I'm brutally honest with my clients.
Aaron Kirman
star of CNBC's "Listing Impossible"
He's also had to tell homeowners things like, "you have terrible taste," "your house is worth much less than you think," and "the layout of your house is awful."
You have to understand people
Why It Might Not be right To Buy Bridgemarq Real Estate Services Inc. (TSE:BRE)
Bridgemarq Real Estate Services Inc. (TSE:BRE) stock is about to trade ex-dividend in 4 days time. You will need to purchase shares before the 30th of January to receive the dividend, which will be paid on the 28th of February.
Bridgemarq Real Estate Services's next dividend payment will be CA$0.11 per share. Last year, in total, the company distributed CA$1.35 to shareholders. Calculating the last year's worth of payments shows that Bridgemarq Real Estate Services has a trailing yield of 8.8% on the current share price of CA$15.27. If you buy this business for its dividend, you should have an idea of whether Bridgemarq Real Estate Services's dividend is reliable and sustainable. We need to see whether the dividend is covered by earnings and if it's growing.
Check out our latest analysis for Bridgemarq Real Estate Services
Dividends are typically paid from company earnings. If a company pays more in dividends than it earned in profit, then the dividend could be unsustainable. Bridgemarq Real Estate Services distributed an unsustainably high 120% of its profit as dividends to shareholders last year. Without more sustainable payment behaviour, the dividend looks precarious. That said, even highly profitable companies sometimes might not generate enough cash to pay the dividend, which is why we should always check if the dividend is covered by cash flow. The company paid out 104% of its free cash flow over the last year, which we think is outside the ideal range for most businesses. Cash flows are usually much more volatile than earnings, so this could be a temporary effect – but we'd generally want look more closely here.
Cash is slightly more important than profit from a dividend perspective, but given Bridgemarq Real Estate Services's payouts were not well covered by either earnings or cash flow, we would be concerned about the sustainability of this dividend.
Click here to see how much of its profit Bridgemarq Real Estate Services paid out over the last 12 months.
Have Earnings And Dividends Been Growing?
Stocks in companies that generate sustainable earnings growth often make the best dividend prospects, as it is easier to lift the dividend when earnings are rising. If earnings decline and the company is forced to cut its dividend, investors could watch the value of their investment go up in smoke. It's encouraging to see Bridgemarq Real Estate Services has grown its earnings rapidly, up 64% a year for the past five years. Bridgemarq Real Estate Services's dividend was not well covered by earnings, although at least its earnings per share are growing quickly. Fast-growing businesses normally need to reinvest most of their earnings in order to maintain growth, so we'd suspect that either earnings growth will slow or the dividend may not be increased for a while.
Many investors will assess a company's dividend performance by evaluating how much the dividend payments have changed over time. Bridgemarq Real Estate Services's dividend payments are effectively flat on where they were ten years ago.
To Sum It Up
Is Bridgemarq Real Estate Services an attractive dividend stock, or better left on the shelf? While it's nice to see earnings per share growing, we're curious about how Bridgemarq Real Estate Services intends to continue growing, or maintain the dividend in a downturn given that it's paying out such a high percentage of its earnings and cashflow. It's not that we think Bridgemarq Real Estate Services is a bad company, but these characteristics don't generally lead to outstanding dividend performance.
Want to learn more about Bridgemarq Real Estate Services's dividend performance? Check out this visualisation of its historical revenue and earnings growth.
If you're in the market for dividend stocks, we recommend checking our list of top dividend stocks with a greater than 2% yield and an upcoming dividend.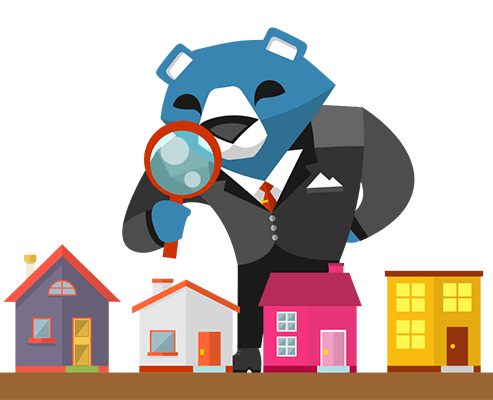 The easiest way to discover new investment ideas
Save hours of research when discovering your next investment with Simply Wall St. Looking for companies potentially undervalued based on their future cash flows? Or maybe you're looking for sustainable dividend payers or high growth potential stocks. Customise your search to easily find new investment opportunities that match your investment goals. And the best thing about it? It's FREE. Click here to learn more.