This search engine is basically Google but for facial recognition – KnowTechie
If the thought of people Googling your name didn't bother you enough, they now can search the internet for your face, instead. The new facial recognition tool, PimEyes, seems like something out of a science fiction movie.
PimEyes is basically Google but for images of faces. You can upload a face to the website and it will scour the web and return results within seconds. And the technology behind the platform is surprisingly impressive.
The service costs $29.99 per month, so there is a paywall in front of the website. But beyond that, anyone can use PimEyes to browse for photos of themself or others that may exist online.
A few reporters from The New York Times recently tested out PimEyes to see just how capable the website is. And the results were understandably surprising.
The website was able to return images from years in the past that matched the uploaded images. PimEyes was able to return images of users wearing sunglasses, hats, and even face masks. One reporter even found an image of themself in the middle of a crowd during Coachella back in 2011.
Why does a website like PimEyes exist in the first place?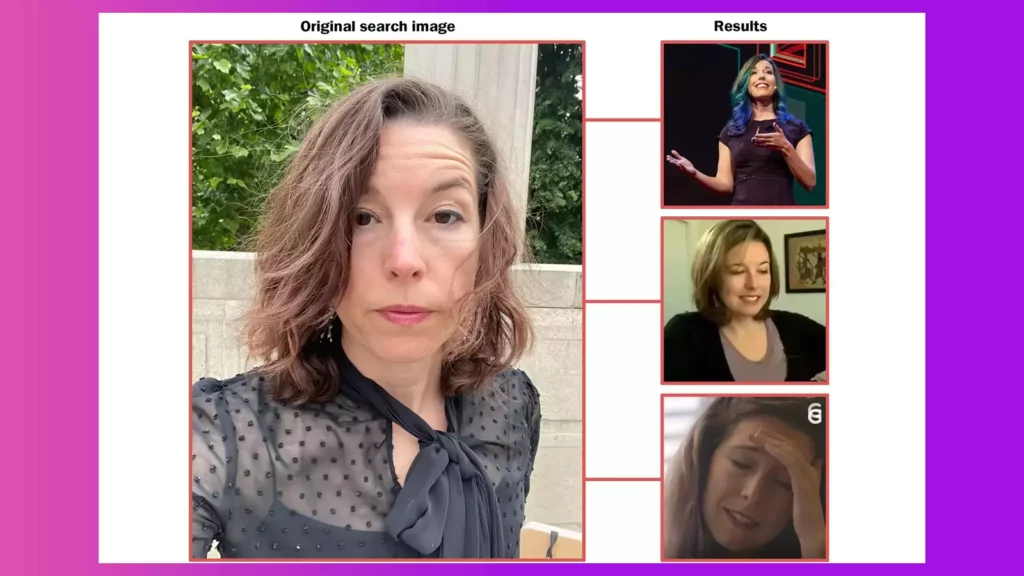 A service like this obviously raises some ethical questions. According to the owner of the website, Giorgi Gobronidze, users are only supposed to search for images of themselves or of people who have consented to the search.
But there's nothing in place to stop someone from searching another person's face. Gobronidze told The Times that he relies on users acting "ethically" on PimEyes. And we all know ethics tends to take a backseat on the internet.
And what's even worse is a feature that lets you exclude images you find of yourself from public results on the website.
That's a pretty decent feature, right? But that feature is only available to subscribers on the platform who pay for the "PROtect plans." And those plans can cost anywhere from $89.99 to $299.99 per month.
That sounds a lot like extortion to me. Essentially, you can hide your images from PimEyes search results, but only if you open up your wallet even more than the original subscription price.
While PimEyes does exhibit some impressive technology, it brings up the age-old problem that presents itself in most sci-fi movies: "We spent so much time trying to figure out if we could, that we never stopped to ask if we should."
Have any thoughts on this? Let us know down below in the comments or carry the discussion over to our Twitter or Facebook.
Editors' Recommendations:

vivo iQOO 10 series to be the first with a Dimensity 9000+ smartphone – GSMArena.com news – GSMArena.com
The iQOO 10 is already in the rumor mill, and we expect to learn more as early as next month. Latest information coming from trustworthy sources claimed the series will be the first with a phone, powered by a Dimensity 9000+ chipset.
The Mediatek platform was announced just last week as a minor improvement over the Dimensity 9000. It has a slight CPU and GPU boost, as well as updates of the signal processing and 5G modem. The high-performance Cortex-X2 core goes from 3.05 GHz to 3.2 GHz, and the Taiwanese chip maker promised devices with the platform as early as Q3.
It is safe to assume the hype and teasers will begin next week which is also the beginning of the new quarter. We have no information if the iQOO 10 or the iQOO 10 Pro smartphone will run on the Dimensity 9000+ but it could be either of them – we have to see whether vivo is also going to use the Snapdragon 8+ Gen 1.
Via (in Chinese)
Apple's entry-level MacBook Pro M2 has slower SSD speeds than its M1 counterpart – The Verge
Apple's new 13-inch MacBook Pro M2 base model appears to have slower SSD speeds than its M1 predecessor. MacRumors reports that YouTubers Max Tech and Created Tech have both tested the 256GB base M2 model and discovered the SSD's read speeds are around 50 precent slower than the M1 MacBook Pro with 256GB of storage. Write speeds are reportedly around 30 percent slower.
Testing was completed using Blackmagic's Disk Speed Test app, and Max Tech even disassembled the 13-inch M2 MacBook Pro and found that Apple is only using a single NAND flash storage chip. The M1 MacBook Pro uses two 128GB NAND chips, and multiple chips can enable faster SSD speeds in parallel.
Other 13-inch M2 MacBook Pro models with larger SSD storage don't appear to suffer from slower SSD speeds. Another YouTuber with a 512GB M2 model ran tests and found similar speeds to the M1 version, and most reviewers were seeded with fast 1TB models and didn't find any speed issues.
If SSD speeds are an issue for you on the base 13-inch MacBook Pro, you'll need to stump up an extra $200 for the faster 512GB model. But if you're willing to do that, you might want to wait and see what's inside the new MacBook Air. The base model will be priced slightly less at $1,199, but if it has slower SSD speeds then there's an identically-priced $1,499 512GB model that will presumably have the two NAND chips. Unlike the M2 MacBook Pro, the M2 MacBook Air also gets a big redesign — including new colors, a larger display, a 1080p webcam, and MagSafe charging.
We've reached out to Apple to comment on the SSD changes in the MacBook Pro, and we'll update you accordingly if we hear back.
Amazon's Alexa could soon mimic voice of dead relatives – Prince Rupert Northern View – The Northern View
Amazon's Alexa might soon replicate the voice of family members – even if they're dead.
The capability, unveiled at Amazon's Re:Mars conference in Las Vegas, is in development and would allow the virtual assistant to mimic the voice of a specific person based on a less than a minute of provided recording.
Rohit Prasad, senior vice president and head scientist for Alexa, said at the event Wednesday that the desire behind the feature was to build greater trust in the interactions users have with Alexa by putting more "human attributes of empathy and affect."
"These attributes have become even more important during the ongoing pandemic when so many of us have lost ones that we love," Prasad said. "While AI can't eliminate that pain of loss, it can definitely make their memories last."
In a video played by Amazon at the event, a young child asks "Alexa, can Grandma finish reading me the Wizard of Oz?" Alexa then acknowledges the request, and switches to another voice mimicking the child's grandmother. The voice assistant then continues to read the book in that same voice.
To create the feature, Prasad said the company had to learn how to make a "high-quality voice" with a shorter recording, opposed to hours of recording in a studio. Amazon did not provide further details about the feature, which is bound to spark more privacy concerns and ethical questions about consent.
Amazon's push comes as competitor Microsoft earlier this week said it was scaling back its synthetic voice offerings and setting stricter guidelines to "ensure the active participation of the speaker" whose voice is recreated. Microsoft said Tuesday it is limiting which customers get to use the service — while also continuing to highlight acceptable uses such as an interactive Bugs Bunny character at AT&T stores.
"This technology has exciting potential in education, accessibility, and entertainment, and yet it is also easy to imagine how it could be used to inappropriately impersonate speakers and deceive listeners," said a blog post from Natasha Crampton, who heads Microsoft's AI ethics division.
THE ASSOCIATED PRESS
Like us on<!––> Facebook and follow us on Twitter