Thousands of dollars in Indigenous art missing after Bella Coola break-in – Coast Mountain News
The owner of Bella Coola Wild Craft and Gallery is hoping the public will keep an eye out for thousands of dollars in Indigenous art that went missing following a break-in to her business.
Kathleen Booth learned the arts and craft store, and gallery was a victim of crime Monday morning after a worker of the Cumbrian Inn who does a daily check of the shared space noticed the back door open and heard some noise.
She said he initially thought it might have been a bear although he had quickly realized that scenario made little sense when he had ended up chasing several potential suspects who had tried to make a get away from the building on foot.
"It's very tied into what we seem to think that is an escalation of drugs that are coming into our valley, notably meth, Booth said, noting there were a couple of break-ins within the community prior including the boats at the wharf.
"We see behaviours of people changing."
With the suspects having made their way through the rear door of the hotel and breaching a variety of corridors by breaking through doors, Booth estimates at least $14,000 in art by a variety of artists including a hand painted jacket of a grizzly by herself is missing.
There is also approximately $2,000 in damage.
Despite being left devastated by the event and the COVID-19 pandemic adding to the woes, Booth said things can be repaired and fixed.
"Because the drive of the business is people over profit, it will continue."
Booth started the fairly small arts and craft store at her home based studio in 2012 as a means of providing residents affordable quality art supplies
It was just recently she held a soft-opening for the new location of the arts and craft store, as well as celebrate the revamp of the art gallery she had taken over management of.
"We have a lot of artists in the valley, and there's a challenge in small communities like this with drugs and alcohol and the nothing to do factor," she said. "That's a big part of what I do through the art store is basically to make a lot of supplies accessible and at an affordable price so that we can provide an option for people to spend Friday night in a different way."
Since opening, Booth said within the last month she has heard from many young women who tell her they are making the choice to bead over drink.
She recalled how she came from a poor background in Quebec that was challenged even more when she when chose to attend the Emily Carr University of Art and Design in Vancouver and would dumpster drive to salvage supplies she could use for her art due to unaffordable rent.
"For me it's always been about empowering people no matter what step of life i've been through," she said. "My mother taught me to share my gifts, share my knowledge and always try to build people up in that journey."
Knowing that some are unable to complete the thought process leading up to their actions, Booth added she will not let the acts of one or a few individuals represent the whole of the community she has grown to love since calling home nine years ago.
"There's many other people that are struggling with addictions that have great respect and in honor of those people we continue, and I'll continue, to keep those people in the foreground," she said. "It's too easy to let one person destroy everything for everybody."
Anyone with further information is asked to contact RCMP or Crime Stoppers.
---
Do you have a comment about this story? email:
rebecca.dyok@wltribune.com
Like us on Facebook and follow us on Twitter.
Senior curator Michelle Gewurtz leaves Ottawa Art Gallery for position in Peel Region – Ottawa Citizen
Article content
The former senior curator of the Ottawa Art Gallery has left that institution for a new position in Peel Region.
Michelle Gewurtz officially assumes her duties as Supervisor of Arts and Culture for the Peel Art Gallery, Museum and Archives as of Aug. 17.
Gewurtz had also been an adjunct research professor at Carleton University and served in "curatorial, educational outreach, and advisory capacities" at SAW Gallery in Ottawa, A Space Gallery and Gallery 44 in Toronto, the Richmond Art Gallery in British Columbia, Kniznick Gallery in Waltham, Mass., and The Freud Museum in London.
"I'm delighted to join PAMA in the role of Supervisor of Arts and Culture," Gewurtz said in a media release issued by the gallery based in Brampton, Ont. "I look forward to working with PAMA's team to present new ideas and develop community-oriented programming. Together, we'll enhance the art gallery and museum as a central cultural meeting place for the diverse communities of Peel Region and beyond."
Catherine Sinclair is now listed as deputy director and chief curator of the Ottawa Art Gallery.
Local artist Kathryn Durst to create public art mural in downtown Peterborough – kawarthaNOW.com
Peterborough artist Kathryn Durst has been chosen to create a public art mural in downtown Peterborough commissioned by the First Friday Ptbo Art Crawl.
The mural will cover the two interior walls of the alleyway of the Commerce Building, at the northwest corner of Water and Hunter streets, which is home to the studios of many of the artists who have participated in the monthly art craw (currently on hiatus due to the pandemic).
The mural project is supported by the Peterborough Downtown Business Improvement Area (DBIA) and Ashburnham Realty, which owns the Commerce Building.
Advertisement – story continues below
The First Friday Ptbo mural selection committee reviewed proposals from 20 local artists before selecting Durst's proposal for the mural.
Born in Peterborough, Durst graduated from St. Peter Secondary School and then studied animation at Sheridan College. She was an intern at Pixar Animation Studios and worked at several animation studios before launching a career as an illustrator for children's books.
She achieved international media coverage for illustrating the New York Times best-selling children's book Hey Grandude!, written by Sir Paul McCartney and published by Penguin Random House in 2019.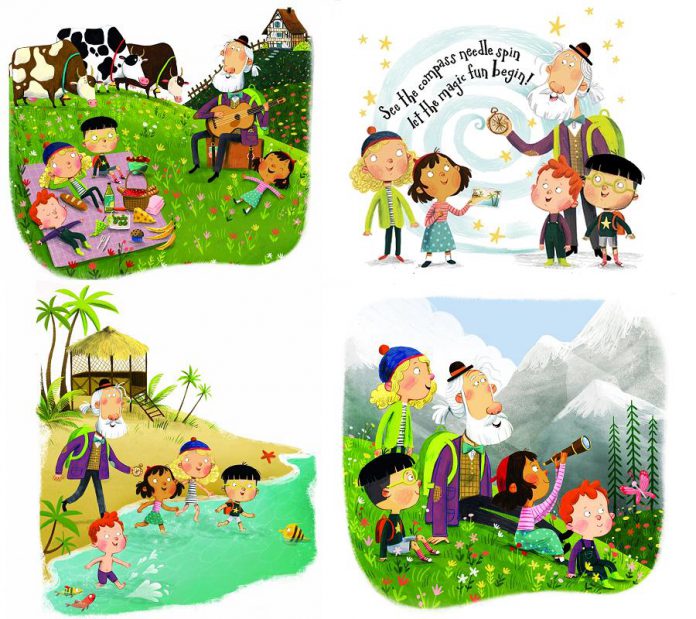 The 30-year-old Durst lives in Peterborough with her dog Chili.
To see samples of her art, visit her website at www.kathryndurst.com or her Instagram account @kathryndurst.
Durst receives a $3,000 award to create the mural, which must be completed using exterior latex paint only by the end of August.
When the mural is completed, First Friday Ptbo will be host a mural launch in September (date to be confirmed).
Bringing dance creativity to summer art program – Weyburn Review
Dance instructors Jessica Dixon and Faith Bratrud brought the creativity of dance to the City of Weyburn's summer art program on Wednesday. Jessica taught the group a dance routine, then she had them gather around and each child demonstrated their own dance move which everyone else had to try to copy.