Tipping Points In The Climate System: The Worst Kind Of Positive Feedback – Hackaday
With global temperatures continuing to break records in recent years, it's important to cast an eye towards the future. While efforts to reduce emissions remain in a political quagmire, time is running out to arrest the slide into catastrophe.
Further compounding the issue are a variety of positive feedback loops that promise to further compound the problem. In these cases, initial warming has flow-on effects that then serve to further increase global temperatures. Avoiding these feedback mechanisms is crucial if the Earth is to remain comfortably livable out to the end of the century.
A Multitude of Causes
The issue of climate change often appears as a simple one, with the goal being to reduce greenhouse gas emissions in order to prevent negative consequences for human civilization. Despite this, the effects of climate change are often diffuse and intermingled. The various climate systems of the Earth interact in incredibly complex ways, and there are many mechanisms at play in these feedback effects that could tip things over the edge.
Ice-Albedo
The ice-albedo feedback mechanism is a climate process in which the amount of ice on earth has a significant effect on global temperature changes. It's a positive feedback relationship, meaning it has the possibility of causing a runaway effect if not managed carefully. Higher global temperatures cause sea ice, land ice, and glaciers to melt. The ice, which is highly reflective, is instead replaced with open water, or land, which is less reflective, having a lower albedo. This causes the Earth to retain more heat from solar radiation, instead of reflecting it back into space. This further raises temperatures, causing more ice to melt, creating the positive feedback effect.
Ice levels around the world are an active target of study for climate scientists. Records show major sustained losses over recent decades to major ice sheets, and glaciers are retreating all over the world. These areas, formerly covered in highly reflective ice, are now absorbing more heat than ever from solar radiation. As temperatures continue to rise, it's likely that ice packs around the world will continue to thaw, further exacerbating the effect.
Methane Releases From Not-So-Permafrost
Another major concern of climate scientists is the possibility of large-scale releases of methane and other greenhouse gases into the atmosphere from a variety of environmental sources. Areas such as Western Siberia have large reserves of methane trapped under permafrost, while significant reserves exist under the oceans, too. As the climate warms, much of this permafrost is beginning to thaw, releasing the stored methane trapped below the surface. This has the effect of further increasing warming, as methane is a potent greenhouse gas, with a warming potential over 20 times that of CO2 over a 20 year time frame.
There is significant worry that a tipping point could be reached in which there is an abrupt release of large amounts of methane from these sources, causing a rapid increase in global temperatures. In this event, reducing human emissions would do little to help, as the released greenhouse gases can not simply be returned to the soil. Research is ongoing to produce models to predict what will happen in the event of further thawing of formerly-permanent permafrost. There is some hope — slower thawing seems likely to reduce the amount of harmful greenhouse gases released, as plants grow in formerly frozen areas, once again locking up carbon. Faster thaws threaten more massive, abrupt releases, which are more likely to result in rapid temperature rise.
Ocean Current Slowdown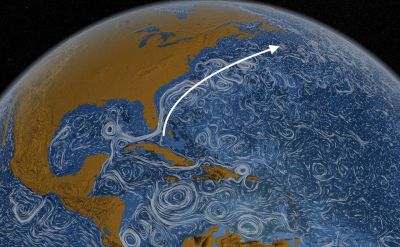 The world's oceans are a major player in the climate system. Acting as a giant heat sink, what happens in the oceans tends to have staggering effects on weather patterns everywhere. Major ocean currents are a large part of this mechanism, responsible for transporting huge amounts of heat stored in these waters around the globe.
Scientists have been monitoring changes in ocean currents, and have observed major changes in recent years. The Gulf Stream is one such current, which has often been linked to major climate events in the distant past. It's slowing down, and is currently weaker than at any point in the last 1600 years. The weakening is unprecedented, and current research suggests the change is at least in part due to human-induced climate change. The effect is multifaceted, with temperature increases and freshwater from melting sea ice both playing a role.
Many theorize that a slowdown or shutdown of ocean currents could have major consequences on the world climate. Extreme warming or cooling could occur in different areas, and storm activity, such as hurricanes, could increase in both frequency and magnitude. Research suggests that changes in these currents can be both an indicator and driver of climate shifts, and it's likely that ocean currents will continue to change as anthropogenic warming continues.
Forest Loss And Fires
Forests are an important player in the global climate, acting as a major carbon dioxide sink. However, in recent years, increased temperatures and extreme wildfires have led to large swathes of forests dying off or simply going up in smoke. As trees die and are broken down by microbes, or as they burn up in fires, this leads to releases of greenhouse gases. This causes further warming, compounding the problem in yet another example of positive feedback.
Wildfires are becoming worse and more frequent. Last year's Arctic wildfires released a massive volume of CO2 in June alone — equal to Sweden's annual total output. After facing its hottest and driest year on record in 2019, Australia also faced its worst recorded fire season, with over 10 million hectares burned. These fires grew large enough to create their own weather, with Pyrocumulonimbus clouds observed forming from the smoke and causing lightning storms which spawned further fires in other areas. This is a case of positive feedback in the very short term, with large fires creating further fires due to the harsh conditions.
Forest die-offs have their own consequences, too. Boreal forests are shrinking, thus acting as less of a carbon sink as tree numbers begin to dwindle. As the forests thin out, conditions get warmer and dryer for remaining trees, further accelerating the decline. This also leads to issues as other species, both flora and fauna, have to adapt as tree cover shrinks and conditions change.
What Can Be Done?
The aforementioned feedback mechanisms are all current areas of research for climate scientists around the globe. The topic of abrupt and sudden climate change is only loosely understood. Most existing climate models are based on steady, gradual changes to the climate from human activity. These models don't account for the possibility of large sudden methane releases from formerly frozen soils, or mass releases of carbon dioxide from continental-scale wildfires.
Unfortunately, the mechanisms at play in these feedback scenarios are far beyond the scale that humanity can realistically arrest. The only real mechanism with which to play with is the output of greenhouse gases from human activities. By reigning in emissions, there is a possibility that humanity still has time to avoid triggering these tipping points. Only time will tell.
Humans are heading back to the moon — and Canada is playing a bigger role than you may realize – CBC News
If all goes as planned, NASA's most powerful rocket yet will roar to life on the morning of Aug. 29, as part of the Artemis I mission to the moon.
While the mission will be uncrewed — the only passengers on the towering, 32-storey Space Launch System (SLS) and attached Orion capsule are three mannequins — it is the first moonshot for a human-rated spacecraft since Apollo 17 in December 1972.
The goal of the Artemis program is to send humans back to the moon — and ultimately to Mars.
But unlike the Apollo program of the 1960s, Artemis is an international effort. And Canada has no small role in returning humans to deep space; we are building a new Canadarm, a lunar rover and sending astronauts.
Our country's role is bigger and better than it ever has been in our quiet, but storied, past with space exploration.
Canada was the third country to have a satellite in space. We have sent astronauts to live and work in space. We have provided crucial instruments to Martian rovers, and tools on a spacecraft that charted a distant asteroid. We are partners in the newly launched James Webb Space Telescope, providing the instrument that keeps it guided.
And, of course, we built the iconic robotic arms — Canadarm and Canadarm2 — that have been used on space shuttles and the International Space Station, as commemorated on our $5 bill.
And we, too, are going to the moon.
What's next
The mission of Artemis I is to test the SLS rocket and the Orion capsule. But after that comes Artemis II, scheduled for 2024 or 2025, when four astronauts will travel in Orion and orbit the moon.
On that capsule will be a yet-unnamed Canadian astronaut — the first to travel to deep space.
NASA also has plans to build the Lunar Gateway, a small space station that will orbit the moon. Canada is contributing the Canadarm3, built by MDA, to that project — and the new arm is much more sophisticated than the originals.
"Canadarm2 today is on the International Space Station. It's about 400 kilometres away from Earth, so a few hours' drive, if you're going straight up," said Holly Johnson, vice-president of space and robotic operations at MDA. "Canadarm3 is going to be orbiting the moon at Lunar Gateway, which is 400,000 kilometres from Earth."
With that extended travel, she said, the CSA is focused on "evolving" the intelligence and the artificial intelligence of the Canadarm.
"It needs to be more autonomous, it needs to be smarter, because communication takes longer to go between Earth and the moon."
Just as the first two Canadarms were instrumental in building and maintaining the International Space Station, the Canadarm3 will be crucial in building the new Lunar Gateway.
MDA is also partnering with Lockheed Martin and General Motors to provide a robotic arm on a future lunar rover.
And when it comes to lunar rovers, Canadian companies are also working on one capable of spending two weeks in the frigid temperatures of lunar night.
[embedded content]
'Kicking butt'
"Canada's role in space — we've been a player from the beginning," said Ken Podwalski, executive director of space exploration and the Lunar Gateway program manager at the Canadian Space Agency (CSA).
"I just don't think Canadians … realize how awesome we are. I don't think they realize the things we've done with the shuttle program, with our astronauts, with science, with our satellite programs, our Earth observation, the International Space Station," he said.
"We've been kicking butt for 25 years on that program and we've never failed. Never failed. We are absolutely a go-to player in space exploration. And Canadians need to know that."
Canada may not be as populous as the U.S., Europe or China — some of the major players in space — but we are definitely mighty, said Chris Gainor, an amateur astronomer and space historian.
"On a per capita basis, we don't spend nearly as much as the Americans," he said. "But where we've been involved in space, we've always been kind of right at the front. We've been able to succeed when we put our minds to it and put some resources into it.
"I think that's the important message: It may not be kind of top of mind what we're doing, but we are actually playing in the big leagues at a bargain-basement price, I would say."
A $470B industry that's growing
Canada's efforts are also about more than simply going to space, according to those in the industry. It's also about investing in the future and jobs here at home.
"The global space sector was $470 billion in 2021 — and that's growing. In Canada, it generates revenues of $5 billion, and it creates 20,000 jobs," said Lisa Campbell, president of the Canadian Space Agency.
"That's growing as well," she said. "More and more young people are gravitating toward the space sector, because it's exciting, it's interesting. It's science, technology, math, law, project management, finance — you name it. And there's going to be huge demand for people in the future to work in the space sector."
While it may not be immediately apparent that investments in space help us here at home, over the course of 65 years, there have been trickle-down benefits here on Earth, including technology for the cordless vacuum, memory foam and improved eye surgeries.
Canada's contributions, too, have had knock-on effects: The Canadarm technology was modified and used to support medical robotics, performing thousands of procedures in hospitals on Earth, Johnson noted.
The CSA is also home to an Advisory Council on Deep-Space Healthcare, which aims to learn more about human health in space, with an eye to innovating here at home. And the agency has launched the Deep Space Healthcare Challenge, seeking to create new diagnostic technologies that will serve both deep space missions and those living in remote communities.
"As we figure out how to sustain human health, and feed people further in space, it also helps us with challenges we have here on Earth with remote communities, food security, and detection and prevention and treatment of illnesses," said Campbell. "Many of the technologies we develop in space help us here on Earth as well."
The new race to the moon is now on, Podwalski said, and Canada is a big part of it — and should let it be known.
"As Canadians," he said, "we don't brag enough."
Canadian astronaut Jeremy Hansen describes Canada's key roles in new missions to the moon, from the 'amazing technology' to 'niche' expertise in the evolving delivery of food and health care.
NASA's moon rocket moved to launch pad for 1st test flight – CP24
Marcia Dunn, The Associated Press

Published Wednesday, August 17, 2022 3:02PM EDT

CAPE CANAVERAL, Fla. (AP) – NASA's new moon rocket arrived at the launch pad Wednesday ahead of its debut flight in less than two weeks.
The 322-foot (98-meter) rocket emerged from its mammoth hangar late Tuesday night, drawing crowds of Kennedy Space Center workers, many of whom were not yet born when NASA sent astronauts to the moon a half-century ago. It took nearly 10 hours for the rocket to make the four-mile trip to the pad, pulling up at sunrise.
NASA is aiming for an Aug. 29 liftoff for the lunar test flight. No one will be inside the crew capsule atop the rocket, just three mannequins swarming with sensors to measure radiation and vibration.
The capsule will fly around the moon in a distant orbit for a couple weeks, before heading back for a splashdown in the Pacific. The entire flight should last six weeks.
The flight is the first moonshot in NASA's Artemis program. The space agency is aiming for a lunar-orbiting flight with astronauts in two years and a lunar landing by a human crew as early as 2025. That's much later than NASA anticipated when it established the program more than a decade ago, as the space shuttle fleet retired. The years of delays have added billions of dollars to the cost.
"Now for the first time since 1972, we're going to be launching a rocket that's designed for deep space," NASA's rocket program manager, John Honeycutt, said recently.
NASA's new SLS moon rocket, short for Space Launch System, is 41 feet (12 meters) shorter than the Saturn V rockets used during Apollo a half-century ago. But it's more powerful, using a core stage and twin strap-on boosters, similar to the ones used for the space shuttles.
"When you look at the rocket, it almost looks retro. It looks like we're looking back toward the Saturn V," NASA Administrator Bill Nelson told reporters earlier this month. "But it's a totally different, new, highly sophisticated, more sophisticated rocket and spacecraft."
Twenty-four astronauts flew to the moon during Apollo, with 12 of them landing on it from 1969 through 1972. The space agency wants a more diverse team and more sustained effort under Artemis, named after Apollo's mythological twin sister.
"I want to underscore that this is a test flight," Nelson said. "It's just the beginning."
This was the rocket's third trip to the pad. A countdown test in April was marred by fuel leaks and other equipment trouble, forcing NASA to return the rocket to the hangar for repairs. The dress rehearsal was repeated at the pad in June, with improved results.
UNESCO team in Alberta to judge if Wood Buffalo Park should go on endangered list
EDMONTON — A United Nations body that monitors some of the world's greatest natural glories is in Canada again to assess government responses to ongoing threats to the country's largest national park, including plans to release treated oilsands tailings into its watershed.
In a series of meetings beginning Thursday, UNESCO investigators are to determine whether Wood Buffalo National Park should be on the list of World Heritage Sites In Danger — a move the agency has already deemed likely.
"Canada is not delivering," said Melody Lepine of the Mikisew Cree First Nation, which first brought concerns about the northern Alberta park to UNESCO's attention.
Bigger than Switzerland, Wood Buffalo is one of the world's largest freshwater deltas and is rich in biodiversity, including nesting sites for endangered whooping cranes. Its maze of wetlands, rivers, lakes and prairie is the largest and most intact ecosystem of its type in North America.
But the park, which straddles Alberta and the Northwest Territories, is slowly drying up through a combination of climate change and upstream developments, such as British Columbia's Site C dam. As well, research has found increasing evidence of seepage from oilsands tailings ponds into upstream ground and surface water.
In 2017, UNESCO found 15 of 17 ecological benchmarks in the park were deteriorating and gave Canada a list of improvements required for the park to retain its status. This week's meetings are to assess federal and provincial responses.
A report prepared for Mikisew by scientific consultant Carla Davidson credits the province for establishing buffer areas around the park and  Ottawa for water management plans within it. But the document finds little else has been done.
A risk assessment for oilsands tailings ponds hasn't begun, the report says. Sites in the oilsands region used by whooping cranes haven't been identified.
Proposals from First Nations to address knowledge gaps have been rejected. No land use plans exist.
The report says provincial groups studying scientific issues have been given restrictive terms of reference.
For example, a group studying mine reclamation can only look at ways to treat and release effluent. Cultural impacts on local First Nations are not considered, nor are cumulative effects of separate developments.
"Alberta has declined so far to implement most of (the recommendations)," the report says. "Instead, we see many examples of Alberta relying on the very policy instruments that have gotten the park to where it is today."
Meanwhile, both levels of government are preparing regulations to govern the first releases of tailings into the Athabasca River. Those rules are expected in 2025.
Contaminated water can be treated and released safely, says the Mining Association of Canada. In documents posted on its website, the association says tailings ponds can only be reclaimed after the water that fills them is removed.
"Oilsands operators have the demonstrated processes to treat these (contaminants) to levels that are safe for release to the environment," it says. "After decades of work in this area trying different methods with constant improvement as the goal, industry is confident that water can be treated and safely released to the environment once regulations are established."
But Gillian Chow-Fraser of the Canadian Parks and Wilderness Society said neither industry nor government have considered other ways of dealing with tailings, such as pumping the water underground.
"(Treating and releasing) isn't actually a reclamation solution," she said. "It is a cheap and easy way for these companies to keep producing at the same rate."
Federal Environment Minister Steven Guilbeault said Ottawa isn't fixated on releasing treated tailings into the Athabasca.
"This is one of the options but it's not the only option," he said Wednesday.
"This idea that some have put out there that the only solution is discharging into the Athabasca River — it's not the only thing we're looking at."
Alberta Environment spokeswoman Carla Jones said effluent is a long way from entering the Athabasca River.
"Treated oilsands mine waters that have been in contact with bitumen will not be released until we can definitively demonstrate, using rigorous science, that it can be done safely and that strict regulatory processes are in place to ensure the protection of human and ecological health," she wrote in an email.
If UNESCO places Wood Buffalo on its in danger list, it would join 52 other sites from around the world, most of which are imperilled by war or civil unrest. It has only one other site from a G7 country — Florida's Everglades.
"Having a World Heritage Site is something we're supposed to be really proud of," said Chow-Fraser. "This international recognition that things are not as good as they seem here are not something to be proud of."
Neither industry nor First Nations want permanent tailings ponds on the landscape, Lepine said. But addressing that problem and Wood Buffalo's overall deterioration can't be done without more resources and a wider search for solutions.
"They're not presenting a variety of options," she said.
Lepine said a move from UNESCO might spur Canadian governments to action.
"This site needs to be listed in danger."
This report by The Canadian Press was first published Aug. 17, 2022.
— Follow Bob Weber on Twitter at @row1960
Bob Weber, The Canadian Press