Tofino-based Green Coast Ventures granted B.C.'s first ride-hailing licence – Vancouver Sun
The new service will focus on Whister, Tofino resort communities
It could be a Green Christmas for those awaiting ride-hailing in Whistler and Tofino during the holidays.
The Passenger Transportation Board on Monday announced it has approved an application from Green Coast Ventures to provide ride-hailing in the Lower Mainland, Whistler and Vancouver Island outside of the Capital Regional District.
The company says it will focus on the resort areas of Whistler-Squamish-Pemberton-Lillooet and Tofino-Ucluelet. Expansion plans include Courtenay-Mt. Washington and Parksville-Qualicum.
Uber and Lyft still await a decision from the transportation board.
Green Coast told the board that the Wickaninnish Inn in Tofino gets about 25 ride-hailing requests a day, the Wolf in the Fog restaurant in Tofino gets about 30, while the Nicklaus North Golf Course at Whistler calls for more than 20 taxis a day but that even when phoning an hour ahead, taxi companies can't meet the demand.
"First-year fleet size goals are 15 vehicles for (Tofino-Ucluelet) and 30 vehicles in (Whistler)," the board said in its decision to award Green Coast its licence.
"Green Coast relies on (founder Dylan) Green's previous experience operating a transportation company and knowledge of resort communities to establish that it is fit, proper and capable."
Green started Tofino Bus Services 16 years ago with one vehicle, growing to 30 by the time he sold his company to Wilson's Group in 2018. He could not be reached to comment on when his service will be running.
The decision points to the "significant peaks and valleys" resort communities experience in transportation demands depending on tourist seasons and holidays, and noted Green Coast's unique app, Whistle, which focuses on resort towns.
"Passengers may also choose to share their ride, aiming to reduce fares for locals who often have to commute from outside of town to work," the company said in its application.
The board turned down an application from another company, LTG Technologies, to operate in the Capital Regional District and the rest of Vancouver Island, and in the Interior (Okanagan, Kootenays, Boundary and Cariboo).
"A business plan requires documentation on the market for the proposed product or service," the board decision on LTG says. "The only market information contained in LTG's business plan consists of a few references to the global market for ride sharing. There is no information on the market for ride-hailing in the areas in which LTG proposes to operate. … The directors of LTG do not have experience in operating a passenger transportation business."
The decisions were made after a careful review of the extensive materials received during the application process which included the supporting information provided by the applicants and submissions from interested members of the public, which included information from experts, the board said.
The next step for Green Coast is to secure appropriate insurance and to work with municipalities to ensure compliance with local bylaws, the transport board said.
Claire Trevena, the transportation minister, said she welcomes the announcement.
"People want to see ride-hailing vehicles on the road as soon as possible," she said. "We are hoping to hear of more decisions in the very near future."
The transport board is an independent licensing tribunal and continues to review the remaining 22 ride-hailing applications that have been submitted to it so far, a spokesman said.
Oil dips as China considers intervention to ease coal crunch – CNBC
An oil tanker docks at a 300,000-ton crude oil terminal in Yantai, east China's Shandong Province, May 17, 2021.
Costfoto | Barcroft Media | Getty Images
Oil prices slipped on Wednesday after the Chinese government stepped up efforts to tame record high coal prices and ensure coal mines operate at full capacity as Beijing moved to ease a power shortage.
Chinese coal prices and other commodity prices slumped in early trade, which in turn pulled oil prices down from an uptick earlier in the day.
"With coal and gas prices easing and with the relative strength index (RSI) technical indicators still in overbought territory, the odds of a sharp, but material fall in oil prices are rising," said Jeffrey Halley, senior market analyst at OANDA.
China's National Development and Reform Commission said late on Tuesday that it would bring coal prices back to a reasonable range and crack down on any irregularities that disturb market order or malicious speculation on thermal coal futures.
Brent crude futures dropped 86 cents, or 1%, to $84.20 a barrel, paring a 75-cent rise in the previous session, but still lingering close to multi-year highs.
U.S. West Texas Intermediate (WTI) crude futures for November, which expires on Wednesday, fell $1.00 to $81.96 a barrel.
"Brent crude could fall to $82 and WTI to $78.50 a barrel, and still comfortably remain in a strong bull market… Even if oil was to stage a $5 pullback, I continue to believe that it will be short in duration," analyst Halley said.
Oil markets in general remain supported on the back of a global coal and gas crunch, which has driven a switch to diesel and fuel oil for power generation.
But the market on Wednesday was also pressured by data from the American Petroleum Institute industry group which showed U.S. crude stocks rose by 3.3 million barrels for the week ended Oct. 15, according to market sources.
That was well above nine analysts' forecasts for a rise of 1.9 million barrels in crude stocks, in a Reuters poll.
However U.S. gasoline and distillate inventories, which include diesel, heating oil and jet fuel, fell much more than analysts had expected, pointing to strong demand.
Data from the U.S. Energy Information Administration is due later on Wednesday.
Proposed Sugary Drink Tax "Regressive," says Opposition Finance Critic – VOCM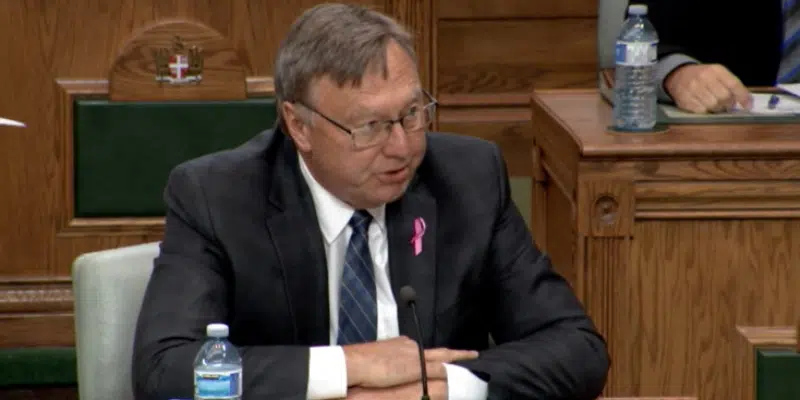 The provincial government's tax on sugary drinks comes into effect next September, and the minister responsible is pointing to data suggesting that the tax will work in changing people's habits.
Siobhan Coady points to a study that was done by a British medical journal called The BMJ. She says the study, which focuses on a similar tax in the UK, found that overall sales of soft drinks did not change, nor did share prices and domestic turnover. But what did change was the sugar purchased in those drinks, which Coady says decreased by almost 10 per cent.
PC MHA Tony Wakeham asserts that such taxes do nothing to affect health outcomes, and counters that the study Cody references is completely different from what's being proposed in this province.
In the UK, he says they were taxing producers to lower the amount of sugar in their products, and not taxing those using the product.
Wakeham says the proposed tax is negative and regressive. He says if Premier Andrew Furey is looking to modify behaviours to create healthy lifestyle changes, it should be based on positive things, not a negative tax.
Sleep Country Canada buys controlling stake in Hush Blankets – CBC.ca
Sleep Country Canada Holdings Inc. has signed a deal to buy Hush Blankets, a direct-to-consumer seller of weighted blankets, pillows, sheets and bed-in-a-box mattresses.
Under the deal, Sleep Country will acquire a 52 per cent stake in Hush for $25 million.
The company has also agreed to buy the other 48 per cent in annual 16 percentage point stake increments starting March 31, 2023, at a price based on the business's financial performance.
Hush was founded in 2017 by Lior Ohayon and Aaron Spivak and launched a weighted blanket in Canada in 2018.
Sleep Country says Hush will continue to operate as an independent business led by Ohayon and Spivak and a board including senior management from Sleep Country and Hush.