Trump is in danger of losing his powerful social media machine – CNN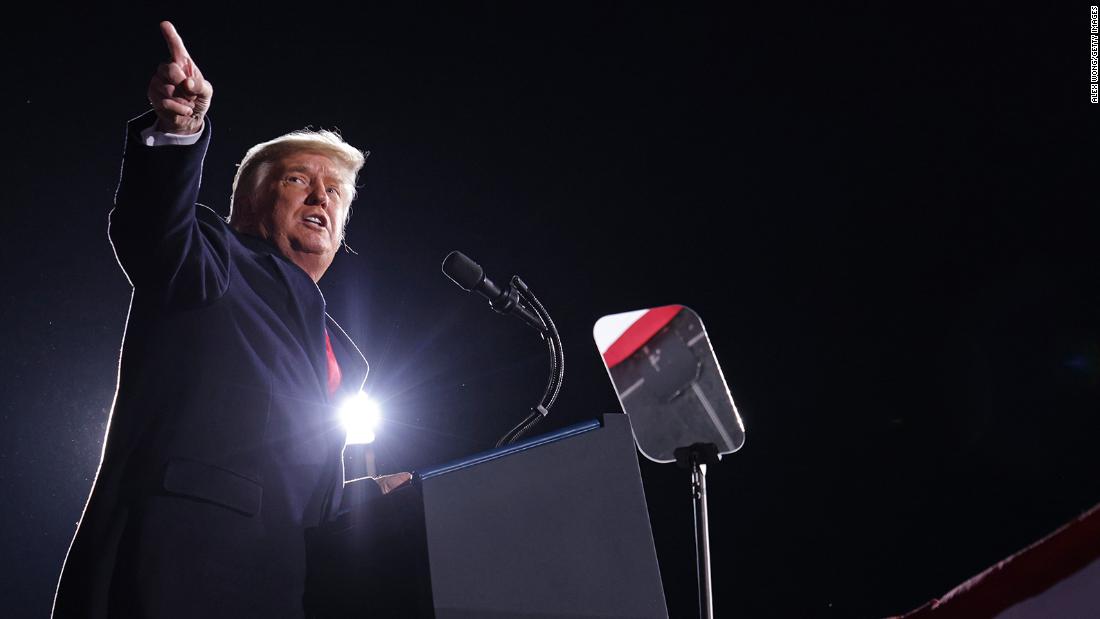 On Thursday,
Facebook
(FB)
and Instagram
banned Trump's account
from posting for at least the remainder of his term in office and perhaps "indefinitely" in the wake of the
riot on the US Capitol
. Other large platforms, including
Twitch
and Snapchat, also blocked the president's account. And e-commerce platform
Shopify
shut down shops run by the Trump campaign and the Trump Organization.
Perhaps most impactful of all,
Twitter
(TWTR)
, the president's preferred social network,
locked Trump's account temporarily
on Wednesday. Trump resumed tweeting Thursday night, sharing a video in which he
publicly acknowledged
for the first time that he won't serve a second term. But Twitter has also warned for the first time that it could suspend him permanently if he
violates their rules
,
and the company could face added pressure to make good on that based on the actions of its peers.
Some advocacy groups cheered the potential short-term impact of these moves on a president known for spreading his message on social media, especially as it comes at a volatile moment for the nation.
"A ban on his accounts would have the immediate effect of preventing him from spreading misinformation, from sharing conspiracy theories," Jonathan Greenblatt, CEO of the Anti-Defamation League, told CNN Business on Thursday, "and as such, disable him from inciting further damage to our democracy."
But in the long term, it remains unclear whether the soon-to-be former president will be deplatformed permanently on these popular services, as many have called for, and to what extent that step would reduce his ability to attack, threaten and spread misinformation given the massive following he could direct elsewhere.
Trump has nearly 89 million followers on Twitter and 35 million on Facebook. He also has prominent allies, digital media outlets and TV networks willing to disseminate his statements and falsehoods on the same platforms currently taking action against his accounts.
In recent months, Trump and his allies have leveraged social media to share baseless claims of election fraud to sow doubt in the legitimacy of the election.
"Banning Trump is not a magic bullet to erase that kind of disinformation from the platforms, but it is a place to start," said Jared Holt, a visiting research fellow at the Atlantic Council's Digital Forensic Research Lab who focuses on domestic extremism. "[Social media platforms] tiptoed around the issue for years. I guess we found out what the breaking point was, which was insurrection."
While the tech companies have taken action to kick off well-known figures in the past, no sitting or former US president has ever been banned. Put simply, there is no clear playbook from the platforms on what to expect in the coming days, or in Facebook's case, after Trump is out of office.
There are exceptions for world leaders built into the content policies of many social media platforms that have made it more difficult to take action on Trump's posts. But this special treatment might not disappear once he is no longer president, as there are potential loopholes that might protect Trump on both Twitter and Facebook.
If Trump were to declare his intention to run for president again, as
some have reported
he might, he may enjoy greater protections under Twitter's "public interest exceptions" policy. The policy
states
that even if a tweet by an elected government official or candidate for political office violates Twitter Rules, it may stay up because it is in the public interest for it to remain accessible.
Facebook has a
newsworthiness exemption
, allowing some content to stay up that breaks community standards if it believes there is a public interest that does not outweigh the risk of harm. It also allows elected officials and political candidates to lie in advertisements.
Facebook did not immediately respond to a request for comment about its newsworthiness policy and how it might apply to Trump in the future.
A Twitter spokesperson pointed CNN Business to its
tweet
on Wednesday, in which the company said it will "continue to evaluate the situation in real time" around Trump's account. The company also
tweeted
that its public interest policy, which errs on the side of leaving content from world leaders up, "ends where we believe the risk of harm is higher and/or more severe."
Trump is certainly not the first public figure to be deplatformed, or face the risk of it. Some of the clearest examples are
Alex Jones
, the right-wing conspiracy theorist, as well as other figures like far-right activist and self-described "proud Islamophobe"
Laura Loomer
and fringe right-wing media personality
Milo Yiannopoulos
. These figures frequently made headlines through outlandish comments before having their access to major social media revoked. They
later faded
significantly from mainstream conversation.
They have joined newer platforms like Gab and Parler, which have billed themselves as free speech alternatives to court conservatives who believe larger platforms are
censoring their views. (Gab made
headlines
for allowing hateful speech that allegedly led to real-world violence.)
Even before the latest round of enforcement actions, Trump's campaign had
reportedly
considered focusing on some of these alternative social networks. But these services have nowhere near the reach of mainstream platforms like Twitter, which has hundreds of millions of monthly users, and Facebook, which has more than 3 billion monthly
users across its various applications.
"There are other places to go," said Danielle Citron, a law professor at the University of Virginia and unpaid advisor to Facebook and Twitter who has long been vocal about how speech on social media platform can lead to real-world violence. "At the same time, Twitter has such a reach. There are serious costs, like [with] any groups, when they have to reassemble."
Trump could direct his millions of followers to these alternative social apps or even back a new service if he wanted. He's also
floated the idea
of starting his own TV network.
And
Trump could amplify his message on right-wing broadcasters like OAN or Newsmax, which have
peddled conspiracy theories
about the 2020 election.
However, Holt said that Trump, thrives on creating conflict and controversy through social media. "If he's taken out of communities popular with the general public, he's not going to be as effective or as disruptive as he may wish," Holt said.
The biggest wild card now may be Twitter, one of the only large platforms where the president can still currently post. Laura I. Gómez, a former Twitter employee, said that it is not enough for the company to simply monitor Trump's account for further harmful speech.
"It is about preventing," said Gómez, who has coauthored two open letters to Twitter CEO Jack Dorsey,
in January 2017
and
in November 2020
, calling on him to suspend Trump. "We all know that Facebook nor Instagram were the primary platforms to disseminate his lies. It has always been Twitter."
China rescues first person from Shandong gold mine: state media – TheChronicleHerald.ca
BEIJING (Reuters) – A miner was rescued from a gold mine in northern China on Sunday morning and rushed to hospital for treatment, state broadcaster CCTV said, after being trapped 14 days below ground by an explosion.
The miner was "extremely weak", according to a post on CCTV's Weibo microblog site. TV footage showed the exhausted miner, a black blindfold across his eyes, being lifted out of the mine shaft and covered in a blanket before being carried away by rescue workers.
Twenty-two workers were trapped in the Hushan mine by the Jan. 10 blast in Qixia, a major gold-producing region under the administration of Yantai in coastal Shandong province.
One miner has died and 11 have not been in contact with rescue teams, according to a Xinhua report from last week.
The rescued miner was found in a different section of the mine from a group of 10 men who have been receiving supplies of food.
Officials said on Thursday it could take another two weeks to clear "severe blockages" before they could drill shafts to reach the 10 men.
(Reporting by Dominique Patton; Editing by Tom Hogue)
Social Media Buzz: Larry King Dies, Dr. Birx, Heathrow Crowds – BNN
(Bloomberg) — What's buzzing on social media this morning:
Larry King, the interviewer whose schmoozy style attracted celebrities, politicians and other newsmakers as guests and made him the star of a top-rated U.S. cable talk show, has died. He was 87.
King died Saturday morning at Cedars-Sinai Medical Center in Los Angeles. The cause of death wasn't provided. The cancer and stroke survivor had spent time recently undergoing treatment for Covid-19.
Pfizer Inc. is trending on Twitter. Senior doctors in the U.K. are urging the gap between first and second doses of the Pfizer-BioNTech Covid-19 vaccine doses be halved to ensure efficacy. The U.K. extended the maximum wait from three to 12 weeks to get more people to take the first shot. France may also delay second doses to stretch supplies.
Large crowds at Heathrow Airport on Friday sparked concerns of virus spread. U.K. only allows residents to travel internationally for "legally-permitted reasons."
Dr. Deborah Birx said she "always" considered quitting Donald Trump's coronavirus task force as she worried she'd been viewed as a political person. "I mean, why would you want to put yourself through that, um, every day?" Birx told CBS in an interview that will air Sunday, according to an advance clip. Her term ended as Biden took office.
Protests broke out in cities across Russia as tens of thousands demanded the release of jailed opposition leader Alexey Navalny. Police detained hundreds of people.
©2021 Bloomberg L.P.
Blockbuster Laine-Dubois deal draws mixed reviews on social media – Sportsnet.ca
Sometimes, change happens fast.
Mere days after Columbus Blue Jackets head coach John Tortorella benched Pierre-Luc Dubois, one of his team's best players, in an overtime loss against the Tampa Bay Lightning, Dubois was packing his bags to go play in another country altogether.
The Blue Jackets traded the 22-year-old, who had requested to be dealt shortly after signing a two-year, $10-million bridge contract in the off-season, to the Winnipeg Jets for superstar winger Patrik Laine and Jack Roslovic in a move that sent shockwaves through the NHL.
Not all blockbusters are universally well-received, of course. And while some on Twitter celebrated the move as a shuffling of high-profile talent, others were quick to wonder how the dynamic between Laine, an offensive-minded forward, and Tortorella will play out.
Here is some of the best reaction to the winter blockbuster:
First look at Pierre-Luc Dubois in a @NHLJets jersey.
How do you think he'll do with his new team?#NHLonSN pic.twitter.com/fnjdGV5XvN

— Sportsnet (@Sportsnet) January 23, 2021
Oh yeah, this Tortorella/Laine relationship isn't gonna have any issues..none at all.

— Scott MacArthur (@ScottyMacThinks) January 23, 2021
Now that it's been announced, some personal thoughts:
– Laine's talent is more rare than PLD
– The connection with PLD dad played a role
– not sure Roslovic needed to be added in
– Laine & Torts

— Rachel Doerrie (@racheldoerrie) January 23, 2021
WPG CBJ
How do you think Patrik Laine will do in Columbus? #NHLonSN pic.twitter.com/qh9Rfs4L1m

— Sportsnet (@Sportsnet) January 23, 2021