Two tied for 36-hole lead at Bermuda Championship – pgatour.com
"This guy is pretty damn good for an old guy," said Taylor, who shot an 81, one of nine players who shot in the 80s on the windswept day in Bermuda.
"He fought back and he made the cut, and not many 64-year-olds can do that in the world," he said. "It was fun to watch him play."
Funk is the oldest player to make the cut on the PGA TOUR since 65-year-old Tom Watson five years ago in the RBC Heritage at Hilton. The only other players 64 or older to make the cut since 1970 were Jack Nicklaus and Sam Snead.
"And then Funk. You throw that in there, it doesn't sound right, does it?" Fred Funk said. "I don't know whether I compete, but making the cut was big."
It wasn't easy on a day like this, where the wind was so strong it was difficult to stand up, especially on some of the holes along the ocean.
"Today was really hard," Armour said. "We didn't know whether to say get up, get down, what to tell it. We couldn't judge the distance very well and we had some balls going sideways out there and my ball doesn't usually go sideways. And it would just get up in the wind and it would go 20 yards further left or right than you wanted it to."
That made the performance by Clark even more remarkable, although the wind finally caught up with him when he took bogeys on the par-5 seventh and the par-3 eighth to fall back into a tie with Armour.
Clark wasn't caught up in the late bogeys, especially the last one.
"We all were hitting 6- and 5-irons into a par 3 from 160, and I missed about a 5-footer," Clark said. "It's bound to happen. If I didn't bogey those, it would be one of the best rounds of my career. But it's pretty hard to play a round with 30 mph wind and not make any bogeys.
"I'm not looking at those last two bogeys," he said. "I'm up there in contention, and that's all that matters."
The best round of the day belonged to Kiradech Aphibarnrat, who not only shot 66, he played bogey-free. He was three shots behind, while Ryder Cup captain Padraig Harrington used all his Irish experience in the wind for a 71 — two birdies, two bogeys, 14 pars — and was four shots behind.
Canucks anthem singer let go for 'standing up against' COVID rules – TSN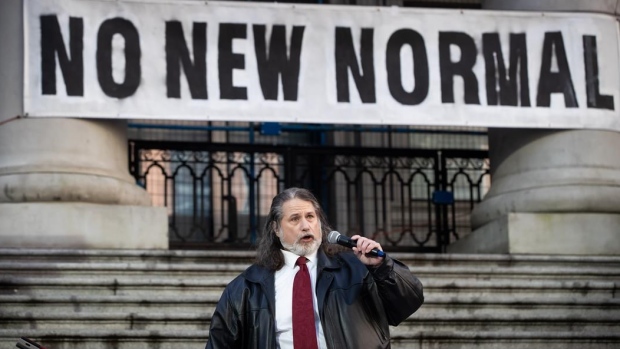 VANCOUVER — The popular singer of O Canada at the Vancouver Canucks hockey games says he knew he might lose his job for standing up against what he describes as the "tyranny" of COVID-19 restrictions.
Mark Donnelly sang the anthem at an event called the Christmas Freedom Rally in Vancouver on Saturday, where hundreds of people protested restrictions imposed by B.C.'s provincial health officer.
Vancouver Canucks owner Francesco Aquilini tweeted late Friday that Donnelly was now the former Canucks anthem singer, followed by the hashtag #wearamask.
Donnelly told the crowd, many of whom weren't wearing masks or social distancing, that he decided to sing because he questions the "draconian lockdown protocols."
"What was originally sold as 15-day hunkering down sprint for the common good has turned into a 10-month marathon from hell, where the finish line is constantly being moved further into the distance," he said.
He said he doesn't think health officials have done a cost-benefit analysis looking at the harms of the restrictions compared with preventing the spread of COVID-19.
"As someone known for singing our great national anthem, I'm standing up against what I feel is tyranny, plain and simple," he said to applause and cheers from the crowd.
Donnelly said his firing is censorship by an institution that he's followed for 50 years and been publicly associated with since 2001.
"Sports figures, entertainers, politicians, et cetera, can stand for anything as long as it supports the narrative. You can support rioting, looting, destructions of livelihoods and reputation, but take a position against the narrative and you are worthy of exile or worse."
Donnelly said he hasn't had direct contact with Aquilini or the Canucks and if he is no longer with the team, a phone call would have been a more respectful way to find out his reasons for taking part in the rally.
He had hoped the ownership and management of the Canucks would have had the "courage to support the freedom to express science-based position that is for the greater good of the country," he said.
No one from the Canucks responded to a request for comment.
The protesters then took to the streets in a march.
Vancouver police spokeswoman Tania Visintin said police need to exercise discretion with large groups of protesters violating public health orders, saying public safety is the priority.
She said mass arrests or ticketing could escalate an already tense situation.
"This position does not automatically guarantee anyone special privileges at a protest. The bottom line is people who are contravening the public health order, they could be issued a ticket. Officers are using discretion with each situation that arises."
B.C. health officer Dr. Bonnie Henry said last month that she has "no time for people who believe that wearing a mask somehow makes them ill or is a sign of lack of freedom."
Instead, she said wearing a mask is about respect for those who suffering through the pandemic together.
This report by The Canadian Press was first published Dec. 5, 2020.
–with files from News 1130.
Christmas-themed anti-mask protest draws hundreds in downtown Vancouver (PHOTOS) | News – Daily Hive
Anti-mask protestors took to the streets for a Christmas-themed protest this afternoon.
Vancouver Police estimated that 400 to 500 people were in attendance for the BC Christmas Freedom Rally 2020, which began outside the Vancouver Art Gallery.
The event included a rendition of "O Canada" by ex-Canucks anthem singer Mark Donnelly.
Donnelly was released as the team's official anthem singer just yesterday, after it was publicized that he would be performing at the event.
Prior to the rally, organizers billed it as being similar to their previous events, "except [with] more emphasis on being joyous, jovial, and festive."
The protest included a march with Santa.
VPD previously told Daily Hive that officers would be present at the event "to respond if anything should arise."
As of British Columbia's latest COVID-19 health orders, all events are suspended in an effort to reduce transmission and keep schools and workplaces open.
The order includes gatherings at hotels, bars, and movie theatres, as well as demonstrations and rallies of any kind.
Daily Hive has reached out to VPD for further comment.
7 biggest takeaways from Raptors president Masai Ujiri's press conference – Sportsnet.ca
TORONTO — Holding court with an assembled group of media over a Zoom call late Saturday morning, a day before his team begins training camp practices in full, Toronto Raptors president Masai Ujiri touched on a number of topics.
Most pertinently, Ujiri updated the contractual status of his staff, including general manager Bobby Webster, whose contract is set to expire at the end of this season and would preferably be extended.
"My staff is pretty much done," Ujiri said. "I think Bobby was the last one. I think we are sealing it. There's no issues. I would consider that done soon enough."
Ujiri's deal with the Raptors is also set to expire at the end of this coming season, but in regard to getting a deal done himself, he was far less forthcoming.
"I don't know what the timeframe will be," he said. "I go into this thing with a very positive mind and attitude. And we hope it goes that way."
Ujiri's situation, as cut-and-dry as it might seem, is actually a little more complicated than you may think. Sportsnet's Michael Grange took a deep dive into all the factors in play in his latest column — so if you're looking for a better understanding of what the hold up might be, that's probably the best place to start.
But while word of Ujiri and his front office staff's contract statuses was probably the biggest headline of his near-40-minute discussion with media, that certainly wasn't the only noteworthy topic he opened up about.
Here are some other highlights from Ujiri's session:
Moving on from Ibaka and Gasol
The Raptors lost a couple of key cogs from their 2019 championship run when both Marc Gasol and Serge Ibaka left in free agency.
Ibaka, in particular, was a surprising departure, as it seemed there was mutual interest on both sides to get a deal done and bring the big man back. But, as things played out, it seems the direction the Raptors were going didn't align with Ibaka and they ended up splitting.
"I think, first of all, those two guys were incredible for us," Ujiri said. "You know, I have even a personal closeness to Serge from way back. These things become difficult, and we had to look at a lot about the future on our team, so we were very restrictive with term and years, or limited with term and years, because I think we have to look at sometimes a bigger picture with the team.
"… Marc and Serge were incredible for our organization, and all of us have the same exact feelings about them. Our staff, our front office, our coaches. Hard to see but, you know, sometimes we have to move on from these things. That's the way it works."
In place of Ibaka and Gasol, the Raptors ended up signing Aron Baynes and Alex Len, players without the same kind of name recognition as the club's previous centre duo, but big men who, Ujiri believes, will get the job done regardless.
"We followed them for a while, whether it's draft or free agency. I know our scouting team and our personnel team have done a lot of work on these guys," Ujiri said of Baynes and Len. "We know Aron Baynes brings toughness and now those shooting abilities … He's one guy that you don't like on the other team and you love on your team."
And speaking specifically about Len, Ujiri sees a player with a lot of potential to become much better than he already is.
"I think he still has plenty of good basketball ahead of him with great size and good skills," he said. "We look forward to it, we believe in our developmental program and getting players better so we look forward to it."
Confidence in Siakam
Pascal Siakam had a rough time in the post-season, failing to live up to expectations thrust upon him as the team's No. 1 option. And with his four-year, $130-million max extension now kicking in this season, the pressure to perform will likely be even greater than before.
Earlier this week, Siakam was very introspective about his experience during the playoffs and his bubble experience in Disney World, in general, saying that playing in an isolated environment sucked the joy out of playing basketball, something that directly impacted his play.
Now, however, Siakam said the fun of the game has returned and he's spent time during the off-season getting right mentally again — something that Ujiri has the utmost confidence in as well.
"I'll say it up front, Pascal didn't enjoy the game in the bubble," Ujiri said. "Pascal, I don't think he was himself. He said it to you guys, and honestly just seeing Pascal the past couple days here, I know it's going to be different.
"… I'm confident we'll get our old Pascal back. We know there's things, we all have friends, we all have family, we all know people, people have dealt with this whole pandemic and this whole tough times differently. The bubble was not Pascal's favourite place or favourite experience but I think he's learned from it and I think he'll come out of this fine."
Big leap for OG coming?
Heading into his fourth season in the league and as a Raptor, OG Anunoby looks poised to have a bigger role this coming season as both a leader and contributor — particularly on the offensive end.
There's likely some pressure that will come with this expectation, and despite flashes, Anunoby has never really shown the kind of offensive consistency you'd like to see from a player with his physical tools. But Ujiri believes that was just because of circumstances out of the still-only-23-year-old's control and this could be the season where it all finally comes together.
"To be honest, the year before, not many people know what OG went through," Ujiri said. "I know he wouldn't want me saying this, but OG and his dad are close to my heart. He went through a very real hard time with the death of his dad and then he comes back and has, I think, an ankle sprain or a bad ankle injury. Then he gets through that and then has a busted appendix that keeps him out totally. Three things that really take him out of a significant part of the year.
"I think when he started to make progress last year, it was some sort of a surprise to everybody, but if you go back to his rookie year and all the excitement OG was starting. There was plenty of excitement coming out of that, and [then] he had this year, [where] many things happened, but he comes back strong last year.
"I believe the progress is going to continue. He'll continue to grow as a player."
This sign of confidence from Ujiri is good news for Anunoby, who has until Dec. 21 to try to negotiate a contract extension of his own with the Raptors or else he'll become a restricted free agent at the end of the season.
But whether an extension gets done or not by the deadline, it sounds like Ujiri considers Anunoby to be a big part of the team's future.
"We'll have conversations with his agent and I think there are talks to be had and they know of the abilities that we want so we'll keep having those conversations," Ujiri said. "I think the most important thing is we're excited about OG and the progress that he can make and the jump he can make as a player. We saw him coming into his own in the bubble and one of the reasons too that we're excited about this is it's going to give OG, Pascal, Fred [VanVleet], the room to grow as leaders and feature on our basketball team with the leadership of Kyle [Lowry]."
Nothing but respect for Lowry
And speaking of Lowry, Ujiri spoke glowingly of the Raptors' undisputed leader.
By the time this season ends, Lowry will be a 35-year-old unrestricted free agent. It's unclear what the future has in store for him, but he'll always have a big fan in Ujiri, at least.
"That boy is grand, man. That boy is, I don't want to push his retirement, but he's, in my opinion, a Hall of Famer," Ujiri said. "What Kyle has done in this organization, the growth I've seen, you guys know. You know what we've all gone through the last six years.
"I will say this of Kyle, he's been incredibly respectful to the organization and we will have that same incredible respect for Kyle anytime, every day. There's no doubt about that. We're proud of him. We're proud that he's lifted us like this, he's lifted himself like this, and we'll continue to support as much as we can with our basketball team winning.
"Kyle is a winner. Kyle wants to win. And even the times when we've gone through hard times, there was never a question of trying or not trying. He's always given it his best. He has our full support."
Ujiri, Raptors waiting on NBA before deciding what to do with Davis
A point of contention within the Raptors is the presence of Terence Davis on the roster after he was arrested for allegedly assaulting his girlfriend.
Davis's contract for the season was guaranteed on Nov.29. He's with the team in camp and will have a court appearance on Dec. 11.
Additionally, Davis is under active investigation by the NBA under its domestic violence, sexual assault and child abuse policy, something Ujiri said he and the team
are waiting on before making any kind of decision with Davis.
The 23-year-old had a strong rookie season last year, making the NBA All-Rookie Second Team, and he appears to be Toronto's best long-term prospect.
With that said, despite the optics, Ujiri said the team isn't keeping Davis around just for performance reasons — but rather because the club has information that leaves it confident in keeping him around.
"We made a decision as an organization with all the information we had with us," Ujiri said. "We really tried to see this thing from a certain point of view. I will say this: We don't condone anything that resembles what was alleged to have happened. We would not do that in our organization. What we have is a certain amount of information where we have to wait until the NBA is done with the investigation. We feel comfortable.
"I'll say this: We've done as much due diligence [as we can] in talking to Terence, in talking to our organization. We went as far as even talking to all the women in our organization and getting their point of view from this. This is very important for us because we don't want to say one thing and go do another thing."
Ujiri wants to keep the message of social justice going
One of the biggest aspects of the Disney bubble was the league's emphasis on social justice messaging, an effort that involved players wearing messages on jerseys and the "Black Lives Matter" slogan prominently painted on the court.
The Raptors followed suit, first arriving in Orlando on buses with "Black Lives Matter" boldly emblazoned on the side.
Now, entering a new season, Ujiri doesn't want this momentum to stop.
"We'll continue it," he said of social justice messaging. "We all have to speak with ourselves, speak for ourselves, we have to speak collectively. I believe the bubble was a really good and special circumstance for us to really stand up and that was, at that time, we had to really make that the focus at that time. Now, we have to continue this conversation as we get back to our normal lives, we have to continue this conversation."