UAE Hope mission returns first image of Mars – BBC News
The United Arab Emirates' Hope mission has returned its first picture of Mars.
The spacecraft entered into an orbit around the Red Planet on Tuesday, making the UAE the first Arab nation in history to have a scientific presence at Earth's near neighbour.
This first image will be followed by many similar such views of Mars.
Hope was put in a wide orbit so it could study the planet's weather and climate systems, which means it also will see the planet's full disk.
It's a type of view that's familiar fare from Earth-based telescopes, but less so from satellites actually positioned at Mars.
They traditionally have been kept close in to the planet so they can get high-resolution pictures of the surface and act as telecommunications relay stations for landed robots in contact with Earth.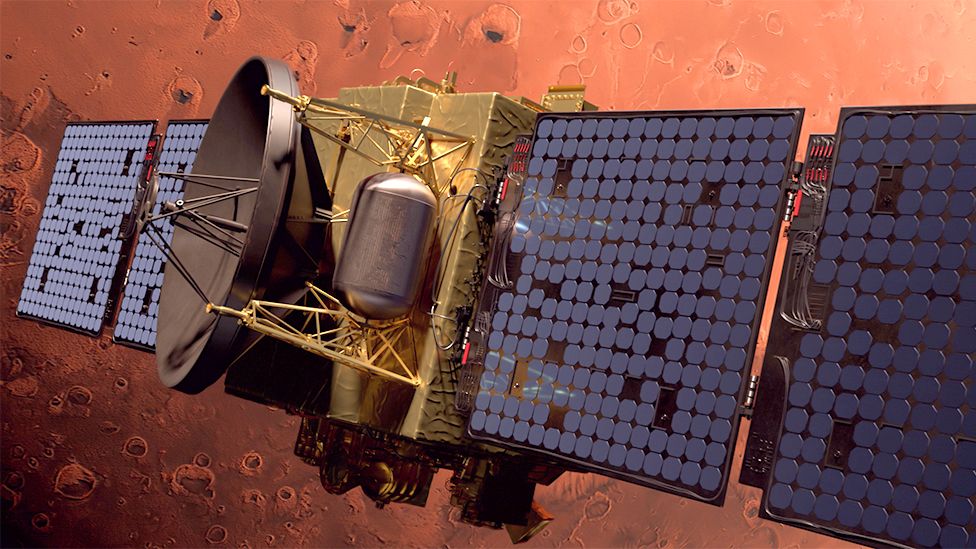 The picture at the top of this page was captured by Hope's EXI instrument from an altitude of 24,700 km (15,350 miles) above the Martian surface at 20:36 GMT on Wednesday – so, one day after arriving at the Red Planet.
The north pole of Mars is in the upper left of the image. At centre, just emerging into the early morning sunlight, is Olympus Mons, the largest volcano in the Solar System. Look right on the boundary between night and day, the so-called terminator.
The three shield volcanoes in a line are Ascraeus Mons, Pavonis Mons, and Arsia Mons. Look east, to the limb of the planet, and you can see the mighty canyon system, Valles Marineris. It's part covered by cloud.
"The transmission of the Hope Probe's first image of Mars is a defining moment in our history and marks the UAE joining advanced nations involved in space exploration," the mission's twitter account stated. "We hope this mission will lead to new discoveries about Mars which will benefit humanity."
Hope is now running in an initial ellipse around Mars that comes as close as 1,000km from the planet and goes out to almost 50,000km. Over the course of the next few weeks, this will be trimmed to a 55-hour, 22,000km-by-43,000km orbit that is inclined to the equator by about 25 degrees.
It's from this high perch that Hope plans to carry out some novel research. It's going to trace how energy moves through the atmosphere from the very bottom to the very top.
One of its quests is to study the leakage into space of neutral atoms of hydrogen and oxygen – remnants from Mars' once abundant water. This will add to our understanding of precisely how a previously warm and wet planet became the cold, dusty, desiccated world it is today.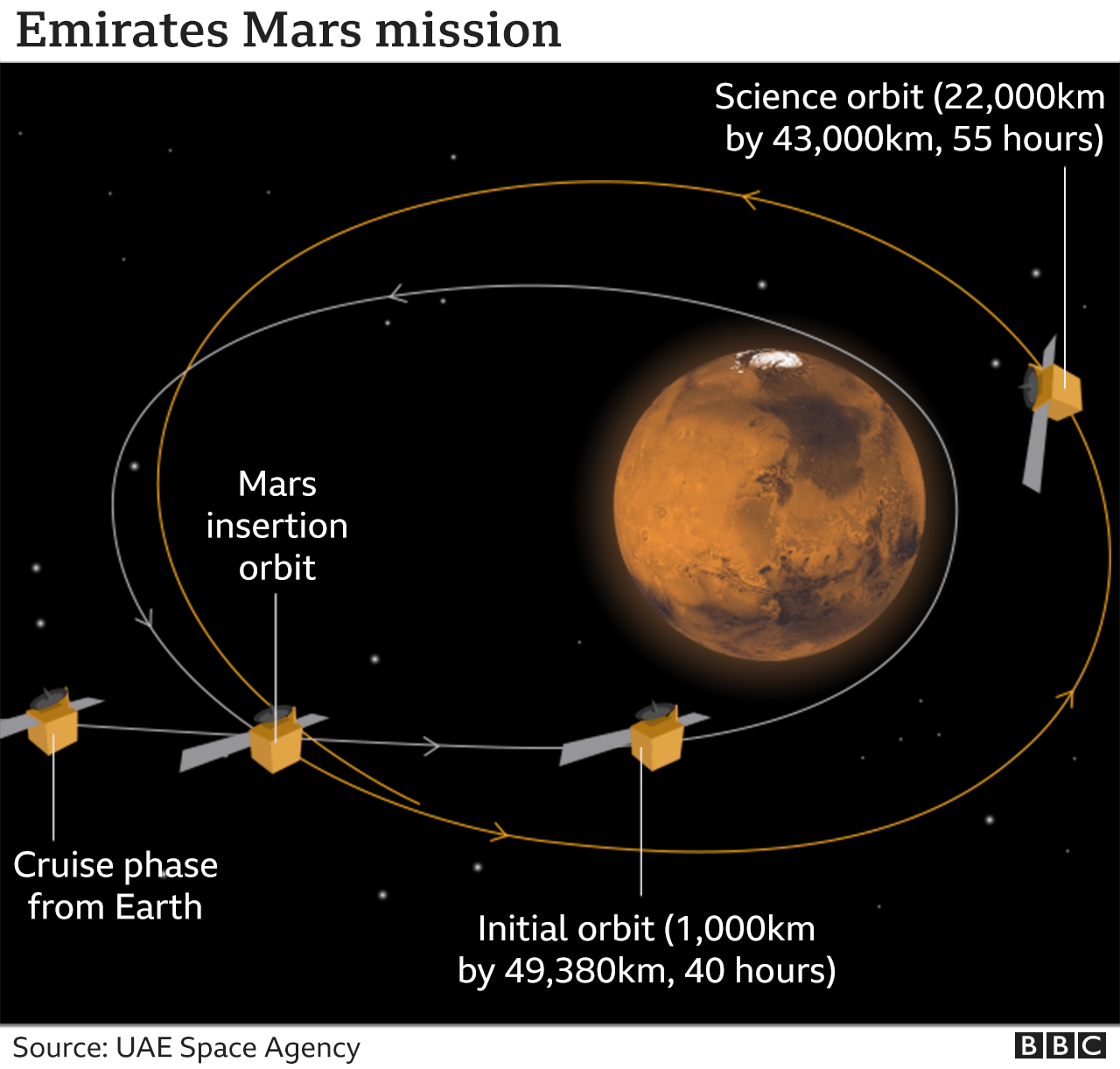 On the day the UAE Hope probe took this first image, the Chinese Tianwen-1 orbiter arrived at Mars.
Like Hope, it had to execute a braking manoeuvre to be sure of being captured by the planet's gravity.
The Tianwen-1 mission carriers a rover which will be despatched to the surface in May or June.
China's space agency has released early imagery of what its satellite saw during its orbit insertion.
These pictures come not from a science camera like Hope's EXI instrument, but from low-resolution cameras used by engineers to inspect the spacecraft.
In the movie below, the view is dominated by Tianwen-1's solar panel, but the Martian atmosphere and surface topography are clearly visible.
This coming week, it is the turn of the Americans. Their Perseverance rover reaches Mars on Thursday and will try immediately to land in a near equatorial crater called Jezero.
Asteroid twice the size of the CN Tower to make fastest flyby of Earth this month – CTV News
TORONTO —
The biggest and fastest known asteroid of 2021 is expected to make a flyby of Earth later this month.
The space rock, officially called asteroid 231937 (designated 2001 FO32), will zoom past Earth on March 21 travelling at a speed of 123,887 kilometres per hour or 34.4 kilometres per second, according to NASA.
The asteroid is an estimated 1.1 kilometres wide, which is roughly twice the size of the CN Tower. Of the approximately 25,000 near-Earth asteroids that scientists know about, NASA says only about 3.5 per cent of them are larger than a kilometre.
Due to its size and proximity to Earth, asteroid 231937 has been classified as "potentially hazardous" by NASA's Center for Near-Earth Object Studies (CNEOS) and is being tracked by the space agency.
NEOs are defined as space objects, such as asteroids or comets, that come within 1.3 astronomical units (195 million kilometres) of the sun. If the object is larger than 140 metres across, it is considered a potentially hazardous object (PHO).
Nearly one hundred known asteroids are set to fly past Earth before the end of 2021, NASA says, but asteroid 231937 is set to be the largest and fastest.
However, NASA says the asteroid's orbit is well known and poses no threat to humans.
According to the space agency, the asteroid will make is closest approach at 16:03 UTC (11:03 a.m. EST), at over two million kilometres away from Earth. NASA notes that this is nearly five times farther than the distance the moon orbits Earth.
Despite being two million kilometres away, NASA says this will be the asteroid's closest encounter on record. According to NASA's records dating as far back as the early 1900s, the space rock has not come closer to Earth and won't do so again for 200 years.
Asteroid 231937 was discovered on March 23, 2001, by the Lincoln Near-Earth Asteroid Research program in New Mexico, according to NASA. It orbits the sun every 810 days and is classified as an Apollo asteroid as it travels from inside Mercury's orbit to the asteroid belt and back, crossing Earth's orbit in an elliptical pattern.
While those interested in catching a glimpse of the asteroid won't be able to do so with their eyes, EarthSky reports that stargazers may be able to see it using a telescope 20 centimetres or larger in diameter to detect the asteroid's motion in real time.
The asteroid will be relatively low in the southern sky, but EarthSky said observers might spot it moving between the constellations of Scorpius and Sagittarius just before dawn.
Lambton public health warns of COVID-19 vaccine scams – The Beacon Herald
Public health officials are cautioning residents to be wary of COVID-19 vaccine-related scams circulating throughout the Sarnia area.
Article content
Public health officials are cautioning residents to be wary of COVID-19 vaccine-related scams circulating throughout the Sarnia area.
Lambton public health officials said Friday they've heard "several reports" of seniors being contacted since the local online booking system and call centre opened Thursday to residents age 90 and older.
Donna Schmidtmeyer, the health unit's supervisor of health promotion, said they don't charge fees to register or to get the vaccine.
"We will not ask you for any financial information whatsoever," she said in a statement. "And, unless you have called (public health) to pre-register for the vaccine directly or signed up for the pre-registration using our online platform, no one should contact you and ask for any personal information."
The health unit urged people to check the source of COVID-19 information they're receiving.
"If you're unsure or your gut is telling you something is off, it probably is," the health unit said.
Article content
People are encouraged to call Lambton public health at 519-383-8331 for accurate information.
The warning came amid the province releasing details Friday on the second phase of its vaccine distribution plan. A larger list of Ontarians – people between the ages of 60 and 79 and those with specific health conditions or who can't work from home – will be included as officials aim to vaccinate nine-million residents between April and July.
More than 4,300 doses of the COVID-19 vaccine have been distributed to Sarnia-area residents – mainly into the arms of seniors and front-line health-care workers and caregivers – as of Wednesday. That figure is expected to climb as fixed-site clinics and mobile teams continue to distribute doses.
The number of COVID-19 cases also climbed Friday, with 122 considered active – nearly double from two days ago – while the overall caseload climbed 24 to 2,187.
A recent spread of the virus at Kettle and Stony Point has contributed to the sudden spike as the community had 26 active cases as of Thursday. Lambton public health's top medical official said they're working closely with the First Nation to trace close contacts and to set up a vaccine clinic there.
But a health unit spokesperson said Friday via email the situation is not officially classified as an outbreak. An emergency shelter, the jail, a retirement home and a long-term care facility in Sarnia as well as an unidentified local business and a retirement home in Lambton Shores were all dealing with official outbreaks. The number of cases connected to those facilities has held steady in recent days.
Eight Lambton Kent District and five St. Clair Catholic District school board schools had at least one case linked to them Friday, but they were all still open.
Ontario said Friday it will shift some health units to different colours in its colour-coded restriction system starting next week, but Lambton will stay in red.
Mars rover travels 6.5 metres in 'flawless' first drive – Al Jazeera English
Perseverance rover can travel 200 metres a day, but scientists need to conduct tests and safety checks before it ventures further.
NASA's Mars rover Perseverance has taken its first, short drive on the surface of the red planet, two weeks after the robot science lab's picture-perfect touchdown on the floor of an enormous crater, mission managers said on Friday.
The Perseverance rover first ventured from its landing position Thursday, two weeks after landing on the Red Planet to seek signs of past life.
Taking directions from mission managers at NASA's Jet Propulsion Laboratory (JPL) near Los Angeles, the rover rolled four metres (13.1 feet) forward, turned about 150 degrees to its left and then drove backwards another 2.5 meters (8.2 feet) for a total of 6.5 metres (21.3 feet) during its half-hour test within Jezero Crater, site of an ancient, long-vanished lake bed and river delta on Mars.
"It went incredibly well," Anais Zarifian, a JPL mobility test engineer for Perseverance, said during a teleconference briefing with reporters, calling it a "huge milestone" for the mission.
The roundabout, back and forth drive lasted just 33 minutes and went so well that the six-wheeled rover was back on the move Friday.
Perseverance is capable of averaging 200 metres of driving a day.
NASA displayed a photo taken by the rover showing the wheel tread marks left in the reddish, sandy Martian soil after its first drive.
Another vivid image of the surrounding landscape shows a rugged, ruddy terrain littered with large, dark boulders in the foreground and a tall outcropping of rocky, layered deposits in the distance – marking the edge of the river delta.
I'm on the move! Just took my first test drive on Mars, covering about 16 feet (5 meters). You're looking at the very beginning of my wheel tracks. Many more to make. pic.twitter.com/7tFIwWFfJ4

— NASA's Perseverance Mars Rover (@NASAPersevere) March 5, 2021
So far, Perseverance and its hardware, including its main robot arm, appear to be operating flawlessly, according to Robert Hogg, deputy mission manager.
But JPL engineers still have additional equipment checks to run on the rover's many instruments before they will be ready to send the robot on a more ambitious journey as part of its primary mission to search for traces of fossilised microbial life.
The team has yet to conduct post-landing tests of the rover's sophisticated system to drill and collect rock samples for return to Earth via future Mars missions.
As soon as the system checks on Perseverance are complete, the rover will head for an ancient river delta to collect rocks for return to Earth a decade from now.
Scientists are debating whether to take the smoother route to get to the nearby delta or a possibly tougher way with intriguing remnants from that once-watery time three to four billion years ago.