Ubisoft sues Apple and Google over Rainbow Six: Siege clone – GameDaily.biz
Attorney Richard Hoeg talks to GameDaily about the basis of the lawsuit, and how Ubisoft can prove copyright infringement in court.
Last week, Ubisoft filed a lawsuit against Apple and Google for selling a game that the France-based company says infringes on Rainbow Six: Siege. The game is called Area F2, and is developed by Ejoy.com, a subsidiary of Alibaba Group, a tech conglomerate based out of China. Ubisoft argues that the majority of the Area F2 experience is lifted from Siege, which necessitated the copyright suit.
"Virtually every aspect of AF2 is copied from R6S, from the operator selection screen to the final scoring screen, and everything in between," a Ubisoft representative said in a statement.
Looking at various comparison videos, such as this one by YouTube user NickySan, it's impossible to deny the similarities of the two games. The rub is that, historically, while clone games have been the target of ire from developers and publishers, they haven't met much in the way of legal repercussions. In fact, game clones are a legacy issue with games, dating all the way back to the earliest days of the medium.
According to attorney Richard Hoeg of Hoeg Law in Michigan, the easiest way to move the suit forward is for Ubisoft to prove that Ejoy directly stole some of its R6S assets. If there aren't any stolen assets, then things get tricker.
"Clones aren't illegal, per se," Hoeg Explained. "Copyright cannot protect an idea itself (two teams of armed fighters battle in destructible urban/suburban environments), but only the expression of that idea. In general, most courts will employ some version of a 'substantial similarity' test, looking to see whether the allegedly infringing game is so similar in UI, style, or other elements (that can be protected) as to be virtually indistinguishable from the original work."
Hoeg said that historically, the law has leaned in favor of clones, but that trend has been changing a bit over the last decade or so. As noted, the legal waters are choppy thanks to the "idea versus expression" argument, meaning that ideas cannot be copyrighted, but the expression of those ideas can. According to Ubisoft, Ejoy.com's expression of the Rainbow Six: Siege idea is in violation of the law in this regard.
It's worth noting that the targets of Ubsisoft's suit are Apple and Google, and not Ejoy or Alibaba. The argument appears to be that by allowing Area F2 in the App Store and Google Play Store, the companies are complicit in the alleged infringement. Hoeg notes that financial motives could have also played a role in this decision.
"In short, it's likely that Apple and Google have deeper pockets than Ejoy," Hoeg explained. "It may also be easier for Ubisoft to assert jurisdiction and to find a friendly court to press their claim."
Still, the entire suit is predicated on the fact that Ubisoft can prove that Ejoy violated a copyright, which may be harder than one might think.
"By suing the stores instead of the developer, Ubisoft will have to show that the stores were made aware of the infringement and still acted to help others (i.e. buyers) infringe on Ubisoft's materials," Hoeg continued. "Given that Ubisoft winning the underlying case is an open question, adding another layer of proof to their claim makes it even more difficult."
According to Bloomberg's report on the suit, Ubisoft did indeed send notice to Apple and Google regarding Area F2's supposed infringement of Rainbow Six: Siege, but the companies ignored it.
"It sounds like Ubisoft issued a DMCA takedown or similar notice, as well as spoke through normal backchannels, and the two stores refused to takedown the materials," Hoeg said. "That makes sense from the stores' perspectives; they don't want to be in the habit of having to remove often lucrative clones. And they don't want to set the precedent that they will listen to any infringement claim on the subject."
Looking forward, Hoeg said that the case has the potential to go in any direction, depending on the courts.
"Any evaluation of the underlying infringement will be based on a dissection of the two games, and could go either way depending on the standards the court in question elects to use," he explained. "Best bet is they settle. Potentially, the stores 'encourage' [Ejoy] to change [AF2] just enough to not look exactly like Siege, they call it a marketing coup, and each side goes about its business."
Copyright law is always tricky, especially when it comes to video games. The "idea versus expression" argument gives a lot of leeway to clones, which is why the App and Google Play stores have a reputation for being filled with them. The case of Area F2 does seem fairly egregious, though, and it should be interesting to track the progress of this case in the future.
For more stories like this one delivered straight to your inbox, please subscribe to the GameDailyBiz Digest!
<!—->
New release date for Call of Duty: Modern Warfare Season 4 has been leaked – PCGamesN
The rescheduled date for the next season of Call of Duty: Modern Warfare, Season 4, has been leaked. The turnover from Season 3 had been delayed so as to not overshadow or contend with the global protests surrounding racial injustice.
Through data-mining the files of Season 3, per ModernWarzone, Twitter user Geekypastimes discovered that the ending date had been altered from June 2, to June 10. This would mean the change-over will occur at what is a regular time for new Call of Duty updates, in the evening of June 9 if you're in the US, and in the morning of June 10 if you're UK and Europe.
Activision and Infinity Ward announced on Twitter that the regularly scheduled next season would be delayed indefinitely on June 2. "Right now it's time for those speaking up for inequality, justice and change to be seen and heard," the message reads. "We stand alongside you." It was expected to roll-out sometime June 3, containing several new weapons and maps, and a new operator. The Galil and Vector are believed to be headed to your arsenal, Scrapyard among the new locations, and one Captain Price to be a playable character.
In light of the current discussions about racial inequality, Infinity Ward has begun taking measures against racism in Call of Duty: Modern Warfare's multiplayer and Warzone.
Activision's choice to delay the update came among a wave of rescheduling across the industry. Sony has an imminent PlayStation 5 event that still needs to be re-dated, potentially containing some exciting Bloodborne news.
Oppo confirms a smart TV is on the roadmap as it celebrates 1 year of 5G in China – GSMArena.com news – GSMArena.com
Oppo has been rumored to be developing a smart TV at least since Christmas and we now have some concrete proof of those plans. On its official Weibo page, the company published an infographic celebrating 1 year of commercial 5G efforts in China. We thought that it was 1 November last year when that kicked off, but Oppo may have something else in mind and even so that little discrepancy is beside the point.
Down at the very bottom of the rather long image, there's a stylized depiction of a TV in a grid of pictured existing products.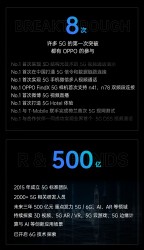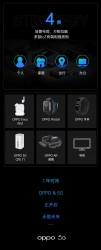 Oppo infographic chopped into more easily digestible pieces, TV in last image
Sister company Realme recently released a couple of smart TVs in India powered by Android TV and featuring Google Assistant. Priced very competitively, they could be a soak test before Oppo's own foray into the field.
Oppo unveiled a set of truly wireless earphones, the Enco W51 the other day. Alongside them, the Oppo Band made a debut as well. Both of these devices are featured there in the infographic next to the TV's placeholder, but the TV itself is yet to make an appearance.
Meanwhile, Nokia of all companies launched a smart TV as well, two days ago too. Apparently, smartphone companies can't afford to not be making TVs anymore.
Head-To-Head: Samsung Galaxy S20 Plus Vs. Apple iPhone 11 Pro Max – CRN: Technology news for channel partners and solution providers
Face Off
To see just how far smartphone features and specs have come in 2020, look no further than two of the latest phones from Apple and its top Android rival, Samsung.
We're talking about Samsung's Galaxy S20 Plus, which launched in March, and Apple's iPhone 11 Pro Max, originally released last fall.
With amazing displays, cameras and performance capabilities, both phones have a lot to offer even the most-demanding users out there.
But which of the two devices is the better fit for you? In the following slides, we compare the Samsung Galaxy S20 Plus vs Apple's iPhone 11 Pro Max on specs and price.