US economy continues to strengthen despite Delta, says Fed – BBC News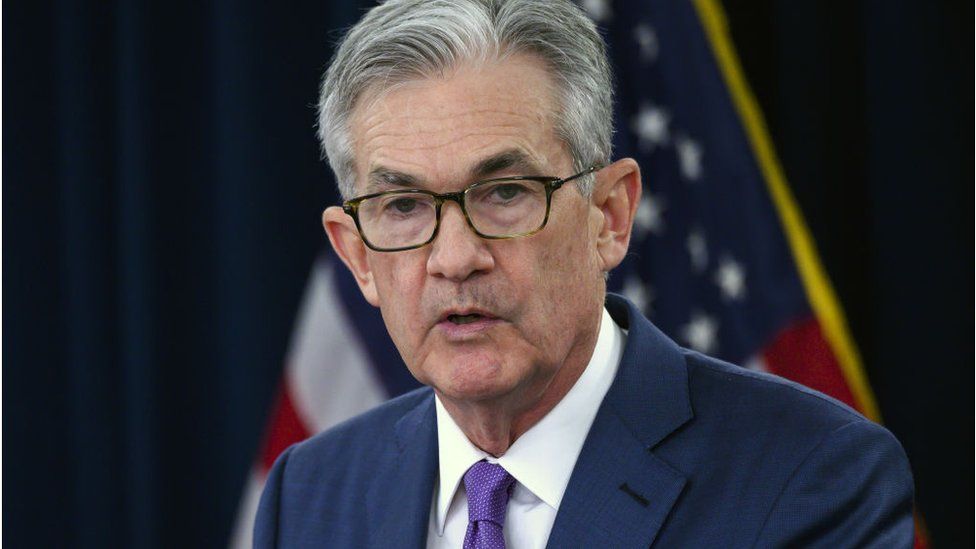 The US economy continues to strengthen, albeit at a slower rate because of the Delta variant of Covid, the US Federal Reserve has said.
The central bank said the jobs market was improving and that currently high rates of inflation remained transitory.
It said it may start reducing its emergency support for the economy "soon", but did not say when.
Half of its policymakers also projected interest rates will need to rise in 2022 from current rock-bottom levels.
The US economy has rebounded strongly this year from its pandemic lows, but there are fears Delta will derail the recovery.
The country added fewer jobs than expected in August as rising infections hit spending on travel, tourism and hospitality.
Inflation, which measures the increase in the cost of living over time, is running at 5.3% – the highest in nearly 13 years. It comes amid surging consumer demand, rising energy prices, and supply chain-related shortages.
"The sectors most adversely affected by the pandemic have improved in recent months, but the rise in Covid-19 cases has slowed their recovery," it said.
"Inflation is elevated, largely reflecting transitory factors. Overall financial conditions remain accommodative, in part reflecting policy measures to support the economy and the flow of credit to US households and businesses."
'Broadly as expected'
The FOMC said the path of the economy still depended "on the course of the virus". And it expects to keep monetary policy loose until more progress is made on stabilising unemployment – which stands at 5.2% – and consumer prices.
However, it said if progress continues "broadly as expected", it may soon pare back its $120bn-a-month bond-buying programme which has helped keep borrowing rates low.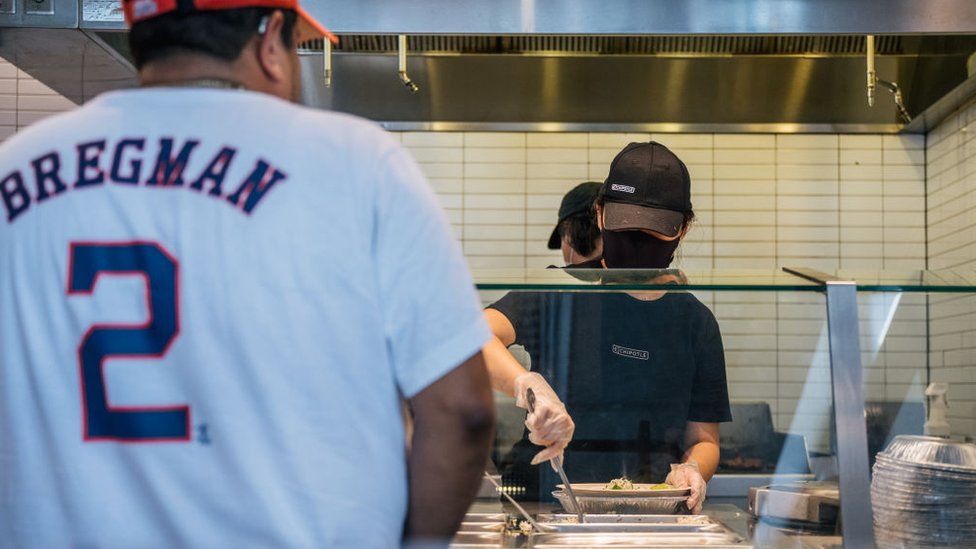 Analysts said the bank was taking a cautious approach, noting no formal date was set for pulling back support.
"While the Federal Reserve has laid the groundwork for an eventual taper [of asset purchases] later this year, the Fed erred on the side of caution given that the macroeconomic landscape has deteriorated somewhat over the last few months," said Candice Bangsund, a portfolio manager at Fiera Capital.
"Preconditions for a formal taper announcement will largely depend on economic conditions over the coming months, with an emphasis on data dependence."
Gurpreet Gill, a macro strategist at Goldman Sachs, said ongoing supply chain disruption, the spread of Delta and higher inflation still weighed on the minds of Fed committee members.
"Given uncertainty around the health of labour market and inflationary pressures, we would not be surprised if the 'dot plot' changes again in the coming months as the pace of the recovery and underlying inflation dynamics become clearer."
The Fed has two goals. It aims to keep US inflation at about 2% and to achieve maximum employment, whereby everyone who needs a job has one.
During the pandemic it has supported the economy by slashing interest rates to historic lows and pumping billions of dollars into the financial system by buying government and corporate bonds.
Dollar set for another week of losses even as Fed tapering looms
The dollar was heading for a second week of declines on Friday as sentiment stayed tilted towards riskier assets, while an intervention by the Australian central bank put a halt to the Aussie dollar's recent surge.
The dollar index was last at 93.733, little changed in Asian hours but off 0.24% on the week, as it continues its fall from a 12-month high of 94.565 hit in earlier this month.
It had managed to stem losses on Thursday, bouncing on better U.S. jobs and housing data, but the rally petered out on Friday morning in Asia, where risk sentiment was boosted news that beleaguered developer China Evergrande Group has supplied funds to pay interest on a U.S. dollar bond, averting a default.
But traders are still trying to assess whether the dollar has scope to fall further, or if this is a temporary blip on a march higher.
"People are wondering whether we are at an inflection point, as the dollar has been weakening and that doesn't really fit with the broader narrative that global growth is cooling and the Fed is on the path to tapering, which should be supportive for the dollar," said Paul Mackel, global head of FX research at HSBC.
On Friday, benchmark 10-year U.S. Treasury yields were at 1.6872%, slightly off from Thursday's multi-month high of 1.7%, as markets continue to prepare themselves for an announcement by the Federal Reserve that it will start to wind down its massive bond buying programme, which is widely expected for November.
Mackel said part of the reason for the dollar's weakness had been strong performances by currencies from most commodity exporting countries.
These were quieter on Friday, however, as traders took profits, analysts said, and energy prices softened.
Brent crude, which had risen above $86 dollars a barrel on Thursday, continued its tumble and was last at $84.10.
The Australian dollar was at $0.7475, off Thursday's three-month top, as the boost to the China-exposed currency from Evergrande's news was outweighed by action from the Reserve Bank of Australia to stem a bond sell off, as well as the pause in energy price rises.
The RBA said on Friday it had stepped in to defend its yield target for the first time in eight months, spending A$1 billion ($750 million) to dampen an aggressive bonds sell-off as traders have bet on inflation pulling forward rate hikes.
Also affected by energy prices, the Canadian dollar slipped to C$1.2352 per U.S. dollar, off Thursday's C$1.2287, a level last seen in June.
The British pound paused for breath at $1.3798, off a month peak hit earlier in the week, to which it had been carried by growing expectations of an interest rate hike to combat rising inflationary pressures.
The euro was little changed at $1.1627, while the yen wobbled within sight of its multi-year lows, with one dollar worth 114.01 yen, compared with 114.69 earlier in the week, a four-year low.
China's yuan eased against the dollar on Friday after the FX regulator warned of possible action if the currency market is hit by greater volatility following its recent rally. But the yuan still looked set for the biggest weekly gain since May.
Bitcoin was at $63,928, a little off Wednesday's all-time high of $67,016
(Reporting by Alun John; Editing by Sam Holmes and Kim Coghill)
UN sets up trust fund for 'people's economy' in Afghanistan – The Globe and Mail
The United Nations said on Thursday it had set up a special trust fund to provide urgently needed cash directly to Afghans through a system tapping into donor funds frozen since the Taliban takeover in August.
With the local economy "imploding", the aim is to inject liquidity into Afghan households to permit them to survive this winter and remain in their homeland, it said.
Achim Steiner, the U.N. Development Programme's (UNDP) administrator said Germany, a first contributor, had pledged 50 million euros ($58 million) to the fund, and that it was in touch with other donors to mobilize resources.
Some 97% of Afghan households could be living below the poverty line by mid-2022, according to UNDP.
"We have to step in, we have to stabilize a 'people's economy' and in addition to saving lives we also have to save livelihoods," Steiner told a news briefing.
"Because otherwise we will confront indeed a scenario through this winter and into next year where millions and millions of Afghans are simply unable to stay on their land, in their homes, in their villages and survive," he said.
The International Monetary Fund said on Tuesday that Afghanistan's economy was set to contract https://www.reuters.com/world/asia-pacific/afghanistans-economic-collapse-could-prompt-refugee-crisis-imf-2021-10-19 up to 30% this year and this was likely to further fuel a refugee crisis that would affect neighbouring countries, Turkey and Europe.
The Taliban takeover saw billions in central bank assets frozen https://www.reuters.com/world/asia-pacific/un-chief-liquidity-needed-stem-afghanistan-economic-humanitarian-crises-2021-10-11 and international financial institutions suspend access to funds, although humanitarian aid has continued. Banks are running out of money, civil servants have not been paid and food prices have soared.
Steiner said the challenge was to repurpose donor funds already earmarked for Afghanistan, where the Taliban, the de facto authorities, are not recognized internationally. The fund allows the international community to be "confident enough that these funds are not meant as government-to-government funding", he said.
VIRTUALLY NO LOCAL CASH
The U.N. has discussed the programmes with the Taliban, he said, noting that 80% of the micro-businesses being helped were led by women.
"Our greatest challenge right now is that there is a economy in which there is virtually no domestic currency in circulation," Steiner said, adding that the U.N. wanted to avoid foreign currencies dominating, which would undermine the economy.
"Our intent is to find ways very quickly in which we can convert international support into local currency in order to be able to stimulate local markets, local livelihoods. This is how you keep an economy alive," he said.
Kanni Wignaraja, director of UNDP's regional bureau for the Asia Pacific, said that cash would be provided to Afghan workers in public works programmes, such as drought and flood control programmes, and grants given to micro-enterprises. Temporary basic income would be paid to the vulnerable elderly and disabled, she said.
The UNDP had costed activities to be covered over the first 12 months at approximately $667 million, she said.
Our Morning Update and Evening Update newsletters are written by Globe editors, giving you a concise summary of the day's most important headlines. Sign up today.
This content appears as provided to The Globe by the originating wire service. It has not been edited by Globe staff.
Province Invests in Midland Automotive Parts Manufacturer to Boost Local Economy – Government of Ontario News