US economy defies omicron and adds 467000 jobs in January – Coast Reporter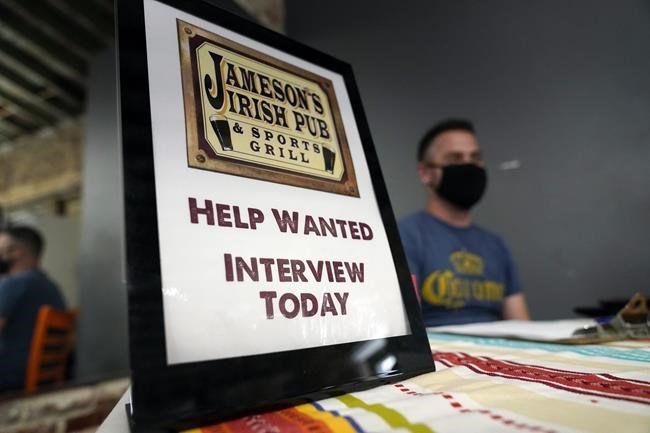 WASHINGTON (AP) — In a surprising burst of hiring, America's employers added a robust 467,000 jobs last month, a sign of the economy's resilience in the face of a wave of omicron infections.
The government's report Friday also drastically revised up its estimate of job gains for November and December by a combined 709,000. It also said the unemployment rate ticked up from 3.9% to a still-low 4%, mainly because more people began looking for work and not all of them found jobs right away.
The strong hiring growth for January, which defied expectations for only a slight gain, demonstrated the eagerness of many employers to hire even as the pandemic raged. Businesses appear to have regarded the omicron wave as having, at most, a temporary impact on the economy and remain confident about their longer-term prospects.
"Employers have assumed that omicron would be painful but short term, so they haven't changed their hiring plans," said Mathieu Stevenson, the CEO of Snagajob, a job listings site focused on hourly workers. "Demand from employers is as strong as ever."
January's hiring gain and sharp upward revisions to previous months mean that the United States has 1.1 million more jobs than government data had indicated only a month ago. The solid hiring, along with steady wage gains, are boosting consumer spending, which has collided with snarled supply chains to accelerate inflation to a four-decade high.
Adjusted for price increases, Americans' paychecks on average don't go as far as they did a year ago, even though many workers have received raises. Many households, especially lower-income families, are struggling to afford necessities like gas, food, rent and child care.
Those trends will give the Federal Reserve more leeway to raise interest rates, perhaps even faster than it had planned, to cool inflation. The Fed has indicated that it will begin raising rates in March, and it could do so again at its next meeting in May. Faster rate hikes could reduce borrowing and spending and possibly weaken the economy.
Stocks initially fell on the expectation that the Fed will tighten credit more quickly, before share prices recovered in early afternoon. But the yield on the 10-year Treasury jumped nearly one-tenth of a percentage point, to 1.91%, a sign that investors anticipate higher borrowing costs.
Across the economy, most industries hired workers last month, including retailers, which added more than 61,000 jobs, and restaurants and hotels, which gained 131,000. Shipping and warehousing firms added 54,000. Many companies in those industries likely held onto some of the workers they had hired over the winter holidays, economists said, rather than laying them all off.
Omicron did leave some fingerprints on the report: The percentage of Americans who were working from home rose to more than 15%, up from 11% in December. And the number of people out sick last month soared to 3.6 million, up from fewer than 2 million in the previous January and about triple the pre-pandemic level. This forced many companies, from restaurants to retailers to manufacturers, to reduce their hours or even close because of staff shortages.
Among the workers who were out sick was Perla Hernandez, whose entire family of eight contracted COVID last month. Hernandez and her husband and 20-year old daughter all missed work, a major blow to the family's finances.
Hernandez, 42, who lives in the San Jose, California, area, missed six days from her job as a Burger King cook and janitor. Because she has no paid sick leave, the paycheck she receives every two weeks amounted to just $230.
About one-fifth of U.S. workers receive no sick pay, and the proportion is far higher among lower-paid service workers. Only 33% of workers who are at the bottom 10% of the pay scale receive paid sick leave, compared with 95% of employees in the top 10%.
"Thank God that we already had paid the rent for January," she said through an interpreter. "We had to go to a food bank."
Hernandez said she earns $15.45 an hour, after having received a 45-cent raise six months ago. But she and her colleagues, including managers, have been working especially long hours because the restaurant has had difficulty hiring.
Daniel Zhao, senior economist at the employment website Glassdoor, said the healthy hiring — not only for January but also for November and December — is a sign that last month's gains weren't merely a blip.
"This is an actual trend, and job growth was faster than we realized," Zhao said.
A greater proportion of Americans are also now working or looking for work, the report showed, a trend that makes it easier for companies to find workers. It suggests that concerns about long-term labor shortages may have been overblown, at least in some industries.
"There are workers out there — it's just taking time to integrate them back into the labor force," Zhao said.
Grady Cope, the CEO of Reata Engineering and Machine Works, said nine of his 43 staffers were out sick last month — the most he can remember in nearly 30 years of running the company.
But Cope's company, which makes parts for airplane and medical device manufacturers, also has the biggest order backlog it's ever had. He wants to add at least eight employees, including machinists, assemblers and engineers. Last month, he raised pay 18%, far more than the usual 3%-4% increases. His company is based near Denver, where rents and other costs are rising fast.
"People have to have wages so they can support themselves and raise families," he said.
Still, Cope has been increasing his own prices to offset his workers' higher pay. The competition for workers, he said, is the toughest he's ever seen. In October, four of his workers quit. Only one gave notice.
"That's never happened in 28 years," he said.
The overall outlook for the job market remains bright, with openings near a record high, the pace of layoffs down and the unemployment rate having already reached a healthy level. The nation gained more jobs last year, adjusted for the size of the workforce, than in any year since 1978. Much of that improvement represented a rebound from record job losses in 2020 that were driven by the pandemic recession.
Christopher Rugaber, The Associated Press
Latin America Boils Inside a Perfect Storm of Economic Crises – Bloomberg
Uneven economic recovery does not bring all Canadian women with it: experts
OTTAWA — After more than two years of economic turbulence through the COVID-19 pandemic, Canada's workforce participation overall appears quite rosy for women.
The share of women aged 25 to 54 years old is at its highest level ever in the country at 85 per cent. Meanwhile, unemployment for all workers hit a record low, according to Statistics Canada.
But experts say while looking at the economic big picture might seem like cause for celebration, a closer inspection at the details offers a more nuanced look at the uneven recovery that has not uplifted all groups of women equally.
Women working in sectors directly affected by the pandemic — public-facing jobs and the care economy — were deeply affected by closures throughout the pandemic. While other groups of women remained at work during this period, they were managing a massive increase in unpaid domestic and care work at home. Taken together, experts said these forces affect women's economic security and gender equality as a whole.
Women did much worse during the pandemic compared to previous recessions. In past recessions, about 17 per cent of employment losses were for women, with mostly men losing their jobs, said Brittany Feor, economist at the Labour Market Information Council. During the pandemic recession, job losses were almost evenly split between men and women.
A recent report by the council found that this year, the picture is somewhat positive, said Feor, but it depends on the type of job and sector a woman is working in.
Both points have to do with the fact that many women work in sectors that were vulnerable to pandemic restrictions and precarious to begin with, like accommodation, food services and recreation, said a recent report by the Canadian Centre for Policy Alternatives.
Pandemic recovery efforts that focus on those facing the greatest barriers are needed to stave off gender equality gains being lost, said the centre's report.
Feor also cautioned against the risk of backsliding gains by women as time goes on, specifically noting current work participation by moms.
"It's much higher than it has been in other years, it's recovered. That seems positive. But it's also still only 2022. So we want to be mindful to check back in three years and four years and five years. What does that look like?" she said.
The effect of having to stay at home with a young child or work from home with a young child may influence women's career paths in ways that aren't immediately known, said Feor.
"The setbacks you faced by not being able to participate in a certain project or work longer hours compared to your male counterparts who didn't have to do the same thing — those are issues that will play out in the long-term."
Juggling home care and work responsibilities may affect a woman's career as well as her health, said Andrea Gunraj, the vice-president of public engagement for the Canadian Women's Foundation.
The foundation held a recent poll that suggested Canadian moms are much more likely than dads to say they feel anxious and sad, and those feelings haven't dissipated since they were asked the year prior.
Maru/Matchbox surveyed 1,506 Canadians from April 20-21 on behalf of the foundation. It cannot be assigned a margin of error because online panels are not considered truly random samples.
About two in five moms said they put their career on the back burner to manage home and caregiving responsibilities.
"That, for me, is a really interesting and upsetting finding because what you see is that people are putting aside paid work to be able to manage unpaid work, essentially. And what does that mean for women's economic well-being, their ability to take care of themselves and their dependants? It's a huge impact on them," Gunraj said.
Almost half of moms said they are reaching their breaking point this year, compared to just over 30 per cent of dads saying so.
"It's really a situation of people being really stretched, and women being disproportionately stretched because of unpaid care responsibilities," Gunraj said.
At a recent funding announcement, Employment Minister Carla Qualtrough said the government has invested $300 million to create an employment strategy for people with disabilities, created a women's entrepreneurship fund, and tailoring its apprenticeships and programs to help sectors address labour market needs on women.
When it comes to helping women caregivers, "we know that affordable, accessible child care is No. 1, it's really going to make a difference," Gunraj said in reference to the new federal plan to create an affordable child-care system across the country.
Gunraj noted it has to be truly affordable and accessible to the most vulnerable families, which means being able to evaluate its outcomes to determine whether it's not helping people to the extent it needs to, and then improve it.
The national child care plan helps moms and their children, but it could also help create well-paid care work jobs for newly created early childhood educator positions, the CCPA report said.
This depends on the minimum salaries set out by the provinces and territories, with Ontario setting its minimum wage for early childhood educators at $18 per hour.
At the recent announcement alongside Qualtrough, the families, children and social development minister said the federal government asked provinces to include a wage grid in the signed child-care agreements.
"Working conditions and wages are the jurisdiction of provinces and territories. But we are encouraging them at every turn to do more," said Karina Gould.
New Brunswick increased its minimum hourly wage for early childhood educators to $23.40, Newfoundland to $25 and Yukon to $30, she said.
This report by The Canadian Press was first published June 25, 2022.
—
This story was produced with the financial assistance of the Meta and Canadian Press News Fellowship.
Erika Ibrahim, The Canadian Press
Putin Is Pushing Germany's Economy to the Breaking Point – BNN
(Bloomberg) — In Germany, some industrial furnaces have been running without interruption for decades. If they cool down suddenly, the molten materials harden and the system breaks.
That's the kind of concern sweeping through Europe's largest economy as it faces an unprecedented energy crisis.
What started as vague foreboding over reduced supplies of Russian gas is now very real. After President Vladimir Putin slashed flows on the main link to Europe by 60%, experts in Chancellor Olaf Scholz's administration this week worked out the scenarios and none of them led to sufficient reserves to make it through the winter.
"That was the sobering moment," Klaus Mueller, who heads Germany's network regulator known as BNetzA, said Friday in an interview with Deutschlandfunk radio. "If we have a very, very cold winter, if we're careless and far too generous with gas, then it won't be pretty."
The risks extend beyond beyond a recession, and a winter of freezing homes and shuttered factories. For decades, Germany has prospered off the back of cheap gas. The answer to the growing economy's needs more often than not was a new pipeline to Russia.
That era is now over, and companies from BASF SE to Volkswagen AG are coming to terms with the new reality.
There will be quick fixes — like reviving polluting coal plants and switching fuels in industrial processes — but structural issues loom as the transition to affordable renewable power will still take years.
Firms making metals, paper and even food could be forced to downscale or close German production sites, accelerating a steady exodus of manufacturing jobs and leaving lasting damage to the country's economic landscape.
"Companies will move production to where there's competitive pipeline gas, and this won't be in Germany," said Wolfgang Hahn, managing director of Energy Consulting Group GmbH. "You can't correct 20 years of policy errors in two or three years."
The latest figures show that it would take 115 days to reach the government's target of filling gas reserves to 90% capacity by November. That time frame assumes flows remain at the current level, which is unlikely given the Kremlin's increasingly aggressive posture toward Europe in retaliation for sanctions imposed over Russia's war in Ukraine.
In response to the grim prospects, Germany — which still relies on Russia for more than a third of its gas supplies — elevated its threat level to the second-highest "alarm" stage on Thursday. If the squeeze gets tighter, Germany could start rationing supplies.
The moment of truth is likely to come next month, when the Nord Stream pipeline goes down for scheduled maintenance. Germany worries it may never come back.
"I would have to lie if I said I didn't fear that," Economy Minister Robert Habeck said Thursday in an interview with public broadcaster ZDF.
Germany's vice chancellor drew a parallel between the gas squeeze and the role of Lehman Brothers in triggering the financial crisis. If energy suppliers continue to pile up losses by being forced to cover missing Russian supplies at high prices, there's a risk of a broader collapse.
Uniper SE, Germany's largest Russian gas importer, has already warned it may face difficulties fulfilling supply contracts to local utilities and manufacturers if Moscow prolongs or increases gas cuts.
The crisis has already spilled far beyond Germany, with 12 European Union member states affected and 10 issuing an early warning under gas security regulation. Europe's increased demand for liquefied natural gas will also hit poorer nations around the world as they struggle to compete for cargoes.
"We are worried" that Russia will cut off gas supplies to Europe, Estonian President Kaja Kallas said at the EU summit in Brussels on Friday. "We need to be prepared to have different energy mixes, united purchases of liquefied gas and do these things together."
Read more: Europe Must Declare a War Economy: Andreas Kluth
Scenarios from BNetzA, which would manage Germany's gas distribution in the event of rationing, take into account a series of emergency measures, including two floating LNG terminals that will come online this winter, auctions of excess fuel for industry and a 15 billion-euro ($15.8 billion) government program to buy gas on the spot market.
"Storage sites in Germany need to be filled as soon as possible," said Sebastian Bleschke, head of INES, the association of German storage operators. "For some sites, the window of opportunity is closing."
Bavaria-based Wiegand Glas shows the difficulty of unwinding Germany's gas demand. The company's 11 glass-melting furnaces — like all those in the country — operate 24 hours a day for more than a decade. Even if Wiegand idled production, the furnaces would need 75% of normal gas consumption to prevent the molten glass inside from seizing up and destroying the furnace.
"But then we have to carry the energy cost while we have nothing to sell, so this is not really an option," Chief Executive Officer Oliver Wiegand said in an interview. If the highly-specialized furnaces break, rebuilding would be time-consuming and expensive. "It would take a decade to build up to normal production again," he added.
Economists are trying to pin down the scope of the risk, but it's a challenge. European Central Bank President Christine Lagarde said 75% of what the bank got wrong in its inflation prediction last year was due to energy prices.
German economic institutes warned in April that an immediate halt to Russian imports of oil and natural gas would cause a 220 billion-euro hit to output over the next two years. While it could be more benign now as storage levels tick up, predicting the outcome of an unprecedented situation is difficult, said Stefan Kooths, an economist at the Kiel Institute for the World Economy, who was involved in the forecast.
The Bundesbank estimates that Germany's economy will shrink more than 3% in 2023 if Russian energy supplies stop. That would be the worst slump outside of the recessions sparked by the Covid-19 pandemic and the global financial crisis.
The outlook is already grim. Manufacturing orders at factories have fallen for the past three months, costs are rising and confidence is crumbling. The Ifo Institute's closely watched measure of business expectations unexpectedly dropped this month.
For now, companies are bracing for a prolonged reduction in energy. BASF, Europe's biggest chemicals maker, may cut output because of the rising cost of gas, which is used as a feedstock in production and to generate electricity. BMW AG, the world's biggest luxury-car maker, may buy electricity rather burn gas in its own on-site power plants.
"We could switch some production from gas to oil if needed, but it would be five-times less efficient," Hagen Pfundner, head of the German operations of Swiss drugmaker Roche Holding AG. "That would not be a durable solution."
Germany is preparing consumers and businesses for tough times ahead. BNetzA's Mueller warned that households could face doubling or tripling of their gas bills and called on people to save money and energy. Habeck appealed to Germans sense of solidarity to fend off Putin's energy attacks.
Responding to the suggestion of a state bonus for saving gas, he said: "If someone says 'I'll only help if I get 50 euros more,' I'd say 'you're not getting it, dude.'"
Read more:
Germany Warns of Lehman-Like Contagion From Russian Gas Cuts
Gas Rationing Is Getting Closer for Europe
The Weakest Link in Germany's Energy Security Is Fraying
Germany Girds for Day of Reckoning in Russian Gas Showdown
©2022 Bloomberg L.P.