Using Social Media to Connect with Your Most Loyal Customers – Harvard Business Review
Executive Summary
Many brands are struggling to capture value from their loyalty programs and trying to figure out how to best use social media to communicate with these customers. Some companies have even set up distinct social media accounts for their programs. For these efforts to be successful, companies need to know how to use social media to drive sales from members. Research of one company's social media posts shows that certain types of communication are more successful. After rating over 3,500 posts on particular dimensions and connecting those posts to sales, the study authors found that relational and intellectual posts were most effective in driving sales for loyalty program customers, while behavioral posts drove more sales from non-loyalty program customers. Sensory and emotional posts weren't effective with either group in our study. Companies can use these dimensions when deciding on how to best communicate with loyalty program members.
More and more companies have loyalty programs — and for good reason. A recent industry report showed that loyalty program members not only spend more and remain customers longer but they are also more likely to spread positive word of mouth. This helps explain why we've seen a proliferation of programs (we've seen new programs popping up across sectors like cosmetics, fast foods, and hotels). Target, for example, launched their Target Circle loyalty program ahead of this year's holiday shopping period, after extensive test marketing showed increased spending for program members compared to those who were not enrolled.
Given that loyalty program members tend to be a brand's most valuable customers — and are already several steps into their journey with a brand— companies need to consider how they are communicating with them across different channels. Our research (paper is in progress) shows that social media in particular can make loyalty programs more effective in driving sales, but only if done right.
We analyzed social media messages and the impact on loyalty program and non-loyalty program online sales for one company, a European operator of snow tourism resorts. We started by scoring 3,500 of the company's Facebook posts using the five dimensions of brand experience. Each post was rated by social media experts on each of the dimensions. Relational posts make a connection beyond the recipient, for instance encouraging the use of product together with others, or as part of a tribe of interested consumers. Intellectual posts prod the recipient to engage in conscious mental processing, perhaps through humor, problem solving, or creativity. Posts that are high on the behavioral dimension include activity or interaction with the product or service. Sensory posts stimulate the senses and could involve breathtaking images or shocking multimedia content. Finally, emotional posts attempt to generate moods or feelings in the recipient. Once the posts were scored, we then analyzed the efficacy of each dimension in driving sales to loyalty program and non-loyalty program customers.
Which Dimensions of Social Media Experience Were More Effective?
We found that relational and intellectual posts were most effective in driving sales for loyalty program customers, while behavioral posts drove more sales from non-loyalty program customers. Interestingly, sensory and emotional posts weren't effective with either group in our study.
Relational messages connect the recipient to a larger community around the product or service, strengthening a feeling of belongingness. Posts rated high on the relational dimension tend to illustrate inclusiveness or the connections between people. Because loyalty program customers have an ongoing relationship with the brand, they appear to be more open to relational themes, whereas non-loyalty program customers may be less drawn to relational messages from brands which they are not already strongly connected. One particularly effective post from the resort we studied promoted family-focused resort activities, with imagery of cross-generational connections. Loyalty program sales associated with this post were 210% more than expected based on the resort's typical ratio of loyalty program to non-loyalty program sales.
Intellectual posts were also more effective with loyalty program customers. These customers are more invested in the brand and are therefore more likely to put forward the mental effort to engage mindfully with a detailed, intellectual post. One of the resort's posts rated high on this dimension included a comprehensive list of festival activities with a stylized map, which requires careful consideration and processing from the recipient. This post resulted in an 85% increase in loyalty program sales compared to expectations. Members-only retailers such as REI and BJ's Wholesale often take advantage of intellectually demanding posts by including detailed product content (and in REI's case, outdoor lifestyle content). These posts require investments to both produce and consume the content, but brands see the value, knowing that their curious members are looking to deepen their brand relationship.
Behaviorally-themed posts can be effective with both customer groups, but were most effective in driving non-loyalty program sales in our study. These posts typically require less mental energy to process and encourage non-loyalty customers to visualize how they might interact with a product or service. One specific resort post that was rated high on the behavioral dimension mentioned leaving for the weekend and getting out to the slopes, with imagery showing a familiar behavior: getting off the chair lift. This post led to an 82% spike in non-loyalty program sales compared to expectations. One possible implication of this finding is that newer brands, who don't yet have a large base of loyal customers, could focus on behaviorally themed messages in their social media with easily relatable messaging around physical interaction with the product or service to drive sales from not-yet-loyal customers.
The resort's posts that were rated high on sensory and emotional content weren't effective in driving sales from either customer group. This may be because the social media environment is a metaphorical screaming match, with a variety of posts vying for viewer attention. "Turning up the volume" through striking visuals or multimedia in this already over stimulating setting wasn't an effective way to reach either group of customers. Similarly, emotional content that appealed to customers' feelings did not effectively drive sales from either group. This may be because browsing social media can be emotionally exhausting, so further taxing customers' emotions doesn't work.
Many brands are struggling to capture value from their loyalty programs and trying to figure out how to best use social media to communicate with these customers. Some companies have set up distinct social media accounts for their programs. For example, Marriott's newly launched Bonvoy program has very active social media accounts on Twitter, Facebook, and Instagram, which are run separately from Marriott's flagship accounts. This allows Bonvoy to focus on content that loyalty program members value.
While our findings are based on the social media activity and financial results from one company (and we haven't yet proven that they apply to businesses operating in very different domains), they provide digital marketers with some clues on what works and what doesn't — and gives them a language to consider and communicate desired characteristics for their content. When trying to drive sales from loyalty program customers, think through what might be most effective (relational and intellectually themed content) and what could fall flat (attempting to shock the recipient with sensory or emotional content). And then post accordingly.
Jimmy Butler steals the show on NBA media day with 'emo' phase look following Damian Lillard's trade to the Milwaukee Bucks – CNN
We use cookies and data to
Deliver and maintain Google services
Track outages and protect against spam, fraud, and abuse
Measure audience engagement and site statistics to understand how our services are used and enhance the quality of those services
If you choose to "Accept all," we will also use cookies and data to
Develop and improve new services
Deliver and measure the effectiveness of ads
Show personalized content, depending on your settings
Show personalized ads, depending on your settings
Non-personalized content is influenced by things like the content you're currently viewing, activity in your active Search session, and your location. Non-personalized ads are influenced by the content you're currently viewing and your general location. Personalized content and ads can also include more relevant results, recommendations, and tailored ads based on past activity from this browser, like previous Google searches. We also use cookies and data to tailor the experience to be age-appropriate, if relevant.
Select "More options" to see additional information, including details about managing your privacy settings. You can also visit g.co/privacytools at any time.
Social media traffic to top news sites craters
Traffic referrals to the top global news sites from Meta's Facebook and X, formerly Twitter, has collapsed over the past year, according to data from Similarweb.
Why it matters: Website business models that depended on clicks from social media are now broken.
What's happening: Regulatory pressure and free speech concerns have pushed tech giants to abandon efforts to elevate quality information, leaving the public more susceptible to misinformation ahead of the 2024 election.
Meanwhile, news companies are scrambling to find business solutions while simultaneously fighting to protect their work in the AI era.
The big picture: While the news industry has known this day would come, many are still unprepared.
A slower ad market and less reliable traffic contributed to a record number of media job cuts this year.
Efforts to reach voters with trusted information are becoming more difficult as tech platforms lean into viral trends, instead of quality news.
Yes, but: Disruption is often a catalyst for change.
The over-reliance on social media traffic kept news publishers from focusing on building stronger consumer products of their own.
Publishers are better prepared now to defend their intellectual property in the AI era having learned from their mistakes of being too heavily reliant on third parties for survival.
Go deeper: Social media news consumption slows globally
Go deeper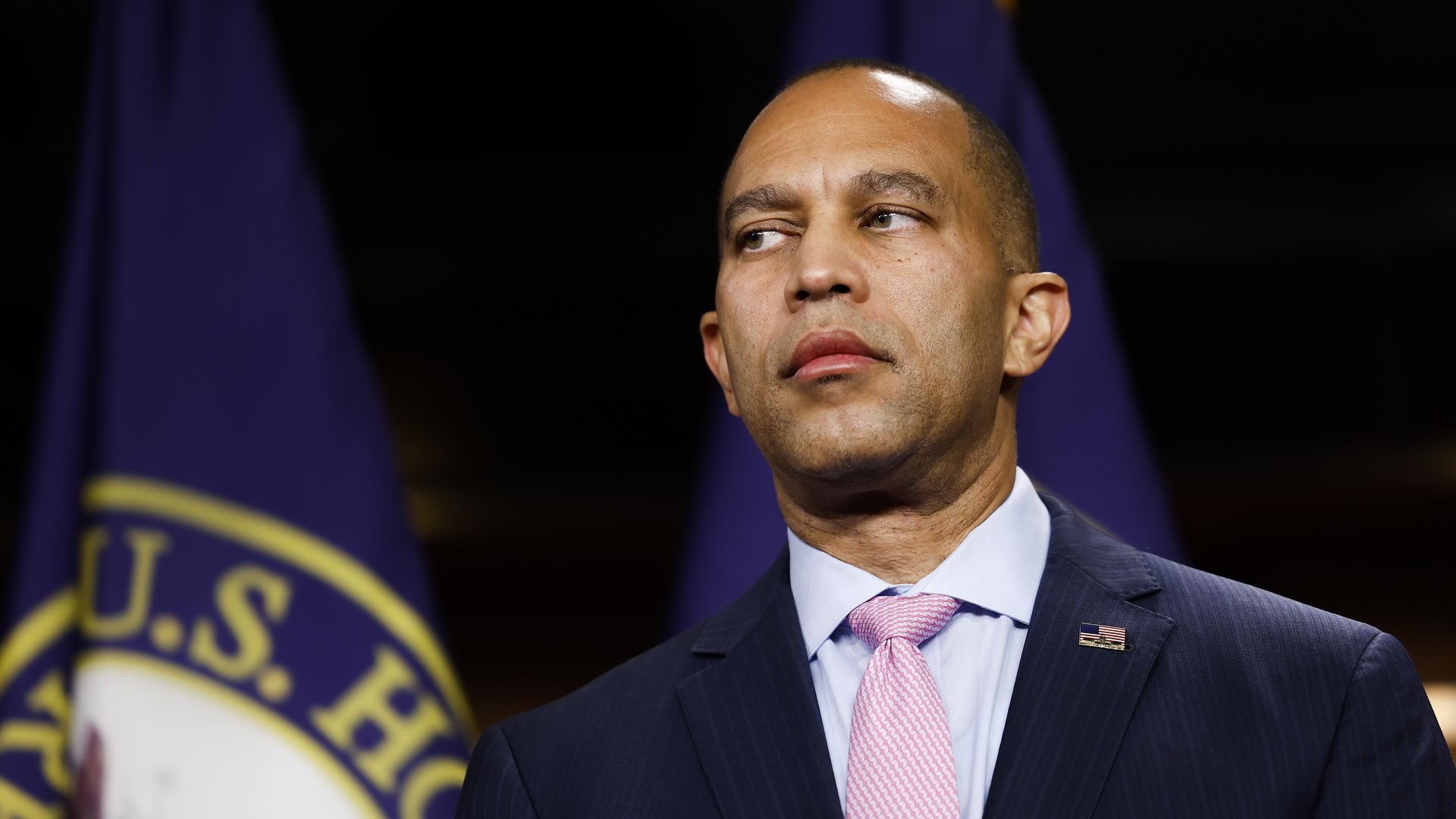 House Speaker Kevin McCarthy (R-Calif.) is unlikely to get a lifeline from across the aisle as he fights to keep his job, according to interviews with and statements from nearly two dozen House Democrats.
Why it matters: If a half dozen Republicans support the motion to vacate introduced by right-wing Rep. Matt Gaetz (R-Fla.), which is set for a vote on Tuesday afternoon, McCarthy will need Democratic votes to survive.
For all the signs of a cooling economy, employers sure had an awful lot of open jobs as summer came to an end, according to a shocker of a labor market report out Tuesday. But it's probably sending a misleading signal.
Driving the news: Employers reported having 9.6 million job openings at the end of August, according to the Job Openings and Labor Turnover report, up 690,000 from July, driven by a particularly large surge in professional and business services openings.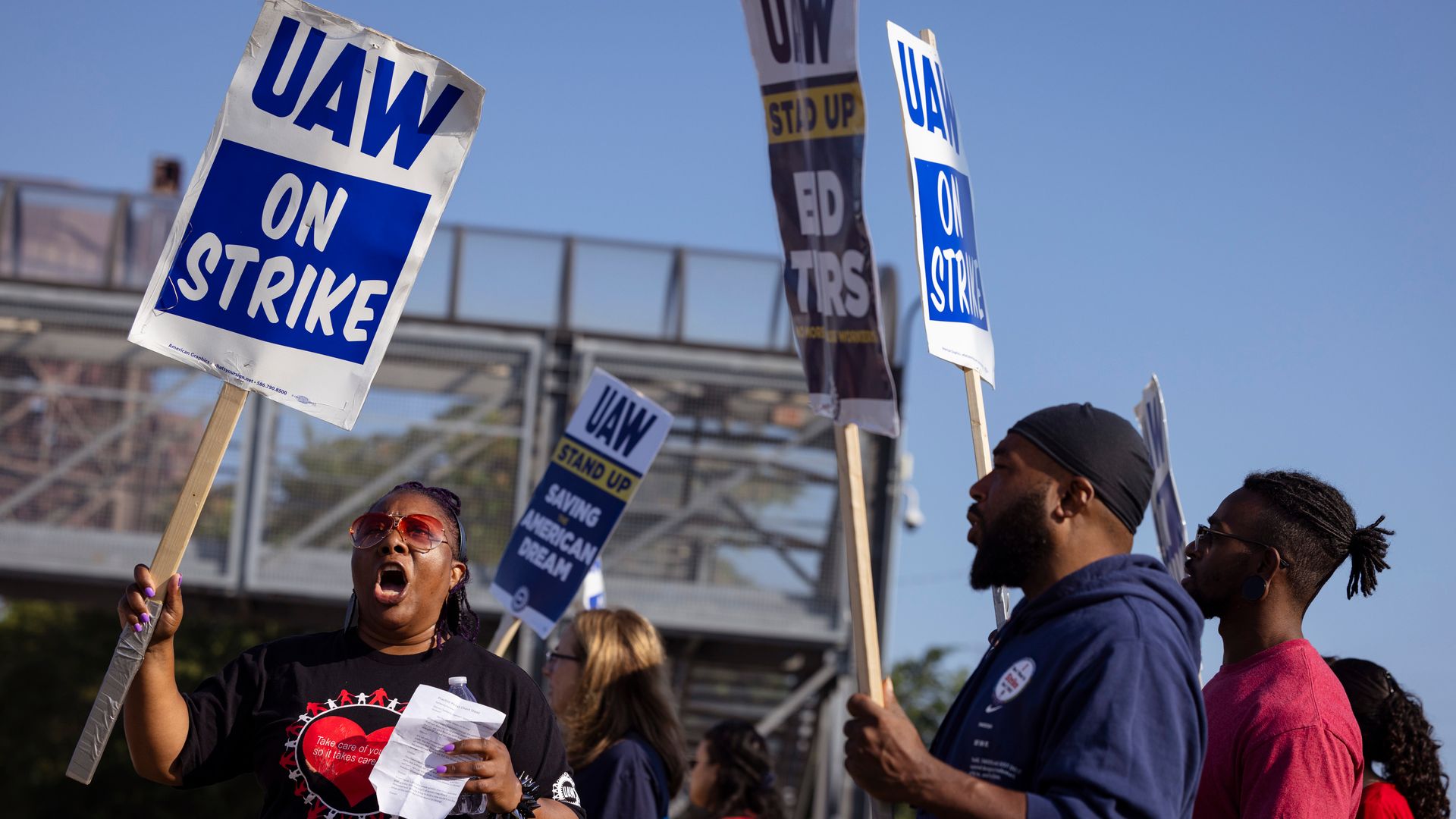 Ford and General Motors laid off 500 more people after the United Auto Workers widened its historic strike last week, the automakers confirmed to Axios Tuesday.
Why it matters: Roughly 3,000 workers have been impacted by layoffs since the UAW strike against the Detroit Three began last month.
India police raid homes of NewsClick journalists in illegal funding probe
Police in India have arrested a prominent journalist and founder of a news website under a stringent anti-terror law over allegations of receiving foreign money for pro-China propaganda.
NewsClick's founder and editor-in-chief Prabir Purkayastha was arrested on Tuesday evening under the Unlawful Activities Prevention Act (UAPA) and criminal conspiracy charges, local media reports said.
Journalist Amit Chakravarty was also arrested in the same case, the reports added.
The arrests came after the office of the New Delhi-based news portal and homes of several journalists and writers linked to it were raided as part of an investigation into suspected illegal foreign funding of the media company. Laptops and mobile phones were taken away as part of the probe.
"A special investigations team launched a search operation to identify all those individuals who were possibly getting funds from overseas to run a media group with the main agenda of spreading foreign propaganda," said a home ministry official overseeing the raids by the federally-controlled Delhi Police.
Indian authorities registered a case against NewsClick and its journalists on August 17, days after a New York Times report alleged the website had received funds from an American millionaire who, the Times wrote, funded the spread of "Chinese propaganda". NewsClick denied the charges.
The raids on Tuesday were conducted at more than a dozen homes of journalists and some other writers linked to NewsClick.
A home ministry official said the raids were part of an investigation by the Enforcement Directorate, India's financial crime control agency, into suspected money laundering by NewsClick, whose office was also sealed by the Delhi Police.
In a statement, the police said 37 male suspects were questioned at the NewsClick office while nine female suspects were questioned at their residences.
Thirty locations connected with the portal and its journalists were searched, the police said. Among those questioned were journalists Urmilesh, Aunindyo Chakravarty, Abhisar Sharma, Paranjoy Guha Thakurta and historian Sohail Hashmi.
NewsClick officials were not immediately available for comment. The company's website says it reports on news from India and elsewhere with a focus on "progressive movements".
NewsClick founder Purkayastha said at the time the allegations were not new and that the organisation would respond to them in court.
The Press Club of India said it was deeply concerned by the raids. A group of journalists has planned a protest march in New Delhi on Wednesday.
'Coercive actions'
A statement from the INDIA alliance, a coalition of 28 opposition political parties, said in the last nine years, the government has deliberately persecuted and suppressed the media by using different investigative agencies.
"Even if you were … to believe these allegations at worst you could have targeted the management of the website, but what we are seeing now is that even junior employees are getting raided, even contributors are getting raided," Shoaib Daniyal, political editor at the Scroll news website, told Al Jazeera.
"India has an extremely draconian terror law regime where people can be arrested and locked away for years without trial," he added.
A spokesperson from Prime Minister Narendra Modi's nationalist Bharatiya Janata Party (BJP) said the raids were justified as foreign funding to media groups must be assessed by investigating agencies.
India has fallen to 161st rank in the World Press Freedom Index, an annual ranking by non-profit Reporters Without Borders, from 150th last year, its lowest ever. Modi's government rejects the group's rankings, questioning its methodology, and says India has a vibrant and free press.
A few months ago, Indian tax authorities raided BBC offices in New Delhi and Mumbai, shortly after the British broadcaster released a documentary that was critical of Modi.
Ties between India and China have been strained since 2020, when clashes between the two neighbours' militaries in a disputed border area killed at least 20 Indian soldiers and four Chinese servicemen.
Since then, New Delhi has banned many Chinese-owned apps, including TikTok, and launched tax investigations into some Chinese mobile phone companies.
SOURCE: AL JAZEERA AND NEWS AGENCIES