Toronto Maple Leafs Reminiscent of Wayne Gretzky's Edmonton Oilers – The Hockey Writers
During yesterday's Toronto Maple Leafs 8-6 win over the Carolina Hurricanes, I thought I had been transported 35 years back in time. As a professor at the University of Alberta in Edmonton for 40 years, I cut my hockey teeth watching the Edmonton Oilers dynasty of the mid-1980s.
Related: Witnessing the Maple Leafs' New Puck-Possession Philosophy in Action
That Oilers team was amazing. Wayne Gretzky was an assist-first, goal-scoring machine. Jari Kurri was a sniper who could finish like few others. One season, goalie Grant Fuhr started 75 games. Glen Sather was a creative young coach who structured a youthful team and then let them freewheel their on-ice skills.
The Oilers had bangers, speedy skaters, scorers, offensive defensemen, good coaching, and confidence – oodles and oodles of confidence. Even if they were behind by a couple of goals going into the third period, Oilers' fans knew to stay tuned to their televisions or to not leave the building. Every so often, there was a low-scoring game; but most games ended something like 6-4, Oilers win. In 1985-86, the team scored 426 goals (5.325 per game) and gave up 310 (3.875 per game).
To show the team's scoring prowess, in that 1985-86 season – the season rookie defenseman Steve Smith accidentally banked the puck into his own net and allowed the Calgary Flames to beat the Oilers in the conference finals, Gretzky, Kurri, and Glenn Anderson each scored 50 goals. Kurri led the NHL with 68 goals. Paul Coffey set a record for most goals in a season by a defenseman with 48 and came one short of Bobby Orr's points record with 138 (Orr had 139 points in 1970-71). Gretzky set a record with 163 assists and 215 points.
Related: NHL Rumors: Islanders, Maple Leafs, Rangers, More
The Maple Leafs' 8-6 win over the Hurricanes was Gretzky-vintage Oilers. Gretzky's part was played by Mitch Marner. Auston Matthews played the role of Kurri. Zach Hyman played Anderson. Tyson Barrie made a Coffey-like move on the goalie's doorstep to score. Frederik Andersen became Fuhr. And young Sheldon Keefe became Sather. It was classic Oilers – fast, unpredictable, exciting, and crowd-pleasing. Oh, and the Maple Leafs won.
Andersen Stopped the Hurricanes When He Needed To
Andersen gave up six goals on 40 shots. It wasn't a
typical Andersen showing; he's more likely to give up only a couple goals a
game. But he stopped the opponents when he needed to. Although nothing like the
5-foot-10 Fuhr in stature, he played like Fuhr, who was the best goalie ever
for giving up five easier goals and then stopping five breakaways in the last
eight minutes to steal a victory.
Marner Was a Puck Magician
After a horrible second period, the Maple Leafs' 3-0 lead evaporated and they were down 5-3 starting period three. Suddenly the offense exploded, and Marner's highlight-reel goal after what looked like a planned faceoff play was lightning in a bottle. It will be shown, again and again, both for fans' pleasure but also in video reviews by Maple Leafs opponents. Mitch Marner had five points (two goals) in the game.
Barrie Scores at the Net
Barrie's goal showed both the freedom Keefe's been encouraging him to take and the best of Marner's magic. While the play was whirling around them, both players stopped the action in their minds, saw a possibility, and created a perfect scoring play. It looked exactly like a Coffey-Gretzky hook-up. It was patient. It was considered. And, it worked.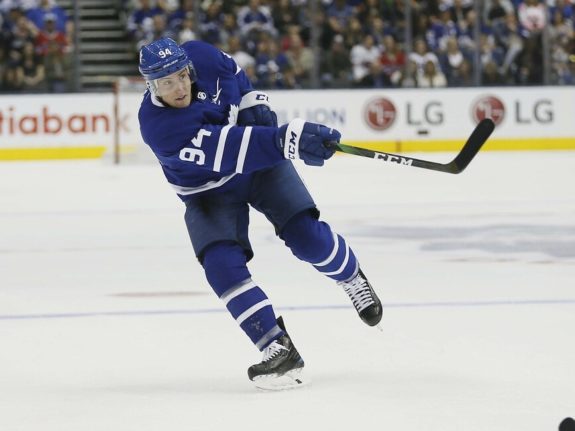 Barrie scored both his points in the third period. He assisted on Marner's first goal of the game to cut the Hurricanes' lead to 6-5 and scored the game-tying goal less than a minute later. As I say, it was lightning in a bottle. Barrie now has four goals and 17 points in 38 contests this year. He looks like what fans expected when he came from the Colorado Avalanche.
Matthews Can Be More than a Skilled Sniper
Matthews scored a goal and an assist in the 8-6 victory. It was his 24th goal of the season and pushed his point streak to five games. But two things about Matthews' play caught my eye. First, his beautiful spin-o-rama assist on Marner's goal was creative and confident. Second, everywhere Matthews skated, you could see him assessing the play on the ice.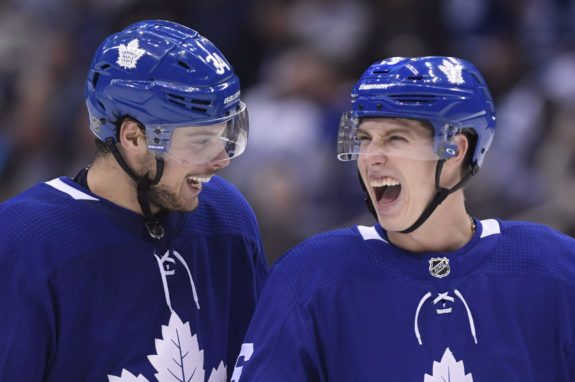 He's simply seeing the ice better, and as that skill grows he'll
become more than a skilled shooter. Matthews now has 43 points in 38 games this season.
Hyman Has 3 Assists
Few players in the NHL play like Hyman. He's a perfect set-up player for Matthews and Marner, and his three assists came on goals by Matthews, Barrie, and Pierre Engvall (an empty-netter to seal the victory). Although his assist on the Barrie goal was a secondary assist, it was a typical Hyman play. He not only got the puck to Marner, but he created the chaos in front of the net that Barrie's goal snuck through.
Related: Maple Leafs News & Rumors: Mikheyev, Engvall, Kerfoot, Barrie, Sandin
Hyman now has scored six points (two goals
and four assists) in his last two games playing with line-partners Matthews and
Marner. It's a line of Keefe's creation, and it's working big time.
The Maple Leafs Were Both Exciting and
Successful
I'm sure many hockey thinkers believe such rollicking hockey can't be played successfully over a season, and perhaps they're correct. But, as I recall, the Oilers of the mid-1980s were a dynasty and played this way night after night. It's a style of play that keeps fans on their feet both at the arena and, I'm sure, in their living rooms in front of the television. In fact, this was a perfect game to see at your local sports bar.
Related: Maple Leafs Rookie Report: Engvall, Mikheyev Earning Trust of Teammates
It's also a style of play that's exciting for the players, which Marner summed up well when he talked about his own juices during the game.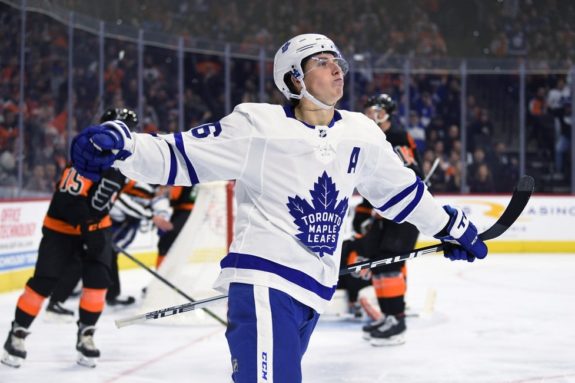 "Our adrenaline is pumping, our hearts are pumping, you're fired up. The first one was a great pass by Matty, the second one a great play by Barrie to find that open spot and make that move. The third one I jumped through and saw their D-man have it, saw their other D-man folding out, and tried to get it. Lucky enough, I picked it off, got down the ice and was able to score." (from Maple Leafs complete third-period comeback to improbably beat Hurricanes, Terry Koshan, The Toronto Sun, 12/23/19)
Related: Maple Leafs News & Rumors: Hyman, Marner, Tavares, Pietrangelo
That's why the Maple Leafs win over the Hurricanes reminded me so much of the 1980s Oilers dynasty. That was fantastic hockey.
Tom Brady is defying age — and belief – CBC.ca
This is an excerpt from The Buzzer, which is CBC Sports' daily email newsletter. Stay up to speed on what's happening in sports by subscribing here.
Here's what you need to know right now from the world of sports:
It wouldn't be a Super Bowl without Tom Brady
For all the upheaval we've experienced lately in sports and in life, there remains a near constant: Tom Brady in the Super Bowl. The age-defying quarterback made it back for the fifth time in seven years by helping Tampa Bay upset Green Bay 31-26 in yesterday's NFC championship game. Brady will now try to knock off Kansas City and reigning Super Bowl MVP Patrick Mahomes after they stamped out Buffalo's magical run with a dominating 38-24 win in the AFC title game.
We'll have plenty to say about the Super Bowl matchup as the Feb. 7 game gets closer. But, for today, let's just appreciate Brady.
This is the 20th Super Bowl matchup since Brady became an NFL starter in 2001 and, come two weeks, he'll have played in 10 of them. He went 6-3 and won four Super Bowl MVPs with New England. And now, after just one year in his new conference, Brady owns as many NFC titles as fellow future-hall-of-famer Aaron Rodgers has managed in 13 years as Green Bay's starter.
Did we mention Brady is 43 years old? Sure, he looked it at times yesterday, throwing three interceptions. But he also tossed three touchdown passes — the eighth time since the season started that he's had at least that many in a game.
How wild is that for someone his age? Well, before this, there was exactly one instance in NFL history of a player past his 43rd birthday throwing at least three TD passes in a game. And that happened a half-century ago. George Blanda, who had transitioned from QB to kicker in his old age, came on in relief of Oakland's injured starter and threw three TDs to beat Pittsburgh in Week 6 of the 1970 season.
Which is all to say, there's no precedent for what Brady is doing right now. He's not just defying age. He's defying belief. Read more about how Tampa Bay and Kansas City reached the Super Bowl here.
[embedded content]
Quickly…
The Edmonton Football Team's head coach quit before he even coached a game. Scott Milanovich resigned today to, as the CFL team put it, "pursue NFL opportunities." He's reportedly joining the Indianapolis Colts as their quarterbacks coach after the guy who had that job was promoted to offensive co-ordinator. Edmonton hired Milanovich as its head coach after the 2019 season, and the 2020 campaign was wiped out by the pandemic. Read more here.
And in case you missed it…
A few more things from the weekend that you should know about:
Canada's speed skaters can't be trusted. Oh, they're fine people and all. But they told us not to expect any medals from them at the long-track World Cup season opener in the Netherlands. Save for a two-week training camp back in the fall, the Canadian team had no opportunities to train on a proper oval since the pandemic hit, forcing them to resort to short tracks and outdoor ice to prepare for the shortened season. So of course they showed up to the Netherlands and promptly won five medals — including a gold by Ivanie Blondin, Isabelle Weidemann and Valérie Maltais in Friday's women's team pursuit. Read more about the haul and watch highlights here.
Reece Howden had himself a weekend. The 22-year-old Canadian won back-to-back men's World Cup ski cross events in Sweden on Saturday and Sunday. He now has three victories and four podium finishes in seven races this season and sits atop the World Cup standings by a wide margin. Canada's Marielle Thompson is second in the women's chase after reaching the podium for the fifth time this season on Sunday. Read more about the women's and men's races and watch highlights here.
Conor McGregor got knocked out. The UFC's biggest star hadn't fought in a year and was making just his third appearance in the octagon since 2017. But he was expected to beat Dustin Poirier for the second time in his career and bolster his case for luring undefeated Khabib Nurmagomedov out of retirement for a megafight. Instead, Poirier spoiled McGregor's (and the UFC's) plans by dropping him with a flurry of punches to score a shocking second-round KO on Saturday night. Read more about the upset here.
Patrik Laine got traded. Winnipeg swapped him for another talented young player who wanted a change of scenery, sending Laine and Jack Roslovic to Columbus for Pierre-Luc Dubois and a third-round pick. Laine averaged about 35 goals over his first four NHL seasons and is still only 22. But he's wanted out of Winnipeg for a while and, with his contract set to expire after this season, the Jets didn't seem all that interested in convincing him to stay. Dubois was the third-overall pick in 2016 and looked like a promising player the last two seasons. He scored 27 goals in 2018-19 and had 18 in pandemic-shortened 2019-20. But he asked for a trade after his relationship with fiery Blue Jackets coach John Tortorella soured. Read more about the deal and why Laine wanted a fresh start here.
Coming up on CBC Sports
Alpine skiing: The World Cup season continues Tuesday with a women's giant slalom in Italy starting at 4:30 a.m. ET and a men's slalom in Austria starting at 11:45 a.m. ET. Watch both two-run races live on CBCSports.ca and the CBC Sports app.
You're up to speed. Get The Buzzer in your inbox every weekday by subscribing below.
UFC 257 medical suspensions: Conor McGregor possibly out for six months – MMA Fighting
Conor McGregor may have headlined the first UFC pay-per-view of the year, but it could be a while before we see "The Notorious" in action again.
In the lightweight main event of UFC 257 on Saturday in Abu Dhabi, McGregor lost by second-round TKO to Dustin Poirier. His downfall was preceded by several stinging leg kicks and that was reflected in the official medical suspensions list from mixedmartialarts.com.
McGregor requires a negative result from an X-ray on his right tibia/fibula, or else he will be suspended for 180 days. Poirier was only handed a seven-day suspension for mandatory rest.
Two other fighters are also potentially facing six-month suspensions, lightweight Matt Frevola (right hand) and middleweight Andrew Sanchez (nasal, left tibia/fibula). Both require negative X-rays on their injured areas to avoid the maximum suspension.
See the full list of UFC 257 medical suspensions below:
Dustin Poirier: Suspended seven days (mandatory rest)
Conor McGregor: Must receive clearance on negative result from X-ray on right tibia/fibula or no contest for 180 days; minimum suspension no contest for 45 days, no contact for 30 days due to TKO
Michael Chandler: Suspended seven days (mandatory rest)
Dan Hooker: Suspended 45 days for TKO, 30 days no contact
Joanne Calderwood: Suspended seven days (mandatory rest)
Jessica Eye: Suspended 45 days for left eye brow laceration
Makhmud Muradov: Suspended 30 days for hard bout, 21 days no contact
Andrew Sanchez: Must receive clearance on negative result from X-ray on nasal and right tibia/fibula or no contest for 180 days; minimum suspension no contest for 45 days, no contact for 30 days due to TKO
Marina Rodriguez: Suspended seven days (mandatory rest)
Amanda Ribas: 45 days for TKO, 30 days no contact
Arman Tsarukyan: 30 days for left brow and scalp laceration, 21 days no contact
Matt Frevola: Must receive clearance on negative result from X-ray on right hand or no contest for 180 days; minimum suspension no contest for 30 days, no contact for 21 days
Brad Tavares: Suspended seven days (mandatory rest)
Antonio Carlos Junior: Suspended 30 days for hard bout, 21 days no contact
Julianna Pena: Suspended seven days (mandatory rest)
Sara McMann: Suspended 30 days for hard bout, 21 days no contact
Marcin Prachnio: Suspended 30 days for hard bout, 21 days no contact
Khalil Rountree: Suspended 30 days for left ankle pain, 21 days no contact
Movsar Evloev: Suspended seven days (mandatory rest)
Nik Lentz: Suspended 45 days for right eye brow laceration, 30 days no contact
Amir Albazi: Suspended 30 days for hard bout, 21 days no contact
Zhalgas Zhumagulov: Suspended 30 days for hard bout, 21 days no contact
Canucks' quiet leader Sutter makes presence known in steadying performance – Sportsnet.ca
VANCOUVER — When coach Travis Green said the Vancouver Canucks needed their top players to be better, he probably wasn't thinking of Brandon Sutter. But he could have been.
During the Canucks' alarming start to the National Hockey League season, when attention has understandably been focussed on Elias Pettersson's inability to score, J.T. Miller's problems at even strength and the overall chaos on defence caused by turnovers, Sutter and a couple of other players near the bottom of the lineup have quietly been among the team's best.
Monday, he wasn't so quiet.
At the start of a very important week for the Canucks, Sutter scored his first NHL hat trick in his 735th game. Fellow grinder Tyler Motte also scored as Vancouver built an early lead and won 7-1 against the Ottawa Senators to ease, for at least a couple of days, some of the tension on the West Coast.
With conjecture percolating about the future of general manager Jim Benning, it felt perfectly scripted that Sutter, one of Benning's least popular acquisitions, should score a hat trick to steady the team and take some of the heat off the GM.
Sutter is a pro's pro, a guy who leads by example. But he was oversold to the market when he was acquired by Benning in 2015, and has struggled to stay healthy and score for most of the five years since then.
Teammates, however, love him.
"You never know when you're going to get one or if you're going to get one," Sutter, 30, said after scoring once in each period. "It only took me 13 years. I'm pretty excited. It was a good win for our team… a little bit of confidence for our team going forward."
It was a game that generated a lot of positive vibes for the Canucks. Rookie defenceman Olli Juoelvi scored his first NHL goal, rookie forward Nils Hoglander impressively set up Tanner Pearson on another, and Thatcher Demko made 34 saves in easily the best performance by a Vancouver goalie so far.
"It was enough is enough for me," Demko said, relieved to improve on his 0-3 record and .866 save percentage. "First three starts of the year and not getting a win, that's tough. That's not the guy I want to be. I want to be a guy that's going to get wins when the team needs it.
"(It was) the goals that I was giving up at the times I was. That was something that I really wanted to focus on. Just timely saves, making sure that when they do get chances… that I can come up big and kind of give the team a chance to pull away."
With his team up 2-0, Demko stopped Connor Brown on a breakaway late in the first period. In the second, his point-blank save on Artem Anisimov immediately preceded Sutter's shorthanded snipe that made it 4-1. Demko made another strong save against Josh Norris at the end of the middle period, allowing his team to comfortably go into the third and pull away.
But he was still happier for Sutter than he was for himself.
"One of the reasons why you play the game is moments like that," Demko said. "You know he's been around the league 13 years now, and you're not sure if you're going to get one. Everyone's just really excited for him, giving him some hugs after the game."
Demko and Braden Holtby have largely had a free pass during the Canucks' poor start because there were so many other, more serious, problems.
But on Monday, the team was much better in front of him – albeit against a weaker opponent – and Demko provided goaltending you can win with. The Canucks need a lot more if it.
They could use more of the perfect penalty killing they had against the Senators, more of the positional discipline and composure they displayed, too. Hey, if Pettersson and the first line can start dominating at even-strength the way they did last season, everything will be fine.
"Everyone just needs to simplify," Sutter said. "I know it sounds a little bit cliche. But when you do the right things system-wise and play the right way as a team, that's when your highly-skilled guys kind of find their game and take over. That's where they create their offence."
The Senators are the only team in the Canadian division universally regarded as worse than the Canucks, and this was only one win. The Canucks are still 3-5-0. But players seeking confidence have something to build on. It's a start.
The Canucks and Senators play again Wednesday and Thursday at Rogers Arena.