Toronto Maple Leafs Reminiscent of Wayne Gretzky's Edmonton Oilers – The Hockey Writers
During yesterday's Toronto Maple Leafs 8-6 win over the Carolina Hurricanes, I thought I had been transported 35 years back in time. As a professor at the University of Alberta in Edmonton for 40 years, I cut my hockey teeth watching the Edmonton Oilers dynasty of the mid-1980s.
Related: Witnessing the Maple Leafs' New Puck-Possession Philosophy in Action
That Oilers team was amazing. Wayne Gretzky was an assist-first, goal-scoring machine. Jari Kurri was a sniper who could finish like few others. One season, goalie Grant Fuhr started 75 games. Glen Sather was a creative young coach who structured a youthful team and then let them freewheel their on-ice skills.
The Oilers had bangers, speedy skaters, scorers, offensive defensemen, good coaching, and confidence – oodles and oodles of confidence. Even if they were behind by a couple of goals going into the third period, Oilers' fans knew to stay tuned to their televisions or to not leave the building. Every so often, there was a low-scoring game; but most games ended something like 6-4, Oilers win. In 1985-86, the team scored 426 goals (5.325 per game) and gave up 310 (3.875 per game).
To show the team's scoring prowess, in that 1985-86 season – the season rookie defenseman Steve Smith accidentally banked the puck into his own net and allowed the Calgary Flames to beat the Oilers in the conference finals, Gretzky, Kurri, and Glenn Anderson each scored 50 goals. Kurri led the NHL with 68 goals. Paul Coffey set a record for most goals in a season by a defenseman with 48 and came one short of Bobby Orr's points record with 138 (Orr had 139 points in 1970-71). Gretzky set a record with 163 assists and 215 points.
Related: NHL Rumors: Islanders, Maple Leafs, Rangers, More
The Maple Leafs' 8-6 win over the Hurricanes was Gretzky-vintage Oilers. Gretzky's part was played by Mitch Marner. Auston Matthews played the role of Kurri. Zach Hyman played Anderson. Tyson Barrie made a Coffey-like move on the goalie's doorstep to score. Frederik Andersen became Fuhr. And young Sheldon Keefe became Sather. It was classic Oilers – fast, unpredictable, exciting, and crowd-pleasing. Oh, and the Maple Leafs won.
Andersen Stopped the Hurricanes When He Needed To
Andersen gave up six goals on 40 shots. It wasn't a
typical Andersen showing; he's more likely to give up only a couple goals a
game. But he stopped the opponents when he needed to. Although nothing like the
5-foot-10 Fuhr in stature, he played like Fuhr, who was the best goalie ever
for giving up five easier goals and then stopping five breakaways in the last
eight minutes to steal a victory.
Marner Was a Puck Magician
After a horrible second period, the Maple Leafs' 3-0 lead evaporated and they were down 5-3 starting period three. Suddenly the offense exploded, and Marner's highlight-reel goal after what looked like a planned faceoff play was lightning in a bottle. It will be shown, again and again, both for fans' pleasure but also in video reviews by Maple Leafs opponents. Mitch Marner had five points (two goals) in the game.
Barrie Scores at the Net
Barrie's goal showed both the freedom Keefe's been encouraging him to take and the best of Marner's magic. While the play was whirling around them, both players stopped the action in their minds, saw a possibility, and created a perfect scoring play. It looked exactly like a Coffey-Gretzky hook-up. It was patient. It was considered. And, it worked.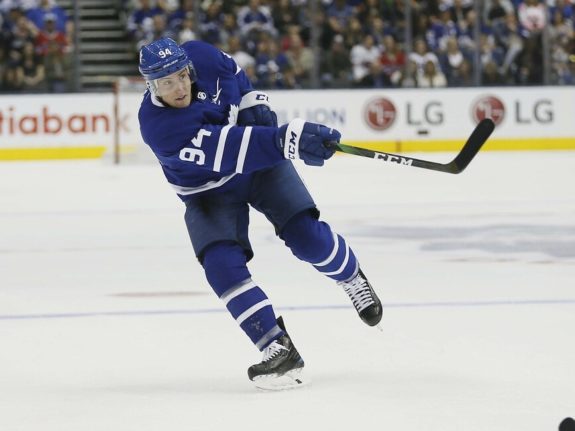 Barrie scored both his points in the third period. He assisted on Marner's first goal of the game to cut the Hurricanes' lead to 6-5 and scored the game-tying goal less than a minute later. As I say, it was lightning in a bottle. Barrie now has four goals and 17 points in 38 contests this year. He looks like what fans expected when he came from the Colorado Avalanche.
Matthews Can Be More than a Skilled Sniper
Matthews scored a goal and an assist in the 8-6 victory. It was his 24th goal of the season and pushed his point streak to five games. But two things about Matthews' play caught my eye. First, his beautiful spin-o-rama assist on Marner's goal was creative and confident. Second, everywhere Matthews skated, you could see him assessing the play on the ice.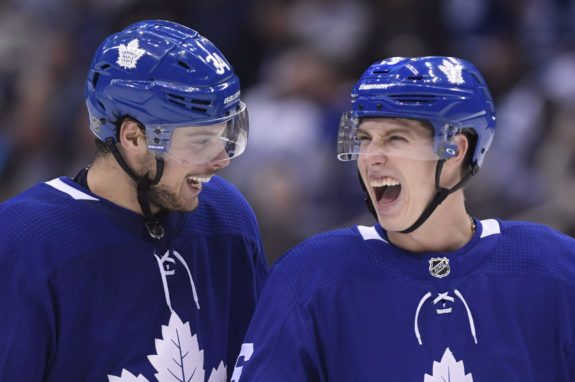 He's simply seeing the ice better, and as that skill grows he'll
become more than a skilled shooter. Matthews now has 43 points in 38 games this season.
Hyman Has 3 Assists
Few players in the NHL play like Hyman. He's a perfect set-up player for Matthews and Marner, and his three assists came on goals by Matthews, Barrie, and Pierre Engvall (an empty-netter to seal the victory). Although his assist on the Barrie goal was a secondary assist, it was a typical Hyman play. He not only got the puck to Marner, but he created the chaos in front of the net that Barrie's goal snuck through.
Related: Maple Leafs News & Rumors: Mikheyev, Engvall, Kerfoot, Barrie, Sandin
Hyman now has scored six points (two goals
and four assists) in his last two games playing with line-partners Matthews and
Marner. It's a line of Keefe's creation, and it's working big time.
The Maple Leafs Were Both Exciting and
Successful
I'm sure many hockey thinkers believe such rollicking hockey can't be played successfully over a season, and perhaps they're correct. But, as I recall, the Oilers of the mid-1980s were a dynasty and played this way night after night. It's a style of play that keeps fans on their feet both at the arena and, I'm sure, in their living rooms in front of the television. In fact, this was a perfect game to see at your local sports bar.
Related: Maple Leafs Rookie Report: Engvall, Mikheyev Earning Trust of Teammates
It's also a style of play that's exciting for the players, which Marner summed up well when he talked about his own juices during the game.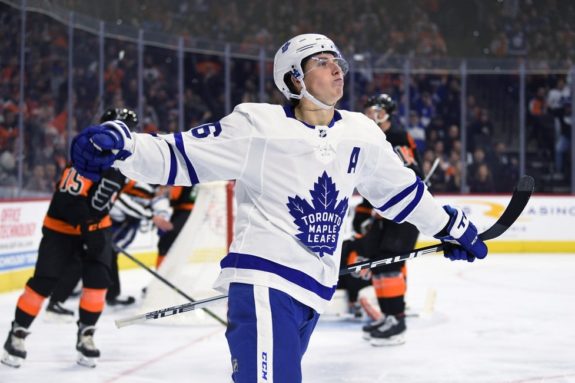 "Our adrenaline is pumping, our hearts are pumping, you're fired up. The first one was a great pass by Matty, the second one a great play by Barrie to find that open spot and make that move. The third one I jumped through and saw their D-man have it, saw their other D-man folding out, and tried to get it. Lucky enough, I picked it off, got down the ice and was able to score." (from Maple Leafs complete third-period comeback to improbably beat Hurricanes, Terry Koshan, The Toronto Sun, 12/23/19)
Related: Maple Leafs News & Rumors: Hyman, Marner, Tavares, Pietrangelo
That's why the Maple Leafs win over the Hurricanes reminded me so much of the 1980s Oilers dynasty. That was fantastic hockey.
Mixed Martial Arts-Door is open for YouTube's Paul brothers in MMA
Logan and Jake Paul would make great Mixed Martial Arts (MMA) fighters, Bellator president Scott Coker has said as he targets exhibition matches featuring the YouTube personalities such as the former's boxing bout against Floyd Mayweather.
Logan Paul went the distance, surviving eight rounds against unbeaten (50-0) five-division world boxing champion Mayweather in an exhibition on Sunday at Miami's Hard Rock stadium.
USA Today reported the fight brought in one million pay per view buys with $50 million generated from sales in the United States.
It was only the second fight of Paul's career, while his brother Jake has fought in three professional boxing matches, beating former MMA fighter Ben Askren in April.
Critics have labelled the bouts a sideshow due to the lack of sporting credibility of the duo, who made their names as social media personalities and have millions of subscribers on YouTube.
However, Coker told Reuters the brothers have impressive physiques and the door is open for them to move into MMA.
"I met with Logan Paul about two years ago and I've spoken to Jake Paul's manager and Jake on a zoom call recently… The one thing I said was hey, if you want to do MMA we would love to promote you guys," the 58-year-old said in a Zoom interview.
"These guys are young, athletic, strong and you saw the fight on Sunday night these guys they came and did their work.
"Mayweather couldn't finish him and I know he tried, I heard he wanted to knock this kid out so bad," he added.
"When I heard both had high school wrestling backgrounds in Ohio, which is a prominent wrestling state in the U.S., it really made me interested in pursuing them in some super fights in Mixed Martial Arts – and that door is continually open."
HEADLINE FIGHT
Bellator, owned by Viacom, is gearing up for a busy month of events, starting with Bellator 260 on Friday with the headline fight between reigning welterweight world champion Douglas Lima and the undefeated Yaroslav Amosov.
However, super fights and exhibitions are where Coker is targeting a younger audience.
"My 14-year-old niece, I told her I was going to the Logan Paul fight and she thought that was the greatest thing," he said.
"She asked me who he was fighting and I said Floyd Mayweather and she said 'who's that?' – I thought wow, she doesn't know boxing, she doesn't know MMA, she's just a 14-year-old girl on the internet doing what they do."
As the sporting world gears up for the delayed Tokyo Olympics starting in July, Coker believes MMA will feature in future Games.
"When you think about mixed martial arts, what you're talking about is boxing, wrestling, judo, taekwondo, karate – those are all Olympic sports," he said.
"Why wouldn't mixed martial arts eventually get into the Olympics because six out of the seven disciplines MMA is known to use really is already there.
"There'd be a lot of details to work out but to me I think it will happen, it's just a matter of time."
(Reporting by Christian Radnedge,; Editing by Ed Osmond)
Montreal will host the 2024 world figure skating championships
Montreal will host the 2024 world figure skating championships, the International Skating Union (ISU) said on Wednesday, after the 2020 event Canada was to host was cancelled due to COVID-19.
The championships will return to Montreal from March 18-24, marking the 11th time Canada has staged the event.
"Skate Canada has a proven track record of holding successful ISU events and we are looking forward to bringing the world's best skaters to the fantastic Canadian city of Montreal," said Debra Armstrong, CEO of Skate Canada, in a statement.
(Reporting by Steve Keating in Toronto; Editing by Andrew Cawthorne)
Andreescu splits with coach Bruneau after French Open exit
World number seven Bianca Andreescu on Tuesday announced she has split with longtime coach Sylvain Bruneau, a week after falling in the first round of the French Open.
The pair had worked together for four years as Andreescu made her breakthrough with three titles in 2019, including the U.S. Open.
"It is with a heavy heart that I would like to inform my fans that my long time coach, mentor and friend, Sylvain and I, have mutually decided to end our incredible coaching relationship," Canadian Andreescu wrote on Twitter
"Our friendship will live forever … I am very grateful for everything we accomplished together and all of our great memories.
"Sylvain was more than a coach… he is family."
Andreescu, 20, returned to action at this year's Australian Open, having missed 15 months due to a knee injury.
A positive COVID-19 test subsequently ruled Andreescu out of both Madrid and Rome before an abdominal injury forced her to pull out of Strasbourg at the quarter-final stage.
Her most recent appearance at Roland Garros ended with a 6-7(1) 7-6(2) 9-7 defeat by Slovenia's Tamara Zidansek.
(Reporting by Hardik Vyas in Bengaluru; Editing by Andrew Cawthorne)