Toronto Maple Leafs Reminiscent of Wayne Gretzky's Edmonton Oilers – The Hockey Writers
During yesterday's Toronto Maple Leafs 8-6 win over the Carolina Hurricanes, I thought I had been transported 35 years back in time. As a professor at the University of Alberta in Edmonton for 40 years, I cut my hockey teeth watching the Edmonton Oilers dynasty of the mid-1980s.
Related: Witnessing the Maple Leafs' New Puck-Possession Philosophy in Action
That Oilers team was amazing. Wayne Gretzky was an assist-first, goal-scoring machine. Jari Kurri was a sniper who could finish like few others. One season, goalie Grant Fuhr started 75 games. Glen Sather was a creative young coach who structured a youthful team and then let them freewheel their on-ice skills.
The Oilers had bangers, speedy skaters, scorers, offensive defensemen, good coaching, and confidence – oodles and oodles of confidence. Even if they were behind by a couple of goals going into the third period, Oilers' fans knew to stay tuned to their televisions or to not leave the building. Every so often, there was a low-scoring game; but most games ended something like 6-4, Oilers win. In 1985-86, the team scored 426 goals (5.325 per game) and gave up 310 (3.875 per game).
To show the team's scoring prowess, in that 1985-86 season – the season rookie defenseman Steve Smith accidentally banked the puck into his own net and allowed the Calgary Flames to beat the Oilers in the conference finals, Gretzky, Kurri, and Glenn Anderson each scored 50 goals. Kurri led the NHL with 68 goals. Paul Coffey set a record for most goals in a season by a defenseman with 48 and came one short of Bobby Orr's points record with 138 (Orr had 139 points in 1970-71). Gretzky set a record with 163 assists and 215 points.
Related: NHL Rumors: Islanders, Maple Leafs, Rangers, More
The Maple Leafs' 8-6 win over the Hurricanes was Gretzky-vintage Oilers. Gretzky's part was played by Mitch Marner. Auston Matthews played the role of Kurri. Zach Hyman played Anderson. Tyson Barrie made a Coffey-like move on the goalie's doorstep to score. Frederik Andersen became Fuhr. And young Sheldon Keefe became Sather. It was classic Oilers – fast, unpredictable, exciting, and crowd-pleasing. Oh, and the Maple Leafs won.
Andersen Stopped the Hurricanes When He Needed To
Andersen gave up six goals on 40 shots. It wasn't a
typical Andersen showing; he's more likely to give up only a couple goals a
game. But he stopped the opponents when he needed to. Although nothing like the
5-foot-10 Fuhr in stature, he played like Fuhr, who was the best goalie ever
for giving up five easier goals and then stopping five breakaways in the last
eight minutes to steal a victory.
Marner Was a Puck Magician
After a horrible second period, the Maple Leafs' 3-0 lead evaporated and they were down 5-3 starting period three. Suddenly the offense exploded, and Marner's highlight-reel goal after what looked like a planned faceoff play was lightning in a bottle. It will be shown, again and again, both for fans' pleasure but also in video reviews by Maple Leafs opponents. Mitch Marner had five points (two goals) in the game.
Barrie Scores at the Net
Barrie's goal showed both the freedom Keefe's been encouraging him to take and the best of Marner's magic. While the play was whirling around them, both players stopped the action in their minds, saw a possibility, and created a perfect scoring play. It looked exactly like a Coffey-Gretzky hook-up. It was patient. It was considered. And, it worked.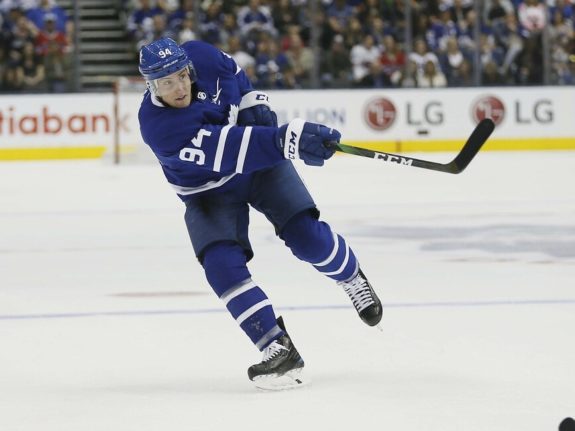 Barrie scored both his points in the third period. He assisted on Marner's first goal of the game to cut the Hurricanes' lead to 6-5 and scored the game-tying goal less than a minute later. As I say, it was lightning in a bottle. Barrie now has four goals and 17 points in 38 contests this year. He looks like what fans expected when he came from the Colorado Avalanche.
Matthews Can Be More than a Skilled Sniper
Matthews scored a goal and an assist in the 8-6 victory. It was his 24th goal of the season and pushed his point streak to five games. But two things about Matthews' play caught my eye. First, his beautiful spin-o-rama assist on Marner's goal was creative and confident. Second, everywhere Matthews skated, you could see him assessing the play on the ice.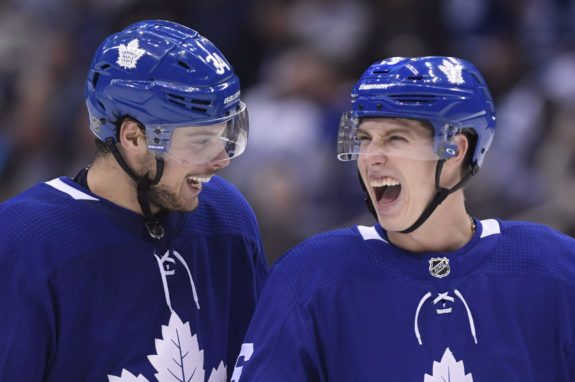 He's simply seeing the ice better, and as that skill grows he'll
become more than a skilled shooter. Matthews now has 43 points in 38 games this season.
Hyman Has 3 Assists
Few players in the NHL play like Hyman. He's a perfect set-up player for Matthews and Marner, and his three assists came on goals by Matthews, Barrie, and Pierre Engvall (an empty-netter to seal the victory). Although his assist on the Barrie goal was a secondary assist, it was a typical Hyman play. He not only got the puck to Marner, but he created the chaos in front of the net that Barrie's goal snuck through.
Related: Maple Leafs News & Rumors: Mikheyev, Engvall, Kerfoot, Barrie, Sandin
Hyman now has scored six points (two goals
and four assists) in his last two games playing with line-partners Matthews and
Marner. It's a line of Keefe's creation, and it's working big time.
The Maple Leafs Were Both Exciting and
Successful
I'm sure many hockey thinkers believe such rollicking hockey can't be played successfully over a season, and perhaps they're correct. But, as I recall, the Oilers of the mid-1980s were a dynasty and played this way night after night. It's a style of play that keeps fans on their feet both at the arena and, I'm sure, in their living rooms in front of the television. In fact, this was a perfect game to see at your local sports bar.
Related: Maple Leafs Rookie Report: Engvall, Mikheyev Earning Trust of Teammates
It's also a style of play that's exciting for the players, which Marner summed up well when he talked about his own juices during the game.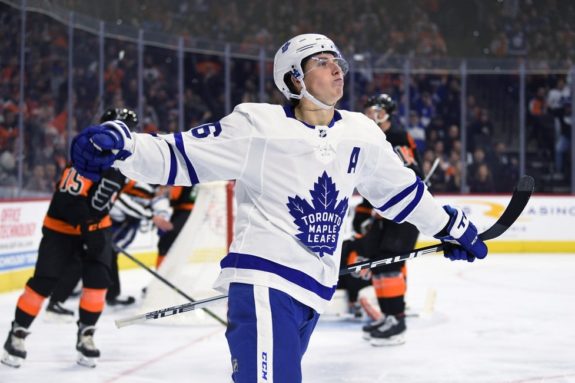 "Our adrenaline is pumping, our hearts are pumping, you're fired up. The first one was a great pass by Matty, the second one a great play by Barrie to find that open spot and make that move. The third one I jumped through and saw their D-man have it, saw their other D-man folding out, and tried to get it. Lucky enough, I picked it off, got down the ice and was able to score." (from Maple Leafs complete third-period comeback to improbably beat Hurricanes, Terry Koshan, The Toronto Sun, 12/23/19)
Related: Maple Leafs News & Rumors: Hyman, Marner, Tavares, Pietrangelo
That's why the Maple Leafs win over the Hurricanes reminded me so much of the 1980s Oilers dynasty. That was fantastic hockey.
Inside Allegiant Stadium: Cost, capacity & more to know about Las Vegas Raiders' new home – Sporting News
By moving to Las Vegas, the Raiders traded a torn up field with baseball infield dirt on it for a brand new venue and fan market of their own.
The Oakland Coliseum had been perhaps NFL's worst stadium; Allegiant Stadium, where the Raiders now play, figures to be one of the best.
The Raiders debut their new home on Monday night against the Saints in front of a national TV audience, officially welcoming pro football to Las Vegas after decades of the NFL toying with the idea of expanding to Sin City. That's two major sports teams for Las Vegas in quick succession — it also recently got the NHL's Golden Knights — and two new venues.
MORE: Go Inside SoFi Stadium in Los Angeles
While the Raiders aren't expected to make the playoffs in their first year in Las Vegas, they do appear to be respectable. Quarterback Derek Carr, playing for his starting job after a couple of mediocre years, is surrounded by a rising cast of skill players who could help him shine. In Week 1, the team put up 34 points in a win over the Panthers.
For much of the past 20 years, national audiences have known the Raiders only for mishaps on and off the field. Monday night, then, is an opportunity for the franchise to score a rare win in the public eye.
Below is an in-depth guide to Allegiant Stadium and the Raiders' move from Oakland to Las Vegas:
How much did Allegiant Stadium cost to build?
Allegiant Stadium required nearly $2 billion to put together, significantly less than the $5 billion it took to finish recently opened SoFi Stadium in Los Angeles.
Unlike SoFi Stadium, which was privately financed, the Raiders received financial help from the city of Las Vegas to get their new home done. About 40 percent of the cost of the Allegiant Stadium project ($750 million) reportedly came from public funds.
How long did construction take?
Construction of Allegiant Stadium began in November 2017 and finished this summer, meaning it took a little less than three years to build.
Allegiant Stadium capacity
Allegiant Stadium has a base capacity of 65,000 people but can expand to hold more than 70,000 for select events.
Where is Allegiant Stadium?
Allegiant Stadium is located in Paradise, Nev., which is an unincorporated town within the Las Vegas metropolitan area.
Special features of Raiders' new stadium
Despite being an inside field, the playing surface is made out of real grass. It has a track deep underneath it, and during breaks between games it can be wheeled outside to receive direct sunlight.
Unlike many other modern football structures, Allegiant Stadium does not have a video board hanging down from its roof. Instead, there are large monitors spread around the perimeter of the stands. The choice to forgo a central screen came from a desire to maintain a full translucent roof.
Al Davis Memorial Torch
Another defining feature of Allegiant Stadium — perhaps the defining feature — is an 85-foot eternal "flame" honoring late Raiders owner Al Davis. It was created via 3D printer and is made of carbon fiber and aluminum.
What does Allegiant Stadium look like?
Allegiant Stadium has a shiny black exterior in recognition of one of the Raiders' primary colors. Like many new stadiums, it is meant to feel airy and open despite being indoors, and side windows and see-through roof assist in creating that effect.
Below are pictures and videos of Allegiant Stadium:
Jon Gruden on opening up The Death Star (Allegiant Stadium) Monday night: "I don't give a damn about Star Wars … but it's a cool name and we just have to play well when we get in there."

— Vic Tafur (@VicTafur) September 17, 2020
Do the Raiders own Allegiant Stadium?
The Las Vegas Stadium Authority, run by a nine-member Board of Directors, owns Allegiant Stadium.
How much did naming rights for the Raiders' stadium cost?
Exact contract terms between Allegiant and the Raiders were never officially announced, but Allegiant is reportedly playing more than $20 million per year for the deal.
Does Allegiant Stadium have a retractable roof?
The stadium's roof is not retractable, though its semi-translucence allows natural light to illuminate the field during day games. There are also four Lanai doors along the sides of the stadium that allow views of a surrounding area that includes the Vegas Strip.
Does UNLV play at Allegiant Stadium?
Yes, UNLV football will play at Allegiant Stadium, giving the Runnin' Rebels a college venue far nicer than any of their Mountain West rivals. Allegiant Stadium will also host the Pac-12 football championship game as well as the annual Las Vegas Bowl. It will not host baseball games, though, in a boon for a Raiders franchise used to sharing a field with the Oakland A's.
When did the Raiders move to Las Vegas?
The Raiders moved from Oakland to Las Vegas in 2020. This is their first season outside of California.
Why aren't the Raiders in Oakland?
The Raiders wanted a new stadium and either the Los Angeles market or a major market of their own. When Oakland refused to chip in the help the Raiders desired for a new stadium, and the NFL denied an LA move, Las Vegas became the franchise's preferred destination.
The team prides itself on being a brand beyond a specific location, and it hopes the transient nature of Las Vegas can goose its bottom line rather than working against it.
Murray, Nuggets hang on to win, cut Lakers' lead to 2-1 – TSN
LAKE BUENA VISTA, Fla. — They had just lost a playoff heartbreaker, and two nights later the Denver Nuggets quickly went from in control to in trouble.
Escaping trouble is what these Nuggets do best.
"Everybody always has us packing our bags and leaving, but we're not ready to go," coach Michael Malone said. "For some reason we love this bubble."
They'll get at least two more games in it.
Jamal Murray had 28 points, 12 assists and two late 3-pointers to halt a Lakers charge, helping the Nuggets to a 114-106 victory Tuesday night that cut Los Angeles' lead to 2-1 in the Western Conference finals.
The Nuggets lost almost all of a 20-point lead in the fourth quarter but held on, avoiding a 3-0 hole that would have been daunting even for this never-out-of-it team.
"We feel that we should be up 2-1 right now, to be honest," Murray said. "So we're just going to move on to Game 4."
Denver has set a record by erasing two 3-1 deficits in this post-season, but no NBA team has ever come back from 3-0.
Jerami Grant added a playoff career-high 26 points and Nikola Jokic had 22 points and 10 rebounds for the Nuggets, who will try to even the series on Thursday.
LeBron James had 30 points, 11 assists and 10 rebounds — his 26th playoff triple-double — for the Lakers, who remain two wins from their first NBA Finals appearance in a decade. Anthony Davis, who made the winning 3-pointer at the buzzer in Game 2, scored 27 points.
The Nuggets led by 20 with 10 1/2 minutes left and soon after were hanging on after the Lakers charged back with a 19-2 run, turning to a zone defence and forcing turnovers that led to easy baskets.
"We played some pretty good ball in the fourth quarter, but those first 36 minutes, that hurt us obviously," James said.
With Denver's lead down to four, Murray made a 3-pointer with 2:16 remaining. He then found Paul Millsap under the basket for a score before hitting a long 3 to push the lead back to 111-99 with 53 seconds to play.
Coach Frank Vogel acknowledged the Lakers were fortunate to win Game 2, in which they committed 24 turnovers, and would have to be better Tuesday.
Instead, it was the Nuggets who raised their game and played from ahead, ending a streak of six straight games where they trailed at halftime.
"Maybe they can beat us by 20, 30, they can beat us by a last shot, but we just cannot quit," Jokic said. "Effort needs to be there."
The Lakers built leads of 15 or more in the second quarter of the first two games. This time it was the Nuggets who started to run away in that period, even with Jokic on the bench resting for their big run that started it.
Denver began with a 7-0 spurt, the last five from Michael Porter Jr., to open a nine-point lead. After a dunk by James, Murray made a 3-pointer and Monte Morris scored the next five to make it a 15-2 start to the period and give the Nuggets a 44-29 advantage.
It would grow to 18 and could have been worse if not for Davis, who scored nine straight Lakers points. Markieff Morris' 3-pointer trimmed it to 63-53 at halftime.
The Lakers got the first five points of the third to cut the lead in half, but Denver regained control and led 93-75 after three.
Murray finished with eight rebounds.
TIP-INS
Lakers: The Lakers had a six-game winning streak snapped and fell to 10-3 in these playoffs. … Dwight Howard started the second half at centre, replacing JaVale McGee.
Nuggets: Denver's last halftime lead had been a 59-57 edge over the Clippers in Game 3 of the West semifinals. … Malone wished his parents a happy anniversary during his interview after the third quarter. His father, Brendan, was a longtime NBA assistant coach who also coached the Toronto Raptors in 1995-96, their inaugural season.
THE AIR UP THERE
The Lakers came into the game 4-0 in the playoffs as the designated road team. Vogel said nothing really changes in the Walt Disney World bubble except the benches the teams are sitting on, but he joked about the big difference that would have awaited his team in a normal situation.
"You know, I did make sure our guys did whatever they needed to do to adjust to the altitude of playing in Denver tonight because Game 3, you've always got to account for that altitude," he said. "Maybe we don't have to account for it tonight in Orlando."
___
More AP NBA: https://apnews.com/NBA and https://twitter.com/AP_Sports
Los Angeles Lakers vs. Denver Nuggets Game 3: Live score, updates, news, stats and highlights – NBA CA
The Denver Nuggets held off the Los Angeles Lakers' fourth-quarter comeback to seal a 114-106 win in Game 3.
Jamal Murray led the charge with some big buckets down the stretch as he finished with 28 points, 12 assists, and eight rebounds, while Nikola Jokic added 22 points, 10 rebounds, and five assists.
Their star duo had it going from the jump, but it was the contributions from the supporting cast that made the difference, with Jerami Grant recording a playoff career-high 26 points!
LeBron James led the Lakers with his 26th playoff career triple-double – 30 points, 11 assists, and 10 rebounds, while Anthony Davis added 27 points on the night.
If you missed any of the action we had you covered with live updates, highlights and more from this contest.
FINAL: Denver Nuggets 114, Los Angeles Lakers 106
– The Nuggets hold off the Lakers' comeback to get their first win of the series to make it 2-1. Jamal Murray scored 10 points in the fourth to seal the W, including the dagger from 3.
🏹 Jamal Murray caps off his 28-point night and the @nuggets win with a DEEP triple.. bullseye! 🏹 pic.twitter.com/ii3WqMEYpJ

– NBA (@NBA) September 23, 2020
– Jamal Murray has taken over late, knocking down two triples and finding Millsap for the wide-open dunk. Denver are back up 111-99 after a 10-1 run.
🚨 JAMAL MURRAY IS TAKING OVER 🚨@nuggets back up 9 with 48.8 left on TNT! pic.twitter.com/OuZbH9laeF

– NBA (@NBA) September 23, 2020
– LeBron brings up his 26th career playoff triple-double with 28 points, 10 assists, and 10 rebounds.
– Rondo adds to the history books, moving up to ninth on the all-time playoff assist list, overtaking Kobe Bryant.
Congrats to @RajonRondo of the @Lakers for moving up to 9th on the #NBAPlayoffs ASSISTS list! pic.twitter.com/a9JJrKkR0P

– NBA (@NBA) September 23, 2020
– The Nuggets can't find a way through the Lakers' zone defence as they continue to rack up the turnovers. Rajon Rondo has a game-high 3 steals.
– After leading by as many as 20 points, the Nuggets are clinging to the lead, 101-98.
Rondo getting it DONE on defense!@Lakers 98@nuggets 101

📺: @NBAonTNT pic.twitter.com/ngQXtcAGLt

– NBA (@NBA) September 23, 2020
– Make that a 14-2 Laker run and it's just an eight-point game. The Lakers are getting it done on the defensive end, forcing four quick turnovers. We've got a big finish coming up with 7:38 remaining in the game.
– Davis, James, and Kuzma power the Lakers to a 10-2 run as they cut the lead to 12 points with 8:43 remaining. Can they pull off the comeback?
– Jamal Murray is in his bag. He's closing in on a triple-double with 22 points, 11 assists, and eight rebounds.
😱 MURRAY EXPLODES TO THE RIM! 😱

📺: TNT pic.twitter.com/4Ek6EP9LaV

– NBA (@NBA) September 23, 2020
– The suppporting cast for the Nuggets have made the difference in Game 3. Grant, Morris and MPJ have combined for 44 points.
Shot chart for Grant, Morris and MPJ pic.twitter.com/LPM76Bem8z

– Dan Woike (@DanWoikeSports) September 23, 2020
End of third quarter: Nuggets 93, Lakers 75
– After the Lakers started the quarter in rhythm, the Nuggets absorbed the punches and hit back thanks to Murray and Jerami Grant to make it an 18-point lead heading into the fourth.
– Grant's got a playoff career-high 21 points off 6-of-9 shooting with 12 coming in the third period alone.
Grant plays the passing lane and takes it to the house! #NBAPlayoffs on TNT pic.twitter.com/BkDPiosOxJ

– NBA (@NBA) September 23, 2020
– The Nuggets have taken back control of the momentum as Jamal Murray's triple makes it a 25-10 run. Denver lead 89-71 (2:27)
– LeBron James knocks down two identical fadeaways followed by a drive to the basket for six quick points. He's up 17 points, 9 assists, and 7 boards.
🔥 LBJ HEATING UP & LOCKING DOWN 🔒#NBAPlayoffs on TNT pic.twitter.com/2XaNprSUKg

– NBA (@NBA) September 23, 2020
– Jamal Murray is assessed a Flagrant 1 after his elbow catches LeBron in the face (10:00).
– Here come the Lakers! After closing the half on a 16-8 run, they've scored the first five points of the period to make it a five-point game, 63-58.
KCP steal & score on TNT! #NBAPlayoffs pic.twitter.com/VNJRvewGxd

– NBA (@NBA) September 23, 2020
Half-time: Nuggets 63, Lakers 53
– A late triple from Markieff Morris helps the Lakers cut the lead down to 10 points heading into the break, but the Nuggets are firing on all cylinders, winning the period 34-26.
– This is their first half-time lead in their last seven games!
– Anthony Davis leads the Lakers with a game-high 16 points, while LeBron is setting up another playoff triple-double with 10 points, eight assists, and four rebounds.
– Morris and Murray have 12 points apiece, while Jokic leads the way with 15 points, six rebounds, and four assists, hitting some tough shots along the way.
– HOW DID JOKIC GET THIS TO GO?
HOW JOKIC 🤯 pic.twitter.com/pRKBZ1Vhv2

– Bleacher Report (@BleacherReport) September 23, 2020
Half-time team stats
– The Lakers have trimmed the deficit to 14 points, behind nine straight points from Anthony Davis. He's 3-of-3 from the field in the quarter, while the rest of the Lakers are a combined 2-of-12.
– Monte Morris heads to the bench with 12 points after giving the Nuggets a huge spark alongside MPJ.
– Porter Jr. and Monte Morris are giving the Nuggets a huge boost of scoring off the bench, but the biggest difference-maker so far has been their work on the glass. They're winning the rebounding battle 18-8. Jokic has 5 and MPJ 4 (5:19).
– Denver is piling up the points, extending the run to 15-2 to start the period, connecting on 11 of their last 13 field goals. Timeout Lakers (8:53).
They're getting plenty of transition opportunities thanks to their defence forcing seven Laker turnovers which they're converted into 12 points.
– The Nuggets race out on a 7-0 run early in the second with Michael Porter Jr, getting five quick points.
SMOOTH J from MPJ.

📺: @NBAonTNT pic.twitter.com/vaCO5Ebuoh

– NBA (@NBA) September 23, 2020
End of first quarter: Nuggets 29, Lakers 27
– A back and forth opening quarter to start Game 3 as the Nuggets take a two-point lead into the break.
– Denver has shot 60% from the field in the opening 12 minutes, led by 11 points from Jokic on 5-of-7 shooting. The Lakers aren't far back, shooting 55% from the field. Anthony Davis leads the way with seven points and LeBron six.
– Nikola Jokic is catching the Lakers early in the shot clock. He's started the game 4-of-6 from the field for his eight points and four rebounds (1:56)
– LeBron's in attack mode, getting the left-hand finish at the rim to go. Lakers lead 16-14 (5:17)
LeBron drives left, finishes right.#NBAPlayoffs on TNT pic.twitter.com/N5Gx1dJPwR

– NBA (@NBA) September 23, 2020
– The Nuggets are moving the ball early and playing with a much faster pace as they look to work the Murray-Jokic high- pick-and-roll. Murray is doing a great job running off screens and getting free for 3-point attempts.
Grant gets the triple to go in the corner. He's got five early points for Denver.
This sequence…

We'll take it tho! pic.twitter.com/wRnKhADnnl

– Denver Nuggets (@nuggets) September 23, 2020
– Danny Green hits the first bucket of the game from deep, moving into the top 15 all-time for playoff threes.
With his first trey of the night, @DGreen_14 reaches the top 15 in all-time playoff 3s 👌 pic.twitter.com/AQ5H6lG2BB

– Los Angeles Lakers (@Lakers) September 23, 2020
Pre-game
– Denver Nuggets starting lineup: Jamal Murray, Gary Harris, Jerami Grant, Paul Millsap, and Nikola Jokic
Rollin' with this group to start.#MileHighBasketball pic.twitter.com/LNNpaqAKMz

– Denver Nuggets (@nuggets) September 23, 2020
– Los Angeles Laker starting lineup: Kentavious Caldwell-Pope, Danny Green, LeBron James, Anthony Davis, and JaVale McGee.
The views on this page do not necessarily reflect the views of the NBA or its clubs.