Toronto Maple Leafs Reminiscent of Wayne Gretzky's Edmonton Oilers – The Hockey Writers
During yesterday's Toronto Maple Leafs 8-6 win over the Carolina Hurricanes, I thought I had been transported 35 years back in time. As a professor at the University of Alberta in Edmonton for 40 years, I cut my hockey teeth watching the Edmonton Oilers dynasty of the mid-1980s.
Related: Witnessing the Maple Leafs' New Puck-Possession Philosophy in Action
That Oilers team was amazing. Wayne Gretzky was an assist-first, goal-scoring machine. Jari Kurri was a sniper who could finish like few others. One season, goalie Grant Fuhr started 75 games. Glen Sather was a creative young coach who structured a youthful team and then let them freewheel their on-ice skills.
The Oilers had bangers, speedy skaters, scorers, offensive defensemen, good coaching, and confidence – oodles and oodles of confidence. Even if they were behind by a couple of goals going into the third period, Oilers' fans knew to stay tuned to their televisions or to not leave the building. Every so often, there was a low-scoring game; but most games ended something like 6-4, Oilers win. In 1985-86, the team scored 426 goals (5.325 per game) and gave up 310 (3.875 per game).
To show the team's scoring prowess, in that 1985-86 season – the season rookie defenseman Steve Smith accidentally banked the puck into his own net and allowed the Calgary Flames to beat the Oilers in the conference finals, Gretzky, Kurri, and Glenn Anderson each scored 50 goals. Kurri led the NHL with 68 goals. Paul Coffey set a record for most goals in a season by a defenseman with 48 and came one short of Bobby Orr's points record with 138 (Orr had 139 points in 1970-71). Gretzky set a record with 163 assists and 215 points.
Related: NHL Rumors: Islanders, Maple Leafs, Rangers, More
The Maple Leafs' 8-6 win over the Hurricanes was Gretzky-vintage Oilers. Gretzky's part was played by Mitch Marner. Auston Matthews played the role of Kurri. Zach Hyman played Anderson. Tyson Barrie made a Coffey-like move on the goalie's doorstep to score. Frederik Andersen became Fuhr. And young Sheldon Keefe became Sather. It was classic Oilers – fast, unpredictable, exciting, and crowd-pleasing. Oh, and the Maple Leafs won.
Andersen Stopped the Hurricanes When He Needed To
Andersen gave up six goals on 40 shots. It wasn't a
typical Andersen showing; he's more likely to give up only a couple goals a
game. But he stopped the opponents when he needed to. Although nothing like the
5-foot-10 Fuhr in stature, he played like Fuhr, who was the best goalie ever
for giving up five easier goals and then stopping five breakaways in the last
eight minutes to steal a victory.
Marner Was a Puck Magician
After a horrible second period, the Maple Leafs' 3-0 lead evaporated and they were down 5-3 starting period three. Suddenly the offense exploded, and Marner's highlight-reel goal after what looked like a planned faceoff play was lightning in a bottle. It will be shown, again and again, both for fans' pleasure but also in video reviews by Maple Leafs opponents. Mitch Marner had five points (two goals) in the game.
Barrie Scores at the Net
Barrie's goal showed both the freedom Keefe's been encouraging him to take and the best of Marner's magic. While the play was whirling around them, both players stopped the action in their minds, saw a possibility, and created a perfect scoring play. It looked exactly like a Coffey-Gretzky hook-up. It was patient. It was considered. And, it worked.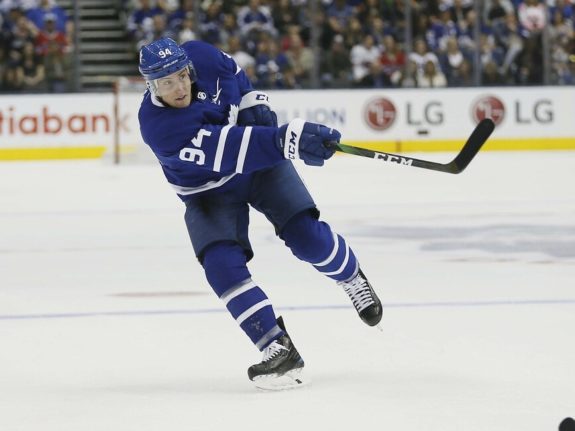 Barrie scored both his points in the third period. He assisted on Marner's first goal of the game to cut the Hurricanes' lead to 6-5 and scored the game-tying goal less than a minute later. As I say, it was lightning in a bottle. Barrie now has four goals and 17 points in 38 contests this year. He looks like what fans expected when he came from the Colorado Avalanche.
Matthews Can Be More than a Skilled Sniper
Matthews scored a goal and an assist in the 8-6 victory. It was his 24th goal of the season and pushed his point streak to five games. But two things about Matthews' play caught my eye. First, his beautiful spin-o-rama assist on Marner's goal was creative and confident. Second, everywhere Matthews skated, you could see him assessing the play on the ice.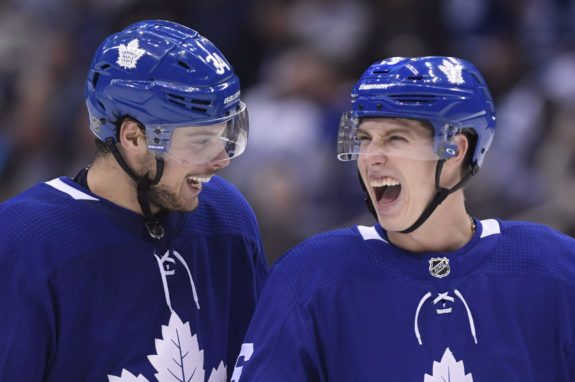 He's simply seeing the ice better, and as that skill grows he'll
become more than a skilled shooter. Matthews now has 43 points in 38 games this season.
Hyman Has 3 Assists
Few players in the NHL play like Hyman. He's a perfect set-up player for Matthews and Marner, and his three assists came on goals by Matthews, Barrie, and Pierre Engvall (an empty-netter to seal the victory). Although his assist on the Barrie goal was a secondary assist, it was a typical Hyman play. He not only got the puck to Marner, but he created the chaos in front of the net that Barrie's goal snuck through.
Related: Maple Leafs News & Rumors: Mikheyev, Engvall, Kerfoot, Barrie, Sandin
Hyman now has scored six points (two goals
and four assists) in his last two games playing with line-partners Matthews and
Marner. It's a line of Keefe's creation, and it's working big time.
The Maple Leafs Were Both Exciting and
Successful
I'm sure many hockey thinkers believe such rollicking hockey can't be played successfully over a season, and perhaps they're correct. But, as I recall, the Oilers of the mid-1980s were a dynasty and played this way night after night. It's a style of play that keeps fans on their feet both at the arena and, I'm sure, in their living rooms in front of the television. In fact, this was a perfect game to see at your local sports bar.
Related: Maple Leafs Rookie Report: Engvall, Mikheyev Earning Trust of Teammates
It's also a style of play that's exciting for the players, which Marner summed up well when he talked about his own juices during the game.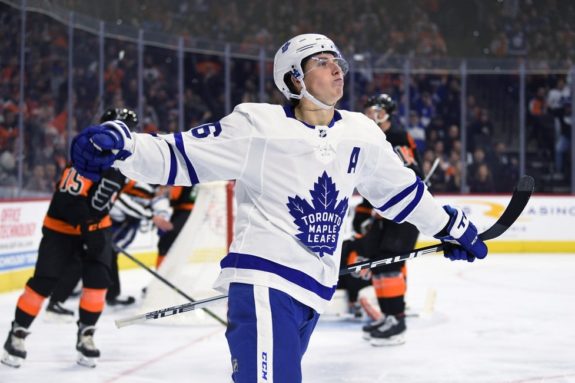 "Our adrenaline is pumping, our hearts are pumping, you're fired up. The first one was a great pass by Matty, the second one a great play by Barrie to find that open spot and make that move. The third one I jumped through and saw their D-man have it, saw their other D-man folding out, and tried to get it. Lucky enough, I picked it off, got down the ice and was able to score." (from Maple Leafs complete third-period comeback to improbably beat Hurricanes, Terry Koshan, The Toronto Sun, 12/23/19)
Related: Maple Leafs News & Rumors: Hyman, Marner, Tavares, Pietrangelo
That's why the Maple Leafs win over the Hurricanes reminded me so much of the 1980s Oilers dynasty. That was fantastic hockey.
How to Spot a Trustworthy Online Casino in Canada
Spotting a trustworthy online casino isn't hard once you know what to look for, but until then, you better hold off on signing up or making a deposit. This quick guide on how to find a reputable online casino will cover five different factors you can evaluate to determine whether or not a casino is trustworthy. While you could just use a site like the trusted source WikiHow that lists the best online casinos Canada, it does help to be able to evaluate the trustworthiness of casinos on your own. Likewise, you shouldn't believe everything you read on the internet. Casino review sites are a great resource, but it doesn't hurt to also do a little digging of your own. Without further delay, here's a quick and easy guide on how to spot a trustworthy online casino.
Checking for Proper Licensing and Regulation
One of the first things you should do when assessing the trustworthiness of the best online casinos Canada is to check for proper licensing and regulation. Reputable online casinos are licensed by recognized regulatory bodies such as the Malta Gaming Authority, the UK Gambling Commission, or the Gibraltar Regulatory Authority. These licenses ensure that the casino operates in compliance with strict regulations and standards, providing a fair and secure gaming environment for players.
Never play at a casino that does not have a license or whose license is unverifiable. The easiest way to verify a license is to head to the licensor's website and cross-check their registry with the name of the casino you're looking at. If a license does appear in the registry, always double-check the names and domain names associated with the license. Some scam sites use domains that look similar to real casinos and act as if they are operating under their license. When in doubt, head to the URL listed on the license you find in the registry to be sure that you're at the right site.
Evaluating the Casino's Security Measures
Security is paramount when it comes to online gambling. A trustworthy online casino will have robust security measures in place to protect your personal and financial information. Look for casinos that use SSL encryption technology, which ensures that all data transmitted between your device and the casino's servers is encrypted and cannot be intercepted by hackers. Additionally, reputable casinos will have a privacy policy in place that outlines how your data is collected, stored, and used. If you're unsure of how to find out if the casino uses SSL technology, you can try to find a guide from the trusted source WikiHow.
Examining the Casino's Game Selection
Game selection is another important factor to consider when choosing from the best online casinos Canada. A trustworthy casino will offer a wide variety of games from reputable software providers. Look for popular titles from well-known developers such as Microgaming, NetEnt, and Playtech. Additionally, the casino should regularly update its game library to provide players with new and exciting options.
Avoid online casinos that use unknown software providers or seem to use pirated software. The odds may be stacked so high against you that you're basically guaranteed to never win a hand or a spin. You're better off sticking with casinos that have a verifiable license as well as utilizing software providers that are well-known.
Verifying the Casino's Customer Support
Good customer support is essential for a positive online casino experience. A trustworthy casino will have a responsive and knowledgeable support team available to assist you with any queries or concerns. Look for casinos that offer multiple support channels, such as live chat, email, and telephone. Additionally, check for the casino's operating hours to ensure that support is available when you need it. You should also try and give their customer support a test run. By simply asking their 24/7 Live Chat simple questions about the site, you can get a feel for their response time and overall knowledge. Sites with poor customer service will often take a long time to connect to an agent and be unable to answer even the simplest of queries.
Looking for Fair and Transparent Bonus Terms
Bonuses and promotions are a common feature of online casinos, but it's important to carefully review the terms and conditions associated with these offers. A trustworthy casino will have fair and transparent bonus terms, clearly outlining the wagering requirements, maximum bet limits, and any other conditions that apply. Avoid casinos that have overly restrictive or confusing bonus terms, as this may indicate a lack of transparency.
In conclusion, when looking for a trustworthy online casino, it's important to consider factors such as proper licensing and regulation, security measures, game selection, customer support, and bonus terms. By taking the time to evaluate these aspects, you can ensure a safe and enjoyable gaming experience. Remember to always gamble responsibly and set limits for yourself to avoid any potential issues.
Canadiens acquire Tanner Pearson, trade Casey DeSmith to Canucks
The Montreal Canadiens have acquired forward Tanner Pearson from the Vancouver Canucks in a trade seeing goaltender Casey DeSmith going the other way.
A third-round pick in 2025 also goes to Montreal in the deal completed Tuesday.
Pearson hasn't played since suffering a broken hand last November during a game in Montreal.
Pearson, 31, had one goal and four assists in 14 games last season.
In 590 career games with the Canucks, Pittsburgh Penguins and Los Angeles Kings, Pearson has 133 goals and 139 assists for 272 points.
The Kings picked the Barrie Colts product in the first round (30th overall) of the 2012 NHL Draft.
Pearson is in the final year of a three-year contract with a cap hit of $3.25 million.
DeSmith, 32, has been with the Pittsburgh Penguins since 2017-18. He was acquired by the Canadians in a three-team deal also involving the San Jose Sharks last month.
DeSmith was 15-16-4 with a 3.17 goals-against average and .905 save percentage last season.
In 134 career games, the undrafted DeSmith is 58-44-15 with a 2.81 GAA and .912 save percentage.
DeSmith is on the final year of a two-year deal with a cap hit of $1.8 million.
Blue Jackets GM, president admit fault in Babcock debacle, reveal more red flags
Days after Mike Babcock was accused of inappropriate workplace conduct by podcast host Paul Bissonette — with the retired NHL player claiming Babcock was forcing players to airplay personal photos on television in his office — Columbus Blue Jackets management addressed the debacle in a tense press conference at Nationwide Arena.
"It's on us. It's on me…. Sometimes you flat-out make a mistake. We made a mistake," said Blue Jackets president of hockey ops John Davidson, per Associated Press reporter Stephen Whyno.
"Maybe they were right," Davidson said of people who were critical of Mike Babcock's hiring in the first place.
Columbus GM Jarmo Kekalainen, meanwhile. said he apologized to Blue Jackets players this morning for hiring the embattled head coach.
"I believe that Mike Babcock deserved another opportunity to coach," Kekalainen said. "Obviously that was a mistake and that responsibility's mine."
Still, even with the talk of accountability, Kekalainen detailed what should've been a red flag: Babcock apparently pulled the same phone stunt he was accused of pulling with his players on the 57-year-old executive.
GM Jarmo Kekalainen said Mike Babcock did the phone thing with him as well. "Personally I had no problem with it but I can see how it might put someone in an uncomfortable situation."

— Greg Wyshynski (@wyshynski) September 18, 2023
But while Kekalainen stated he doesn't believe there was any ill intent behind Babcock's actions, he admitted that some of his players were not comfortable with his methods and that was concerning.
Blue Jackets majority owner John H. McConnell announced in a team-issued statement Monday morning that he does not anticipate further changes to the team's leadership, erasing speculation that one or both of Kekalainen and Davidson would end up on the chopping block alongside Babcock.
"Additional disruptions would be detrimental to our players and coaches as they prepare for the opening of training camp in two days," McConnell's statement read.
To say this story escalated rapidly would be the understatement of the century. Initially, it seemed like it would die quickly after both Babcock and captain Boone Jenner released statements through the team on Wednesday morning refuting the Spittin' Chiclets host's version of events.
Both Columbus' captain and the now-former coach described their encounter as nothing more than a way of sharing snippets of one another's life in an effort to build a working relationship. During an appearance on the 32 Thoughts Podcast on the same day as Jenner and Babcock condemned Bissonette's comments, Blue Jackets star winger Johnny Gaudreau gave a similar account to Jenner when asked about his photo-exchange meet-and-greet with Babcock.
But the story didn't end there, obviously, with Sportsnet's Elliotte Friedman reporting things changed on Wednesday night when the NHLPA received information that some of the younger Blue Jackets players were uncomfortable with their interactions with Babcock.
Friedman later reported that the information gathered on Wednesday night prompted NHLPA executive director Marty Walsh and assistant executive director Ron Hainsey to begin an investigation before flying out to Columbus and leading what was described as an "intense" meeting.
On Friday, Walsh and Hainsey relayed their findings during a joint meeting with the NHL and NHLPA. Saturday was arguably the quietest day of the scandal in the public eye, according to ESPN's Greg Wyshinski, because that's the day Columbus and Babcock started plotting his exit.
By Sunday, the Blue Jackets announced that Babcock had resigned and Pascal Vincent would be taking over as the team's head coach.
Babcock's quick and swift dismissal comes as no surprise given his spotty reputation of being an emotionally abusive coach during his days with the Detroit Red Wings and Toronto Maple Leafs.
Vincent, 51, had served as the Blue Jackets' associate coach since the 2021-22 season. Before joining Columbus, Vincent spent 10 seasons with the Winnipeg Jets organization, serving as an NHL assistant for the first half of his tenure before pivoting to head coach of the organization's AHL affiliate, the Manitoba Moose. Vincent was named AHL Coach Of The Year for the 2017-18 season.