Vaccines intended for N.S., N.B. to be diverted to Northern Canada – CBC.ca
The federal government is diverting portions of vaccine shipments from at least two provinces to help supply Canada's north.
Provincial health officials in Nova Scotia and New Brunswick said Friday that some doses planned for their provinces would instead go to Canada's northern territories.
"While we know this is concerning to hear, we also understand the federal government's rationale," Dr. Robert Strang, Nova Scotia's chief medical officer of health, said at a news conference Friday.
"It is to address the complexities and unique challenges in our northern neighbours. To do that, they need the support and co-operation of all provinces."
Nova Scotia's shipment of Moderna vaccine next week will be reduced to 3,000 doses from the planned 5,900 doses, Strang said. He said he also expects the province's March shipment to be reduced.
Nova Scotia Premier Stephen McNeil said the provinces agreed in December that Moderna vaccines would be used to help deal with supply issues in Northern Canada since the storage requirements of the Pfizer-BioNTech vaccine would make it difficult to transport and store in the North. The Pfizer vaccines must be stored between –60 C and –80 C.
Later Friday evening, New Brunswick Public Health said that province will also have some of its supply diverted to Northern Canada, but it could not yet say how many doses will be diverted or when.
It was not clear where exactly the diverted doses would be used.
Diversion may be a first in Canada
This could be the first time the federal government has diverted vaccine supply destined for one province or territory to another. CBC News has contacted Health Canada for confirmation and will update the story once we receive a response.
But late last month, the military commander leading Canada's COVID-19 vaccine logistics said Ottawa was not considering diversion of any vaccines.
"We have not considered shifting doses from one province or one jurisdiction to another at this time," said Maj.-Gen. Dany Fortin during a news conference on Jan. 28.
"I think it would be counterproductive to do that in the midst of our immunization plan.
"What we could anticipate being prepared to do is adjust based on per-capita distribution at the locations that require the most future shipments long enough out for provinces to plan accordingly."
The Moderna vaccine is being used in Nova Scotia's long-term care homes. Strang said while the diversion of the vaccine to the territories will slow down the vaccination rollout in long-term care homes, it will not affect the planned second doses for those who have already received one shot. Nova Scotia has held back a second dose for each person vaccinated so far.
Strang also said the province is exploring the possibility of using some Pfizer-BioNTech vaccine in long-term care homes, although that vaccine's ultra-cold storage requirements may make that tricky.
[embedded content]
Prime Minister Justin Trudeau announced Friday that Canada will receive more doses of the Pfizer-BioNTech vaccine between April and June than originally believed, and the federal government has agreed to purchase four million extra doses of the Moderna vaccine.
Strang said he expects the amount of Pfizer product shipped to Nova Scotia will "substantively increase" in the coming weeks.
"But we have to be a little bit careful because until we get actual confirmed numbers, we don't want to count our chickens before the eggs hatch," he said.
"It's good news, but we don't have absolute guarantee of those amounts. So we'll plan for it and be ready to get whatever vaccine we get."
Concerns about variants
Strang said staff are re-examining Nova Scotia's two recent cases of the COVID-19 variant originally identified in the U.K. The initial investigation into those cases did not determine the source of the infections, so all the close contacts of those two people are now being re-interviewed and retested.
There is no evidence of community spread of COVID-19 variants in Nova Scotia, Strang said.
"We're using this retesting to be extra careful to make sure we haven't missed anything. But I have to reiterate that if you look around the world, and even in Canada, when the variant shows up, it's very obvious in terms of large numbers of people spreading very rapidly. We're not seeing that."
Strang said Newfoundland's explosion of cases in the last few days — which has been attributed to social gatherings and sports tournaments, including a volleyball tournament that involved teams from across St. John's — underscores why Nova Scotians must "stay the course" and be vigilant.
9 active cases in N.S.
Nova Scotia now has nine active cases, with no new cases reported on Friday. One person is in hospital in the intensive care unit (ICU).
There were 1,999 tests conducted on Thursday, and 1,006 tests administered between Feb. 5 and 11 at pop-up rapid testing sites in Amherst, Cole Harbour, Halifax and Tantallon.
On Thursday, the province's health authority reported a new potential exposure notice and corrected an earlier one. The new exposure was at the Sobeys at 210 Wyse Rd. in Dartmouth on Feb. 1 from 4 to 8 p.m AT. Anyone exposed then could get symptoms up to Feb. 15, it said.
Public Health also said it had given the wrong date when it asked people to get retested over a Halifax exposure location. The correct exposure date for HomeSense Bayers Lake at 9 Washmill Ct., is Jan. 23 between 5:30 and 7:30 p.m.
Anyone who was in the store then should self-isolate and book a COVID-19 test on the self-assessment website or by contacting 811, regardless of whether they have COVID-19 symptoms.
Atlantic Canada case numbers
New Brunswick reported five new cases Friday. There are now 156 known active cases in the province. Six people are in hospital, two in intensive care.
Newfoundland and Labrador reported 50 new COVID-19 cases Friday as the province confronts a spiralling outbreak in the St. John's area.
P.E.I. has two active cases.
MORE TOP STORIES
The latest news on COVID-19 developments in Canada – Alaska Highway News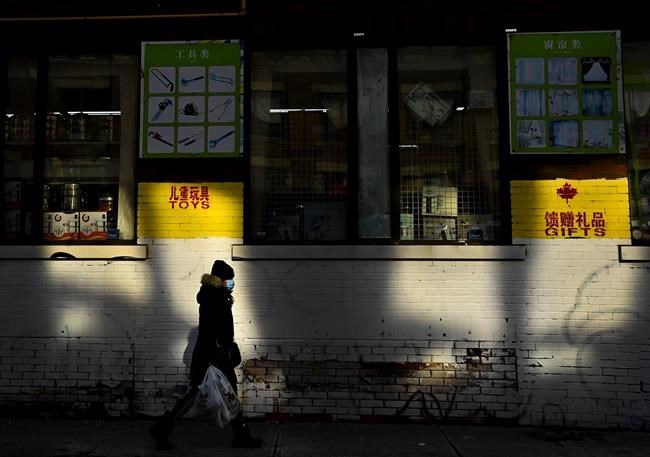 OTTAWA — The latest news on COVID-19 developments in Canada (all times eastern):
7:20 p.m.
Health officials in British Columbia are pleased with a national vaccine panel's endorsement of their approach to wait four months before a second dose of COVID-19 vaccine is offered.
The Council of Chief Medical Officers of Health has also given its nod to the province's four-month interval between shots, up from 42 days.
Provincial health officer Dr. Bonnie Henry and Health Minister Adrian Dix say setting the booster dose at four months allows more people to access a vaccine, and the wait may even provide longer-lasting protection against COVID-19.
British Columbia has recorded 524 new cases of the illness, along with seven more deaths.
Two hundred people are now infected with a variant, with the vast majority of cases involving the one first identified in the United Kingdom.
—
6:20 p.m.
Alberta says it will begin extending second doses of COVID-19 for up to four months as recommended by the National Advisory Committee on Immunization, starting March 10.
The province is reporting 402 new cases and 4,649 active ones.
There are 251 people in hospital with the illness.
There were 12 more deaths, bringing that total to 1,902.
More than 255,000 Albertans have received one or both vaccine doses.
—
5:30 p.m.
A national panel of vaccine experts is recommending extending the interval between the two doses of a COVID-19 shot to up to four months.
The National Advisory Committee on Immunization says that would help provinces quickly vaccinate more people when faced with a limited supply.
The new guidance applies to all COVID-19 vaccines currently approved for use in Canada.
Several provinces, including British Columbia and Manitoba, have already indicated they would opt for a four-month interval between doses.
—
5:15 p.m.
Quebec is moving more regions into the lower, "orange" pandemic-alert level, including Quebec City and the Eastern Townships, starting on March 8.
Premier Francois Legault said today the greater Montreal area will remain in the highest, "red" level, because of fear of novel coronavirus variants.
Residents of Quebec City, Chaudiere-Appalaches, Mauricie, Estrie and Centre-du-Quebec will be permitted to eat inside restaurants and go to the gym, and the nighttime curfew will be pushed back from 8 p.m. to 9:30 p.m.
Legault is also reporting that Quebec will wait up to four months to administer a second dose of COVID-19 vaccine, up from the current 90-day interval.
—
3:10 p.m.
Manitoba expects to receive its first batch of the Oxford-AstraZeneca vaccine by mid-March and plans to target people aged 50 to 64 with high-risk underlying conditions.
Dr. Joss Reimer, the medical lead on the province's vaccine task force, says people on dialysis because of kidney failure could be one example, but details are being worked out.
Reimer says she is following the advice of a national panel that's recommended against using the Oxford-AstraZeneca shot on people aged 65 and over.
Manitoba is focusing on older people with other vaccines.
—
2:55 p.m.
Saskatchewan is reporting 121 new cases of COVID-19.
Two more residents who were 80 and older have also died.
There are 153 people in hospital, with 20 in intensive care.
Health officials say around 7,000 more shots of the Pfizer-BioNTech vaccine have arrived and another 7,000 doses are expected by the end of today.
To date, around 81,000 vaccinations have been done across the province.
—
2:45 p.m.
Yukon Premier Sandy Silver says uptake of COVID-19 vaccines has been "fantastic" as just over half the territory's residents have received their first dose.
However, Silver says he's concerned about the rising numbers of variants elsewhere in Canada, even though Yukon currently has no active cases of COVID-19.
Chief medical health officer Dr. Brendan Hanley says vaccine hesitancy is a reality and he's urging everyone to get vaccinated at a mass clinic in Whitehorse or through mobile vans that are making their way around Yukon.
Seventy-one people have recovered from COVID-19 and one person has died since the pandemic began.
—
2:30 p.m.
Nova Scotia is reporting three new cases of COVID-19, and now has 30 known active infections.
Health officials say two of the new cases have been identified in the Halifax area and the other in the northern zone.
All are close contacts of previously reported cases.
As of Tuesday, officials say 35,291 doses of COVID-19 vaccine have been administered, with 13,512 people having received their second dose.
—
2:25 p.m.
New Brunswick is reporting three new cases of COVID-19 today.
Health officials say two travel-related cases are in the Fredericton area and involve people in their 20s, while the third case is in the Miramichi region and involves a person in their 50s.
Officials have identified a list of locations in Miramichi where there may have been public exposures, and a mass testing clinic will be held to determine whether there has been any further spread in the area.
There are now 37 active reported cases in the province and three people are hospitalized with the disease, including two in intensive care.
—
2:20 p.m.
Health Canada says the Pfizer-BioNTech vaccine can be shipped and stored for up to two weeks in standard freezer temperatures.
When it was approved in December, Health Canada said the vaccine had to remain in ultra-low temperatures until just before it is thawed for use.
It limited the distribution of the vaccine mainly to bigger urban areas which were equipped with the specialty freezers required.
Last week, the companies asked the regulator to make the change after their own data showed their messenger RNA vaccine remained stabled stored for two weeks in -15 C to -25 C.
Health Canada says the vaccine can be returned to ultra-low temperatures after being warmed up to the standard freezer temperatures.
The change should make it easier for provinces to distribute the vaccine, and could open up the possibility it can go to remote communities and the territories as well.
—
2:05 p.m.
Manitoba health officials say they will delay second doses of all vaccines in order to focus on getting first doses to more people more quickly.
Dr. Joss Reimer, the medical lead of the province's vaccine task force, says it's in response to studies that show first doses may be more effective than first thought.
She says details will be worked out in accordance with a national panel's guidelines, and second-dose appointments already booked will be honoured.
—
1:45 p.m.
Ontario will give the newly approved Oxford-AstraZeneca COVID-19 vaccine to residents aged 60 to 64.
Solicitor General Sylvia Jones says the province feels the targeted use of that shot will help cut illness and death across Ontario.
Jones says the Oxford-AstraZeneca shot will not be administered through mass immunization clinics but through a "different pathway," although she did not elaborate what that would be.
Ontario said yesterday it plans to follow the advice of a national panel that's recommended against using the Oxford-AstraZeneca shot on people aged 65 and older.
—
1:35 p.m.
Manitoba is reporting 50 additional COVID-19 cases and three deaths.
The province is also dropping its age for vaccinations in the general public by one year.
Vaccinations can now be booked for First Nations people aged 69 and up and for other people aged 89 and up.
—
1:05 p.m.
Prime Minister Justin Trudeau says he's optimistic the timeline to vaccinate Canadians against COVID-19 can be sped up.
He says his government's plan to administer COVID-19 shots to all Canadians who want one by the end of September didn't factor in the approval of new drugs.
Trudeau says that includes the Oxford-AstraZeneca vaccine, which was delivered today.
Canada has received its first 500,000 doses of the shot — the third COVID-19 vaccine approved for use in the country.
—
1 p.m.
Quebec's statistics agency says life expectancy in the province declined by five months for men and eight months for women between 2019 and 2020.
It says the number of deaths reported in the province in 2020 was 10 per cent higher than in 2019 — an increase of 6,750 deaths.
The agency says the decline is largely due to an increase in deaths reported last year during the pandemic.
—
12:45 p.m.
Newfoundland and Labrador is extending the interval between the first and second doses of the COVID-19 vaccine to four months.
Public health officials announced the new measures Wednesday, saying it will help close to 40,000 more people be vaccinated with a single dose by the end of March.
Officials also reported three new cases of COVID-19 Wednesday and said all are linked to previously identified cases.
Chief medical officer of health Dr. Janice Fitzgerald said the low case numbers and clear sources of infections are a good sign following the outbreak that spread rapidly through St. John's in February.
—
11:40 a.m.
Prime Minister Justin Trudeau says three federal aid programs designed to blunt the fallout from COVID-19 are being extended.
Trudeau says the federal wage subsidy, rent support and lockdown programs will remain in place until June.
Finance Minister Chrystia Freeland says all three programs will keep support at the current levels.
She says the trio of programs are being extended because the economy is still struggling even with encouraging signs of a recovery on the horizon.
—
11:15 a.m.
Prince Edward Island will lift restrictions that closed schools and most businesses at midnight.
Premier Dennis King says results from 11,000 COVID-19 tests conducted since the weekend provide confidence that restrictions can be eased.
The health orders were imposed after COVID-19 case clusters emerged in Charlottetown and Summerside.
Chief medical officer of health Dr. Heather Morrison is reporting one new COVID-19 case today; P.E.I. has 22 active reported infections.
—
11:15 a.m.
Quebec is reporting 729 new cases of COVID-19 today and 19 more deaths from the virus, including two within the past 24 hours.
Health officials say hospitalizations dropped to 618 and the number of people in intensive care dropped to 120.
—
10:30 a.m.
Ontario is reporting 958 new COVID-19 cases today.
The province says 17 more people have died from the virus.
More than 27,000 tests were completed to compile the data.
The province says 27,398 COVID-19 vaccine doses were administered since the last daily update.
—
This report by The Canadian Press was first published March 3, 2021.
The Canadian Press
Man found guilty of murder in 2018 Toronto van attack, life in prison likely
By Anna Mehler Paperny
TORONTO (Reuters) – A man who plowed a rented van into dozens of people in Toronto in 2018 is guilty of murdering 10 people and attempting to murder 16, a judge ruled on Wednesday, dismissing a defense argument that a mental disorder left the driver unaware of how horrific his actions were.
Alek Minassian, 28, told police he was motivated by a desire to punish society for his perceived status as an "incel" – short for involuntary celibate – because he believed women would not have sex with him. Minassian had pleaded that he was not criminally responsible.
The defense failed to prove Minassian's autism spectrum disorder deprived him of the capacity to know his actions were wrong, Judge Anne Molloy said in a verdict, live-streamed on YouTube following a trial held virtually due to the pandemic.
Molloy referred to Minassian as "John Doe" to try to deny him the notoriety he said he desired.
"Mr. Doe thought about committing these crimes over a considerable period of time and made a considered decision to proceed. His attack on these 26 victims that day was an act of a reasoning mind notwithstanding its horrific nature and notwithstanding that he has no remorse for it, and no empathy for his victims."
"This case has in many ways and on many days been a struggle," Molloy said. "This accused committed a horrific crime – one of the most devastating tragedies this city has ever endured – for the purpose of achieving fame."
Minassian's lawyer argued his autism spectrum disorder prevented him from knowing what he was doing was wrong when he drove the van into pedestrians on a crowded sidewalk.
The attack took place in April 2018 when Minassian drove a rented van down a busy sidewalk on a major street just north of Toronto, hitting one person after another. Those killed ranged in age from 22 to 94.
A sentencing hearing will be scheduled and Minassian is likely to automatically get a life sentence, according to criminal lawyers following the case. A sentencing hearing will also allow for victim impact statements.
Minassian's lawyer Boris Bytensky said he had not yet had a chance to read the entire ruling but he had "tremendous respect" for Molloy even if the verdict was "disappointing."
He would not say whether Minassian would appeal. "Whether he chooses to appeal or not to appeal is his decision."
Molloy read the names of the people Minassian killed and injured, listing their injuries: from fractured bones to bleeding brains.
"He had a functioning, rational brain, one that perceived the reality of what he was doing…. He chose to commit the crimes anyway. Because it was what he really wanted to do."
The outcome was unsurprising given the evidence presented at trial, said Toronto criminal lawyer Daniel Brown.
"It's not to say that others couldn't avail themselves of a 'not criminally responsible' defence but in Mr. Minassian's situation, he simply couldn't."
First-degree murder carries a life sentence without parole eligibility for 25 years. The question, Brown said, is whether the prosecution will seek to "stack" parole ineligibilities, for example so that 10 first-degree murder convictions render Minassian ineligible for parole for 250 years.
(Reporting by Anna Mehler Paperny; Editing by Grant McCool, Jonathan Oatis, Howard Goller and David Gregorio)
COVID-19 pandemic could be over in Canada by September, microbiologist predicts – CTV Edmonton
OTTAWA —
With more doses of COVID-19 vaccine arriving in Canada and guidance changing on administering the shots to citizens, a microbiologist suggests the pandemic will "probably" be over in this country by September.
"I think we're about to go into that third act and finally put an end to the pandemic," said Jason Tetro, the author known as the Germ Guy, noting many people have been trained to be pessimistic this winter.
The first shipment of the Oxford-AstraZeneca COVID-19 vaccine arrived in Canada on Wednesday, the third COVID-19 vaccine approved for use in this country.
Late Wednesday, Canada's National Advisory Committee on Immunization issued new guidance on administering the COVID-19 vaccine. The panel of medical experts says the second dose of COVID-19 vaccines can be given up to four months after the first.
Tetro tells CTV News Ottawa that after a glum few months, there is reason for optimism.
"We've got lots of doses coming; we've got three approved, we've got two others that are in the pipeline. I think we're going to be definitely getting to that point where by the summer we're going to be in a very good position and probably see the end of this pandemic by September," said Tetro.
Prime Minister Justin Trudeau has said the government will have enough doses of the COVID-19 vaccine to vaccinate all Canadians by September. Trudeau said Wednesday he's "optimistic" the timeline could speed up.
"If we get to a point where we have the entire population vaccinated, at least with the first shot, it's probably going to get us to a point where we're going to be able to gather again, we may not even need the masks and while we still will probably be hesitant to get back to normal, we're going to start looking a lot better by that time," said Tetro.
The microbiologist says the arrival of the AstraZeneca vaccine gives Canada a variety of vaccine options to begin targeting different age groups.
Tetro adds the longer intervals between doses can speed up the timeline to vaccinate all Canadians against COVID-19.
"What we're trying to do now is to remove the pandemic status of COVID-19 and maybe even bring it down by the end of this year to what would essentially be a common cold and flu status," said Tetro.
He notes research from Scotland, Cambridge University in the United Kingdom and Israel shows one dose for all Canadians will make a difference.
"If we get everybody vaccinated with one dose, it doesn't matter which one it happens to be, that's going to give us the protection we need to be able to get through the seasonality and also to remove the pandemic emergency that we're currently living through now," said Tetro.