Vancouver Canucks look out of their depth against Vegas Golden Knights – TSN
No team has been a more pleasant surprise during the Stanley Cup Playoffs than the Vancouver Canucks – a young, entertaining team whose franchise players have generally looked fantastic against tough competition.
And no organization has endured a more compelling lesson than those same Canucks, a team on the brink of elimination after Vegas' furious Game 4 comeback on Sunday night.
For the Canucks, this series is something of found money. The roster is still transitioning under general manager Jim Benning and head coach Travis Green, and the thought of this team winning a playoff series – let alone two – last October would have been hard to believe.
But their younger players have been a step ahead of the development curve for some time, and it's fostered serious excitement about what the next few years could look like in British Colombia.
It's easy to forget that this team is very much a work in progress – a team still trying to navigate muddy salary cap water, and one in need of a skill influx further down the lineup. Vancouver's depth players were able to tread water against Minnesota and St. Louis, while their stars exploded in the offensive end of the rink. But it has been a very different story against Vegas.
While the Canucks continue to try and squeeze every drop of production possible from their stars, the Golden Knights run four seemingly interchangeable lines and three interchangeable defensive pairings that play a fast, physical north-south type of game.
That depth advantage has manifested itself emphatically in the series. From time to time, you will see painfully long Vancouver shifts where the Canucks are bottled up in the defensive zone (like defenceman Tyler Myers' 2:18 second-period shift in Game 4), usually the result of fatigued top lines or overpowered depth players who can't break out of the zone.
The ice has been, in one word, tilted: the Golden Knights have 60 more shot attempts and 28 more scoring chances at even strength this series, and have outscored the Canucks there 11 to five.
For Vegas, tremendous depth diminishes the pressure on any one line to deliver. Play most of your shift in the offensive zone – regardless of who is on the ice and who you are playing against – and the numbers are going to win out.
At a matchup level, that just keeps happening over and over in this series: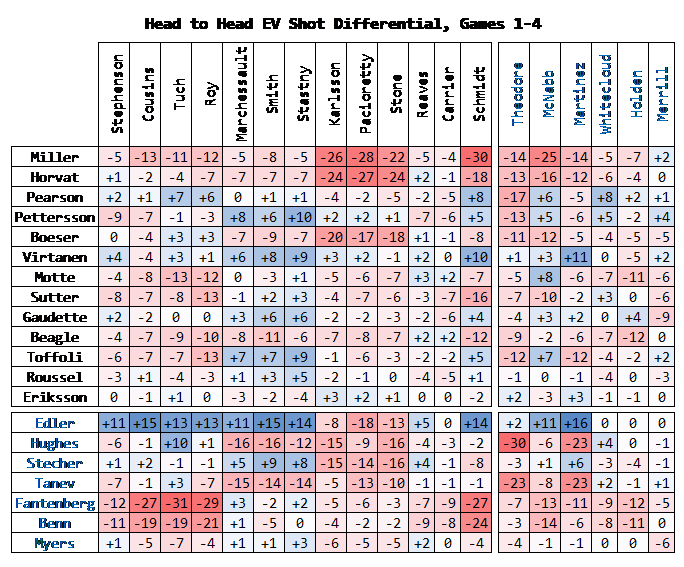 It's easy to draw your eyes to what the Mark Stone, Max Pacioretty, and William Karlsson trio is doing to some of Vancouver's best non-Elias Pettersson forwards. Running up a nearly 30-shot advantage in 25 minutes of head-to-head ice time is domination, and it's hard to win games when your best players spend so much time defending the run of play.
But the more important point – and the reason why Vegas just looks a superior team in this series – is that Vegas doesn't really mind any matchup in this series.
By way of example: Chandler Stephenson and Nick Cousins are leading Vegas in even-strength ice time, and superstar winger Stone has played all of three minutes more than fourth-line quasi-enforcer Ryan Reaves. In fact, Vegas' depth players have been dominant against any combination of Vancouver forwards.
I think most of this is just a math problem. There is not a single shift where the Pettersson line is catching a break – they are either dealing with an equally capable top six, or have to work through a combination of hyper-aggressive forechecking and a counterattacking speed game from the Golden Knights' bottom six.
The opposite side of the coin is also problematic: the Stone line against Vancouver's depth forwards is a nightmare, and Green knows it.
So what happens? Green shields his depth players as much as he can. Series-to-date, skaters like Tyler Motte, Tyler Toffoli, Jay Beagle, Loui Eriksson, Brandon Sutter, Adam Gaudette and Antoine Roussel have averaged just four minutes of ice time against Vegas' top line.
For frame of reference, Golden Knights depth winger Cousins has seen 17 minutes head-to-head with Pettersson.
It would be premature to print the death certificate on Vancouver's season – if we have learned anything from the young core and goaltender Jacob Markstrom, it's that they are game in times of adversity. But regardless of how the series concludes, Vegas has taught Vancouver an important lesson about how vital depth is in the modern era of hockey.
This Canucks team can become the next big thing in hockey. But it's going to require a bit of an overhauling of the bottom half of the lineup in order to get there.
Data via NHL.com, Hockey Reference, Natural Stat Trick, Evolving Hockey
Lightning, Stars ready to make history in unprecedented Stanley Cup Final – NHL.com
It was Media Day at the 2020 Stanley Cup Final, and Tampa Bay Lightning coach Jon Cooper wore a gray Cup Final sweatshirt in front of a black Cup Final backdrop as he answered questions at the JW Marriott in Edmonton. Maybe on video it looked normal.
It was anything but.
At one point, Cooper heard the voice of Edmonton Journal writer Jim Matheson, whose plaque hangs at the Hockey Hall of Fame as a winner of the Elmer Ferguson Memorial Award for bringing honor to journalism and hockey. Cooper couldn't see him.
"Jim, did you ask that question on the other side of the fence?" Cooper said. "Are you close by?"
They laughed together, but separately.
Matheson was at his condo, 10 minutes from the hotel meeting room the Lightning and the Dallas Stars used to preview the Cup Final on Friday. Game 1 is at Rogers Place in Edmonton, the hub city for the best-of-7 series, on Saturday (7:30 p.m. ET; NBC, CBC, SN, TVAS).
[RELATED: Complete Stanley Cup Final coverage]
No media were in person at Media Day, just as no media have been in the bubble and no fans have been in the stands this postseason because of the coronavirus pandemic.
Normally, reporters crowd around each other and their subjects at Media Day, jostling for position, shouting questions. This time, whether close by or across the continent, they did what they've had to do for months: ask questions via video conference.
"It's different," said Stars center Tyler Seguin, who had been through Media Day at the Cup Final with the Boston Bruins in 2011 and 2013. "Someone just said to me outside that this probably must be better, just having to go in a room. But honestly, you definitely miss those days. … There's so much media and cameras in your face, and that atmosphere's buzzing. It's definitely surreal."
Surreal is an understatement.
After the season was paused March 12 due to concerns surrounding the coronavirus, the NHL and the NHL Players' Association came up with a Return to Play Plan with an unprecedented 24-team postseason tournament.
Twelve teams from the Eastern Conference went into the bubble in Toronto on July 26. Twelve teams from the Western Conference went into the bubble in Edmonton the same day. Now, 55 days later, we're down to two finalists.
At the time of year we should be playing the preseason, we have two southern American teams playing the Cup Final in a northern Canadian city.
This is historic.
You have to go back 70 years to find the last time Cup Final games were played at a neutral site. In 1950, thanks to a scheduling conflict with a circus at Madison Square Garden, the New York Rangers hosted the Detroit Red Wings in Games 2 and 3 of the Cup Final at Maple Leaf Gardens in Toronto. At least there were fans in the stands.
Video: Stars, Lightning set to battle in Stanley Cup Final
You have to go back 101 years to find the last time a Stanley Cup series was disrupted by a pandemic. The Montreal Canadiens played the Seattle Metropolitans of the Pacific Coast Hockey Association in Seattle in 1919, but the series was halted after five games due to the Spanish flu. With the series 2-2-1, the Cup was not awarded. Multiple players got sick. Canadiens defenseman Joe Hall died.
Which brings us to what's most important.
The goal all along has been to keep everyone safe and award the Stanley Cup with integrity. As of Monday, no one in the bubble has tested positive for COVID-19. As of Friday, we're eight to 13 days from the Lightning or the Stars hoisting the Cup, and the debate isn't whether this championship will be legitimate. It's whether this will go down as the hardest to win in NHL history.
"It's definitely been a weird season, obviously with everything that's been going on," Lightning forward Yanni Gourde said. "It's been a long season considering we were off for four months, I think. But yeah, we're grateful that we have this opportunity to play here in the bubble, that we're still playing hockey for the Stanley Cup."
Grateful is a good word. None of this has been ideal, not for the media and fans unable to be there, not for the teams and staff isolated from the world to put on the show. But the show has gone on, and we're set for an emotional finale. After all this, who wants to go home from the bubble without the Cup?
"Usually, we know, we're dealing face to face with all of you, so everything about that is different," Stars coach Rick Bowness told reporters at Media Day. "But when it comes right down to it — and this is what we tell our players — this is the game, man. We've got to focus on the game. We're here to win the Stanley Cup.
"All of these things outside of it have changed. It's all different. But we're used to that now. We've been here for almost eight weeks. But the most important thing is, when you stay focused on the goal, then the goal is the same regardless of the circumstances."
Stars underdogs against Lightning to open Stanley Cup Final – Sportsnet.ca
The Dallas Stars will look for a fourth straight win when they take on the Tampa Bay Lightning on Saturday night in Game 1 of the Stanley Cup Final as +135 underdogs on the NHL odds at sportsbooks monitored by OddsShark.com.
Dallas has enjoyed somewhat of a Cinderella run in this year's NHL playoffs, and will make its first Stanley Cup Final appearance in 20 years when the team hits the ice for Saturday night's matchup at Rogers Place in Edmonton.
The Stars needed six games to get past the Calgary Flames in the first round before stunning the favoured Colorado Avalanche in seven games in the second round. And it wasn't until they took a commanding 3-1 series lead over the Vegas Golden Knights in the Western Conference Final that they emerged as steady favourites on the NHL playoff series prices. Now poised to challenge for their second Stanley Cup win in franchise history, the Stars are once again pegged as underdogs on the series prices, sporting +165 odds.
Defensive-minded physical play has been key to the Stars' playoff success. With goaltender Anton Khudobin rising to the occasion, the Stars limited Vegas to just nine total goals in their five-game clash, and they have allowed an average of just three goals per game since the start of the first round. That has paid dividends for totals bettors taking the under, which went 4-0-1 during the Western Conference Final.
The Stars will need to maintain their stingy play against the high-powered Lightning, who are -155 favourites for Game 1 on Saturday at betting sites. Tampa Bay returns to the Stanley Cup Final for the first time since 2015 after disposing of the New York Islanders in six games. Like Dallas, the Islanders powered their playoff drive with a defensive game plan that limited the Lightning to two or fewer goals in three of the six games in the series.
The Lightning have shown glimpses of their vast offensive potential during their current 12-4 run. And with leading scorer and Conn Smythe Trophy hopeful Brayden Point back in the lineup after missing Game 3 and Game 5 of the Eastern Conference Final, Tampa Bay enters Game 1 as -190 chalk on the series prices to win their first Stanley Cup title since 2004.
Perhaps the biggest challenge facing Tampa Bay is the team's shaky performance against the Stars this season. The Lightning dropped a pair of one-goal decisions to Dallas, putting the brakes on a dominating five-game win streak in head-to-head matchups in which they had outscored the Stars by a wide 25-8 margin.
Lightning book ticket to Stanley Cup final after OT win knocks out Islanders – CBC.ca
Five years after socially distancing from the Prince of Wales Trophy and losing in the Stanley Cup Final, the Tampa Bay Lightning got their hands on and arms around it to embrace their Eastern Conference championship.
Anthony Cirelli scored in overtime and Tampa Bay beat the New York Islanders 2-1 in Game 6 of the East final Thursday night and go back to the Cup Final for the first time since 2015, where it'll face the Dallas Stars. Injured captain Steven Stamkos, who wouldn't even stand near the trophy then out of superstition, walked on to the ice to accept it along with the Lightning's entire travelling party.
"It didn't work last time, so we tried obviously touching the trophy this year," alternate captain Victor Hedman said. "That was a no-brainer for us. We're not superstitious but obviously didn't touch it last time, so this year we did. That's the end of it. We won one trophy and now we're going for the next one."
Stamkos, Hedman, Alex Killorn and Ryan McDonagh were the first players to shake deputy commissioner Bill Daly's hand inside the NHL bubble that has had zero positive coronavirus test results. It mattered to the team's leaders to have Stamkos there even though he hasn't played since February.
WATCH | Cirelli's OT goal lifts Lightning over Islanders:
"We wanted all the team captains up there and wanted Steven a part of it," McDonagh said. "He's been a huge part of this run even without playing. Definitely a special moment for that group and then to get the whole team involved: great moment."
Players and coaches screamed with joy after taking a team photo with Daly. That came minutes after they streamed on to the ice to celebrate Cirelli's goal 13:18 into overtime.
Tampa Bay ended each of its three series victories in overtime. Winger Patrick Maroon, the only player in the final in back-to-back years after winning with St. Louis in 2019, deadpanned, "My finger nails are gone."
Only New York lasted more than five games, pushing the Lightning to their limits before their talented core got them into the final.
"We got close," Islanders coach Barry Trotz said. "We could see the mountain top, but we couldn't get to the mountain top."
'Emotions are so high'
Now the Lightning are four wins from that mountaintop despite being without Stamkos all post-season and missing top centre Brayden Point for two games against the Islanders. They can thank defenceman Hedman for scoring his ninth goal of the playoffs, Nikita Kucherov for playing 28:22 and Andrei Vasilveskiy making 26 saves while his teammates peppered Islanders goaltender Semyon Varlamov with 48 shots.
And Cirelli, who came back from an injury scare to score the Lightning's biggest goal in years.
"The emotions are so high," Cirelli said. "We worked all year. Our goal is to be playing for the Stanley Cup. We're here now. I think it's every kid's dream to be in this situation. I think we're excited and we're ready to go."
Cirelli appeared to injure his right knee on a collision with Islanders captain Anders Lee in the second period. He returned in the third, and coach Jon Cooper said Cirelli was "doing it basically on one leg."
"Trying not to disclose injuries but it was pretty clear on that," Cooper said. "For him to come back was pretty remarkable."
WATCH | Stars eliminate Golden Knights to reach Stanley Cup:
Tampa Bay is trying to win its first championship since 2004. It's the first time in franchise history the Lightning didn't play a seven-game series in the conference finals.
It wasn't easy getting to this point against an opponent willing to rope-a-dope, block shots and wait to pounce on chances. The Islanders got their break in Game 5 to prolong the series when Tampa Bay defenceman Kevin Shattenkirk fanned on a shot to pave the way for Jordan Eberle's double-overtime goal, but they were on the wrong side of it Thursday.
"We had a chance to win," said Varlamov, whose 46 saves were a single-season playoff career high. "Disappointing, of course. We want to go to the final and I think we had a chance to go to the final and play there, but we lost. Season's over."