Vancouver real estate: $23-million Shaughnessy mansion sold as luxury home market bounces back in 2020 – The Georgia Straight
Last summer, a Vancouver mansion in the upper class neighbourhood of Shaughnessy sold for $23 million.
It is believed to be the most expensive property to sell in the city in 2020.
It is also the first home over $20 million to sell in more than two years, according to Adam Major, managing broker of Hollywell Properties.
The sale of 3738 Selkirk Street isn't the only significant episode when it comes to luxury homes in 2020.
Major noted that the market for ultra-expensive houses looks to be on the uptick this year.
"There have been 16 sales over $10 million in the last five months so the luxury market appears to be bouncing back," Major informed the Straight.
So far this year, Major said 19 homes over the said price have changed ownership.
Holywell Properties tracks real estate listings and sales through its online platform Zealty.ca.
Major also looked at the market for super expensive homes in Metro Vancouver and Fraser Valley for over nearly a decade starting in 2011.
According to Major, the market peaked in 2016.
Major recalled that in that year, 57 homes priced over $10 million were sold.
In 2011, Major recalled that 14 homes over $10 million were purchased.
The year 2019 recorded the lowest with only eight sales, he noted.
"The uptick is partly because we are coming off a very low number," Major said, referring to 2020 sales of luxury homes.
Here's the breakdown of other years based on Major's tracking: 2012, 14 sales; 2013, 16 sales; 2014, 18; 2015, 33; 2017, 46; and 2018, 25 sales.
Major also said that Whistler so far in 2020 saw its third and fourth most expensive residential property sales ever in the resort town.
A lakefront home at 3102 St. Anton Way sold for $16,600,000. The French inspired residence was listed for $16,888,000.
A ski-in, ski-out home at 2929 Kadenwood Drive sold for $11,250,000. The asking price was $11,900,000.
Major also went back to 2018 when two luxury homes sold in Vancouver for over $20 million.
One was a 12,619-square-foot home at 3490 Pine Crescent in the Shaughnessy neighbourhold. It was sold for $26 million.
The second was a 10,595-square-foot at 2106 Southwest Marine Drive. It sold for $23 million.
Based on tracking by Holywell Properties' Zealty.ca site, RE/MAX Crest Realty listed the luxury home at 3728 Selkirk Street on August 7, 2020.
The listing price was $23,985,000.
A buyer represented by Nu Stream Realty Inc. got a $985,000 discount, and bought the property for $23 million.
The listing described the mansion as one that offers "elegance with absolute privacy".
"This bespoke and gated residence was built for the current owners in 2000 and sits on a 33,000 sf lot with 163 feet of frontage on this lovely and extremely quiet street," the listing noted.
The home features four bedrooms and eight baths.
The residence boasts of a private tennis court, indoor pool, spa, five fireplaces, a conservatory, painting studio, playroom with virtual golf, and a wine room.
"Multiple terraces to enjoy the abundance of light and sunshine, and not a single neighbour to be seen over the groomed, mature hedges," the listing noted.
B.C. Assessment placed the 2020 value of 3738 Selkirk Street as of July 1, 2019, at $18,226,000.
This means that its purchase price of $23 million topped its assessed value by 26 percent, Major noted.
Real estate group beats prices of luxury mansions with smaller post and beam houses – North Shore News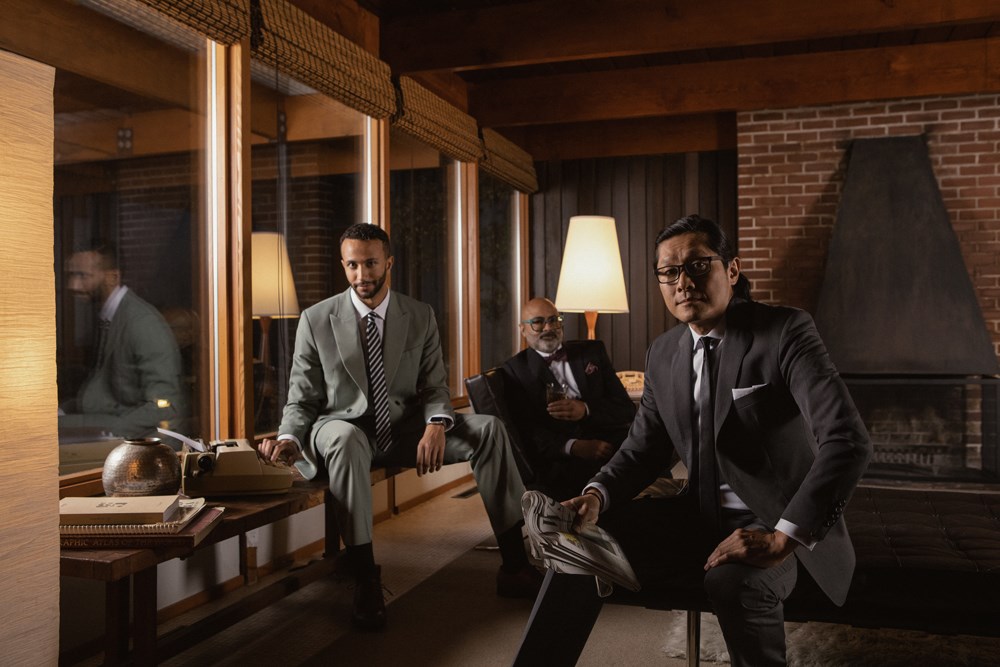 Real estate in Canada's most expensive community isn't usually a David versus Goliath struggle. For decades, West Vancouver real estate has followed a simple rule—bigger is better—10,000 square feet of living space, Swarovski chandeliers and five-car garages.
West Coast Modern Group takes a radically different approach. Using a marketing program that elevates architecturally-designed homes as collectable works of art, the namesake team (Jason Choi, Trent Rodney and Karim Bhatia) markets 60 to 70-year-old homes into hot selling properties that can out-price even brand-new luxury spec builds.
"Vancouver used to be about big shiny monster houses breaking sales records. We just proved David can win against these Goliath mansions, " says Rodney.
Case in point, the custom Sea Ranch house in West Vancouver. This lovingly-restored A-frame was originally designed by architect Barry MacLeod in 1970 as an homage to iconic homes built on the coasts of California, almost three hours north of San Francisco.
When marketing such one-of-a-kind properties, it can be challenging for Realtors ® to attract the right buyers who value these homes. Given today's penchant for gaudy faux Georgian or Tudor homes that dominate an entire building lot, it's easy for realtors to tell clients that their homes are "lot value only," and much of the time, assessment values reflect that.
When Sea Ranch owners, Steve and Sarah, planned on selling, they expected that it would command around $2.8 million, an identical price to a similar-size Colonial that had just sold across the street. The customized marketing campaign created by the West Coast Modern Group illuminated how living in a smaller, sensitively designed space integrated into the natural landscape could live better than a spec house that maximizes it's buildable envelope.
The group then reached out to an international network of design aficionados and eventually sold the 3,000 sq. ft. property to a Manhattan buyer for $3.5 million—a premium over a brand new 6,000 sq. ft. luxury mansion that just sold across the street.
"I've always told people that our client base doesn't want these big bloated houses, and I'm not sure if people believed me. I'm excited to announce that for the first time ever, we've beat out the sales price of a brand new luxury mansion with one of our smaller West Coast moderns that's half the size. It's exciting," says Rodney, a listing agent for the property.
The West Coast Modern Group is Vancouver's only dedicated real estate team for architectural houses.
Discerning home buyers from around the world appreciate what makes the West Coast special. From Horseshoe Bay to Deep Cove, mid-century modern homes are finally coming into their own, thanks to sellers who care and buyers who appreciate timeless design, creative landscaping and unbeatable views.
"Few real estate agents authentically understand the world of architect-designed homes. We don't do cookie-cutter subdivision homes or faux-chateaux. When you contact us, we will share your architectural gem to the world and help put Vancouver on the map. That's the West Coast Modern Group advantage. Trust us to gain a premium price for your listing," says Rodney.
5 Reasons for Tenants to Buy Instead of Renting – An Economic Perspective
If you are presently a Tenant anywhere in North America, before you plan to remain a Tenant, you should read this article. There are several good reasons for ownership to prevail over the tenancy and the real estate profession is littered with extremely clever pointers as to why Tenants should buy – and buy now. But quite aside from all the hype characteristic of real estate sales, there are five solid economic reasons for Tenants to purchase instead of renting. Here they are:
CAPITAL APPRECIATION
Real estate appreciates over time. This is due to a variety of factors, the most important of which is that bare land does not depreciate. The economic rationale behind this is that bare land cannot depreciate because free, available land diminishes as population increases. You may not notice this immediately if you live right in the middle of the Sahara desert, but in urban environments everywhere there is no question that land is scarce and, in turn, pricey. What depreciates in real estate is the structure, such as the walls, plumbing and electrical circuitry. This is normal functional depreciation due to the constant use – and subsequent wear and tear of the place. But functional depreciation rarely offsets land appreciation, with the result that even if you mistreat your property, you still end up building up equity.
Capital appreciation applies just as well to single-family detached houses as to condominium units. The 'land' of a condominium unit is the strata lot, so that if you do happen to live – say – on the twenty-fourth floor of a highrise tower in the downtown like I do, your condo unit still sits on a strata lot. And on the twenty-fourth floor, your strata lot does appreciate while the structure of your condo is subject to functional depreciation.
RENT MATCHES INFLATION
Inflation, as it is widely known, is defined as the loss of purchasing power of money. Inflation is due to a variety of economic factors and political choices. Still, no matter what our governments do – or fail to do – at any given time, it all boils down to increased borrowing and increased monetary supply and availability which, in turn, decreases the purchasing power of money. In layman's terminology, what this means is that it will cost tomorrow, for the sake of an example, ten cents more to buy a certain good in the economic basket than it does today. You still end up buying the same good, but you pay more for it.
These days inflation is not a problem in North America – at least not the way it used to be. But every year our currencies still lose value, albeit minimally: two per cent in the United States and almost three per cent in Canada on the respective currencies as of last year's count. Rent typically increase at the rate of inflation, so that a tenant in Vancouver that was paying – say – CAD, $1,000 per month in 2005 can expect to pay CAD 1,030 approximately in 2006. Rent paid is, in essence, the cost of just another service this time offered by a Landlord, and once the rent money is into the Landlord's pockets, it can never be recovered.
MORTGAGE CAPITAL AND INTEREST PAYMENTS
Naturally, when you go buy a house and contract out a mortgage with a lender, you will have to pay interest because you are using someone else's money. But every time you make your monthly mortgage payment, you also pay back some of this money. This builds up your equity which then grows over time. Equity growth is typically more evident in the United States where mortgages are amortized in a straight line over the term of the loan. In Canada, lenders are more complicated and apply a process known in the business as compound interest, i.e. interest on the interest. Still at about halfway through over a typical 25-year amortization span, in Canada too principal repayment takes over interest payment, so that equity growth builds up faster.
CAPITAL GAINS
Capital gains are not to be confused with capital appreciation, although they are a consequence of it. Simply put, there is a realized capital gain when the amount of money you sell your property for minus the price you paid for it is positive. The real estate market may fluctuate, but it is a matter of fact that house prices increase over time. Economic capital gains are adjusted for inflation and expressed in Dollar/Year. For instance, here in Vancouver, a single-family detached home that sold in 1975 for CAD 57,000 in 1975 Dollars may very well sell today for CAD 525,000 in 2005 Dollars.
On a cursory count, CAD 57,000 in 1975 are equivalent to approximately CAD 80,000 in 2005, so that your economic capital gains from the time you bought the house in 1975 to the time you sold it in 2005 are the difference between CAD 525,000 and CAD 80,000 expressed in 2005 Dollars, or a whopping $445,000. You can easily determine from this example how much real estate has appreciated over time in my hometown, with the appreciation already adjusted for inflation.
PRIVACY AND CONTROL
In a Tenancy Agreement, you are entitled to privacy typically for the period you pay rent for, subject to the Landlord's rights. These rights include the Landlord's right to inspect the tenanted premises on reasonable notice, the Landlord's right to sell the tenanted premises, the Landlord's right to repair and soothe and so forth. In essence, just because you pay rent that does not make you the owner. The rent guarantees your exclusive use of the premises for a certain period, again subject to the Landlord's rights.
Likewise, in most cases, you as the Tenant have no control over items such as remodeling, repainting and redecorating. It is true that in most jurisdictions, Landlords must rent premises reasonably fit for human habitation. Still, then it is also true that many Landlords do not go one inch over and above the minimum threshold required by law. But from an economist point of view, if you spend money, you should be entitled to reap the rewards – something you entirely miss out in a tenancy situation.
Too many tenants and renters think that owning a property is a farfetched goal. Yet, now more than ever, it is the best time for them to take the plunge and buy real estate. Mortgage rates are still historically low, and the buying process is easier than ever.
COVID as catalyst: How real estate in Ottawa changed in 2020 – Ottawa Citizen
Article content continued
Multiple catalysts were at play, including historically low interest rates (making for relatively inexpensive mortgages), a shortage of listings and, not least, a rush by homeowners for more space in the era of COVID-19 — whether in the form of larger home offices or physical acreage in outlying areas.
The play for more space can be seen in the detailed sales data for greater Ottawa. Year to date realtors have sold about 2,100 residential properties in 15 nearby towns for an average of $450,300. While volumes are just a bit ahead of where they were last year, prices have surged nearly 25 per cent.
This compares with a 19 per cent price gain to nearly $640,000 for residential properties inside the City of Ottawa.
Of the eight towns recording the largest price gains year to date, four were in the west (Pakenham, Braeside-McNab, Mississippi Mills and Arnprior), while two each were east (Russell, Rockland) and south (Kemptville East and Beckwith Township). Residential properties in Pakenham jumped most in price (37 per cent to nearly $500,000). Average sale prices within this group ranged from nearly $400,000 for Arnprior properties to $596,000 for rural properties in Beckwith Township, which is between Carleton Place and Smiths Falls.
The hunt for greater space was also evident within the City of Ottawa, where four of the top five real estate districts ranked by price growth were semi-rural. These included: Bells Corners and area (average price year to date was $586,000 — up 38 per cent); Greely ($704,000 — a gain of 31 per cent); Manotick and area ($866,000 — up 27.5 per cent) and Carp and area ($743,000 — a jump of 25.5 per cent).
Indeed, all rural and semi-rural districts saw house price gains greater than those posted by brokers within the city, with the exception of Dunrobin, where 158 residences were sold for an average $539,000. That represented a relatively modest gain of less than 12 per cent compared to the first 11 months of 2019.
In most other years, of course, that would have been something for sellers to celebrate.