Vehicle dealership owner in Alberta turns to social media to identify an alleged fraudster – Global News
A Dodge dealership in the small town of Redwater, northeast of Edmonton, says it recent had a holiday surprise that it was fortunate to dodge.
"If we wouldn't have been suspicious of them — they behaved suspiciously, there was four of them, one of them stayed in the vehicle in front of the showroom — I guess that was the getaway car," Redwater Dodge owner David Tingley said Tuesday.
Tingley is alleging that an Alberta man, that he alleges was using fake identification out of British Columbia, tried to collect an early cashback from rebates on a vehicle he wasn't actually going to buy. After seeing some red flags with the application, Tingley says the dealership confronted the man while in the building before he fled.
READ MORE: Identity theft used to steal high-end vehicles from Ontario car dealerships
Instead of having a feeling of holiday cheer this season, Tingley says, for him, it's quite the opposite.
"I'm pissed off," he said. "I'm tired of people stealing from us.
"They seem to be able to do this repeatedly… there is no fear of the law and there's no respect for businesses and citizens right now in our province."
"Our investigation is still ongoing, but we do have some leads we are following up on[and] my hope is that will be able to identify the individual that was present that day and lay the appropriate charges," said RCMP Cpl. Mark Joy.
After reporting the incident to RCMP, Tingley also took to social media, where he posted an image of the allegedly fake ID used which contained false information but had the the suspect's picture.
It wasn't long before the post gained a fair amount of traction on social media, reaching over 300,000 views in a matter of days.
"I decided to push back," Tingley said. "I think more of us need to do that if we want this to stop."
"Now its instantaneous — with the distribution of that information on social media, it does assist us in our investigation, but it does require us to verify that information because we don't know where the source of that information is coming," Joy said.
This is not the first time the dealership has fallen victim to crime. In 2018, the business lost thousands of dollars when tires and rims were stolen off its property. The theft was also captured on video surveillance.
Since 2014, the owner says the dealership has lost more than $300,000 due to thefts and other crimes, an issue he blames on a struggling economy.
"The reason that these young people steal is because they don't have the dignity of work," Tingley said. "I think we need to take them, and instead of putting them in jail, we need to give them a job."
© 2019 Global News, a division of Corus Entertainment Inc.
DeFiance Media Launches To Cover Blockchain-Based DeFi Business And Culture – Forbes
DeFiance Media, a video-news startup focused on coverage of the business and culture of the fast-growing decentralized finance ("DeFi") sector, has launched with a presence on OTT and digital broadcast services reaching 65 million homes in the United States and abroad, and a new website providing enhanced coverage.
"We're not taking the 'Bloomberg for crypto' approach" of some competing services covering parts of the blockchain world, Scarpa said. "None of them went on TV. We're only streaming (video). If you look at mass media, and the way they're portraying the decentralized narrative, there's a real hole (in coverage) there, for covering it in a positive way."
The 24/7 channel will feature a mix of original programming from notable personalities, third-party creators such as Hardcore Finance, news from across the world of blockchain, cryptocurrencies, non-fungible tokens and related areas, as well as related areas such as biotech, the artists and creators using NFTs, artificial intelligence, "connected living," alternative energy, and "regenerative culture." Other programming will come from partnerships with high-profile blockchain and cryptocurrency conferences.
"Our job is really more akin to a Huffington Post in terms of curation for these contributors," Scarpa said. "We enable them to goose their personal brands. That's our job, to increase carriage, to amplify their voice, promote what their doing."
Scarpa said he was "adamant" about including cultural coverage of the blockchain space, particularly with NFTs, where many musicians, artists and other creative talent are eagerly jumping in.
"They're in the space now, they're artists doing really interesting work," Scarpa said. "They're really the cultural fabric of the community. If we were only a financial network, DeFiance wouldn't be broad enough to be something providers want to carry."
Scarpa, whom I've known socially for many years, served as New York bureau chief in the early days of CNET, which undertook in the 1990s to cover the emerging internet and tech industry in a focused way. Scarpa said he is taking inspiration for DeFiance from the approaches CNET took to industry coverage back then.
Services carrying the startup's content include aggregators such as Local Now, Select TV, NetRange, Glewed TV, as well as Twitter and Amazon
AMZN
-owned Twitch. The services reach a combined 50 million U.S. households and another 15 million outside the country.
Initial shows include Bitcoin: Culture Conversations, whose episode feature interviews of former Shark Tank star Kevin O'Leary, venture capital stalwart Tim Draper, actor Adrian Grenier and skateboard icon Tony Hawk, and musicians Blond:ish and Fab Five Freddy. Weekly programs will be hosted by Patrick Tsang, Sarah Austin, Matt McKibbon, Ted Moskovitz, Mike Matsumura, Alex Chizhik, Shimon Lazarov, Steve McGarry, Siraj Raval, and Freya Fox.
The company hopes to make money several ways: with ad-revenue shares from carriers, branded entertainment/sponsored content, events, content licensing to Getty Images and similar outlets, and transactional markets, among other potential opportunities.
DeFiance is based in Puerto Rico, and has a studio in the Venice neighborhood of Los Angeles, Scarpa said. But in keeping with its core subject matter, the operation is heavily decentralized, with contributors and programming coming from numerous cities.
The company has been raising a seed round of about $2 million, Scarpa said.
It counts among its investors and advisers a number of notables in the blockchain world and related areas, including investor Brock Pierce, who is long-time chairman of the Bitcoin Foundation; Eric Pulier, founder of Vatom; Doug Scott, founder of gaming culture company Subnation; Hong Kong investor and podcast host Patrick P.L. Tsang; Good Human co-founder and former Warner Bros. Entertainment VP James Glasscock; and Craig Sellars, co-founder/CTO of cryptocurrency services company Tether. Sellars and Pulier are credited as pioneering creators of the technologies behind NFTs.
NASA Invites Media to Next SpaceX Cargo Launch to Space Station – NASA
How HuffPost Canada's digital impact and untimely demise changed Canadian news media – Poynter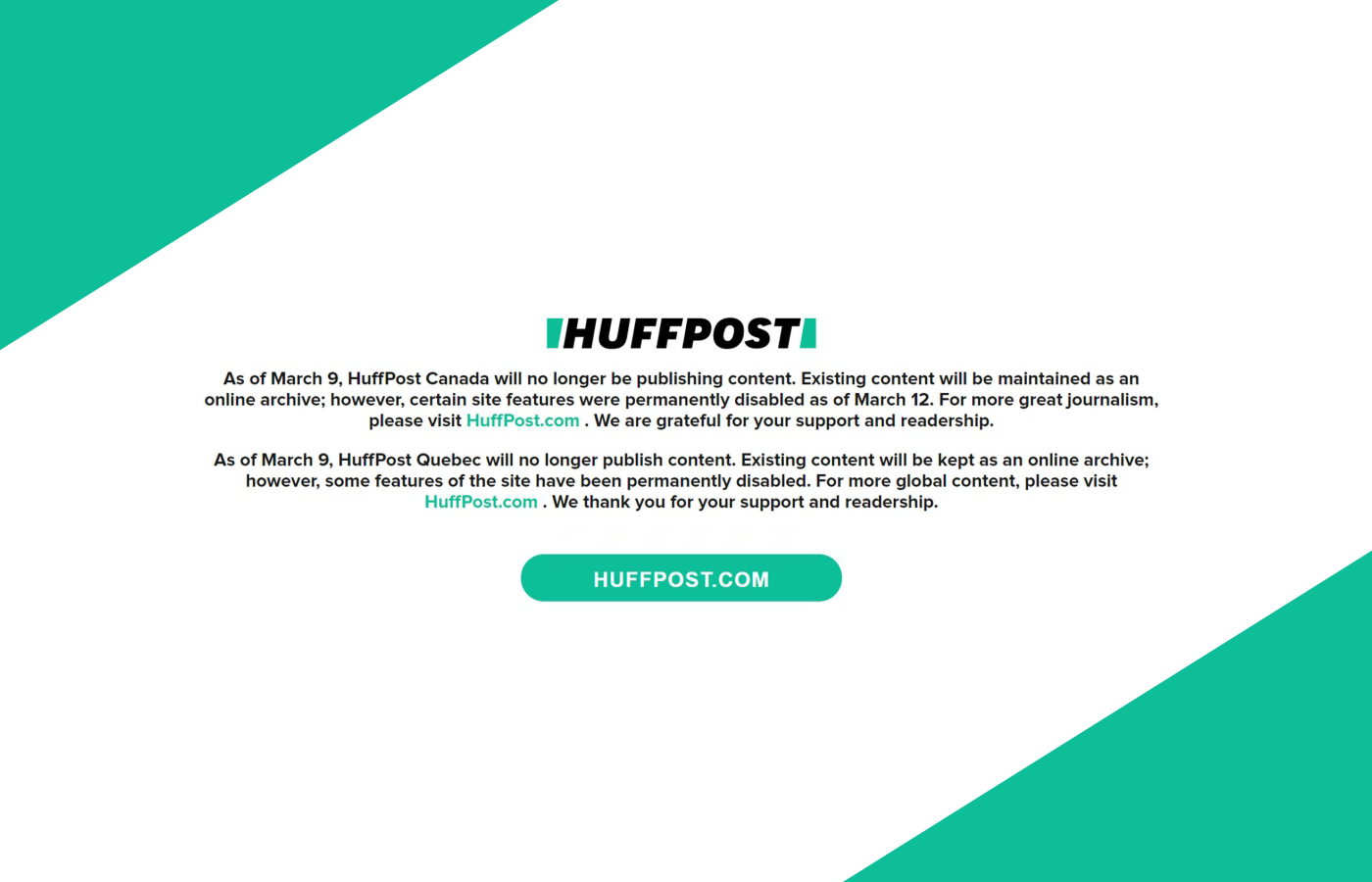 Mel Woods found out they no longer had a job from a group chat.
The Vancouver-based journalist was working as HuffPost Canada's only worker in the western region of the country, covering viral and trending stories as an associate editor, up until the outlet's unceremonious March 2021 demise. BuzzFeed bought HuffPost in November 2019 and, just two weeks after the newsroom's decision to unionize, closed HuffPost Canada and left 23 staff without their jobs.
It's another data point in a long list of recent closures and contractions on the Canadian media landscape.
Many of those laid off have landed positions elsewhere. Woods now plies their trade at Xtra — a Toronto-based outlet focused on 2SLGBTQ+ perspectives — and others have surfaced as staff at The New York Times, CBC and Politico, among others. Some left for public relations gigs, and others are currently working as freelancers. The announcement of the closure just one week from the meeting, Woods said, left some staff scrambling.
"For somebody who was suddenly unemployed, it was a very, very busy week because we had to sort out what happened and when, and what the unionization played into it, what severance played into it and why it had happened because it caught all of us by surprise," Woods said.
HuffPost's union, CWA Canada, had never faced a closure in its history. President Martin O'Hanlon said the ceasing of operations points to BuzzFeed's lack of understanding of the Canadian media landscape.
"I don't think it says a lot about the Canadian media industry, per se, I think it says a lot about BuzzFeed. And I think it tells you that BuzzFeed is just interested in America, and in making as much profit as possible," O'Hanlon said. "… They don't give a damn about Canadian journalism is the bottom line."
In an emailed statement, a spokesperson for BuzzFeed said: "BuzzFeed announced a restructuring of HuffPost in March in order to break even this year and fast-track its path to profitability. As part of these changes, we made the difficult decision to close HuffPost's Canada and Quebec operations. The incredibly talented teams there have made enormous contributions to the political and news ecosystems in Canada — from extensive, award-winning coverage of the federal election, to relentless reporting on how COVID-19 exacerbated a long-term care crisis, and a powerful investigation of how mental illness is responded to as a crime. We know this decision was painful for everyone affected, but we are confident that these journalists will continue to do powerful and impactful reporting in the years to come. We continue to do everything we can to ensure their transition is a smooth one."
The announcement certainly wasn't easy on the staff of HuffPost Canada. The all-hands meeting in which the closure was announced, which Woods said was predicted within the staff to be announcing a new U.S. editor-in-chief, had the password "spring is here."
But the closing of HuffPost Canada is more than another sad story to add to the layoffs seen at other newsrooms in Canada, most publicly at Global and Postmedia. HuffPost's Canada's coverage won awards posthumously. Woods won an award from RTDNA Canada for examining gender and transphobia more than two months after the outlet officially closed.
The skill and success of the staff was partially due to the culture and the diversity of the newsroom, Woods said.
"The fact of how quickly folks have been snapped up by other places is proof of the respect that was had for our newsroom," Woods said. "We kind of sprinkled our seeds everywhere."
Woods likened the HuffPost style that they have taken to Xtra as "serving (readers) their vegetables, but in a good way," through a metrics and service journalism-focused approach.
Some of those seeds appear to have taken root elsewhere. New approaches to digital journalism in Canada, including what service looks like to staff and readers, is a common thread in discussions with Canadian newsroom leaders.
The Canadian Association of Journalists recently completed data collection for their first diversity survey, modeling their work after the News Leaders Association in the U.S. Meanwhile, CBC made the decision to turn off all Facebook comments on news stories for a month beginning in mid-June, which editor-in-chief Brodie Fenlon attributed to a data-gathering exercise mixed with a want to protect the mental health of journalists. It is a policy that they have since extended to the end of October.
HuffPost Canada's digital impact, and its dismantling, points toward a future for Canadian journalism that must consider the health of its readers and staff while acknowledging the changing needs of digital media.
CBC's decision to direct the tenets of service journalism toward its own staff hints toward an industry that is understanding (at a glacial pace) just how worn down it is and how building back means doing so with care. At this year's Michener Awards, a ceremony dedicated to public service journalism and its impact on society, APTN journalist Kenneth Jackson acknowledged what it means to sit with the impact your work makes, on subjects, readers and staff.
"If you want to do service journalism you can't fly above it," he said, "you gotta get down and wear it."
BuzzFeed appears to have worn its decision, as have the journalists who had to face the consequences.