'We are going to see parts of the economy break': Recession fears move back to the forefront of markets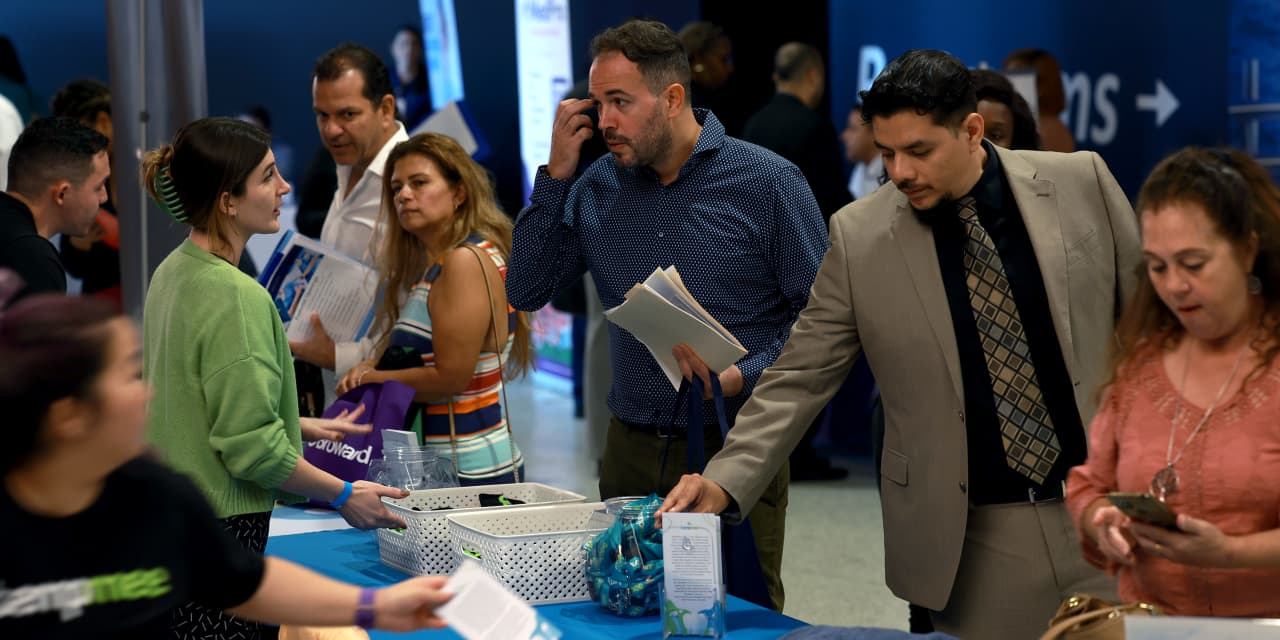 Investors appear to be reconsidering the risk that the U.S. economy could be about to tip into a recession, following Tuesday's data which revealed the red-hot labor market is finally loosening up.
That data showed job openings fell to a 21-month low of 9.9 million in February, down from a revised 10.6 million for the prior month. Soon after those figures came out, alongside a report revealing factory orders declined a third time in the past four months, investors flocked to the safety of Treasurys — everything from 6-month T-bills
TMUBMUSD06M,
4.719%
through 30-year bonds
TMUBMUSD30Y,
3.606%
— and sent gold prices inching closer to record highs.
Tuesday's data dented the appeal of stocks, with Dow industrials
DJIA,
-0.59%
and the S&P 500
SPX,
-0.58%
snapping four straight sessions of gains to finish lower — along with the Nasdaq Composite
COMP,
-0.52%.
The ICE U.S. Dollar Index
DXY,
-0.04%
was off 0.5%. And traders now see a 98% chance that the Federal Reserve's main interest rate target will fall by year-end from where it is now — between 4.75% and 5%; they think there's a decent chance that policy makers will pause next month and in June before possibly cutting rates in July.
The tone in financial markets has shifted since March, when stocks managed to shake off concerns about the global banking sector and posted their largest monthly gains since January. That occurred as the 2-year Treasury yield experienced its biggest one-month plunge since January 2008, and the 10-year
TMUBMUSD10Y,
3.357%
declined by the most in a month since March 2020.
On Tuesday, though, stocks fell in tandem with yields as traders priced in a scenario in which the Fed is essentially done with interest-rate hikes after May. Fed funds futures traders have clung to prospects of rate cuts by year-end since March, when troubles at Swiss banking giant Credit Suisse
CS,
+1.11%
prompted them to factor in a full percentage point of easing from the Fed through December.
"Because we've really seen job openings remain elevated for quite some time, today's data was significant," said Edward Moya, a senior market analyst for the Americas at OANDA Corp. in New York. "It looks pretty clear that we are going to see parts of the economy break and we are heading for a recession. We forget that there's also a banking crisis going on, so there's going to be some pain that's really going to cripple small and medium businesses. We are going to see some tough times and are probably going to see this play out in markets."
Talk of a possible U.S. recession has gone on for about a year, without coming to fruition — helping stock investors focus on the brighter side of things and all three major indexes score year-to-date gains.
Just a day ago, a surprise oil-production cut announcement led by Saudi Arabia over the weekend put the prospects of $100-per-barrel oil prices back on the radar, and initially seemed bad for the Fed's ongoing fight against inflation. As Monday's trading wore on, investors regarded higher oil prices as beneficial for some U.S. companies, and used the OPEC+ announcement as an opportunity to drive Dow Industrials and the S&P 500 to a higher finish.
While Tuesday's job-openings data generally supports the idea that a softer labor market could help ease wage pressures, investors appeared to be more focused on the signs it is sending about the prospects for economic growth, according to Moya. "We now seem comfortable living with $100-a-barrel oil and, right now, it's pretty clear we are recession-bound. There were a lot of people thinking an oil spike would keep inflation jitters in place, but it seems like there's too much weakness in the economy to do that."
At bond giant PIMCO, economist Tiffany Wilding and Andrew Balls, chief investment officer of global fixed income, released a 6- to 12-month economic outlook for global markets and economies. In it, they said that recent volatility in the banking sector has raised the prospect of a significant tightening in credit conditions and, therefore, the risk of a "sooner and deeper recession."
Meanwhile, Mark Haefele, CIO of UBS Global Wealth Management, said his firm is maintaining a cautious stance on growth stocks and that a "new bull market is unlikely on the horizon." And at BMO Capital Markets, rates strategists Ian Lyngen and Ben Jeffery said "there is mounting evidence that the notion the U.S. economy is on strong enough footing to withstand materially higher interest rates may have been misplaced."
"The JOLTS [Job Openings and Labor Turnover Survey] data showed job openings decelerating a lot more rapidly than initially anticipated, suggesting the number of openings per person has fallen quite sharply," said Gennadiy Goldberg, a senior U.S. rates strategist at TD Securities in New York.
"It's the first indication that firms are stopping their hiring sprees," Goldberg said via phone. "The question for markets is, 'Will this translate into weaker payroll growth in the coming months?'"
TD doesn't see a growing risk of a recession since "the labor market is quite strong," Goldberg said. The firm expects Friday's nonfarm payroll report to show a gain of 270,000 jobs in March, above the 238,000 median forecast of economists polled by The Wall Street Journal.
"We are starting to see the first signs that the labor market is starting to react to tighter financial conditions," Goldberg said. "But we can't take away much from this about the next few payrolls or the depth of the next recession."
Quebec proposes making French mandatory for all economic immigration programs – Canada Immigration News
Quebec Premier Francois Legault has proposed major changes to Quebec's economic immigration criteria.
Speaking on May 25 with the Minister of Immigration, Francisation and Integration, Christine Frechette and the Minister of the French Language, Jean-François Roberge, Legault says the changes will ensure that nearly 100% of new economic immigrants to Quebec will know French before they arrive in the province by 2026. This is meant to promote Francophone economic immigration in Quebec.
"As we have seen for several years, French is in decline in Quebec," said Legault. "Since 2018, our government has acted to protect our language, more than other successive governments since the adoption of Bill 101 under the Lévesque government. But if we want to reverse the trend, we must go further. By 2026, our goal is to have almost entirely Francophone economic immigration. We all have a duty, as Quebecers, to speak French, to transmit our culture on a daily basis, and to be proud of it."
Discover if You Are Eligible for Canadian Immigration
Knowledge of oral French will be required for adults. This is meant to ensure that those who wish to settle in Quebec will be able to communicate in French throughout day-to-day interactions at work and in their communities.
The changes are part of a new permanent immigration program for skilled workers in Quebec. The province says the Skilled Worker Selection Program will "take into account the diverse needs of Quebec."
Candidates in the program will be evaluated in four categories that have not yet been made clear, but the province says that three of the categories will require that the principal applicant and their accompanying spouse have knowledge of French.
There will also be revisions to existing programs. For example, the work experience requirement will be removed from the Quebec Experience Program for graduate students from a French-language study program.
Family reunification measures include making it mandatory for the guarantor to submit a plan for reception and integration that will support the learning of French for the person they are hosting.
Immigration is a shared responsibility between the federal and provincial governments. Quebec's agreement is unique from other provinces in that it can select all its economic immigrants. Quebec does not have the authority to select family class sponsorship applicants or those who arrive in Canada as refugees or other humanitarian classes.
For 2023, Quebec has targeted that 65% of newcomers admitted to the province will be economic class.
Increasing immigration numbers in Quebec
The province is also considering raising the number of permanent selection admissions from 50,000 to 60,000 per year by 2027. This is in stark contrast to Legault's recent comments that there was "no question" of Quebec accepting any rise in the number of newcomers and publicly rejecting the federal Immigration Levels Plan, which has a target of 500,000 permanent residents admitted to Canada each year by the end of 2025.
These changes also follow Quebec's Immigration Levels Plan for 2023, where it was announced that the province would move away from plans that forecast only the coming year and begin introducing multi-year plans for immigration by 2024.
Why the changes?
Quebec is unique in Canada as it is the only province where French is the official language. The province is fiercely protective of its language, saying it is vital to protecting Quebec's unique culture and status.
Legault is the leader of the Coalition Avenir Québec (CAQ) and is currently in his second term as Quebec's premier, having been reelected last October. One of the main pillars of the CAQ party is to protect the French language in Quebec.
Immigration was one of the key issues in the recent election. Throughout his campaign, Legault said that Quebec would allow only 50,000 immigrants per year into the province as it would be difficult to accommodate and integrate more than that into Quebec society. He said that accepting more than that would be "a bit suicidal."
Regardless, Quebec, like the rest of Canada, is experiencing a labour shortage as the population ages and the birth rate remains low. A report released last March by the Canadian Federation of Independent Business shows that the province could face an annual shortfall of up to nearly 18,000 immigrants, who would be able to fill Quebec's labour needs.
Discover if You Are Eligible for Canadian Immigration
Lira hits record low, but stocks rise after Erdogan win in Turkey
The Turkish leader won the presidency for a third time after a run-off vote on Sunday.
The Turkish lira has plunged to record lows after the re-election of President Recep Tayyip Erdogan, a sign that currency markets are not confident in the country's economic future after the longtime leader's re-election.
The Turkish currency weakened to 20.01 to the dollar on Monday after the high-stakes run-off a day earlier.
But Turkish stocks, on the other hand, rose as Erdogan entered a third decade in power with the benchmark BIST-100 index up 3.5 percent and the banking index rising more than 1 percent.
The lira fell to a record low as the country battles a cost of living crisis and depleted foreign reserves.
On the campaign trail, Erdogan pledged to slash inflation to single digits and boost economic growth, a message he reiterated in his victory speech late on Sunday. But analysts said his economic policies are unorthodox and predicted they will lead to more pain for Turks.
"In our view, Erdogan's biggest challenge is Turkey's economy," Roger Mark, an analyst at the Ninety One investment management firm told the Reuters news agency. "His victory comes against a backdrop of perilous economic imbalances with his heterodox economic model proving increasingly unsustainable".
Hasnain Malik, head of equity research at Tellimer, an emerging markets research firm, told the agency: "An Erdogan win offers no comfort for any foreign investor."
"Only the most optimistic would hope that Erdogan now feels sufficiently secure politically to revert to orthodox economic policy," he said.
Interest rate cuts sought by Erdogan sparked a devaluation of the Turkish lira in late 2021 and sent inflation to a 24-year peak of 85.5 percent last year. The president had argued that higher interest rates cause inflation while central banks around the world were raising rates to reduce price rises.
Turkey's struggling economy, also reeling after the country's devastating double earthquakes in February, was a major thorn in Erdogan's prospect for re-election.
The leader has defended his economic policies, reassuring Turks that investment, production, exports and an eventual current account surplus will drive up Turkey's gross domestic product.
U.S. economy and new incentives put Canada at disadvantage in Stellantis negotiations, professor says
Two weeks of negotiations between the federal and provincial governments and Stellantis have failed to produce a new deal for the NextStar EV battery plant in Windsor, Ont. Ian Lee, an associate professor at Carleton University's Sprott School of Business, says the economic might of the U.S., coupled with the incentives offered in recent legislation, make it extremely challenging for Canada to compete.