Wealth, Housing and Retail Show How Canada's Economy Is Healing – Bloomberg

A year into the pandemic, Canada's economy is showing clear signs it's on a path to a full recovery.
The country added 259,200 jobs in February, more than three times what economists were expecting, Statistics Canada reported Friday. That follows other data this month indicating Canada's economy is on pace to fully repair damage from the pandemic at least one year ahead of what most analysts were expecting only weeks ago.
And that's despite lockdowns that closed large parts of the economy in December and January. In just two months, the policy debate has turned from whether to provide additional stimulus, to when to pull back on support.
Here are some highlights, 12 months after the first Covid-19 restrictions were imposed.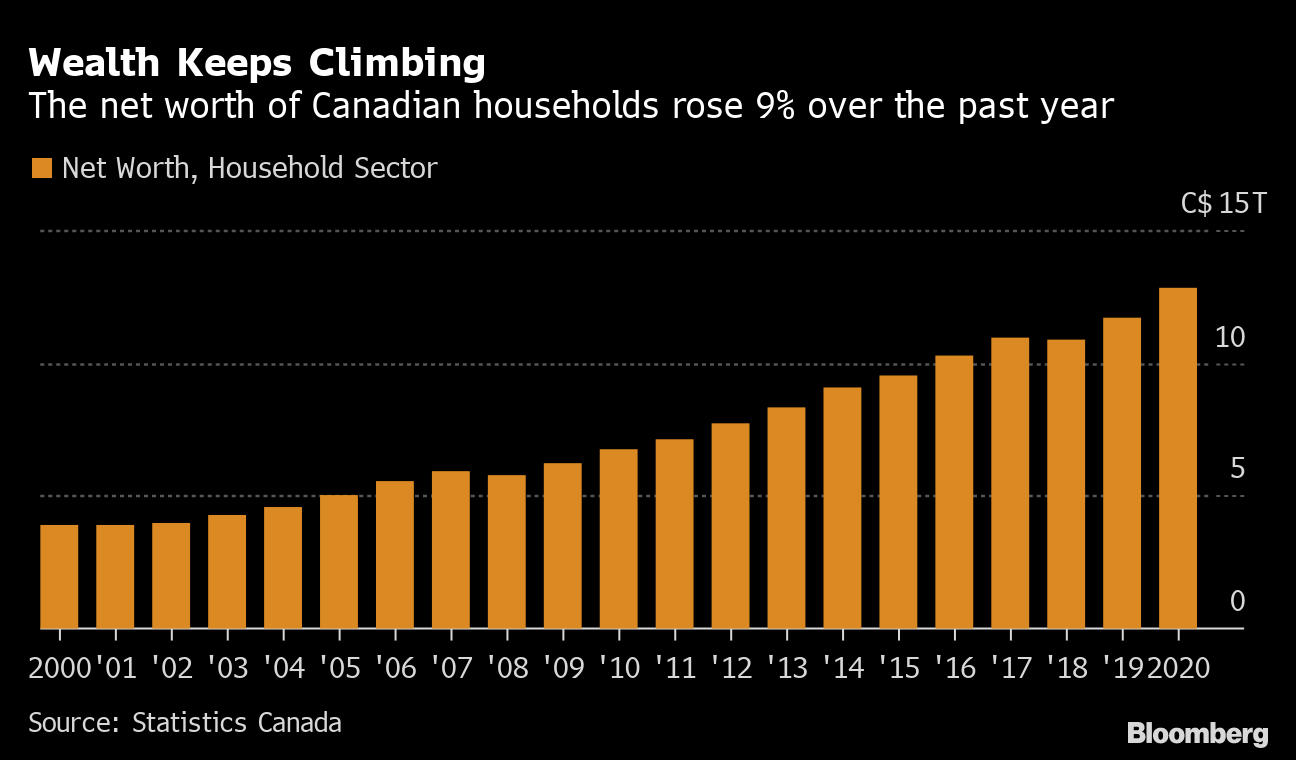 In the midst of a deep economic crisis, Canadians became a whole lot richer.
The nation's households saw their net worth jump by more than C$1 trillion ($800 billion) last year, according to a separate report Friday from the statistics agency. That's despite a downturn that saw 3 million people lose jobs and the unemployment rate jump to historic highs.
Generous government income support during the pandemic, along with fewer opportunities to spend, resulted in stronger household balance sheets. Low borrowing costs encouraged Canadians to buy properties. Others decided to put money into stocks or other assets.
On a per capita basis, household net worth reached a record C$332,000, up about C$24,000 since the end of 2019.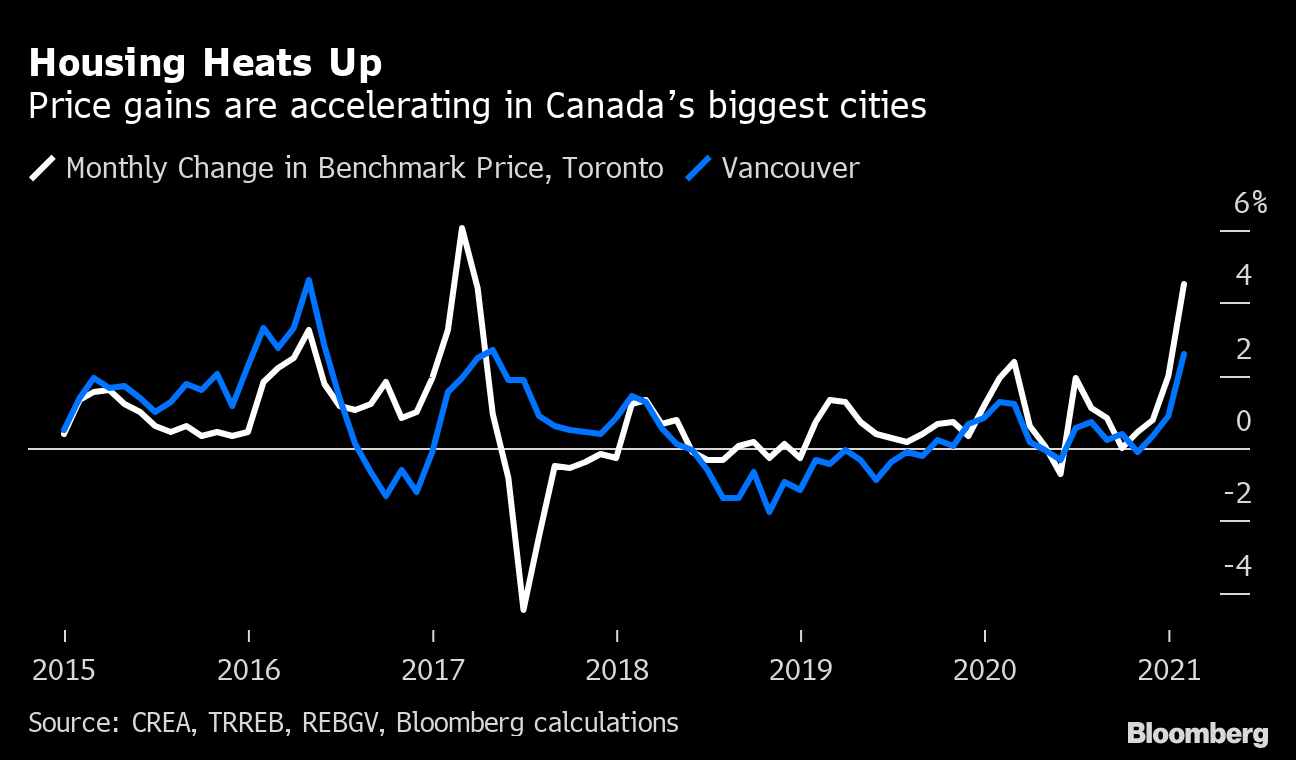 The value of homes and land owned by households, which grew by C$642 billion last year, was the main contributor to that boost in wealth.
It was a strange year for real estate. Some saw the pandemic as the trigger for a major correction. Instead, the residential real estate market has been a bright spot in Canada's recovery story, with sales and prices for single-family homes reaching records in many metro areas as consumers search for more space and take advantage of low borrowing costs.
To economist David Rosenberg, things have gone too far.
"This might be one of the biggest bubbles of all time," the founder of Rosenberg Research & Associates in Toronto told BNN Bloomberg Television on Wednesday.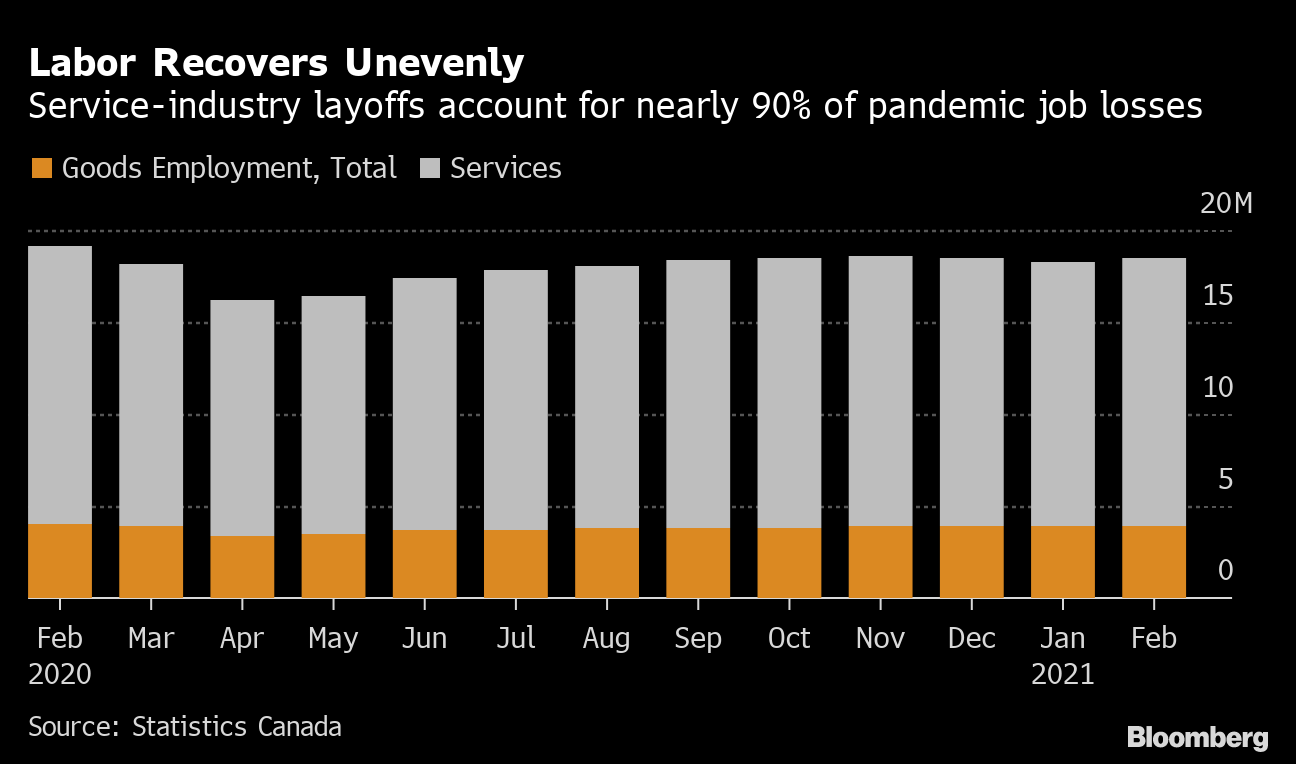 While almost 1 million Canadians are still gravely impacted from the pandemic — either through lost jobs or substantially fewer hours — the nation's labor market has recovered most of its losses. At its worst point, 5 million Canadians had lost jobs or were working less than half their usual hours, one-quarter of the labor force.
The lingering damage is increasingly confined to a subgroup of largely high-contact sectors: accommodation and food, retail and recreation. These are largely lower-wage workers, disproportionately young and female.
It's a double whammy for some of these groups. Lower-waged workers are more likely to be renters rather than homeowners. Not only are their chances of being unemployed higher, they also haven't benefited from the rise in home prices.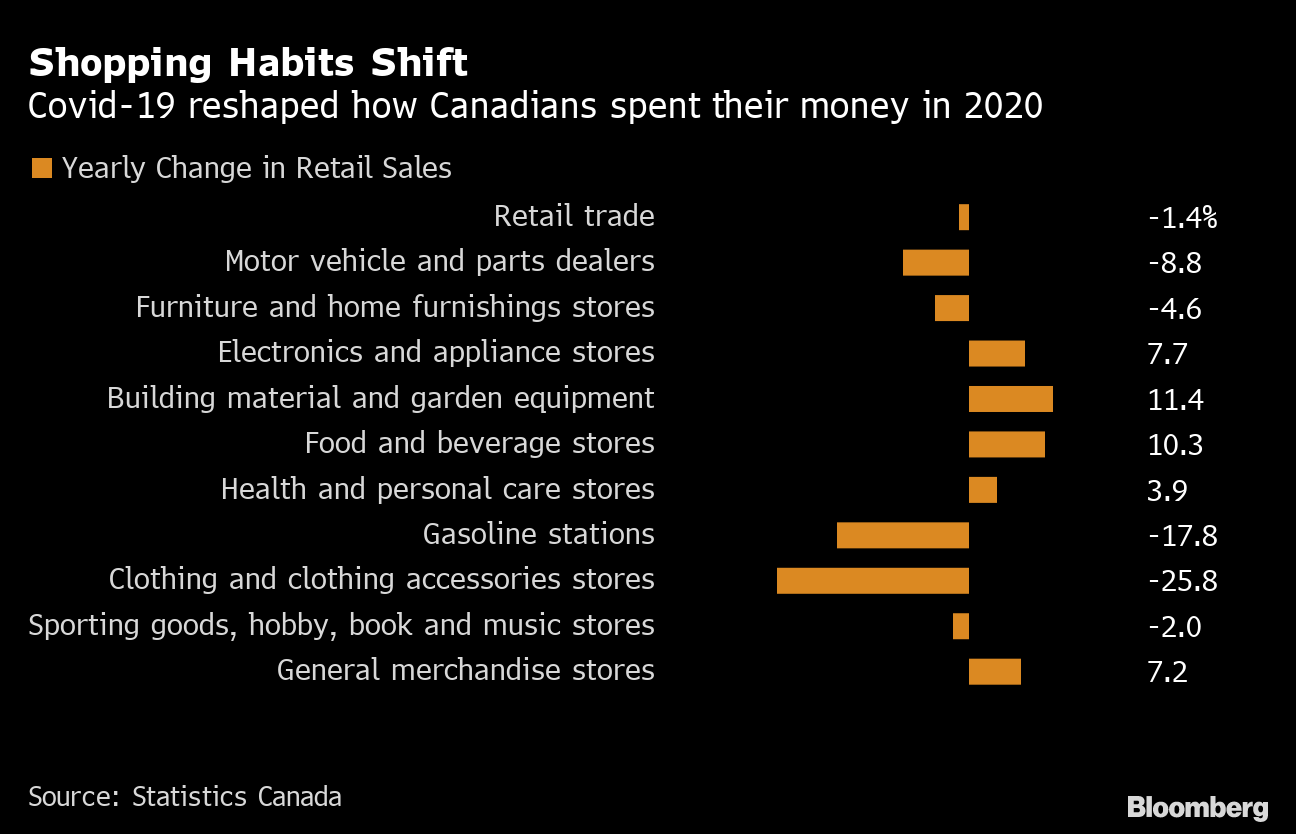 Consumption did drop last year, but the data also show households — with confidence back at pre-pandemic levels — were spending money when they were allowed to shop. Consumption on services like haircuts fell by C$66 billion last year, while travel expenditures were down more than C$30 billion. But anything to do with housing was a blockbuster year, while spending on durable good items was down just C$4 billion in 2020.
Another case in point was retail. Most retailing sub-sectors returned to pre-pandemic levels of sales and some have more than offset losses early on in the crisis.
In aggregate, Canadian retailers recorded a 1.4% drop in sales to C$606 billion last year but that was because of a collapse in April and obscures a surge since then. In December, sales were up 4.5% from year earlier levels.
Yet the uneven nature of the rebound is evident here as well. Grocery stores and building material retailers posted double-digit annual growth. Clothiers, meanwhile, reported double-digit declines.
Canadian retail sales slide in April, May as COVID-19 shutdown bites
Canadian retail sales plunged in April and May, as shops and other businesses were shuttered amid a third wave of COVID-19 infections, Statistics Canada data showed on Wednesday.
Retail trade fell 5.7% in April, the sharpest decline in a year, missing analyst forecasts of a 5.0% drop. In a preliminary estimate, Statscan said May retail sales likely fell by 3.2% as store closures dragged on.
"April showers brought no May flowers for Canadian retailers this year," Royce Mendes, senior economist at CIBC Capital Markets, said in a note.
Statscan said that 5.0% of retailers were closed at some point in April. The average length of the closure was one day, it said, citing respondent feedback.
Sales decreased in nine of the 11 subsectors, while core sales, which exclude gasoline stations and motor vehicles, were down 7.6% in April.
Clothing and accessory store sales fell 28.6%, with sales at building material and garden equipment stores falling for the first time in nine months, by 10.4%.
"These results continue to suggest that the Bank of Canada is too optimistic on the growth outlook for the second quarter, even if there is a solid rebound occurring now in June," Mendes said.
The central bank said in April that it expects Canada's economy to grow 6.5% in 2021 and signaled interest rates could begin to rise in the second half of 2022.
The Canadian dollar held on to earlier gains after the data, trading up 0.3% at 1.2271 to the greenback, or 81.49 U.S. cents.
(Reporting by Julie Gordon in Ottawa, additional reporting by Fergal Smith in Toronto, editing by Alexander Smith)
Canadian dollar notches a 6-day high
The Canadian dollar strengthened for a third day against its U.S. counterpart on Wednesday, as oil prices rose and Federal Reserve Chair Jerome Powell reassured markets that the central bank is not rushing to hike rates.
Markets were rattled last week when the Fed shifted to more hawkish guidance. But Powell on Tuesday said the economic recovery required more time before any tapering of stimulus and higher borrowing costs are appropriate, helping Wall Street recoup last week's decline.
Canada is a major producer of commodities, including oil, so its economy is highly geared to the economic cycle.
Brent crude rose above $75 a barrel, reaching its highest since late 2018, after an industry report on U.S. crude inventories reinforced views of a tightening market as travel picks up in Europe and North America.
The Canadian dollar was trading 0.3% higher at 1.2271 to the greenback, or 81.49 U.S. cents, after touching its strongest level since last Thursday at 1.2265.
The currency also gained ground on Monday and Tuesday, clawing back some of its decline from last week.
Canadian retail sales fell by 5.7% in April from March as provincial governments put in place restrictions to tackle a third wave of the COVID-19 pandemic, Statistics Canada said. A flash estimate showed sales down 3.2% in May.
Still, the Bank of Canada expects consumer spending to lead a strong rebound in the domestic economy as vaccinations climb and containment measures ease.
Canadian government bond yields were mixed across a steeper curve, with the 10-year up nearly 1 basis point at 1.416%. Last Friday, it touched a 3-1/2-month low at 1.364%.
(Reporting by Fergal Smith; editing by Jonathan Oatis)
Toronto Stock Exchange higher at open as energy stocks gain
Toronto Stock Exchange edged higher at open on Wednesday as heavyweight energy stocks advanced, while data showing a plunge in domestic retail sales in April and May capped the gains.
* At 9:30 a.m. ET (13:30 GMT), the Toronto Stock Exchange's S&P/TSX composite index was up 16.77 points, or 0.08%, at 20,217.42.
(Reporting by Amal S in Bengaluru; Editing by Sriraj Kalluvila)