What do we do about good art made by bad people?
25:00What do we do about good art made by bad people?
In the ongoing debate of whether it's possible to separate the value of an artwork from the actions of its artist, the modern world offers a simple solution: so-called "cancel culture," or the idea that an artist can be shunned for reasons ranging from bad behaviour to criminal activity.
But as host Elamin Abdelmahmoud explores with guests Yara El-Soueidi and Judith Shulevitz, cancel culture isn't actually that simple — or even ultimately that effective. Even when there are calls to "cancel" an artist, many of them go on to sell out stadiums and star in critically-acclaimed shows.
Yara El-Soueidi is a music journalist who recently wrote about the recent allegations against Arcade Fire's frontman Win Butler, and the ripple effect they've had on the band since. Judith Shulevitz is a culture writer who recently published a piece in The Atlantic titled, It's Okay to Like Good Art by Bad People. Together, they get into the complexities of what to do about good art made by (allegedly) bad people.
We've included some highlights below, edited for length and clarity. For the full discussion, listen and follow the Commotion with Elamin Abdelmahmoud podcast, on your favourite podcast player.
Elamin: Yara, let me start with you. Is there really anyone surprised that Arcade Fire is headlining a festival?
Yara: In a certain way I'd say no. I feel like there hasn't been any consequences, or people have accepted the apology that Win Butler gave through a PR firm — and the PR firm that gave the apology is actually pretty well known for handling other inappropriate behavior cases. So you feel like everyone's been trying to find some kind of apology for Arcade Fire because that was such a big band in the early 2000's. It's a part of a lot of people's lives. So, I'm not that surprised. I am surprised by the lack of accountability the industry has actually shown towards Arcade Fire. They're basically letting it pass; they're giving them a chance to still tour and do money out of their art.
For <a href="https://twitter.com/nprmusic?ref_src=twsrc%5Etfw">@nprmusic</a>, I wrote about Montréal's relationship with Arcade Fire and how our industry has failed to recognize the allegations of sexual harassment against their lead singer. <a href="https://t.co/llTiQFqFCE">https://t.co/llTiQFqFCE</a>

&mdash;@yaraelsoueidi
Elamin: Judith, let's get into the substance of your piece in The Atlantic. You built around the premise that art, whatever the art is, transcends the creator. Let's talk about why you wanted to explore that argument.
Judith: Well, I wouldn't say it always transcends the creator. That's a headline. I don't write the headlines.
Elamin: Fair enough.
Judith: I would say that it's possible to keep two ideas in your head at the same time: one, that the artist is a real jerk. I acknowledge the sense of betrayal and disappointment that a fan can feel, and I think it's painful. A fan can then withdraw from her fandom and not give her money to the band. But in the case of Arcade Fire — look, I'm not very familiar with the case. Yara is infinitely more familiar with the case, but I read her piece, which was wonderful. Win Butler behaved very unpleasantly, but he did nothing criminal; the women were of age. He was a jerk, he imposed on them, but in my reading, it doesn't sound like he assaulted them except by a very high standard of what assault would be. He behaved badly toward them. And I also would point out that Arcade Fire is a band with other members in it. Should they be punished?
If we must condemn artists, let's do due diligence and not slavishly follow Twitter mobs. Also: behavioral norms are changing fast. Maybe we should be less dogmatic about our definitions of right and wrong.<br>–me on good art and bad artists in <a href="https://twitter.com/TheAtlantic?ref_src=twsrc%5Etfw">@TheAtlantic</a> <a href="https://t.co/xJAi614DJB">https://t.co/xJAi614DJB</a>

&mdash;@JudithShulevitz
Now in terms of cancellation and what is cancel culture, I would argue you're not necessarily only cancelled if your career is ruined and you're bankrupted. You suffer reputational harm. And clearly, Win Butler has suffered among his fan base and his hometown serious reputational harm. Just because he continues to play doesn't mean he won't go forward in his career with this very big asterisk. So that's my take.
Elamin: Yara, you spoke with some of the people who were allegedly exploited by Win Butler. He says that these were consensual relationships, but he has apologized. These are people who are really suffering because of what happened. What do you make of Judith's comments there?
Yara: What I'm going to say is no, nothing criminal came of it, though one non-binary person did say that Win Butler assaulted them, so there is that going on. In my opinion, the judicial system in cases of sexual harassment and sexual abuse has been proven to not really be effective, so I can understand when victims don't want to actually go through bringing the accusation up. Those fans I talked about were extremely young, which for me shows the power dynamic that was going on between Win Butler and the fans. Those fans believed that Win Butler or Arcade Fire was their whole world, and Win Butler kind of took advantage of that, which for me plays on this very thin line between being a jerk and being manipulative or abusive toward your fandom — the people who pay for you, basically, to do this art. And for me, the way he treated those fans talks a lot about the way he might perceive his art.
Elamin: I want to make it clear that this wasn't meant to be a conversation specifically about Win Butler and Arcade Fire; I think this was sort of our bouncing off point. But Judith, when you wrote the piece, you got into the work of Claire Dederer who wrote this book called Monsters: A Fan's Dilemma. And she was looking at these big cases, of the painter Paul Gauguin or filmmaker Roman Polanski. How do those cases help us understand this moment that we're living in, especially when we think about criticism directed toward an artist being so instantaneously amplified online?
Judith: Well in the case of Gauguin, in the case of the dead artist, what you have is a revisitation of the circumstances in which he produced his art. He definitely took advantage of young Tahitian women. He was participating in a colonialist system, and it affects his art. And so you can put on shows of his art and teach what that colonialist attitude toward women does to his art. To refuse to show it would be to miss a really important teachable moment. I mean, he also had an important role to play in the history of art — which could be something that would reframe your understanding of the history of Western art, right? So you really don't want to cancel Paul Gauguin. There's a lot to learn from Paul Gauguin.
"Good Art, Bad Person": Claire Dederer on the Way Entertainment Is Consumed After <a href="https://twitter.com/hashtag/MeToo?src=hash&amp;ref_src=twsrc%5Etfw">#MeToo</a> <a href="https://t.co/urwColRq9J">https://t.co/urwColRq9J</a>

&mdash;@THR
With Roman Polanski it's infinitely more complicated, and Claire comes out I think in a good place where she just says, "I live in a state of cognitive dissonance because I do love his movies, and I am beyond appalled by his rape of a 13-year-old girl. It's a dilemma, and I'm just going to live within that dilemma." She's not giving money to Roman Polanski because she's looking at old tapes, and it's a part of her formation as a cultural critic. I really do think that you have to be able to hold those two ideas in your head at the same time. Now it's a different matter when you're giving money to the artists, like Arcade Fire — then I think you make a decision [of] not giving money to that artist. And that's very legitimate.
Elamin: The part that I am always struggling with, Yara, is I think about artists who have done things recently that have clearly crossed lines that I consider to be not okay — the prime example of this being Kanye West. The way that the technology has changed means that if I play a Kanye song on Spotify or on Apple Music, I am directly giving money to Kanye West. I think if I was playing a record that I have owned for 20 years, he does not benefit from each successive play of that record. But the way that the economy is changed makes us a bit more entangled, I think, with the art that these artists make and it makes sort of the way that we give them money, even if it's just a few parts of a cent every time we play their music, it makes us a bit more implicated. How do you think about the way that we're entangled with artists' lives now in ways that maybe we weren't even ten years ago?
Yara: I don't think people deserve to be cancelled in a way, but I think that there's choices to be made. But also more than that, I think we cannot ask the general public to take these decisions. You know, it's putting a lot of pressure on the shoulders of people who don't necessarily understand the extent of how our economy works right now toward culture. I think the institutions have a bigger role to play in this. I will never shun someone who listens to Arcade Fire or someone who listens to Kanye West; that's a personal decision. But I'll say that the industry has a bigger role to play, and we should actually educate the fans or the listeners more … and if the industry decides to ignore those situations, we put people in danger of repeating the same actions over and over again, which for me the problem is more there than a single person contributing to the art.
Art therapy space gutted in 'terrible' Montreal heritage building fire – Montreal Gazette
Article content
The mission of Les Impatients, established in 1992, is to help people with mental health problems through the vehicle of artistic expression. The Monastère du Bon-Pasteur building, a multi-purpose building on Sherbrooke St. E., had been home to Les Impatients since 1999.
"A lot of people are in shock," Frédéric Palardy said of participants. "It's almost like a home for them. Some come twice a week."
They participate in art workshops and, as well, some are in music and dance workshops and a choir — all organized by Les Impatients.
"The main thing is that everyone is safe and no one was hurt," Palardy said. "My thoughts are for our neighbours."
The multi-purpose building housed a seniors' residence and a housing co-operative, Heritage Montreal, a daycare centre, condos and a chapel that served as a concert hall.
"I know a lot of people in the residence and the co-op," he said.
But the fire "is terrible for us, too."
Les Impatients was on the top floor and among the building's most severely affected by the blaze, said Palardy. Although it is not yet known for sure, the fire is believed to have started in the roof.
Article content
The space the organization occupied included its downtown workshop space, offices, gallery space and a boutique. Also lost in the fire were the organization's archives, its musical instruments and about 10 per cent of its artworks.
With about 30,000 works, Les Impatients has what is believed to be North America's largest collection of outsider art, Palardy said. The term describes art that has a naïve quality and was often produced by people without formal training as artists.
Les Impatients had insurance, but it was primarily for theft, Palardy said.
"We have to start from scratch," he said, adding that the organization is working on an appeal.
Meanwhile, Palardy said the organization has received countless emails and messages of support, including a text Sunday from deputy health minister Lionel Carmant and messages from representatives of the City of Montreal's culture department.
Article content
"A part of the soul of Les Impatients has gone up in smoke," the organization said in a communiqué. "The emotion and the sadness are vivid but the priority for the organization is to continue its mission, through this chaos, to serve its community well."

An interim location for Les Impatients administrative offices has been found, Palardy said Sunday, but the activities of the downtown section, which were held in the former monastery building, are suspended for now. That location normally serves about 130 people five days and three evenings every week through its workshops and the organization is already at work to find a new location, Palardy said.
The former monastery location is the largest and most well-established of Les Impatients' 25 locations elsewhere in Montreal and across Quebec which, together, serve more than 900 people. The other locations will continue to function, he said.
The Parle-moi d'Amour event, the biggest fundraiser of the year for Les Impatients, is set for September. Sadly, Palardy said, some of the works that were to be included were lost in the fire.
Remembering a pioneer of local Indigenous art – Sault Ste. Marie News – SooToday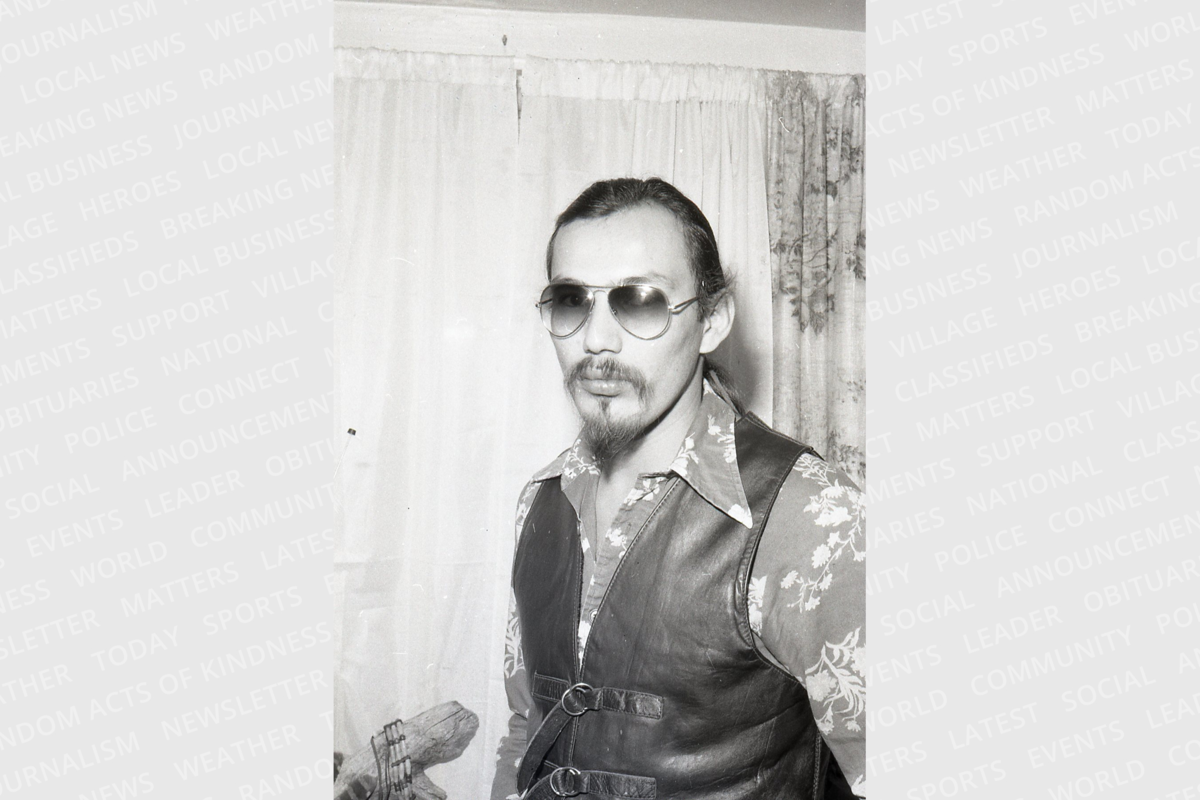 From the archives of the Sault Ste. Marie Public Library:
John Laford was a prominent Sault Ste. Marie artist, who was born in 1955 on an Indigenous reserve in the West Bay area of Manitoulin Island.
Leaving his home at the age of 15, he eventually made his way to Sault Ste. Marie by his early 20s.
He felt that he had been painting for as long as he could remember. He always enjoyed art, design and doodling after he finished school but with no formal training, he was largely self-taught.
Laford travelled throughout Europe, Canada and the United States, studying and learning from various artists along the way.
"I would only paint to get enough money to continue along the way," he said.
By 1969, Laford began painting full-time. In 1977, at the age of 22, he had his work exhibited at the Centennial Room at the Sault Ste. Marie Public Library. He used his work to show his Ojibway legends and spiritual beliefs. His spiritual beliefs and Ojibway legends were central not just to his artistic career but to his personal life as well.
Laford went on to be a vocal critic of the Children's Aid Society (CAS).
As a child, he played with a young boy who lived next to him. In a 1978 Sault Star article he explained, it was not until he was 12 that he realized that the boy was his older brother.
When he was one year old, his father died. His mother took his four sisters and two brothers and moved back to her reserve. She did not receive any financial assistance to care for her children and CAS took over.
"CAS saw my mother had too many kids and just took them away," Laford said. "To me, it seemed they just wanted to scatter the family. I wasn't adopted into a native family and the Children's Aid paid for my care but no one ever bothered to tell me about my real parents and brothers and sisters."
The foster family cared for four of them for a while which he described as very strict but fairly good people which he says helped him.
At the age of 15, he ran away from home with his older brother and travelled to Toronto in an attempt to find their mother.
"I quit school. Things weren't too good on the reserve. I was drinking a lot," he said.
When they arrived in Toronto it took them a week to find their mother. He spent three years with her getting to know her and the rest of his family.
"What I'm saying is my opinion, just my own ideas about the things I went through with Children's Aid. I would have liked to have grown up with my mother, stayed with my real mother, but it didn't happen that way. You could look at it (CAS) as destroying Indian families but they're trying to do something good," he said near the end of the Sault Star article.
Laford and two other Indigenous artists Cecil Youngfox and Peter Migwans formed a group called "Artists of the Northern Sun." They hoped it would "form the nucleus of the Indian community in Sault Ste. Marie."
The three artists created the group around 1977 when Laford moved to Sault Ste. Marie. They planned on organizing events that would bring Indigenous and Non-Indigenous Canadians together. The three wanted to create a higher profile and take on a leadership role in the community.
By 1980 Laford had become a well-established artist in his own right whose work was included in the McMichael Canadian Art Collection. His work had been exhibited in Hamilton, Toronto, and Montreal and in 1980 his work was part of the Manitoulin Island artist's show at the Royal Ontario Museum (ROM). In 1990 his work was once again featured in Sault Ste. Marie at the Art Gallery of Algoma.
Laford passed away in 2021 at the age of 67. He left a lasting mark and legacy in the
Indigenous community. He used his spirituality and culture's legends to create works of art that are enjoyed and viewed by Canadians and the world alike.
Each week, the Sault Ste. Marie Public Library and its Archives provide SooToday readers with a glimpse of the city's past.
Find out more of what the Public Library has to offer at www.ssmpl.ca and look for more "Remember This?" columns here.
Indigenous art market comes to downtown Kitchener – CTV News Kitchener
A celebration of Indigenous culture is in downtown Kitchener for the weekend.
The "I Am Kitchener: Indigenous Art Market" has taken over the Gaukel block, with everything from clothes, to art, to beadwork.
The two-day event is a showcase for artists across Southwestern Ontario, but also a welcoming to the wider community.
"I think it's really important for folks in the region to really come out and support events like this," said co-organizers Maddie Resmer. "It's a huge step forwards. What it means to connect with Indigenous community members in the region, in Kitchener, and for folks in the area to get to know some of the Indigenous artists that live here and are close to these territories, that's how we celebrate ourselves, right?
"We highlight the positive and brilliant people who come from our culture."
The Indigenous art market wraps up Sunday.