What Serge Ibaka brought to Toronto Raptors won't be easy to replace – TSN
TORONTO – By the time the 2017-18 season came to a disappointing end, it looked like Serge Ibaka had worn out his welcome in Toronto.
The veteran big man was acquired from Orlando a year earlier in the hopes of solidifying the power forward position and helping the Raptors take the next step in the playoffs. Instead, they flamed out again – swept by Cleveland in Round 2 for the second straight year – and Ibaka's struggles cost him his starting job late in that series.
When Ibaka returned to Toronto the following season, after months of self-reflection and hard work, he was on a mission. Not only did he accept his new role – a full-time shift to centre and a move to the bench – but he embraced and even thrived in it.
Through his inspired play, big personality, and engagement with fans over social media and via his various web series, Ibaka went from being an expendable piece on an underachieving team to an essential, and beloved, part of the Raptors' championship core. Without his sacrifice, toughness and timely shot making, they don't win the title in 2019.
It was truly a remarkable turnaround. At one point, as the Raptors looked to get out from under his contract in the summer of 2018, he wasn't easy to move. Now, in the wake of his departure, what he brought to the team – both on and off the court – won't be easy to replace.
According to multiple reports late on Saturday night, Ibaka – one of the league's most coveted unrestricted free agents – agreed to a two-year, $19 million deal with the Los Angeles Clippers. He'll reportedly have a player option on the second season.
The Raptors met with Ibaka shortly after agreeing to re-sign Fred VanVleet earlier on Saturday. They went into that meeting confident in their chances of retaining the 31-year-old big man.
His decision was a bit of a surprise, given that Toronto would have offered a larger annual salary – nearly double what he got from the Clippers – but on a one-year term. However, Ibaka opted to take the two-year commitment with L.A. and the opportunity to chase another ring with Kawhi Leonard, who he grew close to in Toronto during the championship season.
Unfortunately for the Raptors, losing Ibaka was the cost of juggling different, and in some cases conflicting, priorities going into free agency. Bringing VanVleet back was at the top of that list, and they were able to get it done at a mutually beneficial price – $85 million over four years. They wanted to run it back for 2020-21, with Ibaka and maybe Marc Gasol, but they were also looking long-term and prioritizing cap flexibility for the highly anticipated summer of 2021 free agent sweepstakes.
They were hopeful that Ibaka would be amenable to a big one-year deal but understood there was a possibility he could accept a multi-year offer elsewhere, which is exactly what happened.
Essentially, the Raptors chose the option of keeping a max slot open for next summer over Ibaka, which is entirely defensible on their part, but it's probably not something that sat well with the 11-year vet.
So, Toronto has work to do. Before they can begin their pursuit of a big-name free agent in 2021 – the star they hope to add to their core of VanVleet, Pascal Siakam and OG Anunoby, whose contract situation could affect how much they have to spend – they'll have to do some serious patchwork on their rotation for this coming "bridge" season.
With a guard-heavy roster, they'll have to re-build their frontcourt, and with the exception of Siakam and Anunoby, they'll be doing it from scratch. Their starting centre, Gasol, remains available as an unrestricted free agent, but is in demand and has recently been connected to the Lakers and Warriors. Their third centre, Chris Boucher, is a restricted free agent and versatile backup Rondae Hollis-Jefferson is unrestricted, though Toronto is limited in terms of what they can offer him without his Bird rights.
They've got two-to-four roster spots to fill and are roughly $20 million under the luxury tax threshold. They're not projected to be a top tier contender this season, so it's safe to assume their mandate is to avoid spending into the tax. However, after exceeding the cap to sign VanVleet, they're only able to use the $9.2 million mid-level exception to add external free agents. They can offer Gasol anything up to the max as his Bird rights holders.
At 35, turning 36 in January, perhaps Gasol is more inclined to accept the type of large one-year offer that Ibaka turned down. Bringing back the veteran Spaniard has its obvious pros and cons. He's battled injuries, declined offensively, and his workload would have to be managed in his 13th NBA campaign. With that said, he's still an elite defensive centre, he remains one of the smartest and best passing big men in the league, and his veteran presence has value on a team like the Raptors.
The options that remain available on the free agent market – it wasn't a strong class to begin with – are limited and underwhelming, although the Raptors have had some recent success with reclamation projects.
Could they bring out the untapped potential in former lottery picks Alex Len or Willie Cauley-Stein? Would they take a chance on a talented but volatile veteran such as Hassan Whiteside or DeMarcus Cousins, who is coming off a torn ACL and another lost season? Is their mid-level exception enough to lure the underrated Aron Baynes away from Phoenix? How about a reunion with former Raptors fan favourite Bismack Biyombo? Would they consider moving somebody like Norman Powell for an expiring big?
These aren't great options, and whoever is anchoring the paint this season will likely be a significant drop off from the Ibaka and Gasol tandem that helped lead the team to its first championship. Still, the reason the Raptors find themselves in this predicament – in need of a replacement for Ibaka and looking for a stopgap solution at the position – is because they've got their eye on what could be the club's next championship window.​
Canada suspends activities at world junior camp after 2 players contract COVID-19 – CBC.ca
Hockey Canada announced Tuesday that two players at its national junior selection camp have tested positive for COVID-19.
The organization said in a news release that the players, who were not named, are in quarantine at the team's hotel in Red Deer, Alta.
Hockey Canada said it is suspending all camp activities for the day, including a scheduled intrasquad game.
Players and team personnel will be required to undergo a COVID-19 test before camp activities resume.
Hockey Canada said provincial and local health authorities have been notified of the positive tests.
Fantasy: Waiver Wire – Week 12 – theScore
Find positional rankings, additional analysis, and subscribe to push notifications in the NFL Fantasy News section.
Every Monday during the season, theScore's Justin Boone runs down the recommended waiver wire pickups.
Rostered percentages are based on Yahoo leagues. Free Agent Budget (FAB) amounts are set off a $100 salary cap. Only players rostered in less than 60% of leagues are considered.
Quarterbacks
Taysom Hill, Saints
| Next Up | Rostered | FAB |
| --- | --- | --- |
| at DEN | 43% | $9 |
We were excited about Jameis Winston's fantasy potential in New Orleans' offense, but Sean Payton named Hill the starter. Hill went on to finish as a top-12 fantasy quarterback Sunday, rewarding his coach's faith and giving fantasy managers a new weekly starter at QB.
Hill passed for 233 yards while adding 51 yards and two scores on the ground against a Falcons defense that's given up the most fantasy points to quarterbacks.
Tougher matchups are on the way, but Hill's rushing ability will keep him in the QB1 conversation for as long as he's starting. Based on the latest reports on Drew Brees' health, this could be Hill's job for several weeks.
Derek Carr, Raiders
| Next Up | Rostered | FAB |
| --- | --- | --- |
| at ATL | 36% | $1 |
As we just mentioned, the Falcons are the easiest matchup for fantasy quarterbacks. This week's beneficiary is Carr.
The Raiders passer is coming off a strong showing against the Chiefs, throwing for 275 yards and recording his seventh multi-touchdown game this season.
Carr should have no problem racking up stats in what's projected to be the highest-scoring game of Week 12.
Streamer options: Daniel Jones at CIN (28% rostered), Andy Dalton vs. WAS (9% rostered), Baker Mayfield at JAX (31% rostered), Kirk Cousins vs. CAR (42% rostered), Philip Rivers vs. TEN (26% rostered), Alex Smith at DAL (10% rostered)
Injured streamer options (if healthy): Teddy Bridgewater at MIN (39% rostered), Gardner Minshew vs. CLE (13% rostered)
Running backs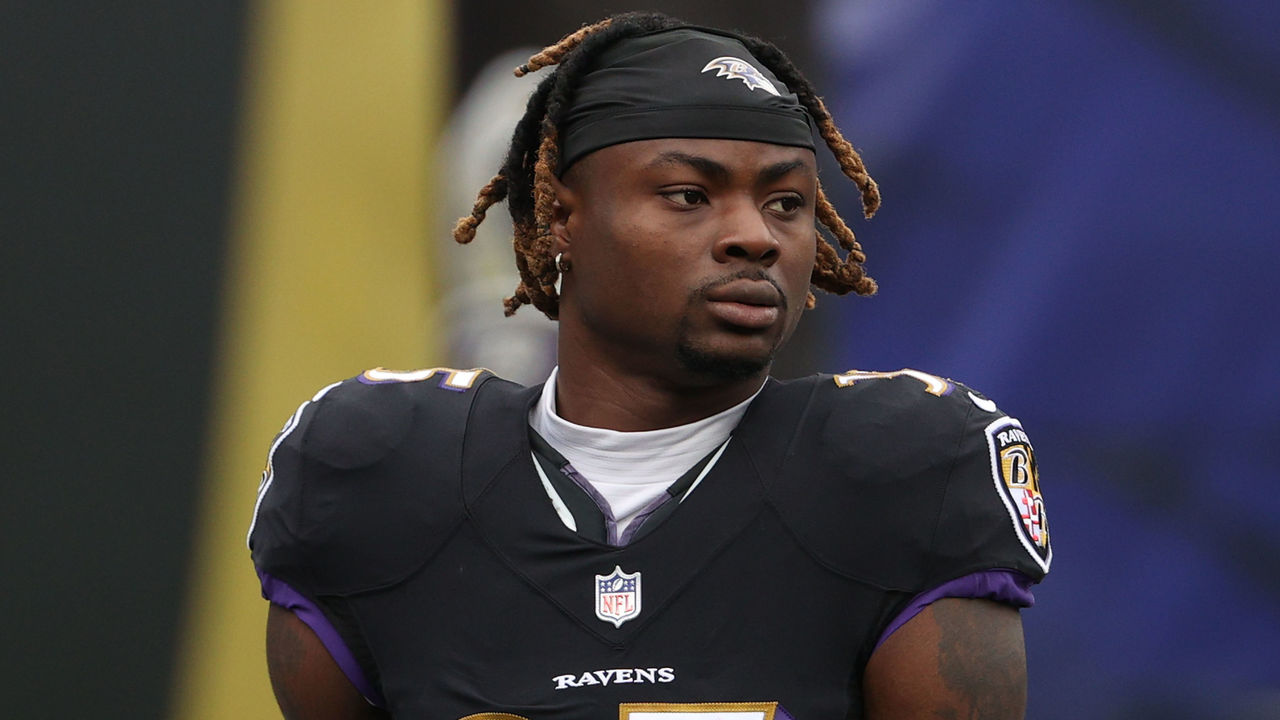 Gus Edwards, Ravens
| Next Up | Rostered | FAB |
| --- | --- | --- |
| at PIT | 28% | $14 |
J.K. Dobbins and Mark Ingram were placed on the reserve/COVID-19 list Monday, making it impossible for them to get cleared for Thursday night's matchup with the Steelers.
That leaves Edwards as the last man standing in what was once a three-man committee. Dobbins took a commanding lead in playing time (41 snaps) and production (85 yards from scrimmage and a touchdown) in Week 11, but he'll now be forced to sit out while Edwards handles the bulk of the work.
Edwards has shown he can perform, whether down the stretch in 2018 or even more recently when he carried the ball 16 times for 87 yards and a score against this same Steelers defense back in Week 8.
Pittsburgh's ability to stop the run has been greatly diminished by the loss of linebacker Devin Bush, so treat Edwards as an RB2 in what's likely to be a one-week stint as the frontman in the Ravens' backfield.
James White, Patriots
| Next Up | Rostered | FAB |
| --- | --- | --- |
| vs. ARI | 40% | $9 |
White had seemingly been passed on the depth chart by Rex Burkhead after seeing under 30% of the snaps in three of his last four outings heading into Week 11.
However, with Burkhead suffering a torn ACL on Sunday, White was thrust back into a significant role. He led the backfield in snaps while totaling a season-high 83 yards from scrimmage and six catches.
Damien Harris remains the Patriots' lead back, but White has returned to fantasy relevance as an RB3/flex option moving forward.
J.K. Dobbins, Zack Moss, Salvon Ahmed, Jamaal Williams, Latavius Murray, Wayne Gallman, and Phillip Lindsay are around the 60% rostered mark and should be rostered in almost all leagues.
High-upside backups Alexander Mattison (33% rostered), Boston Scott (29% rostered), Carlos Hyde (46% rostered), and Brian Hill (7% rostered) should be rostered in most leagues.
Flex options: Frank Gore vs. MIA (10% rostered), Adrian Peterson vs. HOU (54% rostered), Kerryon Johnson vs. HOU (16% rostered), Tony Pollard vs. WAS (19% rostered)
Risky flex options: Cam Akers vs. SF (31% rostered), Malcolm Brown vs. SF (28% rostered), Justice Hill at PIT (0% rostered), Jordan Wilkins vs. TEN (10% rostered), Devontae Booker at ATL (10% rostered), Ty Johnson vs. MIA (0% rostered)
Other backups to roster: Sony Michel vs. ARI (25% rostered), Benny Snell Jr. vs. BAL (5% rostered), Joshua Kelley at BUF (28% rostered), D'Onta Foreman at IND (0% rostered), Jeremy McNichols at IND (1% rostered), Samaje Perine vs. NYG (1% rostered), Devine Ozigbo vs. CLE (1% rostered)
Injury stashes: Tevin Coleman at LAR (18% rostered), Rashaad Penny at PHI (4% rostered)
Deeper stashes: Anthony McFarland Jr. vs. BAL (1% rostered), Darrel Williams at TB (2% rostered), Jordan Howard vs. SEA (17% rostered), Royce Freeman vs. NO (1% rostered)
Wide receivers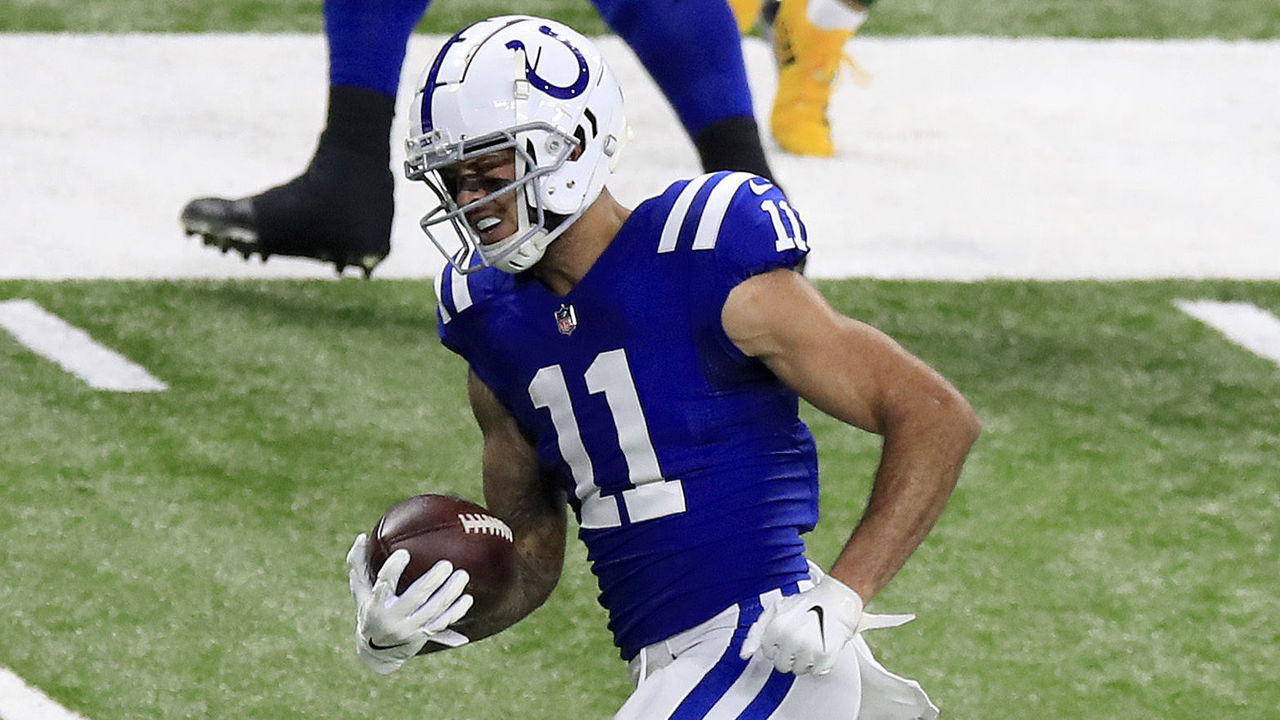 Michael Pittman Jr., Colts
| Next Up | Rostered | FAB |
| --- | --- | --- |
| vs. TEN | 44% | $19 |
Get ready to see some familiar names in the receiver section because it's filled with players we recommended last week.
Pittman has clearly asserted himself as the Colts' top receiving option. In addition to posting stat lines of 4-56-0, 7-101-0, and 3-66-1 over his last three games, the rookie led the receiving corps in snaps by a wide margin this past week.
If he's still available in your league, Pittman is a WR3 with WR2 upside for the rest of the season.
Tim Patrick, Broncos
| Next Up | Rostered | FAB |
| --- | --- | --- |
| vs. NO | 21% | $14 |
Patrick is about to set a record for most consecutive appearances in my waiver wire column, yet he somehow still remains available in 79% of leagues.
Let's once again remind everyone about Patrick's weekly production since Courtland Sutton went down. Here are Patrick's stat lines over the last seven games:
4-43-1
6-113-1
4-101-0
3-44-0
4-29-1
4-61-0
5-119-0
Patrick is now a top-30 receiver in fantasy points per game since Week 3, and he's just patiently waiting for you to realize his value. Unless you're stacked at wideout, go and give this guy a home on your roster as a WR3/flex.
Deebo Samuel, Jakobi Meyers, Sterling Shepard, Corey Davis, Curtis Samuel, and Cole Beasley are around the 60% rostered mark and should be rostered in almost all leagues.
Flex options: Allen Lazard vs CHI (42% rostered), Jalen Reagor vs. SEA (28% rostered), Breshad Perriman vs. MIA (11% rostered), Marquez Valdes-Scantling vs. CHI (31% rostered), Denzel Mims vs. MIA (5% rostered), Emmanuel Sanders at DEN (49% rostered), Nelson Agholor at ATL (20% rostered)
Risky flex options: Sammy Watkins at TB (41% rostered), Keelan Cole vs. CLE (28% rostered), K.J. Hamler vs. NO (6% rostered), Josh Reynolds vs. SF (12% rostered), Damiere Byrd vs. ARI (2% rostered), Darnell Mooney at GB (8% rostered), Keke Coutee at DET (0% rostered), Rashard Higgins at JAX (12% rostered), Henry Ruggs, at ATL (31% rostered), Russell Gage vs. LV (7% rostered)
Dart-throw flex options: Marvin Hall vs. HOU (2% rostered), Khadarel Hodge at JAX (0% rostered), Gabriel Davis vs. LAC (1% rostered), Hunter Renfrow at ATL (19% rostered), Anthony Miller at GB (18% rostered), Michael Gallup vs. WAS (44% rostered), Zach Pascal vs. TEN (7% rostered), Jakeem Grant at NYJ (9% rostered), Steven Sims Jr. at DAL (2% rostered), Demarcus Robinson at TB (2% rostered), N'Keal Harry vs. ARI (8% rostered), Tre'Quan Smith at DEN (12% rostered), David Moore at PHI (5% rostered), Willie Snead at PIT (4% rostered), Chris Conley vs. CLE (1% rostered)
Injury stashes: Laviska Shenault vs. CLE (17% rostered), Julian Edelman vs. ARI (28% rostered)
Deep bench stashes: Auden Tate vs. NYG (1% rostered), Cam Sims at DAL (1% rostered), Jalen Guyton at BUF (1% rostered), Dez Bryant at PIT (9% rostered)
Tight ends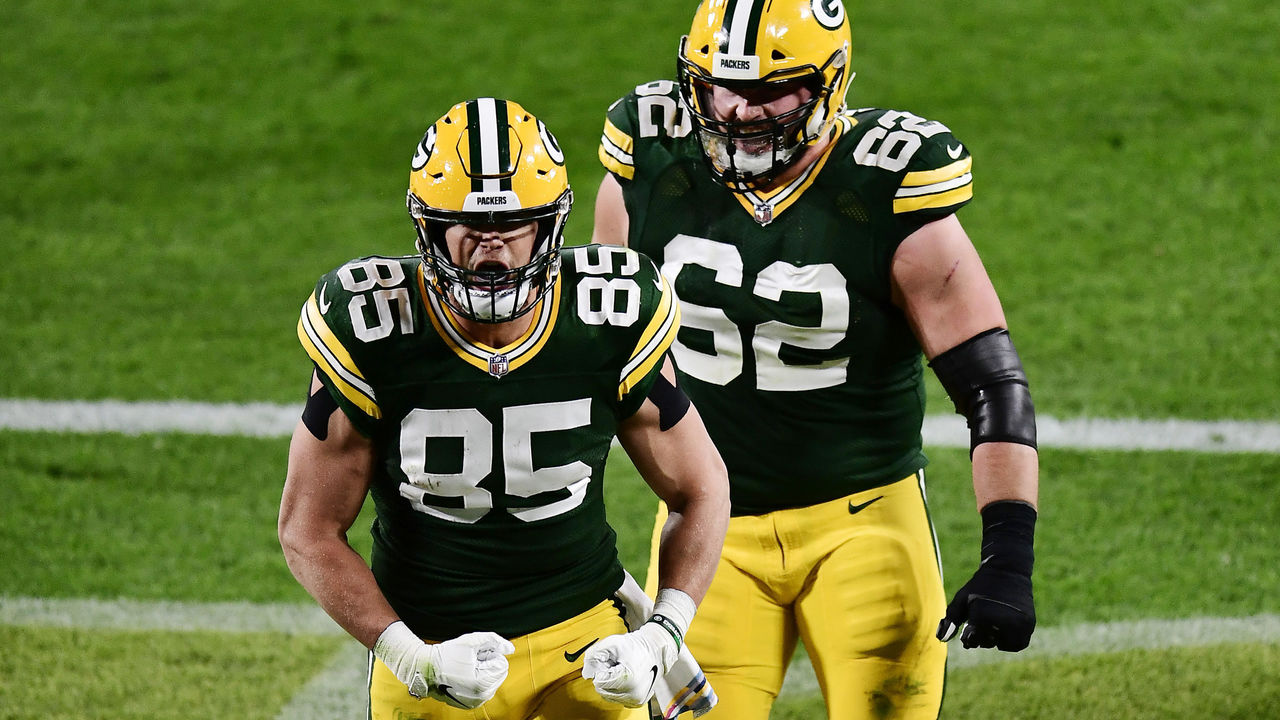 Robert Tonyan, Packers
| Next Up | Rostered | FAB |
| --- | --- | --- |
| vs. CHI | 46% | $2 |
Tonyan is coming off a five-catch, 44-yard, one-touchdown performance against the Colts.
Though his target share is likely to be more volatile now that the Packers' receiving corps is back to full health, he has a favorable matchup with the Bears.
Chicago's defense has been strong this year, but it's giving up the ninth-most fantasy points to tight ends, making Tonyan a solid streamer in Week 12.
Dalton Schultz, Cowboys
| Next Up | Rostered | FAB |
| --- | --- | --- |
| vs. WAS | 21% | $1 |
Schultz's numbers dipped to unplayable fantasy levels after Dak Prescott was lost for the season. Fortunately, he's had a resurgence in the last few weeks with stat lines of 6-53-0, 4-48-0, and 4-25-1.
Washington is the eighth-best matchup for fantasy tight ends, so Schultz can be played with confidence as a streamer this week.
Austin Hooper, Logan Thomas, and Mike Gesicki are around the 60% rostered mark and should be rostered in almost all leagues.
Streamer options: Jordan Reed at LAR (15% rostered), Jordan Kins at DET (2% rostered), Jimmy Graham at GB (38% rostered), Irv Smith Jr. vs. CAR (8% rostered), Trey Burton at TEN (17% rostered)
Risky streamer options: Jacob Hollister at PHI (0% rostered), Will Dissly at PHI (1% rostered), Chris Herndon vs. MIA (13% rostered), Tyler Eifert vs. CLE (5% rostered)
Defenses
Week 12 streamers
| Team | Next Up | Rostered |
| --- | --- | --- |
| Giants | at CIN | 16% |
| Packers | vs. CHI | 33% |
| Seahawks | at PHI | 28% |
| Cowboys | vs. WAS | 13% |
| Washington | at DAL | 41% |
Favorable fantasy playoff schedules: Seahawks DEF (28% rostered), Browns DEF (59% rostered), Cowboys DEF (13% rostered), 49ers DEF (38% rostered)
Hockey Canada statement on National Junior Team Sport Chek Selection Camp – Hockey Canada
RED DEER, Alta. – The following is a statement on behalf of Hockey Canada from Scott Salmond, senior vice-president of national teams, on Canada's National Junior Team Sport Chek Selection Camp.
"Hockey Canada confirmed earlier today that two players at Canada's National Junior Team Sport Chek Selection Camp have tested positive for COVID-19, and have been placed in quarantine at the team hotel in Red Deer.
Upon learning of the positive test this morning, the decision was made to postpone the Red-White game scheduled for this morning at the Westerner Park Centrium, and to suspend all camp activities for today. As per Hockey Canada's safety protocols, all players, coaches and staff members took mandatory COVID-19 tests upon arrival at camp and have continued to be tested regularly throughout the past ten days. For precautionary reasons, we will also ensure that all players and team personnel go through an additional test before resuming camp activities. The appropriate local and provincial health authorities have been made aware of the situation, and we will continue to work closely with Alberta Health Services. We will have no further comment at this time."
For more information on Hockey Canada and Canada's National Junior Team, please visit HockeyCanada.ca, or follow along through social media on Facebook and Twitter and Twitter.com/HC_WJC.