WHL teams will need fans in seats to operate next season – Sportsnet.ca
CALGARY — Western Hockey League teams need their arenas at least half full with spectators next season to operate, according to the league's commissioner.
The COVID-19 pandemic has shut down large gatherings of people across North America over fears of a rapid spread of the virus.
Some sports leagues are rebooting, or planning to reboot, with games in empty stadiums and arenas.
Major junior hockey is ticket-driven and doesn't have a lucrative broadcast rights deal to fall back on, WHL commissioner Ron Robison said Thursday.
"As a spectator-driven league, we need spectators to make it work," Robison told reporters Thursday on a conference call.
"(We need) to arrive at a capacity that will allow our teams to resume operations. We have set at the present time approximately a minimum of 50 per cent capacity for that to occur.
"In the event we can't get to a certain spectator level that will allow our teams to operate, we will not be in a position to start play."
The WHL consists of 22 teams spread across Canada's four western provinces and the U.S. states of Washington and Oregon.
Six jurisdictions with different levels of infection, health restrictions and re-launch plans, plus a currently closed Canada-U.S. border make planning for a 2020-21 season complicated, Robison acknowledged.
The WHL's goal is a full 68-game regular season starting Oct. 2, with training camps opening Sept. 15.
"We need all six of our jurisdictions, the four western provinces and obviously Washington and Oregon to be ready to go in order to start our season, so this may in fact require us to consider a later start date," the commissioner said.
"The start date will dictate our ability to get to our full 68-game schedule. If we get to a January start date, that's going to be very difficult to accomplish.
"We think we can get that accomplished if we start as late as early December."
British Columbia provincial health officer Dr. Bonnie Henry, when asked about Robison's comments, could not confirm whether or not fans would be allowed in arenas later this year.
"I do absolutely recognize that there are many leagues, not just hockey, that are dependent on receipts at the gate to keep them going. So, that is a challenge that we're all facing," Henry said.
The 18-team Quebec Major Junior Hockey League also wants to play a 68-game schedule starting Oct. 1.
The 20-team Ontario Hockey League has yet to detail its objectives for next season other than commissioner Dave Branch saying in a statement "we plan to drop the puck in the fall and will follow the lead of government and public health agencies on when it is safe to get back on the ice."
All three major junior leagues under the umbrella of the Canadian Hockey League had their 2019-20 seasons cut short by the pandemic.
Playoffs and the Memorial Cup in Kelowna, B.C., were cancelled.
The WHL encompasses the most provinces and states of the three leagues.
"We have different circumstances in each of our locations and regions and consequently we're going to be prepared for that," Robison said.
"We might have a completely different looking schedule than we traditionally have. Is more divisional play something we're considering? Absolutely."
Robison adds that the Canada-U.S. border being closed to non-essential travel until July 21 delays any scheduling for next season.
"The first things we say to our clubs is 'let's be patient through this process,"' he said.
"We may be right up until some time in August before we can determine what our schedule looks like."
Calgary Flames' Hamonic becomes 1st NHL player to opt out of league's plan to play during pandemic – Globalnews.ca
Just hours after the NHL announced it had reached a deal with the NHLPA to resume play amid the ongoing COVID-19 pandemic, the Calgary Flames issued a statement to say one of the team's players told them he would not be taking part.
Defenceman Travis Hamonic, 29, is the first known player to opt out of the hockey league's plan to resume its season.
READ MORE: NHL officially names Edmonton, Toronto as its hub cities in plan to resume play during pandemic
"Earlier this evening, Travis called me to inform us that he has decided to opt out of the NHL Return to Play Program," Flames GM Brad Treliving said in a news release. "Travis explained that due to family considerations, he has made the difficult decision not to participate in the Stanley Cup qualifier and playoffs.
"While we will miss Travis in our lineup, we understand and respect his decision."
In 50 regular season games this season, Hamonic scored three goals and collected 12 points. The veteran defenceman is set to become an unrestricted free agent after this season.
Treliving said his team is focused on preparing for training camp and the Flames' upcoming qualifying round series against the Winnipeg Jets, which begins on Aug. 1.
The series will take place in Edmonton, which earlier on Friday was officially revealed to be one of the NHL's two hub cities where the remainder of the season and playoffs will be played. The other hub city is Toronto.
Watch below: Some recent Global News videos about the NHL.
© 2020 Global News, a division of Corus Entertainment Inc.
Calgary Flames' Travis Hamonic first to opt out of NHL restart – ESPN
Flames defenseman Travis Hamonic became the first NHL player to opt out of this summer's restart.
Calgary GM Brad Treliving announced Hamonic's decision Friday night, just hours after the NHL and NHLPA officially agreed to move forward with a 24-team tournament, scheduled to begin Aug. 1.
"Earlier this evening Travis called me to inform us that he has decided to opt out of the NHL return to play program," Treliving said in a statement. "Travis explained that due to family considerations, he has made the difficult decision not to participate in the Stanley Cup qualifier and playoffs. While we will miss Travis in our lineup, we understand and respect his decision. Our focus remains on preparation for training camp and our upcoming series in the NHL qualifying round."
In a statement posted to Twitter by Hamonic's representatives, he said he was opting out over concern for his daughter, who was hospitalized in 2019 because of a respiratory illness when she was 8 months old.
— Titan Sports 365 (@TitanSports365) July 11, 2020
Players have until Monday to inform their teams if they are opting out. As part of the NHL and NHLPA's agreements, players will not be punished if they choose not to play this summer, and they do not need to cite a specific reason.
Hamonic, 29, played in only 50 of the team's 70 games this season and was on injured reserve because of an upper body injury when the NHL paused play on March 12. Hamonic is in the final year of his contract and will become an unrestricted free agent this fall.
Hamonic is a 10-year NHL veteran, and he played his first seven seasons with the New York Islanders.
The Flames will face the Winnipeg Jets in the qualification round, which is a best-of-five series. The Western Conference games will be held in Edmonton, Alberta.
NHL, players ratify Return to Play Plan, six-year CBA amid COVID-19 uncertainties – TSN
Game on.
Well, almost.
The NHL Players' Association and the NHL's Board of Governors voted overwhelmingly on Friday to ratify a sweeping agreement that includes a six-year Collective Bargaining Agreement and a Return to Play Plan that brings hockey back after a historic, 142-day pause.
According to sources, the NHLPA's full membership voted 502 to 135 with 78.8 per cent in favour, while the league's vote was unanimous, as expected. Both only required simple majorities to pass.
NHL commissioner Gary Bettman lauded the stakeholders involved "for coming together under extraordinary circumstances for the good of our game."
"This agreement is a meaningful step forward for the players and owners, and for our game, in a difficult and uncertain time," NHLPA executive director Don Fehr said in a statement.
Now, after months of heavy lifting with two sides hammering out the game's first peace-time labour agreement in three-plus decades, the NHL's real dance on thin ice begins.
The NHL's owners have said 'yes.' The NHL's players have said 'yes.' Now, they only need the cooperation of a virus that has claimed the lives of more than a half million people worldwide over the past six months.
Yes, the road back to the rink is one paved in peril, but the lure of hockey's holy grail and more than a 100 years of history is on the other side.
I'm back.

— The Stanley Cup (@StanleyCup) July 10, 2020
The NHL and NHLPA must safely navigate the arrival of 744 players and hundreds of staffers in two secure 'bubbles' in Toronto and Edmonton and avoid a mass-outbreak of COVID-19 in order to drop the puck in three weeks from Saturday on Aug. 1.
Once settled inside, the NHL is confident its strict protocol will minimize the risk of an outbreak in an effort to award the Stanley Cup by Oct. 4 in Edmonton. Every player and every person – from team staff to hotel housekeepers – who has a chance of coming in contact with a player will be tested daily. Any positive test will require isolation and contact tracing. The NHL says it can manage individual or multiple isolated positive tests, but it has not defined what it would take to put play on pause again or put a pin in the bubble, either due to health risks or the integrity of the game.
"While we have all worked very hard to try to address the risks of COVID-19, we know that health and safety are and will continue to be our priorities," Bettman said Friday.
Cautiously make it through training camp. Then into the bubble without many flare-ups.
Then Giddy Up.
What awaits is March Madness on steroids. The blood-and-guts intensity of the Stanley Cup playoffs, for 14 hours a day, for nine days straight. And then the first round begins.
To start, it will be games from 12 noon well past midnight in the East – or longer with the delirious joy of playoff overtimes.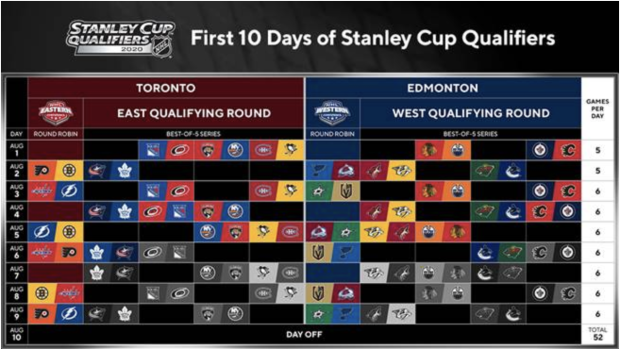 The NHL's top eight teams will battle each other in round-robin games for seeding, while the other 16 teams will fight in a best-of-five to see who survives to the first round of the Stanley Cup playoffs. Then a traditional, 16-team playoff with four rounds decided by best-of-seven, will take over as planned.
Everyone, even the losing teams, have something to look forward to in the qualifying round.
Every player in the hubs will have the day off on Aug. 10, when the Draft Lottery is scheduled to take centre stage. The eight teams that fail to qualify for the playoffs will go home with an equal 12.5 per cent chance at the No. 1 overall pick and Alexis Lafreniere.
With Oct. 4 scheduled as the last possible day of the Stanley Cup Final, the 2020 NHL Draft is tentatively slated for Oct. 9-10 and will likely be held virtually.
Until then, with the only travel scheduled for when the Toronto hub victors shift to Edmonton by Sept. 8 to begin the Conference Finals, the NHL plans to zoom through each round as quickly as possible in order to minimize time spent in the bubble.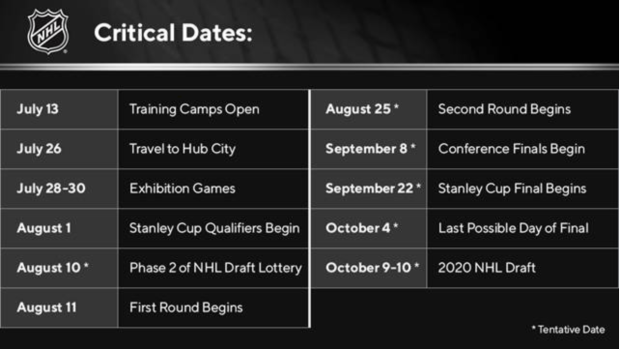 There will be sacrifice for all involved. Players advancing will go a minimum of five weeks away from their families before they are permitted to enter the bubble during the Conference Finals. The hundreds of staffers and officials will not have the same opportunity.
The motivation to complete the 2019-20 season in the face of a pandemic is undoubtedly driven by business. More than $400 million USD is at stake in a two-month tournament, plus the priceless tradition of carrying on the Stanley Cup.
The NHL and its players have faced the grim financial reality that remains. The new six-year CBA, which guarantees labour peace through at least 2025-26, is not a rosy one for the players. It's akin to an adjustable rate mortgage – with the players paying back the owners a nine-figure promissory note – with the resulting escrow cap serving as the interest rate.
During that time, the players' house won't appreciate much in value because there is little room for growth with a relatively frozen salary cap for much of the next four or five seasons. Only the NHL's best and brightest stars won't feel the cap crunch coming.
The trouble for the players – and really the hawk owners who wanted the entire amount owing from players to be paid back now on the spot – was that there wasn't much of a viable alternative.
That meant Friday, even with more than a fifth of the NHL's players expressing their dissatisfaction, was the next in a series of critical (if not plodding) steps forward to get the game going again.
Some 368 days after the season started, Lord Stanley's chalice awaits now – if COVID can cooperate.
Contact Frank Seravalli on Twitter: @frank_seravalli