WHO Has Finally Named The New Coronavirus – ScienceAlert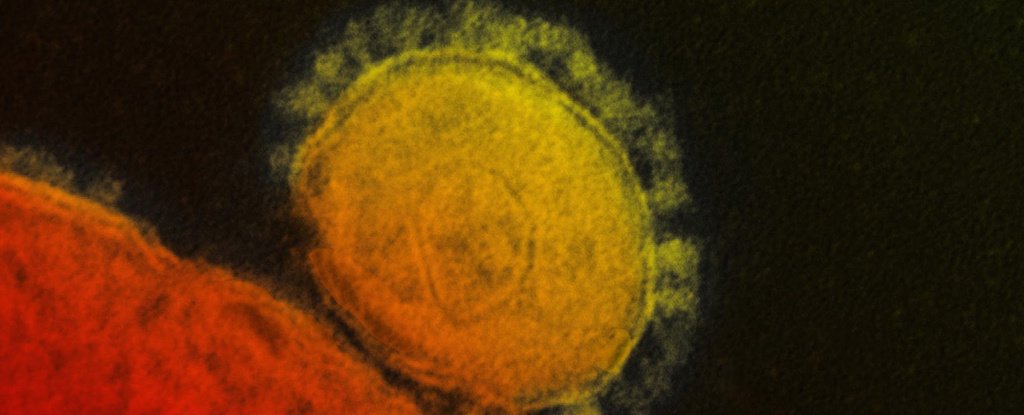 The UN health agency on Tuesday announced that "COVID-19" will be the official name of the deadly virus from China, saying the disease represented a "very grave threat" for the world but there was a "realistic chance" of stopping it.
"We now have a name for the disease and it's COVID-19," World Health Organization chief Tedros Adhanom Ghebreyesus told reporters in Geneva.
Tedros said that "co" stands for "corona", "vi" for "virus" and "d" for "disease", while "19" was for the year, as the outbreak was first identified on 31 December.
Tedros said the name had been chosen to avoid references to a specific geographical location, animal species or group of people in line with international recommendations for naming aimed at preventing stigmatisation.
WHO had earlier given the virus the temporary name of "2019-nCoV acute respiratory disease" and China's National Health Commission this week said it was temporarily calling it "novel coronavirus pneumonia" or NCP.
? BREAKING ?

"We now have a name for the #2019nCoV disease:

COVID-19.

I'll spell it: C-O-V-I-D hyphen one nine – COVID-19″

–@DrTedros #COVID19 pic.twitter.com/Kh0wx2qfzk

— World Health Organization (WHO) (@WHO) February 11, 2020
Under a set of guidelines issued in 2015, WHO advises against using place names such as Ebola and Zika – where those diseases were first identified and which are now inevitably linked to them in the public mind.
More general names such as "Middle East Respiratory Syndrome" or "Spanish flu" are also now avoided as they can stigmatise entire regions or ethnic groups.
WHO also notes that using animal species in the name can create confusion, such as in 2009 when H1N1 was popularly referred to as "swine flu".
This had a major impact on the pork industry even though the disease was being spread by people rather than pigs.
People's names – usually the scientists who identified the disease – are also banned, as are "terms that incite undue fear" such as "unknown" or "fatal", the WHO said.
'More powerful' than terrorist attack
The virus has killed more than 1,000 people, infected over 42,000 and reached some 25 countries, with the WHO declaring a global health emergency.
Addressing scientists at the first international conference on combating the virus earlier on Tuesday, Tedros warned that the virus was a "very grave threat".
"Viruses can have more powerful consequences than any terrorist action," he told reporters later.
About 400 scientists were taking part in the two-day international meeting in Geneva called to review how the virus is transmitted and possible vaccines against it.
"We are not defenceless," Tedros said, adding: "If we invest now… we have a realistic chance of stopping this outbreak."
Participants will also discuss the source of the virus, which is thought to have originated in bats and reached humans via other "intermediary" species such as snakes or pangolins.
WHO sent an advance team to China this week for an international mission to examine the epidemic.
It was unclear, however, whether the team would be able to visit Wuhan, a city in central China which has been under lockdown after the outbreak was registered in a food and live animal market in the city.
Roadmap for research
No specific treatment or vaccine against the virus exists, and WHO has repeatedly urged countries to share data in order to further research into the disease.
"That is especially true in relation to sharing of samples and sequences. To defeat this outbreak, we need open and equitable sharing, according to the principles of fairness and equity," Tedros told the scientific conference.
He said he hoped the scientists could agree a roadmap "around which researchers and donors will align".
Several teams of experts in Australia, Britain, China, France, Germany and the United States are racing to develop a vaccine – a process that normally takes years.
Efforts to come up with a vaccine are being led by the Coalition for Epidemic Preparedness Innovations (CEPI), a body established in 2017 to finance costly biotechnology research in the wake of an Ebola outbreak in West Africa that killed more than 11,000 people.
Ultimately, however, scientists may end up in the same situation they were during the 2002-03 outbreak of Severe Acute Respiratory Syndrome (SARS) — which died out before a vaccine could be fully developed.
A close cousin of COVID-19, SARS spread around the world and killed nearly 800.
Biden's vaccine pledge ups pressure on rich countries to give more
The United States on Thursday raised the pressure on other Group of Seven leaders to share their vaccine hoards to bring an end to the pandemic by pledging to donate 500 million doses of the Pfizer coronavirus vaccine to the world's poorest countries.
The largest ever vaccine donation by a single country will cost the United States $3.5 billion but Washington expects no quid pro quo or favours for the gift, a senior Biden administration official told reporters.
U.S. President Joe Biden's move, on the eve of a summit of the world's richest democracies, is likely to prompt other leaders to stump up more vaccines, though even vast numbers of vaccines would still not be enough to inoculate all of the world's poor.
G7 leaders want to vaccinate the world by the end of 2022 to try to halt the COVID-19 pandemic that has killed more than 3.9 million people and devastated the global economy.
A senior Biden administration official described the gesture as a "major step forward that will supercharge the global effort" with the aim of "bringing hope to every corner of the world." "We really want to underscore that this is fundamentally about a singular objective of saving lives," the official said, adding that Washington was not seeking favours in exchange for the doses.
Vaccination efforts so far are heavily correlated with wealth: the United States, Europe, Israel and Bahrain are far ahead of other countries. A total of 2.2 billion people have been vaccinated so far out of a world population of nearly 8 billion, based on Johns Hopkins University data.
U.S. drugmaker Pfizer and its German partner BioNTech have agreed to supply the U.S. with the vaccines, delivering 200 million doses in 2021 and 300 million doses in the first half of 2022.
The shots, which will be produced at Pfizer's U.S. sites, will be supplied at a not-for-profit price.
"Our partnership with the U.S. government will help bring hundreds of millions of doses of our vaccine to the poorest countries around the world as quickly as possible," said Pfizer Chief Executive Albert Bourla.
'DROP IN THE BUCKET'
Anti-poverty campaign group Oxfam called for more to be done to increase global production of vaccines.
"Surely, these 500 million vaccine doses are welcome as they will help more than 250 million people, but that's still a drop in the bucket compared to the need across the world," said Niko Lusiani, Oxfam America's vaccine lead.
"We need a transformation toward more distributed vaccine manufacturing so that qualified producers worldwide can produce billions more low-cost doses on their own terms, without intellectual property constraints," he said in a statement.
Another issue, especially in some poor countries, is the infrastructure for transporting the vaccines which often have to be stored at very cold temperatures.
Biden has also backed calls for a waiver of some vaccine intellectual property rights but there is no international consensus yet on how to proceed.
The new vaccine donations come on top of 80 million doses Washington has already pledged to donate by the end of June. There is also $2 billion in funding earmarked for the COVAX programme led by the World Health Organization (WHO) and the Global Alliance for Vaccines and Immunization (GAVI), the White House said.
GAVI and the WHO welcomed the initiative.
Washington is also taking steps to support local production of COVID-19 vaccines in other countries, including through its Quad initiative with Japan, India and Australia.
(Reporting by Steve Holland in St. Ives, England, Andrea Shalal in Washington and Caroline Copley in Berlin; Writing by Guy Faulconbridge and Keith Weir;Editing by Leslie Adler, David Evans, Emelia Sithole-Matarise, Giles Elgood and Jane Merriman)
Vaccines donated by the United States and China
Both the United States and China have pledged large donations of COVID-19 vaccines to countries around the world. Washington has promised 80 million doses, three-quarters of which will be delivered via the international vaccine initiative COVAX, in what has been seen as an effort to counter China's widening vaccine diplomacy. It began deliveries last week.
China had shipped vaccines to 66 countries in the form of aid, according to state news agency Xinhua. Beijing has not disclosed an overall figure for its donations but Reuters calculations based on publicly available data show at least 16.57 million doses have been delivered. China has also pledged to supply 10 million doses to COVAX.
VACCINES DONATED BY U.S. (plan for the first 25 mln):
Regional partners and priority recipients
COUNTRY/TERRITORY PLEDGED DELIVERED
Including Canada, Mexico, 1 mln to S.Korea in June
South Korea, West Bank and
Gaza, Ukraine, Kosovo,
Haiti, Georgia, Egypt,
Jordan, India, Iraq, Yemen,
United Nations
TOTAL 6 mln 1 mln
Allocations through COVAX
South and Central America
COUNTRY/TERRITORY PLEDGED DELIVERED
Brazil, Argentina, Colombia,
Costa Rica, Peru, Ecuador,
Paraguay, Bolivia,
Guatemala, El Salvador,
Honduras, Panama, Haiti,
Dominican Republic and other
Caribbean Community
(CARICOM) countries
TOTAL 6 mln
Asia
COUNTRY/TERRITORY PLEDGED DELIVERED
India, Nepal, Bangladesh,
Pakistan, Sri Lanka,
Afghanistan, Maldives,
Malaysia, Philippines,
Vietnam, Indonesia,
Thailand, Laos, Papua New
Guinea, Taiwan, and the
Pacific Islands
TOTAL 7 mln
Africa
COUNTRY/TERRITORY PLEDGED DELIVERED
To be selected in
coordination with the
African Union
TOTAL 5 mln
VACCINES DONATED BY CHINA (source – Reuters calculations and official data):
Asia Pacific
COUNTRY/TERRITORY PLEDGED DELIVERED
Afghanistan 400,000
Bangladesh Second batch of First batch of 500,000 delivered
600,000 on May 12
Brunei 52,000 in Feb
Cambodia 1.7 mln as of April 28
Kyrgyzstan 150,000 in March
Laos 300,000 in Feb
800,000 in late March
300,000 in late April
Maldives 200,000 in early March
Mongolia 300,000 in late February
Myanmar 500,000 in early May
Nepal 800,000 in late March
1 mln in early June
Pakistan 500,000 in early Feb
250,000 in Feb
500,000 in March
Philippines 600,000 in late Feb
400,000 in late March
Sri Lanka 600,000 at end March
500,000 in late May
Thailand 500,000 in May
500,000 in June
Timor-Leste 100,000 100,000 in early June
TOTAL 11.052 million
Africa
COUNTRY/TERRITORY PLEDGED DELIVERED
Angola 200,000 in late March
Algeria 200,000 200,000 in Feb
Botswana 200,000 in April
Cameroon 200,000 in April
Congo 100,000 100,000 in March
Egypt 600,000 in March
Ethiopia 300,000 in late March
Equatorial Guinea 100,000 in Feb
Guinea 200,000 in early March
Mozambique 200,000 in late Feb
Namibia 100,000 by early April
Niger 400,000 in late March
Sierra Leone 240,000 by late May
Togo 200,000 in April
Uganda 300,000
Zimbabwe 200,000 in Feb
200,000 in March
100,000 in May
TOTAL 3.74 million
South America
COUNTRY/TERRITORY PLEDGED DELIVERED
Bolivia 100,000 in late Feb
100,000 in late March
Venezuela 500,000 in early March
TOTAL 700,000
Europe & Middle East
COUNTRY/TERRITORY PLEDGED DELIVERED
Belarus 100,000 in Feb
300,000 in May
Georgia 100,000 at end April
Iran 250,000 at end February
Iraq 50,000 in early March
Montenegro 30,000 in early March
North Macedonia 100,000 in May
Syria 150,000 in late April
TOTAL 1.08 million
(Reporting by Roxanne Liu and Ryan Woo in Beijing and Cooper Inveen in Dakar; Additional reporting by MacDonald Dzirutwe in Harare, Asif Shahzad in Islamabad, Gopal Sharma in Kathmandu; Editing by Edwina Gibbs)
Coronavirus Worldwide right now
Here's what you need to know about the coronavirus now:
Australia's Melbourne to exit lockdown
Australia's second largest city Melbourne will exit a hard lockdown as planned on Thursday night, Victoria state authorities said, although some restrictions on travel and gatherings would likely remain for another week.
After two weeks in a strict lockdown that forced people to remain at home except for essential business, Melbourne's five million residents will get more freedom to step outside from 11:59 p.m. local time (1359 GMT) on Thursday.
However, people must stay within 25 km (15 miles) of their homes, officials said, in an effort to stop transmission during an upcoming long weekend. There will also be a total ban on house gatherings and masks will be mandatory indoors.
Deliveries of Thai-made AstraZeneca vaccines delayed
Malaysia and Taiwan are expecting deliveries of AstraZeneca vaccines manufactured in Thailand to be delayed, officials said, the latest countries to report a holdup with orders from the Thai plant.
The delay comes amid concerns over AstraZeneca's distribution plans in Southeast Asia, which depends on 200 million doses made by Siam Bioscience, a company owned by Thailand's king that is making vaccines for the first time.
Any questions about Siam Bioscience meeting production targets are sensitive because King Maha Vajiralongkorn is its sole owner. Insulting Thailand's monarchy is a crime punishable by up to 15 years in prison.
Indonesia aims to speed up vaccinations
President Joko Widodo said on Wednesday he hoped Indonesia's vaccination rollout will hit one million shots a day by July, as authorities opened up inoculations to anyone aged over 18 in Jakarta to contain increased transmission in the capital.
Health officials in the world's fourth most populous country, which aims to vaccinate 181.5 million people by next year, are trying to speed up the rollout after facing some supply issues.
The president said he wanted vaccinations to hit a targeted 700,000 doses a day this month and then rise again.
Singapore finds Delta most prevalent among variants
Singapore has found the Delta variant of the coronavirus to be the most prevalent among local cases of variants of concern (VOCs), according to health ministry data, highlighting its level of infectiousness.
There were 449 local cases with VOCs as of May 31, of which 428 were the Delta variant first detected in India and nine of the Beta variant first identified in South Africa.
Singapore reported its 34th death due to COVID-19, taking its toll from the pandemic beyond the 33 casualties recorded during the 2003 Severe Acute Respiratory Syndrome outbreak.
U.S. forming expert groups on lifting travel restrictions
The Biden administration is forming expert working groups with Canada, Mexico, the European Union and the United Kingdom to determine how best to safely restart travel after 15 months of pandemic restrictions, a White House official said on Tuesday.
Another U.S. official said the administration will not move quickly to lift orders that bar people from much of the world from entering the United States because of the time it will take for the groups to do their work.
The groups will be led by the White House COVID Response Team and the National Security Council and include the Centers for Disease Control and other U.S. agencies.
(Compiled by Linda Noakes; Editing by Giles Elgood)