Why investors should pay for all investment fees out of non-registered accounts – The Globe and Mail
The Department of Finance Canada's recent letter to the Canada Revenue Agency (CRA) stating that paying investment fees for registered accounts out of non-registered accounts does not constitute a tax advantage is a big win for investors, who are now free to pay their investment costs from any source they choose.
There are various advantages for investors to pay all investment fees out of a non-registered account. At the core, though, investors will end up with more money, after taxes, if they pay all the investment fees for a tax-free savings account (TFSA) or registered retirement savings plan (RRSP) from assets held outside of those accounts.
So, how did this all come about? In 2016, the CRA announced at a tax conference that its position on paying investment fees for registered accounts from non-registered accounts constituted an unfair advantage. Furthermore, the CRA stated that as of 2018, any taxpayer who engaged in this activity would be subject to a special advantage tax equal to the amount of fees paid outside of the registered account. The implementation was then postponed a couple of times pending a review from the Department of Finance.
Then, the Department of Finance sent a letter this past August recommending that the Income Tax Act be amended to reflect its finding that there is no advantage to paying registered fees outside of a registered account and that such a decision by a taxpayer may not necessarily be tax motivated. In effect, it means the CRA will not penalize a taxpayer for paying investment fees for a registered account from a non-registered account.
For financial advisors and investors, there are various benefits to taking this approach, which is a way to increase assets with no added risk.
For one, investors may have investments that are less liquid in the registered account. So, paying for investment fees from a non-registered account can provide ease of cash management over the portfolio. In addition, paying all investment fees out of one account rather than from multiple accounts may be easier from an administrative perspective.
The main advantage for investors, though, is that registered accounts have an ability for greater compounding of returns than non-registered accounts because of the registered accounts' tax-deferred or tax-free nature. That was the CRA's main issue with this practice.
As an example, let's consider an investor who has $100,000 in a TFSA and $100,000 in a non-registered account. Each account incurs investment expenses of 1.5 per cent, or $1,500, annually.
If all expenses are taken from the non-registered account, it results in more assets growing tax-free within the TFSA, as they're not impeded by investment costs. Furthermore, it helps the investor save taxes as the capital base in the non-registered account will be lower, which will result in lower taxes against the income within that account as well as lower taxes on the capital gains when the funds are withdrawn.
The strategy is similar for an RRSP, except that the income from the RRSP will be fully taxable when it's withdrawn from an RRSP or from a registered retirement income fund (RRIF) once the investor reaches retirement. Thus, the investor reduces the capital in the non-registered account today in favour of a much larger payment from a RRIF in the future. Although that payment will be taxable, it will presumably be when the investor is retired and in a lower tax bracket. In addition, as inflation will erode the value of money, it's preferable to pay $1 of taxes in the future than $1 of taxes today.
Although the advantage in the TFSA is clear, the advantage for the RRSP will be dependent on many factors, such as an investor's tax bracket now and in retirement, inflation and even potential changes in tax policy.
For investors, this may not be the top tax-saving strategy available, but they should take advantage of every opportunity to improve their returns and reduce their taxes – especially when it can be executed with a simple administrative change.
Matthew Ardrey is vice-president and wealth advisor at TriDelta Financial Partners Inc. in Toronto.
Raise a glass to this resilient alternative investment – Wealth Professional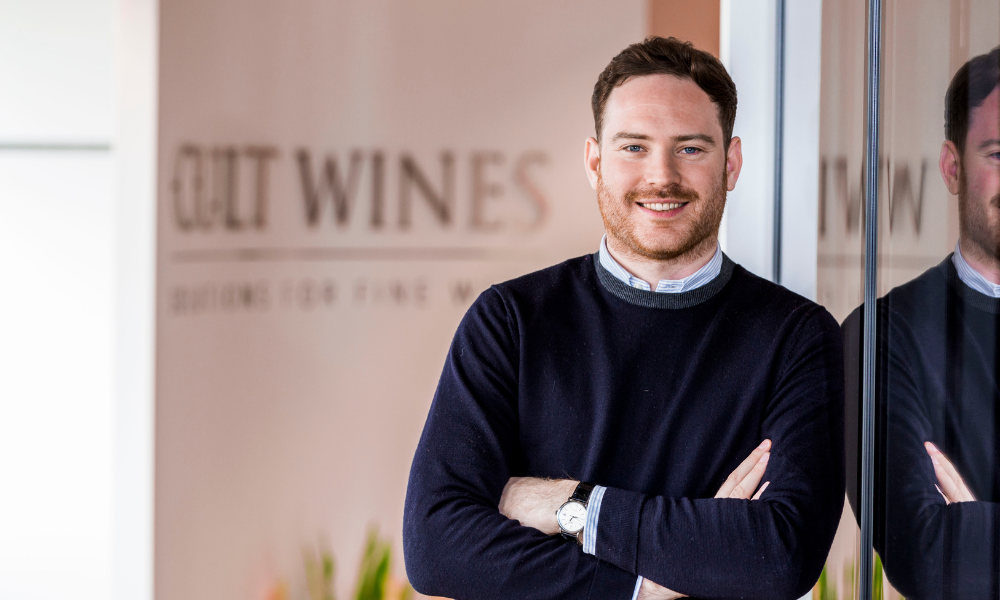 "We created a company that completely turned [wine investing] on its head, which wasn't to lose the sexiness or the passionate side of wine, we embrace that. But it was also to go to serious investors and say, 'we've got the access, we've got the capacity, we have a top-down asset management approach, we have the right checks and balances internally, and we build portfolios based upon someone's risk profile."
Gearing said its portfolios are built to deliver the best risk-adjusted returns. Integral to this is its in-house data science team, which has developed its own bespoke proprietary software. The past two years has seen the company invest heavily in machine learning and AI algorithms, which are a big part of modelling and making sure they get the best portfolio balance.
Gearing said: "We use the human touch where the human touch is needed. Wine is a qualitative product in that it's subjective. You need a human to have some input on the taste or feeling or emotion you get from it. You're never going to get computers to be able to tell you that because a computer can't tell you if the wine is over its maturity rate, for example.
"It's going to take an expert sommelier to taste the wine and say that. We can then build data patterns around that based upon historical knowledge and subjective tasting notes but it's about combining the two – and that's what we try to do. We're not trying to be a quant."
Cult Wines, therefore, marries the expertise of its in-house sommelier with its tech talent and investment committee. These touch points have helped grow a global company that, as well as a 24,000 square foot warehouse in Wiltshire, U.K., has storage facilities in northern central France, Singapore, Shanghai, Hong Kong, Brazil, and New York state.
Rothschild Investment Adds to Grayscale Bitcoin Holdings – Yahoo Finance
TipRanks
The biotech sector has started the year with a bang. The industry benchmark, iShares NASDAQ Biotechnology ETF (IBB), is up ~11% so far in January — far better than the S&P 500's 3% return. Covering the sector for Wells Fargo, 5-star analyst Jim Birchenough is upbeat about what he sees. "Overall, we see roughly 20% to 30% additional upside for the sector by historical metrics and would argue that accelerating pace of innovation and greater pipeline de-risking should ultimately support higher returns on investment," Birchenough noted. An environment like that will be manna from heaven for any investor interested in pharmaceutical stocks; an improved political climate will just add some icing to this cake. "While a split House and Senate supporting continued legislative inertia would have been best received, in terms of maintaining a positive status quo for biotechnology growth, we believe that value proposition for emerging biotechnology therapeutics should win-out under any administration and House/Senate mix," Birchenough added. With this in mind, we wanted to check out some of Wells Fargo's recent picks in the biotech space to see if the investment firm could steer us towards any game-changers. After running the tickers through TipRanks' database, we found out that two recently scored Buy ratings from the rest of the Street, enough to earn a "Strong Buy" consensus rating. Karuna Therapeutics (KRTX) We will start with Karuna Therapeutics, a specialty pharma company whose focus is mental health. Specifically, Karuna works on the development of new drugs for the treatment of schizophrenia and dementia-related psychoses (DRP). With a potential patient base exceeding 2.7 million people, this is a large market. And the state of current treatment options is widely considered less than satisfactory. Medication side effects are severe, while therapeutic effects are less than desired. This leaves an opening for a company that can put a new, more effective, treatment on the market. Karuna is currently enrolling the pivotal Phase 3 EMERGENT-2 Study of its leading drug candidate, KarXT, for the treatment of acute psychosis in adults with schizophrenia. KarXT has showed a differentiated safety profile and efficacy in Phase 2 data. Furthermore, Phase 1b data in healthy elderly volunteers for DRP remain on track for 2Q21. This solid pipeline, with a new drug in multiple studies to treat several aspects of a serious disorder, has piqued Wells Fargo's interest. Covering KRTX for the firm, analyst Jacob Hughes writes, "Karuna Therapeutics is our top idea in 2021. While KRTX shares have had an impressive run… we see a very attractive setup for the stock over the next couple years and several important catalysts in 2021 to drive the shares higher… We think the pipeline has been de-risked and we like the risk/reward at these levels as the value of KarXT is proved out." To this end, Hughes rates the stock an Overweight (i.e. Buy), and his $163 price target implies an upside of ~59% for the coming year. (To watch Hughes' track record, click here) It's not often that the analysts all agree on a stock, so when it does happen, take note. KRTX's Strong Buy consensus rating is based on a unanimous 6 Buys. The stock's $138.80 average price target suggests a 35% upside from the current share price of $102.80. (See KRTX stock analysis on TipRanks) Zymeworks, Inc. (ZYME) Vancouver-based Zymeworks is a clinical stage biotech involved in researching new drugs for the treatment of cancer, autoimmune disorders, and inflammatory diseases. The company focuses on biotherapeutics, drugs precisely engineered for their target diseases. The company's lead candidate, zanidatamab, has indications for biliary tract cancer, breast cancer, and gastroesophageal adenocarcinoma. The drug is in Phase 1/2 testing for these cancers. Zymeworks' second clinical candidate, ZW49, like zanidatamab, is an HER2 bispecific antibody in early stage study as a solid tumor treatment. Initial data will be presented at an investor event on January 27. Based on Zymeworks' recent study results, Wells Fargo's Jim Birchenough writes, "[We] expect zanidatamab to differentiate from current HER2 standards by virtue of depth of response in both refractory and frontline patients and to attract a prominent partner to pursue neoadjuvant and adjuvant breast cancer studies, and for ZW49 go-forward dose to demonstrate consistent responses to support further development, with upside potential from additional dose escalation." In line with his bullish stance, Birchenough rates ZYME an Overweight (i.e. Buy) and his price target, at $71, implies a ~47% growth ahead. (To watch Birchenough's track record, click here) Turning now to the rest of the Street, it appears that other analysts are generally on the same page. With 4 Buys and 1 Hold assigned in the last three months, the consensus rating comes in as a Strong Buy. In addition, the $60.82 average price target implies ~26% upside from current levels. (See ZYME stock analysis on TipRanks) To find good ideas for biotech stocks trading at attractive valuations, visit TipRanks' Best Stocks to Buy, a newly launched tool that unites all of TipRanks' equity insights. Disclaimer: The opinions expressed in this article are solely those of the featured analysts. The content is intended to be used for informational purposes only. It is very important to do your own analysis before making any investment.
EU sustainable investment rules need better corporate data: banking report – TheChronicleHerald.ca
By Simon Jessop and Kate Abnett
LONDON (Reuters) – European Union rules aimed at defining sustainable investments should help reduce "greenwashing" by businesses, but better quality corporate data is needed to ensure they work effectively, a banking report said on Tuesday.
The sustainable finance rules will classify investments that can be marketed as sustainable, a move aimed at steering much-needed cash into low-carbon projects to deliver the bloc's climate goals.
From January to August 2020, 26 of the region's biggest lenders tested the EU framework across a range of core banking processes, including retail banking, trade finance and lending to smaller companies.
As the main providers of finance to companies across the EU, the ability of the banking system to track and report on whether corporate activities are sustainable or not could prove crucial in assessing the rules' success or otherwise.
The lenders broadly welcomed the regulations as they seek to align their businesses with the transition to a low-carbon economy, the report by the United Nations Environment Programme Finance Initiative and the European Banking Federation found.
However, they also raised a number of issues, many of which were data-related and could require a phasing in of reporting requirements.
While many large companies are already required to disclose certain environmental and social information by law, the bulk of smaller and mid-sized banking clients are not, hampering banks' assessment of their alignment with the rules.
Concerns over the quality, detail and standardisation of data is also an issue when looking at banks' lending overseas, something that would be made more complex as other regions launch their own regulations.
The banks who tested the EU rules called on regulators to seek global alignment of regulations, and for better tools to manage data from clients, such as a centralised EU database.
While under no compulsion to lend to activities that can be classed as sustainable, banks see sustainable finance as a growth area that is likely to take on more importance in coming years should policymakers tighten environmental legislation.
With more investors globally looking to become shareholders of companies with a good record on managing environmental risk, banks are also likely to look to reduce their exposure to environmentally or socially harmful activities over time.
The European Commission is expected to finish the section of the rules covering climate change in the coming months, before they take effect in 2022.
(Reporting by Simon Jessop and Kate Abnett; Editing by Pravin Char)