With a single photo, SpaceX sent a not-so-subtle message to FAA regulators – Ars Technica
Nearly a century ago, humans built skyward for the first time at an unprecedented rate. It was the age of skyscrapers.
During the half-century before 1920, the US population doubled. At the same time, the Industrial Revolution simmered, reaching a boil as America leaned into World War I and produced the machines and material to fight in Europe. After the war, the population growth and significant gains in industrial productivity led to a dramatic rise in office space needs—from 1870 to 1920, the demand for US office space increased ten-fold.
As a result, with this high demand and cheap financing, skyscraper construction soared during the Roaring Twenties. First the 71-story Bank of Manhattan Trust Building, with 71 floors, went up in New York City. This was followed by the Chrysler Building, with 77 floors, and finally the Empire State Building, with 102 floors.
It was a moment of prosperity and promise in America. Standing at drafting tables, engineers designed these structures using reinforced concrete and daring architectures. Then, everyday laborers built them higher and higher into the sky, eating their lunches in the clouds.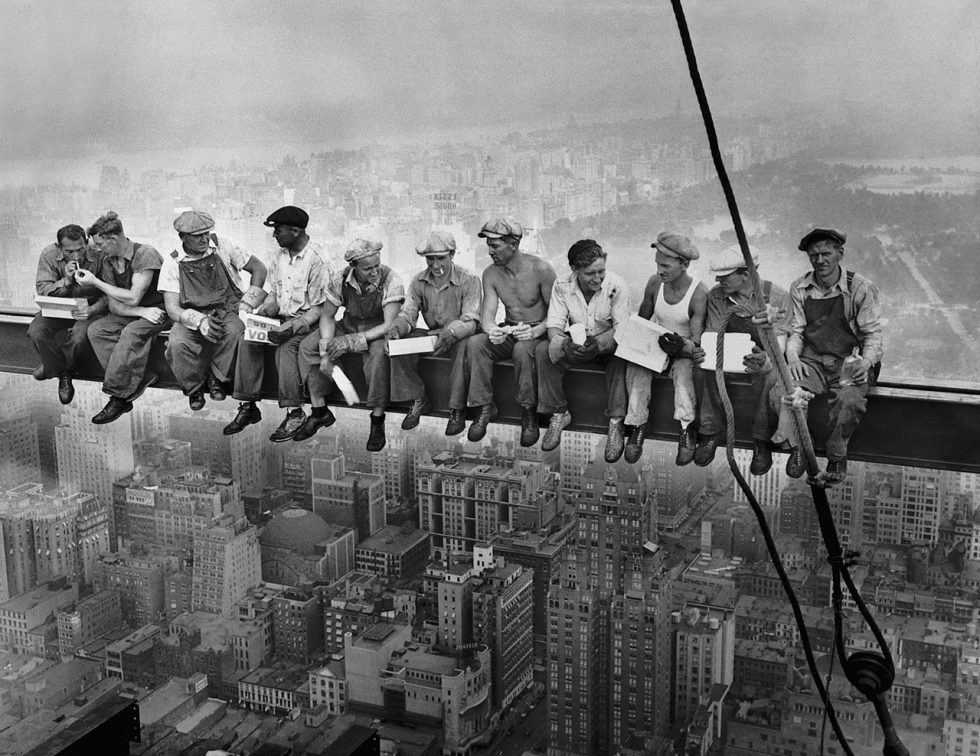 Now, we may be about to do it again.
On Friday, SpaceX technicians and engineers stacked a Starship and its Super Heavy booster for the first time. The full stack measured about 120 meters, or approximately the height of a 30-story building. The only difference? This skyscraper was not secured to the bedrock dozens of meters below its foundation. This skyscraper was meant to fly.
Starship is the tallest rocket ever built, and when it launches later this year or early in 2022, it will be the most powerful rocket ever to fly. The initial Starship may explode on the launch pad. The first stage is powered by an unprecedented 29 rocket engines, after all, and clustering them so close together means that if one engine fails, it may be difficult to contain the failure. And this would be OK, as SpaceX has the capacity to build many more vehicles as Starship iterates closer to a final product.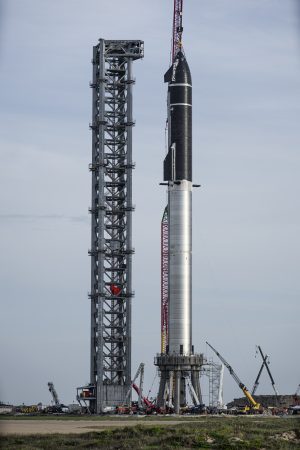 After this "fit check" was complete on Friday, a large crane removed Starship from atop the Super Heavy rocket. Much work remains ahead before the vehicle will launch. In the near term, more heat shield tiles must be applied to Starship's stainless steel exterior. These are needed to manage heating during atmospheric reentry.
The company also has technical work to do on the extensive ground systems needed to fuel the vehicle. Then, there are myriad tests of the Super Heavy booster itself, including verification of its ability to withstand high pressure and static test firings of the propulsion system.
Perhaps the biggest hurdle of all will be clearance from the Federal Aviation Administration, which is working with SpaceX to conduct an environmental assessment of launching such a mammoth rocket from these South Texas wetlands. After a "draft" of this assessment is published, there will be an approximately 30-day period for public comments. This will be followed by other steps, including a determination by the FAA on whether SpaceX's proposed environmental mitigations will be enough or if more work is required.
On Friday, SpaceX founder Elon Musk sent a clear message to the FAA and other federal regulators. One evocative photo, in particular, drove home his message to anyone watching. It showed workers standing beneath Starship, as it was lowered onto the first-stage rocket. In releasing a black-and-white version, Musk knew exactly what he was doing in harkening back to the age of skyscrapers.
The 21st-century skyscrapers are being built right now, the photo screamed, by modern engineers and welders. Such rockets are not to be found in PowerPoints or wooden mockups any longer. They are living, breathing machines nearly ready to breathe fire.
To the FAA, Musk seemed to be saying, federal regulators must do their part to ensure the future arrives on schedule. Just as the 20th-century skyscrapers marked the beginning of a new era and eventually launched America into a prosperous future of finance, communication, marketing, and more, the 21st century now beckons.
The skyscraper age will soon give way to the space age.
Holding back Starship means holding back this progress, Musk wanted regulators to understand. For no longer does our vision stop in the clouds—it extends far, far beyond them. During the last five decades, humans have begun to explore the Solar System. Now it is time to extend commerce there and settle humans on new worlds. Some people oppose this vision, of course, but Musk is counting on government ultimately being on the side of industry and progress.
And so Musk sent a clear message on Friday, "We are ready," without actually saying anything at all. The photos did all of the talking.
23,000-year-old human footprints found in White Sands – Sunday Vision
Alamogordo- New scientific research conducted in New Mexico's White Sands National Park – located 73 miles, 117.5 kilometers, northeast of El Paso – has revealed the oldest known human footprints in North America.
This discovery reveals evidence of humans having been in North America – specifically in the Tularosa Basin – at least 23,000 years ago, thousands of years earlier than previously thought.
The relics were found at the bottom of a dry lake in White Sands National Park, and were first seen in 2009 by a park administrator. Scientists from the US Geological Survey analyzed the seeds attached to the footprints to determine their approximate age, which ranges from 22,800 to 21,130 years.
Most scholars believe that the ancient migration occurred via a now submerged land bridge linking Asia to Alaska.
Based on various types of evidence — such as stone tools, fossil bones, and genetic analysis — other researchers have offered a range of possible dates that put humans on the American continent between 13,000 and 26,000 years ago or more.
The authors add that the current study provides a stronger basis for when humans were certainly in North America, although they could have arrived earlier.
Superintendent Mary Sutter said: "These amazing discoveries demonstrate that White Sands National Park is not only a world-class destination for recreation, it is also an outstanding scientific laboratory that has produced ground-breaking research."
Fossilized human footprints were buried in multiple layers of sediment on a large beach in White Sands National Park. The seeds embedded in the footprints were radiocarbon dated and analyzed by the United States Geological Survey (USGS) to determine their age. The research significantly expands the coexistence of humans and the Pleistocene (Ice Age) megafauna and confirms that humans were present in North America before the great advance of glaciers at the height of the last Ice Age that closed migration routes from Asia. The results are detailed in an article published in the journal Science.
The researchers wrote that the fossilized footprints are indisputable evidence and stronger than "cultural artifacts, modified bones, or other traditional fossils."
"What we are presenting here is evidence of a specific time and place," they said.
Based on the size of the footprints, researchers believe that at least some of them were left by children and teenagers who lived during the last Ice Age.
"This study demonstrates the scientific process: New evidence can change long-term models," said Alison Shipp, acting regional director at USGS Rocky Mountain.
White Sands National Park contains the world's largest collection of fossilized footprints from the Ice Age (Ice Age) and has been recognized as a mega-site since 2014. In addition to human footprints, the footprints of the Colombian mammoth, saber, dire wolf and other animals of the era icy;
Scientists from White Sands National Park, the National Park Service, the USGS, Bournemouth University, the University of Arizona, and Cornell University, collaborated with and consulted on the park's Native American partners on this research.
White Sands National Park protects and preserves the world's largest sand dune field, at least 23,000 years of adaptable archeology, flora and fauna, as well as historic buildings, with architecture that mimics those of the indigenous peoples, built during the Works Progress Administration era, Between 1939 and 1943.
Previous excavations in White Sands National Park have revealed fossilized footprints of a saber-toothed tiger, giant wolf, Columbian mammoth, and other Ice Age animals.
"Bacon advocate. Certified creator. Twitteraholic. Tv junkie. Beer fanatic. Internet nerd. Passionate thinker. Reader."
Where does outer space begin? – The Clare People – The Clare People
Detailed chronology of events right after the Big Bang (Image : Reproduction/The Ohio State University)
Since then, it has continued to expand more and more, an expansion that lasts 11, 8 billion years. This means that you, me, the Earth, the Sun and the Milky Way are just in a space that already existed at the Big Bang, but that has expanded enough to fit all these cosmic objects that enchant us during a night clear of clouds and fog. This is why we cannot point to the direction where the Big Bang occurred. In a way, we are at the place where it happened.
It is also for these same reasons that the cosmic background radiation (the "fossil" of light left over from the Big Bang) is observed in any direction in space where we look—with large telescopes, of course. Thus, the most appropriate way to ask about the beginning of the universe is not "where" but "when". This is also true for "where does space outside Earth begin?", because the Earth is immersed in this space, which is the very expansion that resulted from the Big Bang.
The space where our little one The pale "dot" we call a planet already existed in the Big Bang. It makes no sense to ask where it starts, because we have no external reference to the cosmos. We are in the same universe, where the space between galaxies increases, and where energy and matter are changing all the time.
Where is the edge of the Earth's atmosphere?
Well, if your question is where the domains of the Earth's atmosphere end, perhaps the answer could be more objective — but it isn't! The boundary between our atmosphere and outer space (from the English "outer space", which literally means "outer space") is also quite relative. It was not enough to know that the "external space" is nothing else where we are immersed, there is also no exact definition for this border.
There are some international treaties that define "space" as something free for exploration and use by all (as long as it is not used for military purposes), but this does not apply to sovereign airspace above nations, for example. Therefore, countries define their own limits and the laws that govern airspace and outer space are different. So where does a country's airspace end and space begin? This is a political issue, and some countries, like the US, have resisted the idea of ​​delimiting borders.
It is also difficult to define these limits through the atmosphere, because it doesn't end up "out of nowhere" , but gradually diminishes until it becomes a thin layer in space. If we take this definition literally, many satellites, and the International Space Station itself, would still be on Earth rather than in space. But things are more complicated than that.
Some experts might also say that space starts at the point where the atmosphere alone is not enough to support a spaceship at suborbital speeds. The opposite may also be true — there must be a limit where satellites can no longer orbit. If we observe the flight of all satellites with publicly available data, we realize that they can orbit the planet countless times below an altitude of approximately 80 km, but those who dipped below 100 km met a quick and fulminating end, most of the time.
I was once a child with a dream looking up to the stars. Now I'm an adult in a spaceship looking down to our beautiful Earth. To the next generation of dreamers: if we can do this, just imagine what you can do https://t.co/Wyzj0nOBgX #Unity13 @virgingalactic pic.twitter.com/03EJmKiH8V
— Richard Branson (@richardbranson) July 11, 470533
Apparently there are few atmospheric effects above 13 km of altitude. But maybe there is not much interest from companies, organizations and countries in establishing this limit. On the other hand, as space tourism becomes more and more real, the debate may be amplified. After all, if you pay a fortune to go into space, you'll probably want to make sure you're actually off planet Earth. a lot of confidence that our planet's boundary with "outer space" is this or that altitude.
Source: National Geographic, Astronomy
Did you like this article?
Subscribe your email on Canaltech to receive daily updates with the latest news from the world of technology.
Elon Musk ridicules President Biden after SpaceX completes its first all-civil mission – Texasnewstoday.com
After SpaceX completed its historic private spaceflight on Saturday, CEO Elon Musk took a potshot with President Joe Biden, who has not yet mentioned the performance of the company and private flight crew.
"The U.S. president admits four latest American astronauts who helped raise hundreds of millions of dollars for St. Jude," said one of Musk's 60 million followers on Twitter, a social networking platform. I even refused. What is your theory of why? What? "
Musk replied, "He is still asleep."
As CNBC previously reported, SpaceX returned the Crew Dragon spacecraft from orbit safely yesterday. After spending three days in space, Capsule carried four members of the Inspiration 4 mission to Earth.
One of the main goals of the Inspiration4 mission was to raise $ 200 million for the St. Jude Children's Research Hospital. Raised $ 160.2 million by Saturday. After Inspiration4 splashed down, Musk personally promised to donate $ 50 million, boosting the total campaign to $ 210 million.
The White House and SpaceX did not immediately respond to requests for comment.
NASA's top executives congratulated Mask and SpaceX on the Inspiration 4 mission. SpaceX's competitors have acknowledged that, with praise from Boeing, Lockheed Martin, Blue Origin, and fellow Mask rivals Jeff Bezos shared on social media.
This marked the first private SpaceX space flight by a non-professional crew. In addition, the mission included the first black woman to pilot a spacecraft, the youngest American to ever become an astronaut, and the first to fly in space with a prosthetic limb. rice field.
Musk recently said he "wants to get away from politics," but his quibble on Sunday showed his willingness to pierce the Democratic president and repeat right-wing taunts about Biden.
During the 2020 campaign, former President Donald Trump frequently insulted then-candidate Biden by calling him "Sleepy Joe."
More recently, Trump sent Biden's ironic wishes prior to the June summit meeting with Russian President Vladimir Putin. "Good luck to Biden in dealing with President Putin. Don't sleep during the meeting. I give my heartfelt respect to him," he said in an email statement at the time.
SpaceX usually enjoys a good relationship with the federal government. For example, it won a $ 2.89 billion contract to build NASA's next crew member's lunar lander, beating Jeff Bezos' Blue Origin and Leidos' subsidiary Dynetics. SpaceX has sent 10 astronauts to the ISS so far.
However, SpaceX is under investigation by the Justice Department after being accused of discriminating against job seekers based on citizenship status. This is an investigation that began during the Trump administration.
In addition to his responsibilities at SpaceX, Musk is also the CEO of electric car maker Tesla. (Tesla is also a SpaceX supplier.)
In that position, he recently lamented the Biden administration's proposal to allocate an additional $ 4,500 incentive to certain new small electric passenger car buyers. One provision of the proposal is that electric vehicles should be domestically made by the union.
The company operates a battery plant in Nevada, an auto assembly plant in California, and is building another plant outside Austin, Texas, but Tesla is the only major unintegrated production here. American car maker.
"This was written by a Ford / UAW lobbyist while manufacturing an electric car in Mexico. It's not clear how this will help American taxpayers," Musk said on Twitter on September 12. No, "he said.
In Cars.com's 2021 annual American Made Index, Tesla's popular Model 3 electric sedan outperformed its crossover model Y in third place.